We have finally made our way to 2023. But what will remain common in 2023 is – IT companies and IT managers taking measures to protect the data. The reason is we do not have fail-proof storage devices. Hence, any failure in hardware makes data inaccessible.
There can be multiple reasons for data loss, from cyber threats and hard drive crashes to water damage. But what is essential is – Do we take any measures to protect the data?
In addition, the growing technology and cyber fraud have made things go out of hand. So what is the solution now? Regular backup of data is the best data loss prevention strategy. This is where backup software and services come into the picture.
With data backup software and solution at your disposal, you can maintain a copy of your entire data and store it securely at an offsite location.
As you find various options, choosing the right backup software becomes essential. Don't worry! We've rounded up our top picks in this article.
What is Backup Software?
It is computer software allowing you to back up files, folders, documents, software data, and the entire computer or server. It creates an exact duplicate of every computer file so that you can restore it if it gets corrupted and deleted accidentally/intentionally or by a disaster.
With computers and servers holding important information, it becomes essential for companies and individuals to have backup software in hand.
For the minimum risk possible, follow the 3-2-1 backup strategy. This implies the data should have three copies – 1 original and 2 duplicates. You must ensure that you store copies of data on at least two media types. Further, ensure to store all copies in different locations, not the same as the other two.
Put simply, your original data is stored on the computer. Ensure to back it up and store it at offsite locations. Use an external hard drive to have the first copy and a cloud-backup solution for the second copy.
Why is it Essential?
In the modern world, the chances of losing files and information are more significant than ever imagined.
According to World Backup Day , 21% of people don't make a backup to their system, and 29% of data loss happens by accident.
The worst thing for a user is unintentionally deleting something and finding out there's no backup or the data can't be recovered.
If it's not an accident, a computer could get hacked, resulting in this crippling loss of data, or the physical device could be stolen.
Top 10 Backup Software and Services To Protect Your Data
With the growing technology, many software and services are available today. Here we have outlined the best choices in 2023.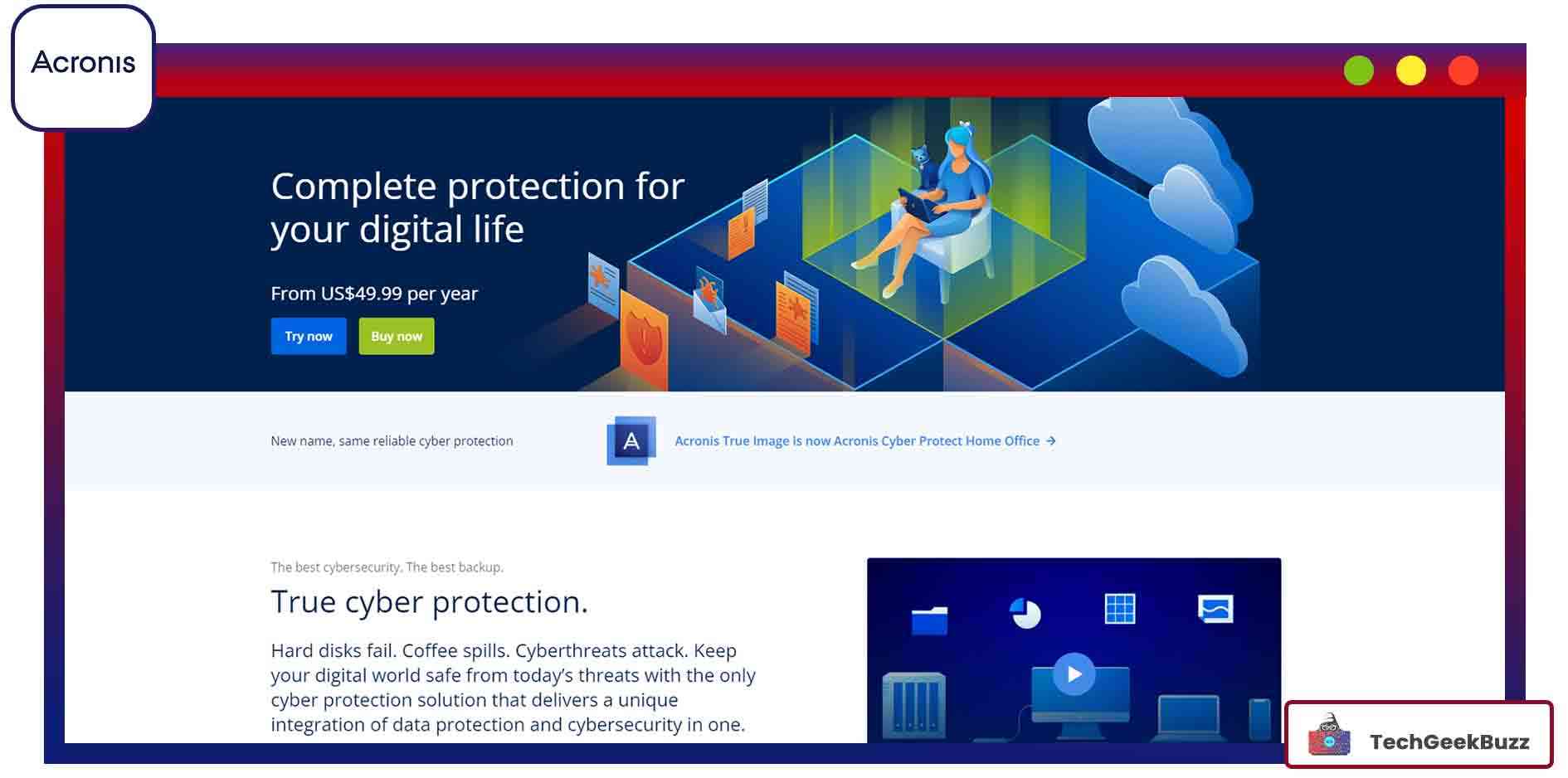 When deciding the best backup software and services, the first and foremost solution that comes to mind is Cyber Protect Home by Acronis. It is a solution-oriented secure data storage software from Singapore and is available in nearly twenty countries. Since 2003, it has been providing data security services to thousands of businesses around the globe.
With Acronis, users can backup files, share files, manage storage, and distribute systems via cloud, virtual, and mobile platforms. On top of that, it offers real-time antivirus protection for all files in the storage area.
Acronis Cyber Protect captures all changes in real-time on any information being updated, even confidential files, and stores those changes securely. It is very easy and fast to restore changes. Artificial intelligence powers Acronis Cyber Protect Home Office to provide instant cyber protection.
Key Features
Local, cloud, full-image, Microsoft-356 backup
Active disk cloning
All-in-one-recovery drive
Anti-ransomware and crypto-jacking protection
Vulnerability assessments
On-demand antivirus scan
What Do we not Like?
Requires a lot of system resources.
Beginners feel uneasy navigating through the interface.
Pricing
You get a 30-day free trial.
Essentials: $39.99/year (For three computers)
Advanced: $42.99/year (Can manage upto three computers plus 50 GB cloud storage)
Premium: $94.99/year (For three computers + 1 TB of storage
Sign up here .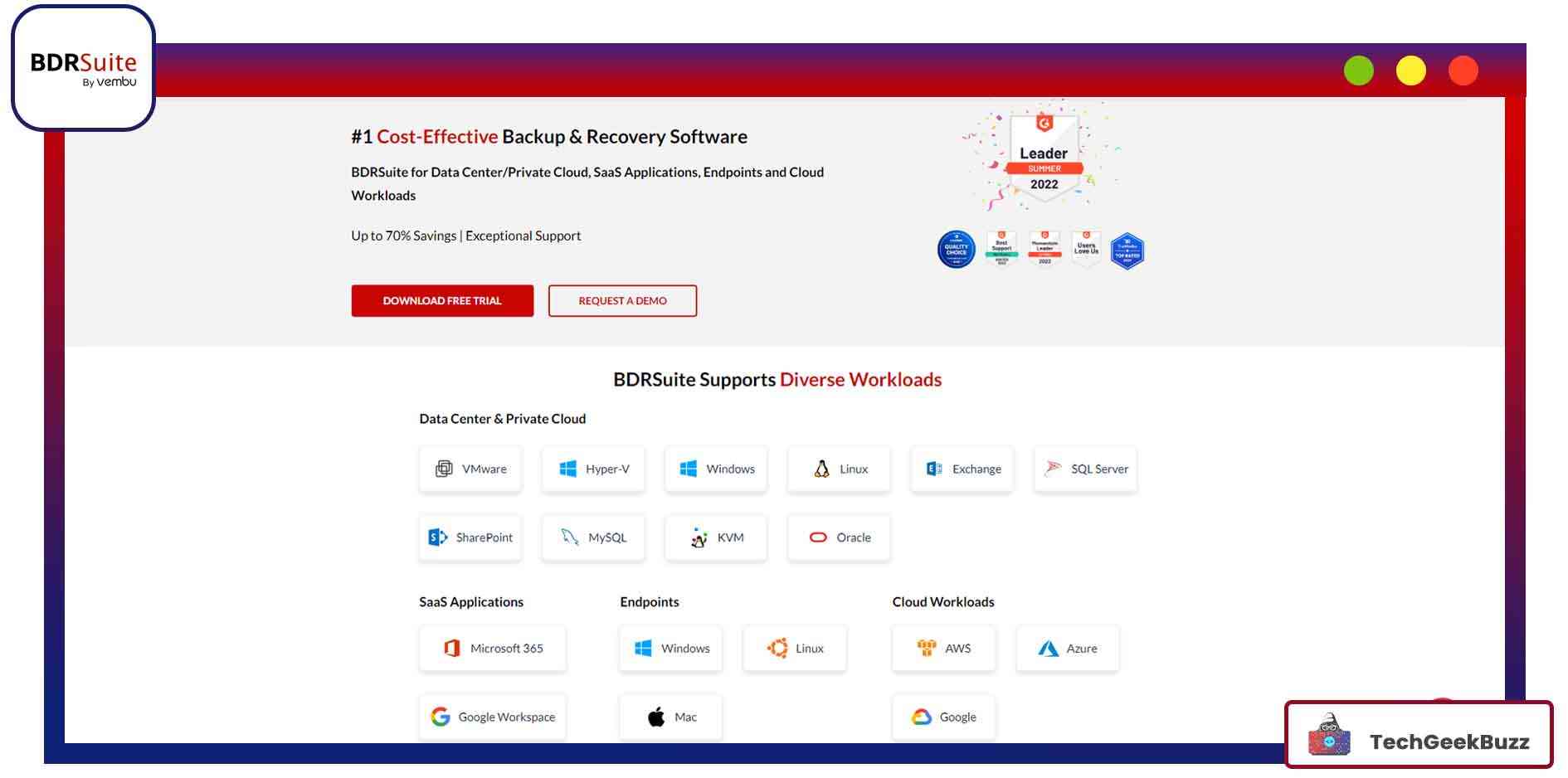 With BDRSuite, you can back up and recover any virtual, physical, or cloud workload and SaaS application.
Whatever the size of your business or how many servers you have in your organization, it doesn't matter. BDRSuite takes a comprehensive approach to protect your data against the possibility of both data loss and disaster.
Thus, you will enjoy an intuitive & feature-rich backup process through a web-based console that is centralized and easy to use.
Key Features
AWS, Microsoft 365, Google Workspace, Windows, Linux, Mac, VMware, Hyper-V, and Linux backups
Backup repository utilizing scale-out and rotation
Deduplication and compression are built-in
Dropbox, Google Drive, and OneDrive are great platforms for storing your files in the cloud .
What Do we not Like?
Version upgrades are complicated.
Documentation needs improvement.
Pricing
You get a 30-day free trial.
VM Backup: $18/year
Server Backup: $60/year
Apps & DB Backup: $60/year
SaaS Backup: $6/year
Cloud VM Backup: $30/year
Endpoint Backup: $7.5/year
You can download the file here .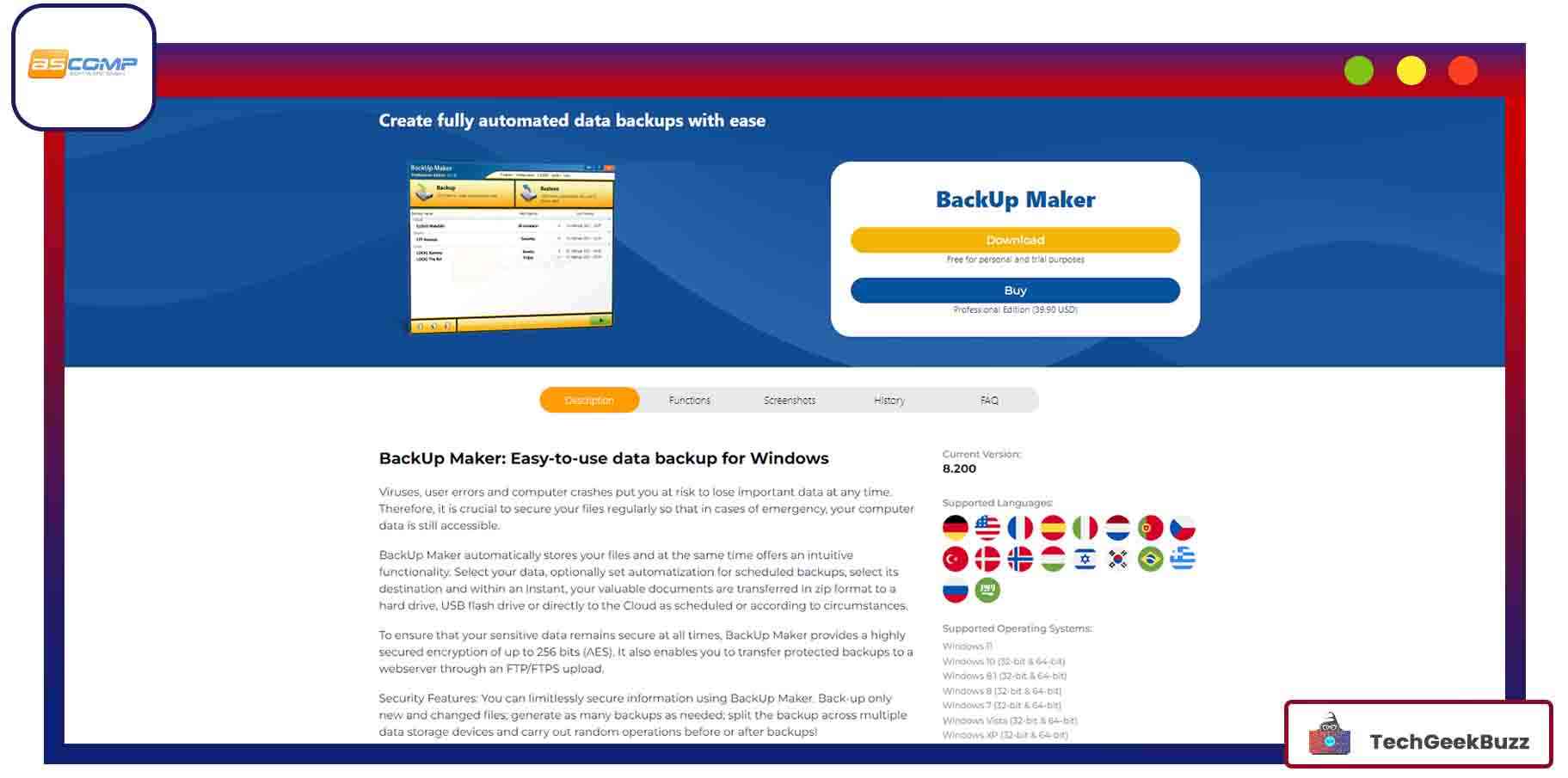 Despite its not-so-popular status, BackUp Maker offers some excellent and pocket-friendly features.
First, it encrypts data using AES 256-bit encryption. It provides password-protected backup, and you can split it into multiple parts. You can store copies of data on FTP servers, CD/DVD drives, and cloud storage.
Automation is one of its most robust features. It is possible to schedule and set specific intervals for backups.
Key Features
Getting started with the backup wizard is simple and fast.
Save copies of original data to CDs, DVDs, NAS drives, and local drives.
Supports AES 256-bit encryption with zero knowledge of the key.
Unlimited versioning options for historical files (user-defined).
What Do we not Like?
Language usage errors in some areas.
Pricing
You can download it for free for trial and personal use. It costs you a one-time payment fee of $39.90.
You can buy it here .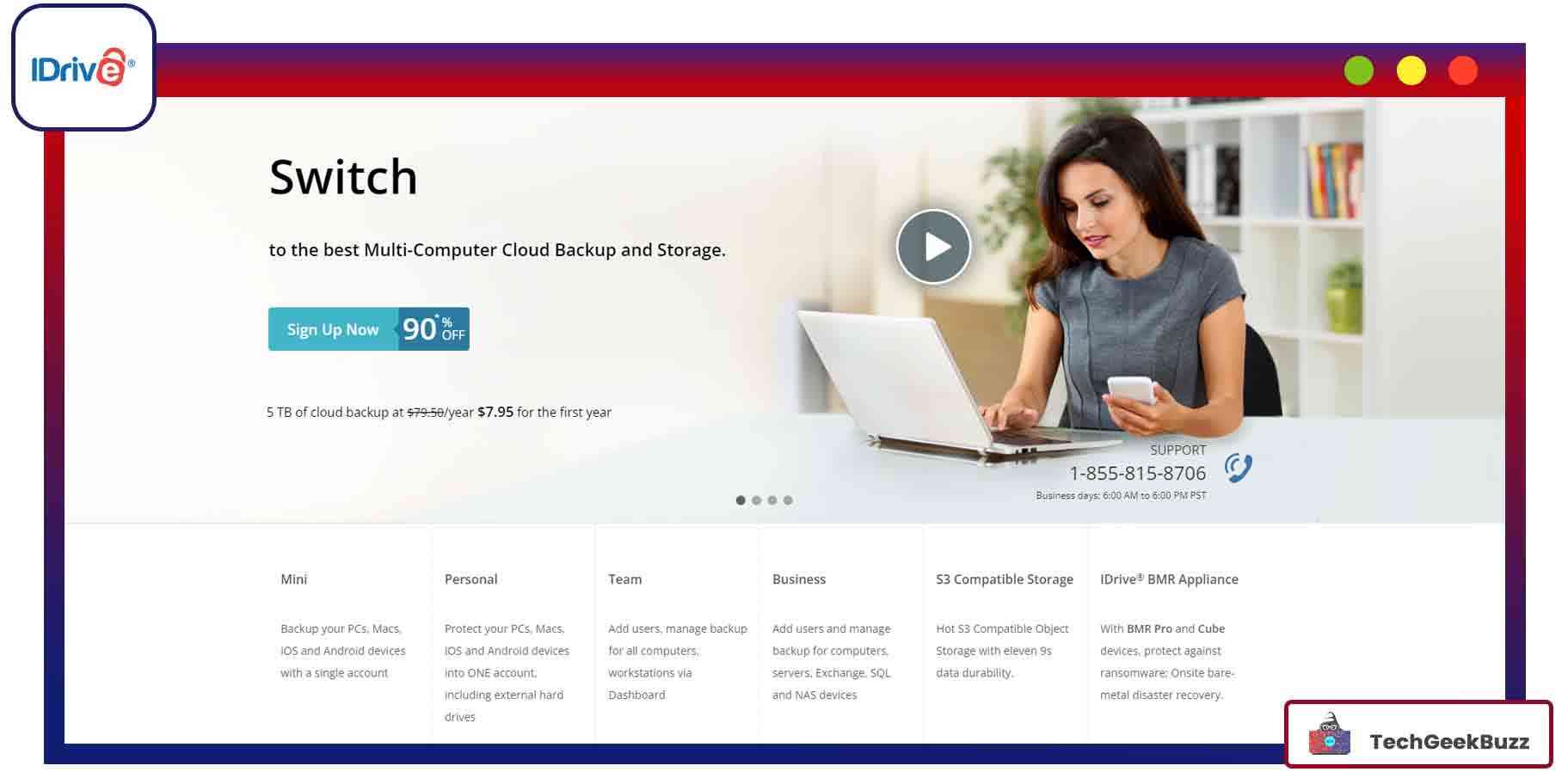 IDrive is primarily designed for groups/organizations, not individual users. Despite this, anyone and everyone can use it.
Its ability to back up multiple computers, iPads, and other devices, all from a single account, is prevalent among users. The software also allows storing and retrieving your data copies in the form of physical media.
With its "versioning" feature, your backup is essentially backed up! The software stores backups for up to 30 days. But there is no expiry for the last 30 backups stored.
It adheres to the "never delete" policy, which means data won't be deleted automatically unless done manually.
There's also a web-based console, making it easy for you to back up and restore data.
Key Features
You can back up all your iOS, Android, PC, and Mac devices in one place.
Files and folders can be synced in real time across all those devices. Synchronization does affect the backup storage.
The physical storage shipments allow backup and data retrieval within a week without bandwidth usage.
In addition to providing a historical view of the data you can retrieve periodically, this snapshot protects against ransomware attacks.
What Do we not Like?
No unlimited storage.
Complete disk image backup only on Windows.
Limited Linux support.
Pricing
IDrive comes with free and premium plans, and its free plan comes with just 10 GB of storage. For additional storage needs, switch to premium plans.
Here is a list of four major IDrive pricing packages:
IDrive Mini: $3.71/year (100 GB storage)
IDrive Personal: $59.62/year (5 TB storage)
IDrive Team: $74.62/year (For five computers)
IDrive Business: $74.62/year (250 TB storage)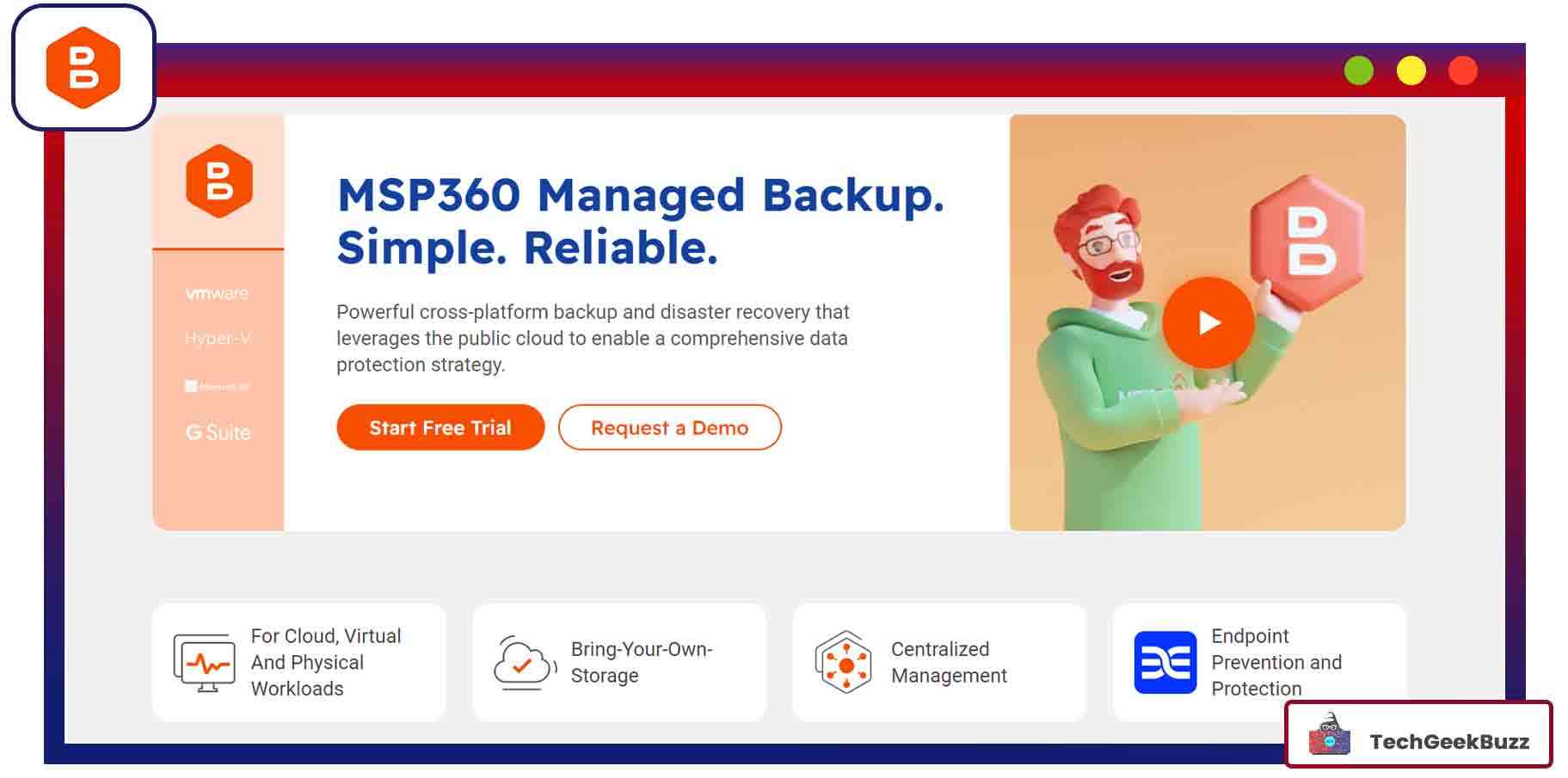 It lets you back up and recover your data quickly and reliably. Using the public cloud, organizations can implement a comprehensive data protection plan. This would ensure data security from many different platforms, including Linux and Ubuntu.
Also, you can keep track of all your data saves and recovery points. An IT team can easily monitor these through a centralized management module. That is precisely what the software helps them do.
You can create immutable and encrypted backups for total protection. The two-factor authentication can enhance organizations' security.
Key features
Archiving & Retention
Automated Scheduling
Automatic Scans
Backup Log
What Do we not Like?
No search option to find a specific file in an entire backup set.
Pricing
There are no specific pricing details. You can reach out to their customer support team to get more clarity on pricing. It also provides a 15-day free trial.
Signup here .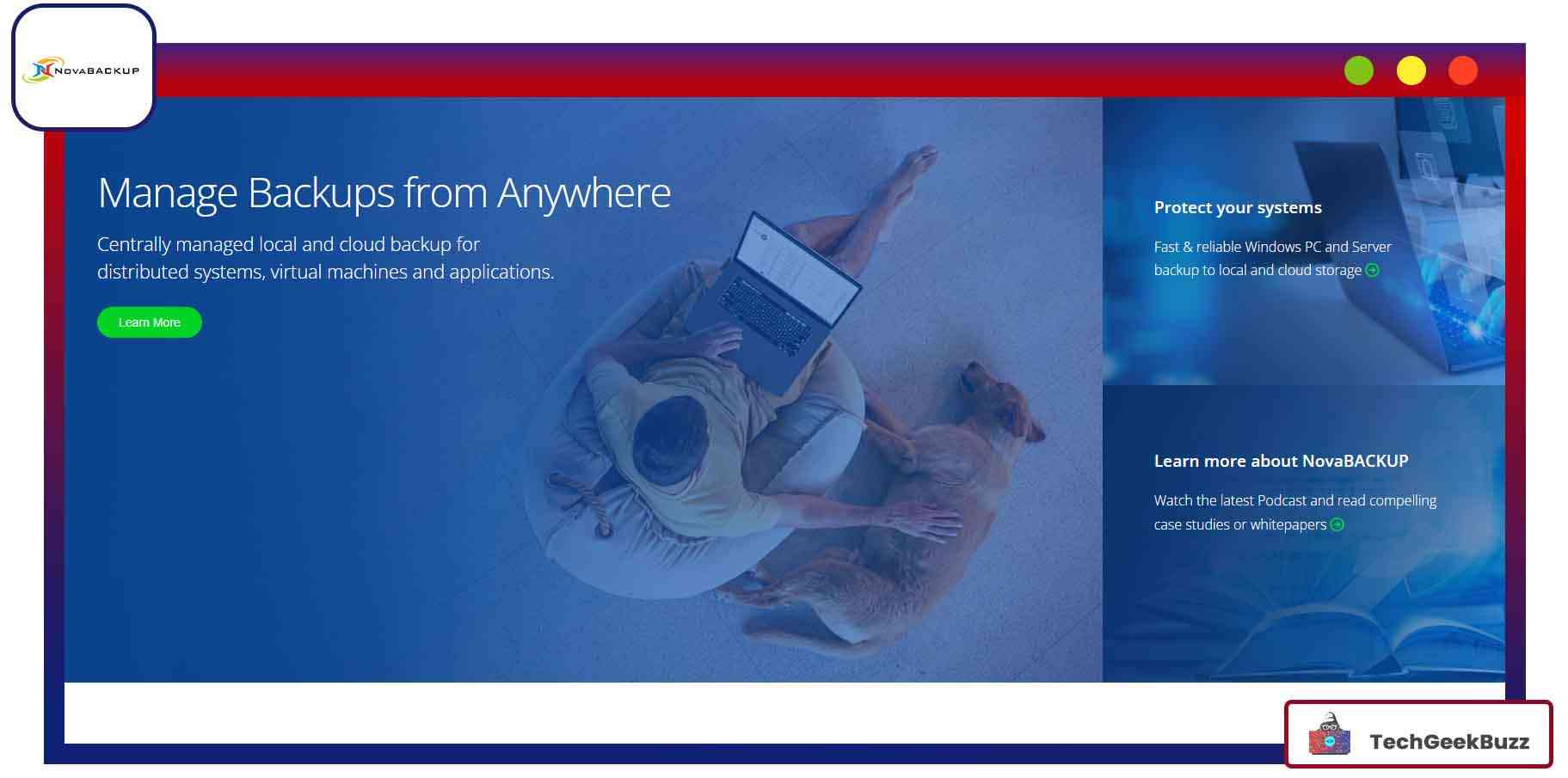 A subscription to NovaBackup allows you to back up your computer's hard drive to local media. Despite its modest price, it does not support platforms other than Windows and Linux. It backs up the data to the cloud (including Dropbox and OneDrive).
The best part of this software is the security since it runs locally and doesn't connect to the internet to back up data. It uses 256-bit AES encryption for your backups to make them extra secure.
Key Features
Back up cloud and local data
Secure encryption with AES
Backing up automatically
What Do we not Like?
No integration with Internet Explorer.
Lacks a clear and clean interface.
Pricing
Single PC: $42.61/year
For upto 5 PC: $170.45/Year
Get a free trial here .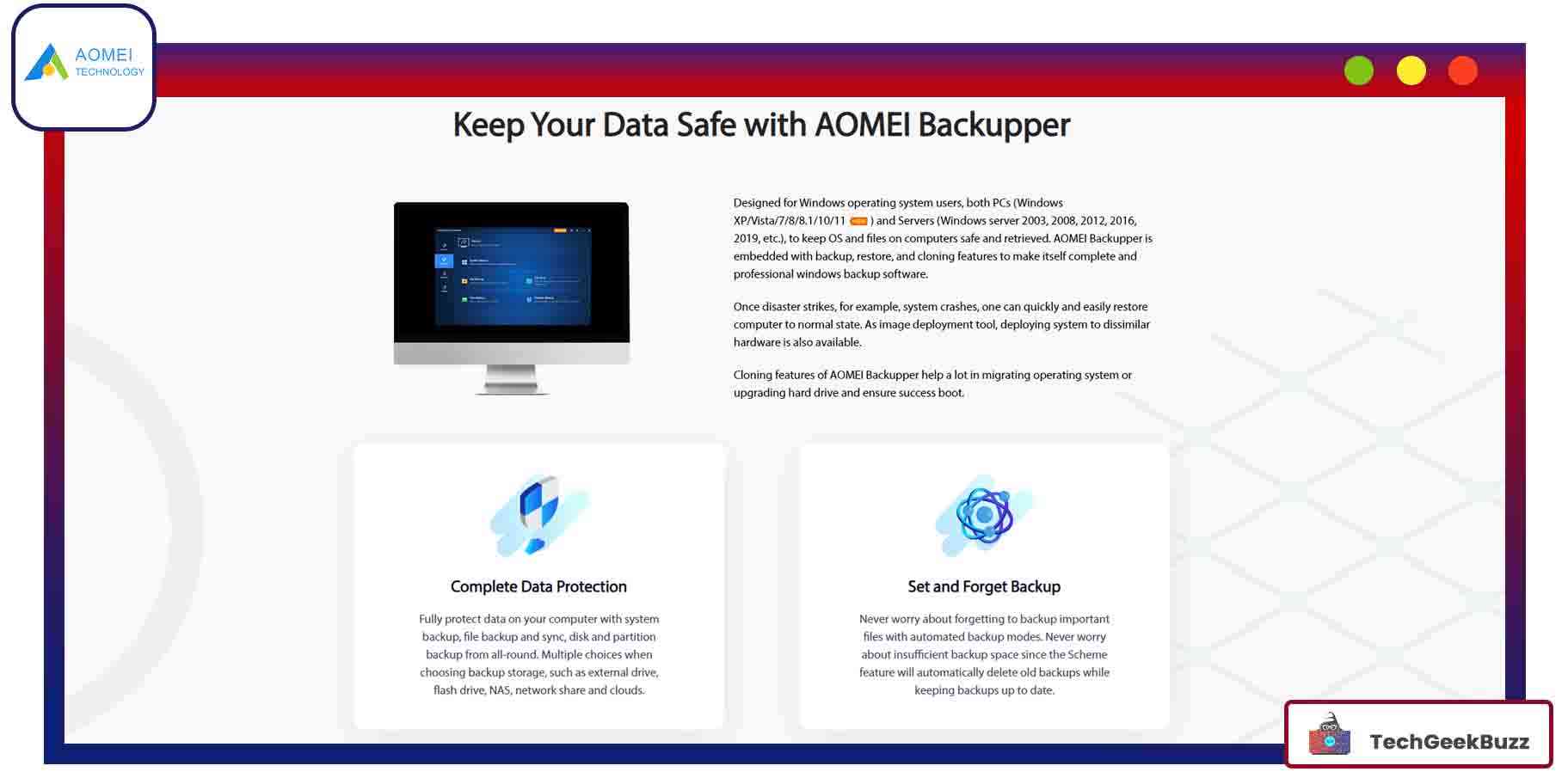 With backup and restore services, AomeiTech includes a disk partition manager that helps safeguard data on your hard drive.
It supports 32-bit and 64-bit Windows 11, Windows 10, Windows 8.1, Windows 7, Vista, and XP. In addition, the solution is suitable for both homes and businesses.
There's no charge for AOMEI Backupper Standard 5.7. It backs up everything from your system to your files to your disks, and you can schedule or automate backups.
Key Features
AomeiTech syncs files and folders between source and target locations in real-time.
You can back up automatically, incrementally, and differentially.
The premium plan protects and recovers unlimited PCs and Servers.
What Do we not Like?
Works with Windows only.
The free plan consumes a lot of time for a backup.
Pricing
You get a 30-day free trial.
Home: Free forever
Professional: $39.95
Businesses: Workstations ($49.95 per license), Servers ($149 per license), Technicians ($499 per license), and Technicians Plus ($699 per license)
You can download the file here .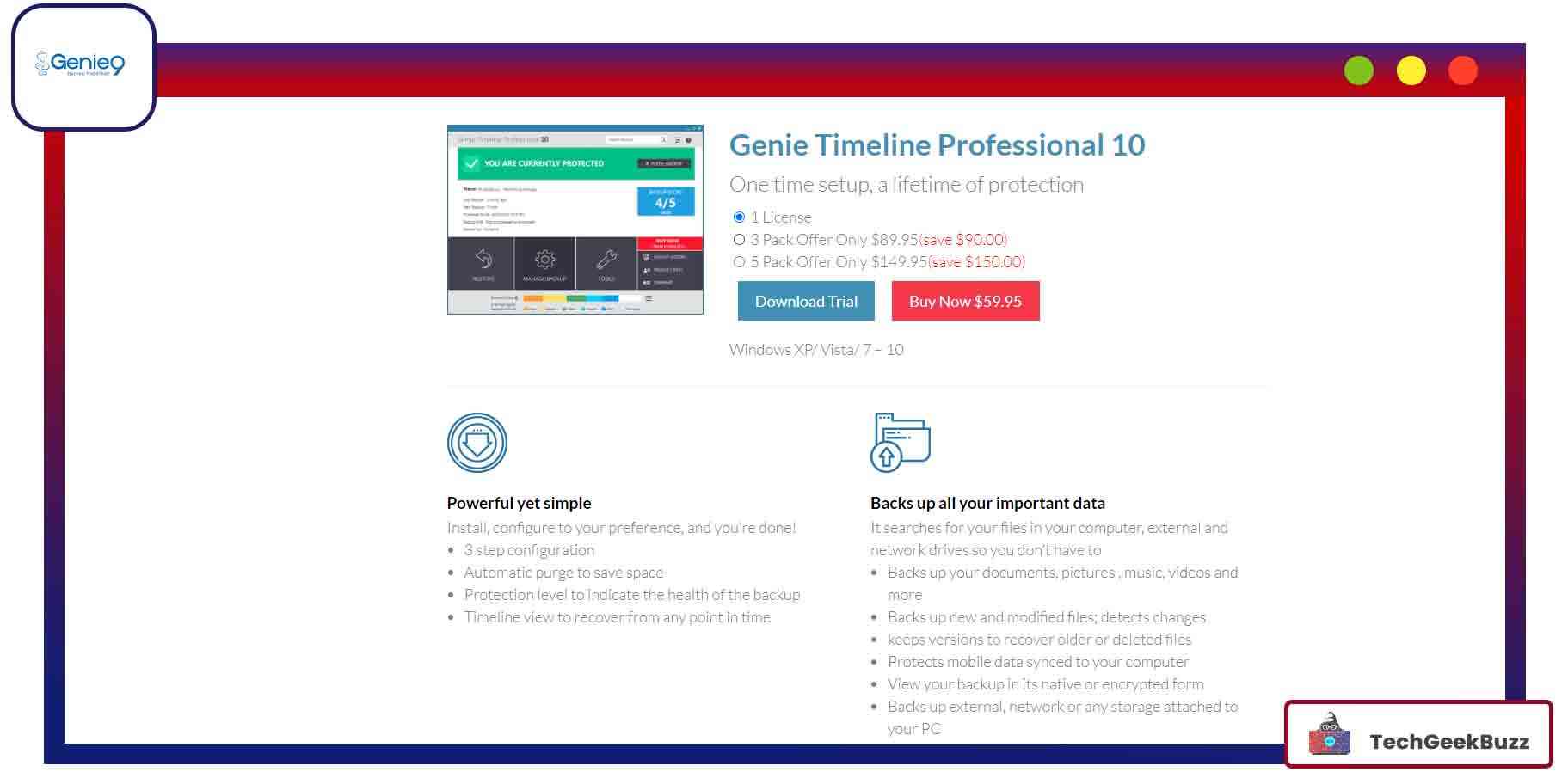 The Genie Timeline Pro 10 is another excellent option for those who need to back up their home data regularly. Besides, it offers recovery, sync, and cloning solutions.
Unlike most other solutions, you can back up your entire system, a particular file or folder, or the entire contents of a specific type of file, such as music, pictures, or even the entire contents of a folder – whatever is important to you.
Some wizards will assist you in maintaining and restoring your data during an emergency. With its excellent compression capabilities and military-grade encryption, Genie Timeline Pro 10 is an attractive choice for advanced users looking for value-priced software.
Key Features
Easy to use with a well-designed interface.
All-in-one solution for backing up, recovery, syncing, and cloning.
Easy file restoration.
The possibility of unlimited file versions (maximum GB or several days to keep).
The ability to store data in the cloud ( Amazon S3 ).
Encrypts backup with 256-AES encryption.
What Do we not Like?
Requires your own cloud storage.
Pricing
With a price tag of $59.95, the Genie Timeline Pro 10 program works with all Windows versions. The software is available in a 3-pack or 5-pack promotional offer.
You can download the software for a trial here .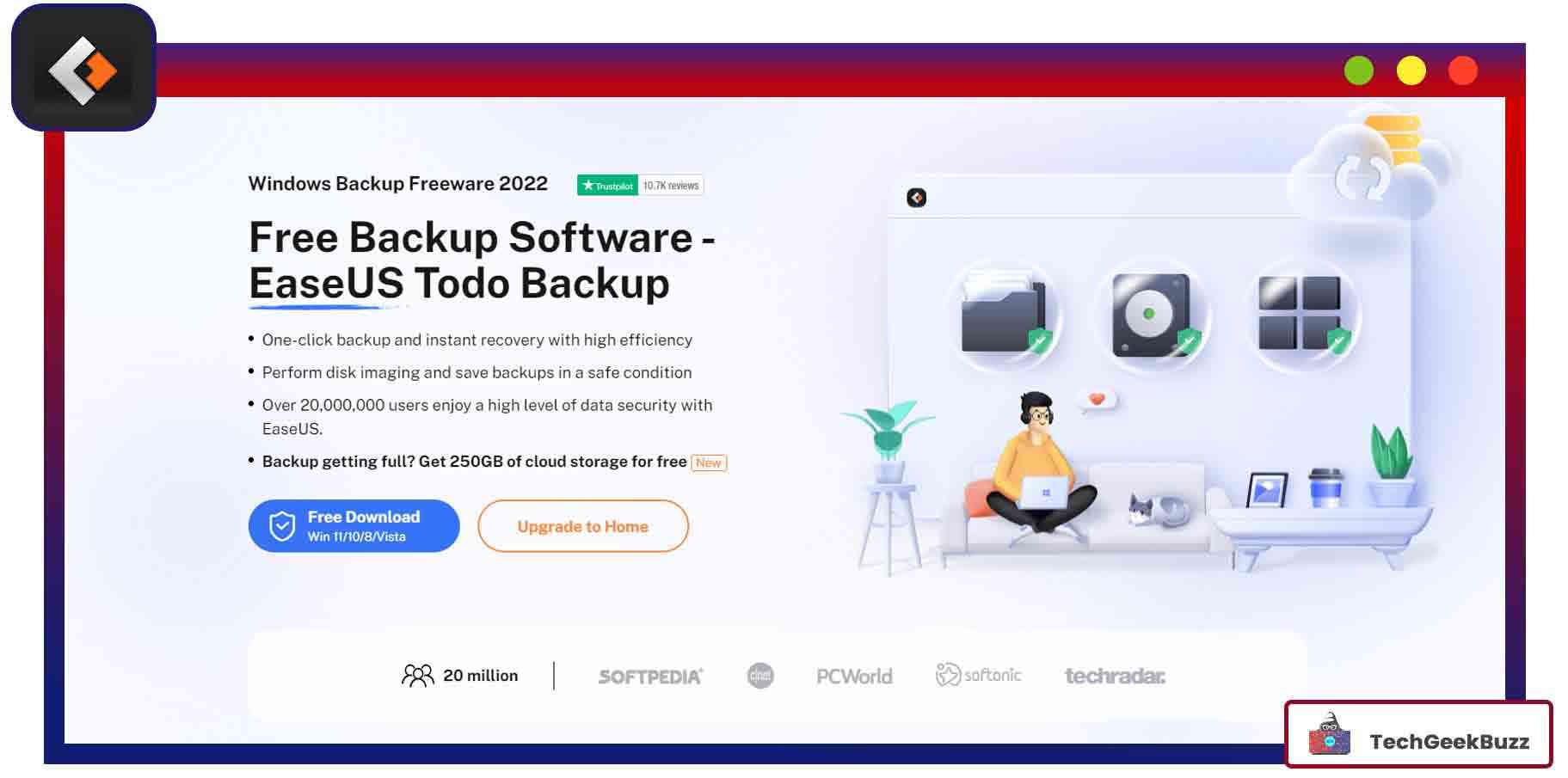 Backing up files and folders, such as documents and mail, is just one feature of EaseUs ToDo Backup Home. Also, it backs up entire disks, partitions, and Android devices. It supports Windows 10, 8, and 7, as well as Mac OS 10.9.
With the built-in wizard, it's easy to create backup jobs. In addition, it supports standard features, such as compression, mailing notifications, and other advanced features that are not supported in the free version.
It is possible to migrate your OS to a new hard drive and copy data between disks of different sectors, which also allows you to migrate your OS to a new hard drive.
Key Features
Backing up locally and on the cloud.
Back up files on an incremental/differential basis.
Back up Outlook emails.
System image, bootable, right-click, and disaster recovery.
Partition your disk and wipe it clean.
What Do we not Like?
The free version contains many ads.
Pricing
Free: Free forever
Home: $39.95/year (Lifetime Upgrades - $79.95)
Enterprise: Starts at $49.00
The O&O DiskImage 18 Professional software backs up everything, from a single file and entire computer to Windows-installed hard drives. It supports Windows 11, Windows 10, and Windows 8.1.
It also comes with an encryption feature, the ability to restore files to different hardware from where they came from, a rescue boot disk for emergencies, and a simple-to-use burn wizard.
This lets you burn files onto external drives and delete rewritable disks, among other things.
Key Features
With a single click, you can back up an entire computer, hard drives, or files.
Quick and easy system restore.
Automatically backs up and synchronizes selected files and folders as soon as you connect an external hard drive.
VHD/VHDX creation directly.
Security monitoring and warning.
What Do we not Like?
It is not beginner-friendly.
Provides no way to restore partitions within Windows.
Pricing:
Professional: $49.95
Server : $299
You can try it here .
Conclusion
Hopefully, you now have the list of all the top-performing backup software and services. Now, choosing the one among all is highly dependent on your needs. But whatever you choose, check every aspect to know how it maximizes security.
We recommend going with IDrive, particularly for small businesses, since it has a limited budget and a free plan with basic features. If you are not concerned about budget and want to back up your data in a complex manner, NovaBackup would be the right choice.
People are also reading: