Social media posts, running ads, and webinars on different media platforms have become the new trend in marketing. But don't neglect the oldest strategy - email marketing!
If you think email marketing is dead, you are mistaken! Email continues to be one of the most widely used marketing channels worldwide. 64% of B2B marketers say that email marketing strategy has effectively accomplished business goals. Moreover, new feature or product announcement marketing emails receive the highest click-through rate.
These statistics prove that email marketing is highly effective and is here to stay.
The right tools make it easier to boost marketing ROI and get sales. However, you can waste time and money if you lack efficient tools. This post will cover the ten best email marketing tools available, their prices, and their features.
Let's explore!
10 Best Email Marketing Tools
Here is a list of the best email marketing tools to choose for your business.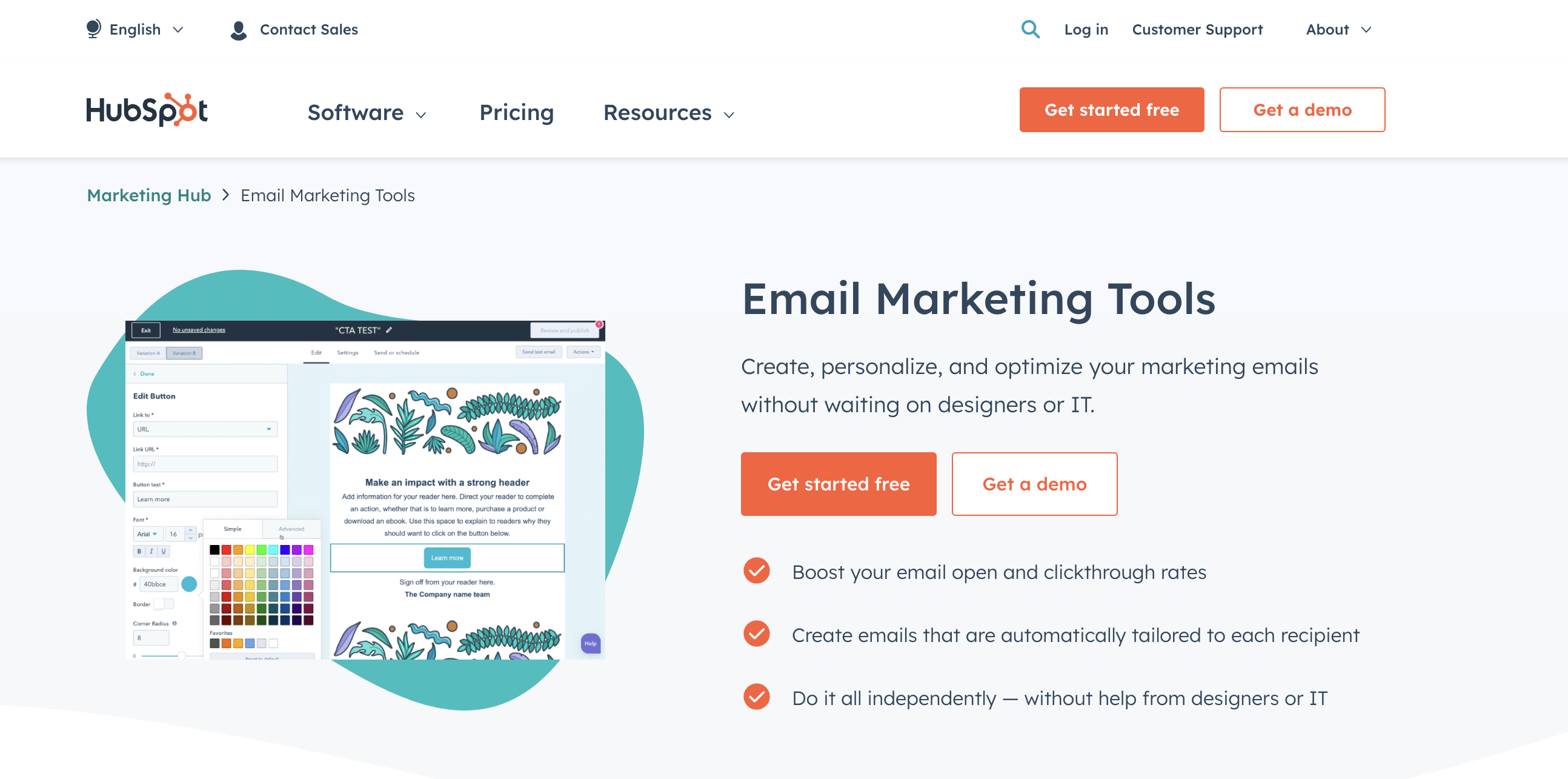 Email marketing requires designing and crafting messages. With HubSpot's email marketing tool, you get everything. Designing professional emails without any external help and optimizing them to increase performance is easier. Moreover, the free trial helps small businesses to accomplish their business goals.
You can promote campaigns, personalize emails for more clickthroughs, and optimize mail campaigns with A/B tests at zero cost!
Furthermore, if you are a newbie, various resources can help you with email marketing, such as:
Pricing
Starter: Starts at $45 per month
Professional: Starts at $800 per month
Enterprise: Starts at $3600 per month
Why should you choose HubSpot?
Here are the key reasons that will help your business meet goals via email marketing:
Personalized emails to cater to each recipient.
Manage and track email performance.
Boost clickthrough rates.
Free of cost.
Drag-and-drop visual editor.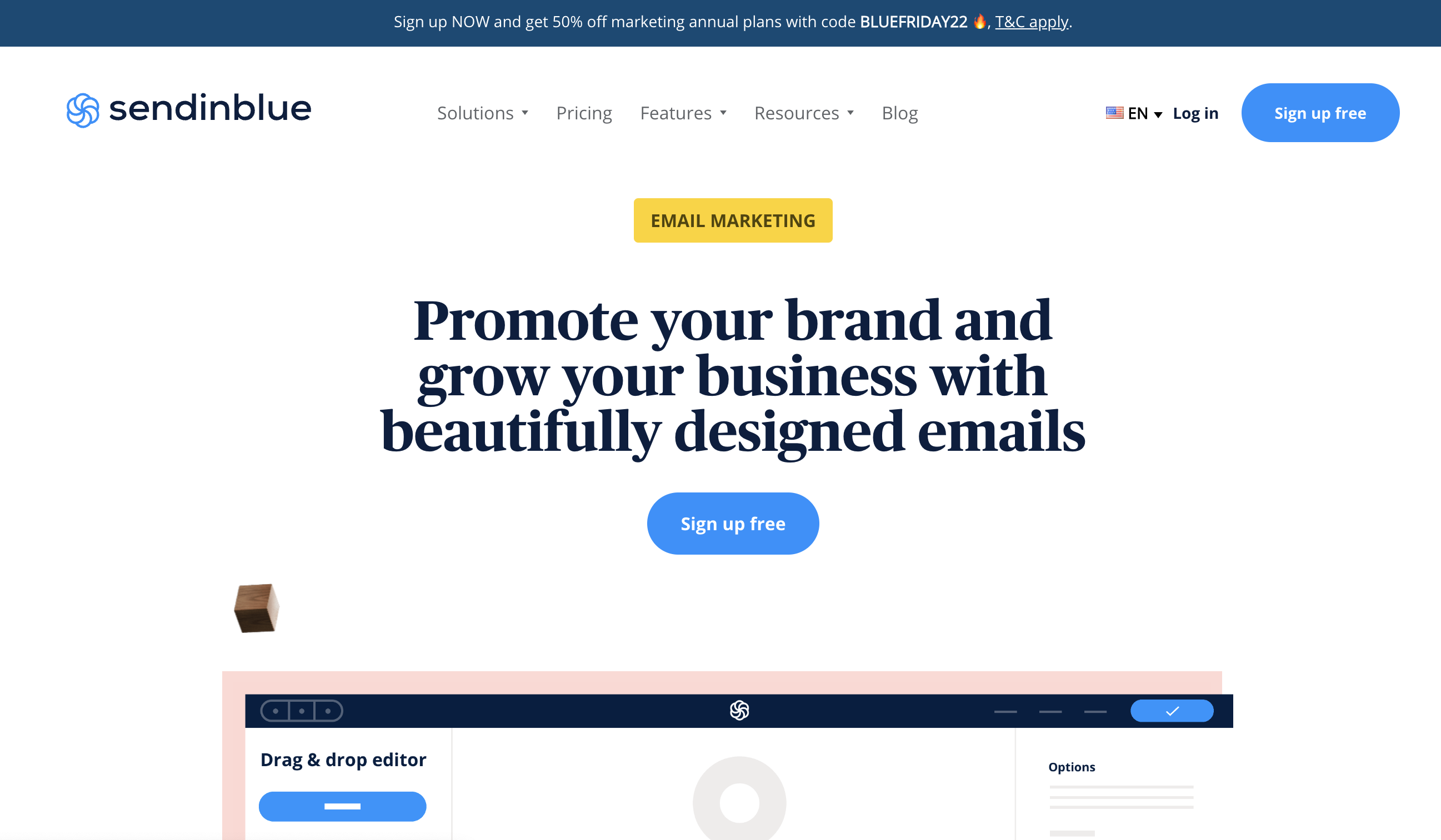 This platform has abundant features that help businesses quickly accomplish their goals. Sendinblue helps create professional-looking emails that prompt users to give them a read. You can easily create emails by using the intuitive drag-and-drop builder. In addition, this email marketing tool uses A/B testing and machine learning-powered send time optimization.
The anti-spam policy protects the sender's reputation. It also actively manages SMTP servers, ensuring your emails reach the inbox and avoid the spam folder.
Pricing
Signup for free at Sendinblue.
Email marketing software is free for up to 300 emails per day (unlimited subscribers).
Paid plans start from $25 for 20,000 emails per month.
Why should you choose Sendinblue?
Marketing automation that saves time and boosts performance.
Impressive design and guaranteed engagement for transactional messages.
Provides segmentation to send emails to more targeted audiences (based on age, gender, location, etc.)
Integration of email marketing software with other tools (WordPress, WooCommerce, Prestashop, etc.)
24x7 customer support.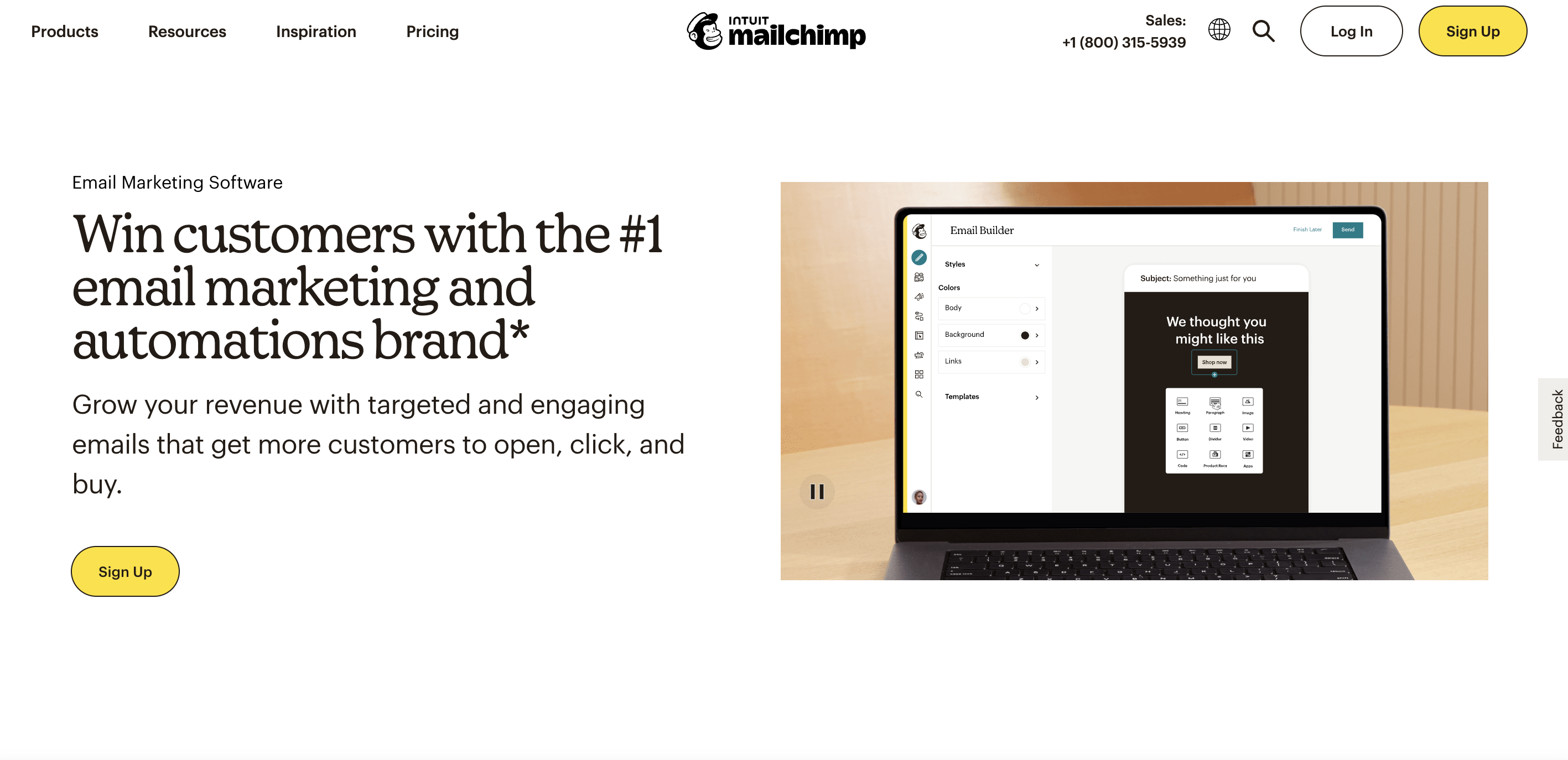 MailChimp is a popular name and provides excellent email marketing tools.
The audience insights help businesses learn about their most valuable customers. Furthermore, the feature of the content manager helps design emails while storing files and images to quickly get over with your work.
MailChimp provides AI-assisted suggestions to make the content more engaging. After all, the click-through and the open rates are directly proportional to how appealing your content is.
Free of cost with email support for the first 30 days and pre-built email templates.
Essentials: backed by 24x7 support, A/B testing, pre-built email templates, and basic automated customer journeys.
Standard: a dditional features such as predictive segmentation and automated customer journeys.
Premium: provision of advanced tools, unlimited contacts, and priority support.
Why should you choose MailChimp?
It shows you different methods to get more engagement based on analytics and revenue.
Get more site traffic and sales by using email automation.
Targeting tools enhance customer engagement.
Behavioral targeting predicted demographics, tags, and contact profiles for better email marketing.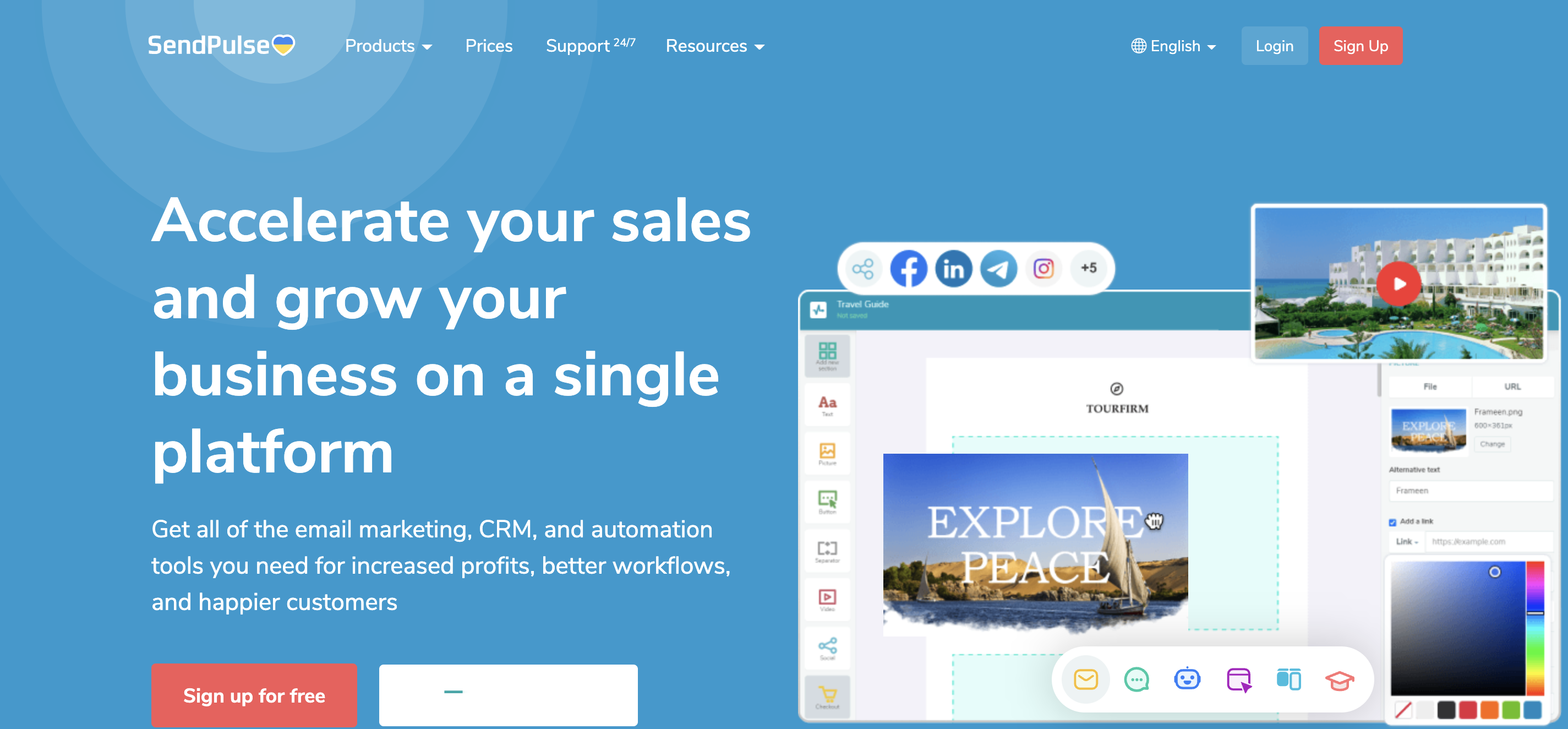 Successful email marketing needs efficient and effective tools, and this platform ensures you get that. It is easier to create professional emails with its drag-and-drop email editor. Additionally, the automation 360 feature schedules the email sending time and web push notifications and notifies you about the actions taken by your users.
Use these three steps to start your email campaign with SendPulse:
Add your mailing list.
Create email templates for 130+ email templates.
Use different tools such as spam checkers to improve the deliverability of the mail.
Pricing
In case of fewer than 500 subscribers, send up to 15,000 emails per month without cost. Sign up for free.
Why should you choose SendPulse?
Subscriber rating feature that tells if the user has not opened your previous email. You can resend the mail with a new subject line to increase the open rate.
Test different email versions using different content and subject lines (A/B testing) for best results.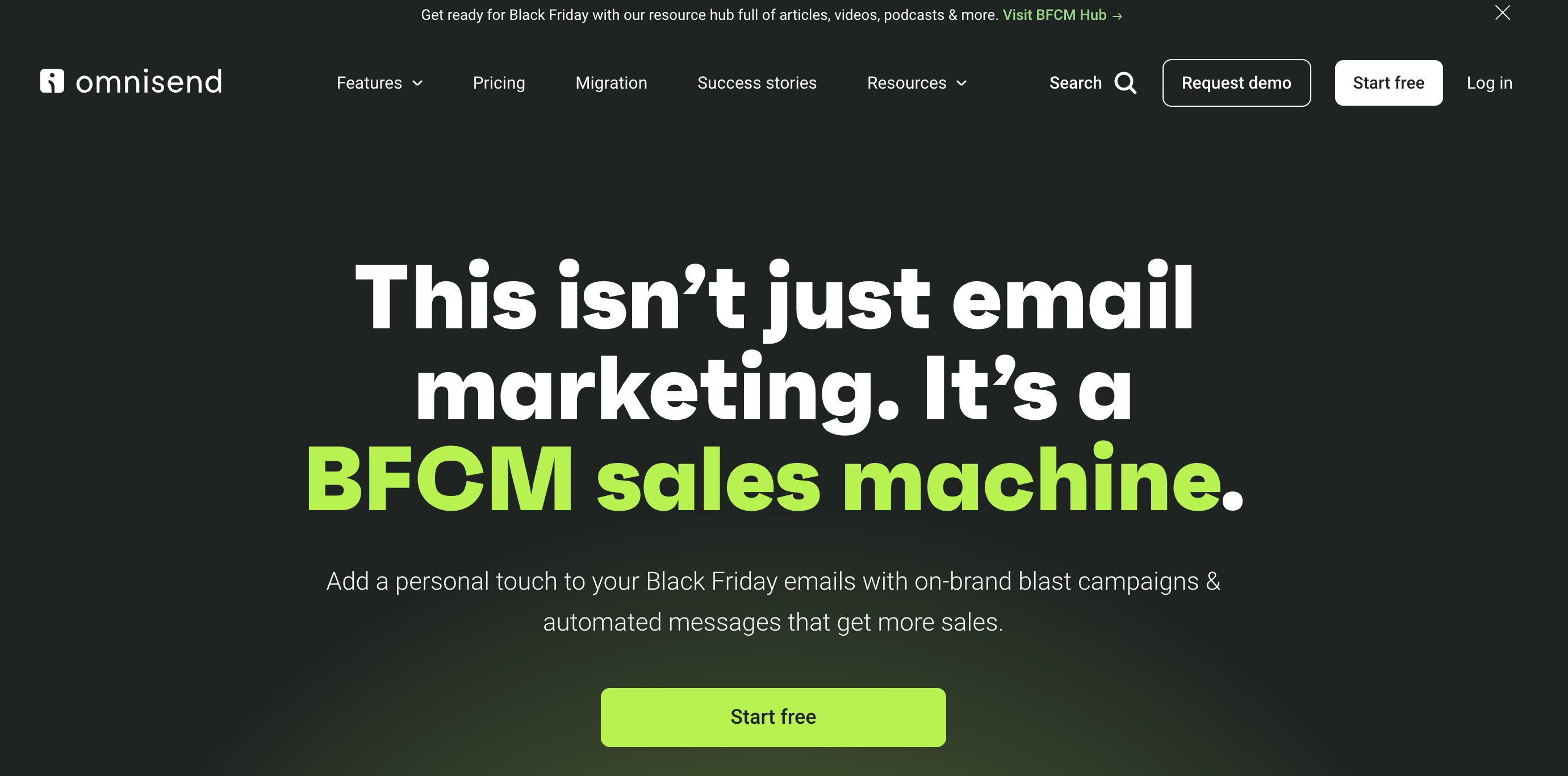 Omnisend is known for its excellent email marketing tools and campaigns. Besides, this platform claims to provide a 47.7% higher conversion rate with SMS combined with email. Save your precious time with pre-built automated emails (welcome emails, thank you emails, and many more).
Additionally, it has excellent integration with hundreds of e-commerce tools, such as:
Shopify
Shopify plus
WooCommerce
Wix
Pricing
Why should you choose Omnisend?
24x7 expert support.
Easy migration.
Features like Product Picker for selecting multiple products in emails, such as discount coupons, gift vouchers, etc.
One-click store integrations.
Complete data synchronization.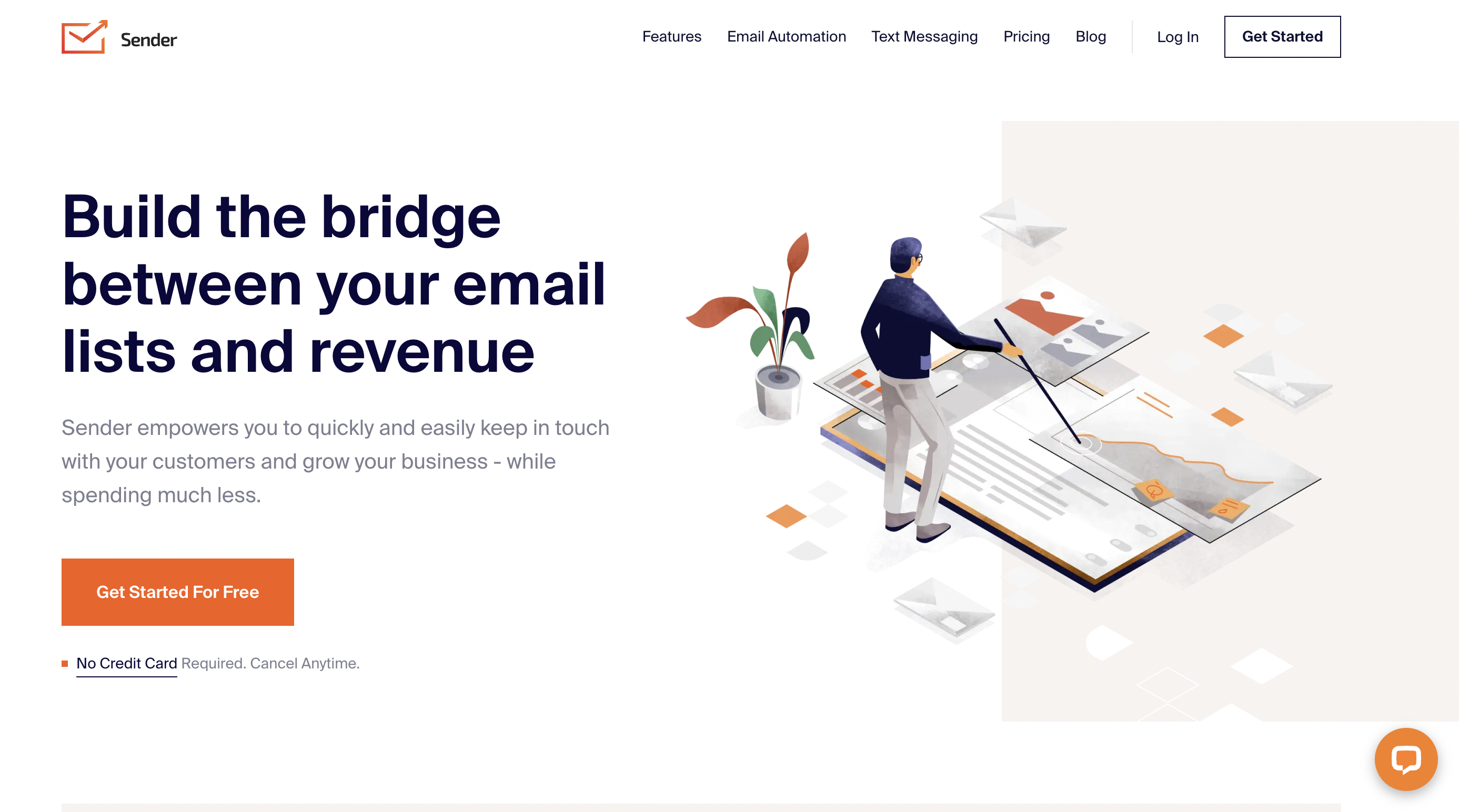 It is one of the best email marketing tools available for you! Sender helps create impressive branded emails and professional templates to design emails in no time. No HTML knowledge is required to build emails and newsletters to improve your ROI.
The robust analytics feature makes it stand out from the rest. Further, the analytics capture user behavior accurately, which further helps to craft strategies for better campaigns.
Pricing
Free
Standard: $8.33 annual subscription
Professional: $29.17 annual subscription.
Enterprise: Contact Here .
Why should you choose Sender?
Points to the right subscribers by segmenting them.
With Product Wizard, you can easily add products to the newsletter.
Impressive pop-ups and forms prompt your customers to purchase your products.
Easy integration with tools usable in business, such as WordPress, WooCommerce, Cloudflare, Shopify, etc.
24x7 availability.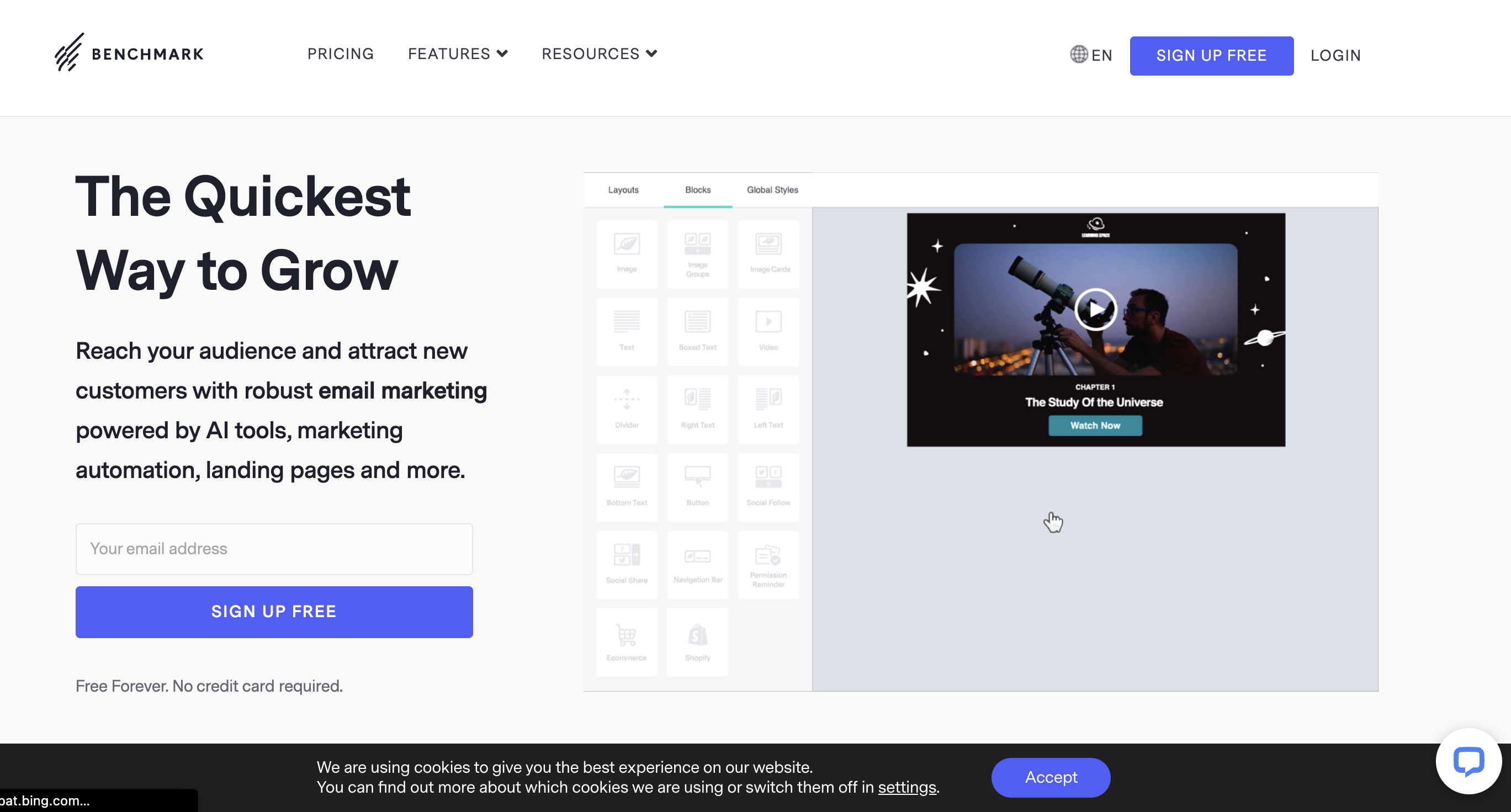 This platform provides robust email marketing and is powered by artificial intelligence tools. Benchmark Email provides maximum deliverability with smart sending. In addition, it is easy to schedule emails with the RSS email option. Further, with Smart Content, forget writer's block and get new ideas for every email you draft.
It has various features to make attractive email templates, such as photo editing tools, color customization, etc.
Pricing
Free: 3500 emails per month
Pro: $13 per month (unlimited emails per month)
Enterprise: Click here (unlimited emails per month)
Why should you choose Benchmark email?
Advance email marketing with pro marketing automation.
Advanced lead generation and reporting.
Email white labeling and dedicated IP support.
Smart Sending Technology sends emails at the right time.
Pre-built email templates for every subject line.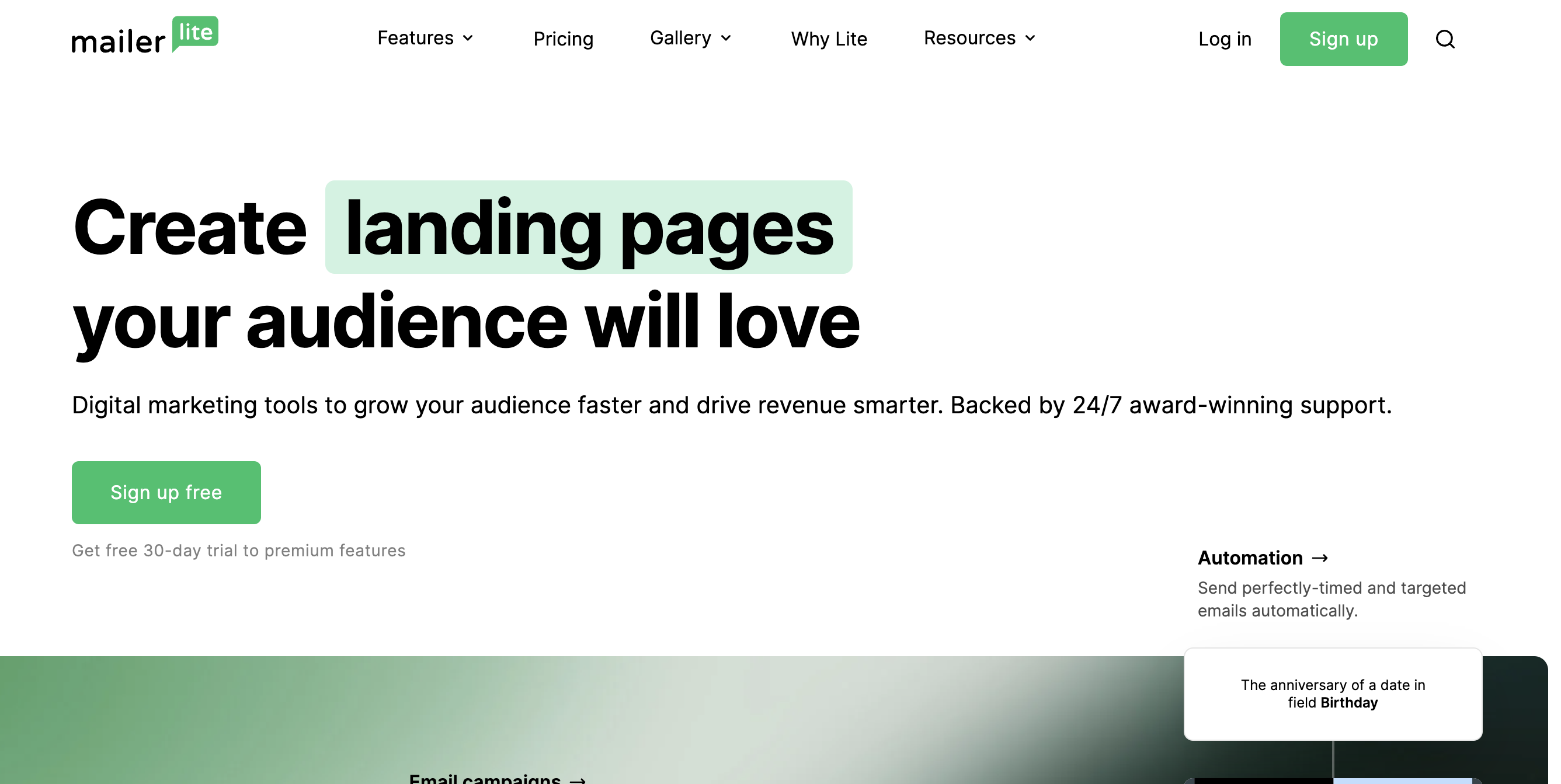 Mailerlite is one of the best email marketing tools to grow your business exponentially. The advanced email marketing features include strengthening customer relationships, monetizing your audience, and automating workflows.
Monetizing the audience becomes easy due to integrating multiple platforms like WooCommerce, Shopify, or Stripe. Additionally, the app makes it easier to manage email lists and campaigns on the go. Apart from the basic drag-and-drop email builder, the tool offers a built-in photo editor and a rich text editor!
Pricing
Free: 12000 monthly emails.
Growing Business: $10 per month (unlimited monthly emails).
Advanced: $21 per month (unlimited monthly emails).
Enterprise: Click here
Why should you choose MailerLite?
It helps send automated, perfectly timed, and targeted emails.
Monitor the campaign's performance and make improvements for better results.
Option to create and save newsletter templates for future campaigns.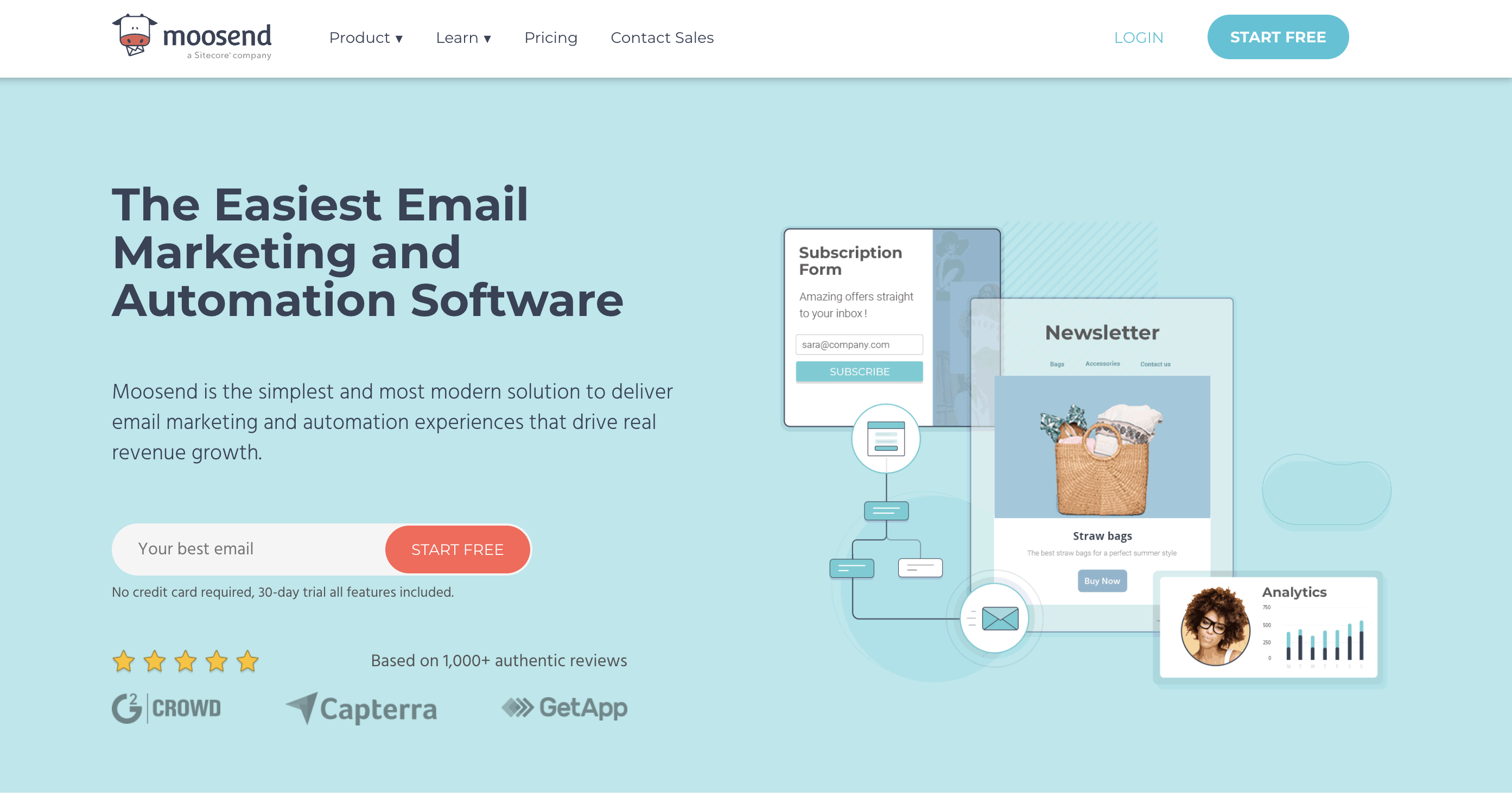 Moosend is known to be one of the most modern solutions for email marketing. Users get content A/B testing, subject line A/B testing, and AI subject line optimizer for creating highly engaging content. In addition, the premade automation templates help work quickly and easily.
Moosend offers detailed campaign performance reports to optimize campaigns and get desired results. It offers Google analytics tracking, spam testing, geography and device reporting, spam analysis, and more.
Moreover, integration with your favorite apps is also available.
Pricing
Free trial for 30 days.
Pro: $9 per month. (0-500 subscribers).
Why should you use Moosend?
Provision of customizable templates and ultra-fast loading pages.
Easy import to WordPress that makes work easier if your website is made on WordPress.
Offers free SSL for additional security.
Provides Anti-bot protection.
Live customer support.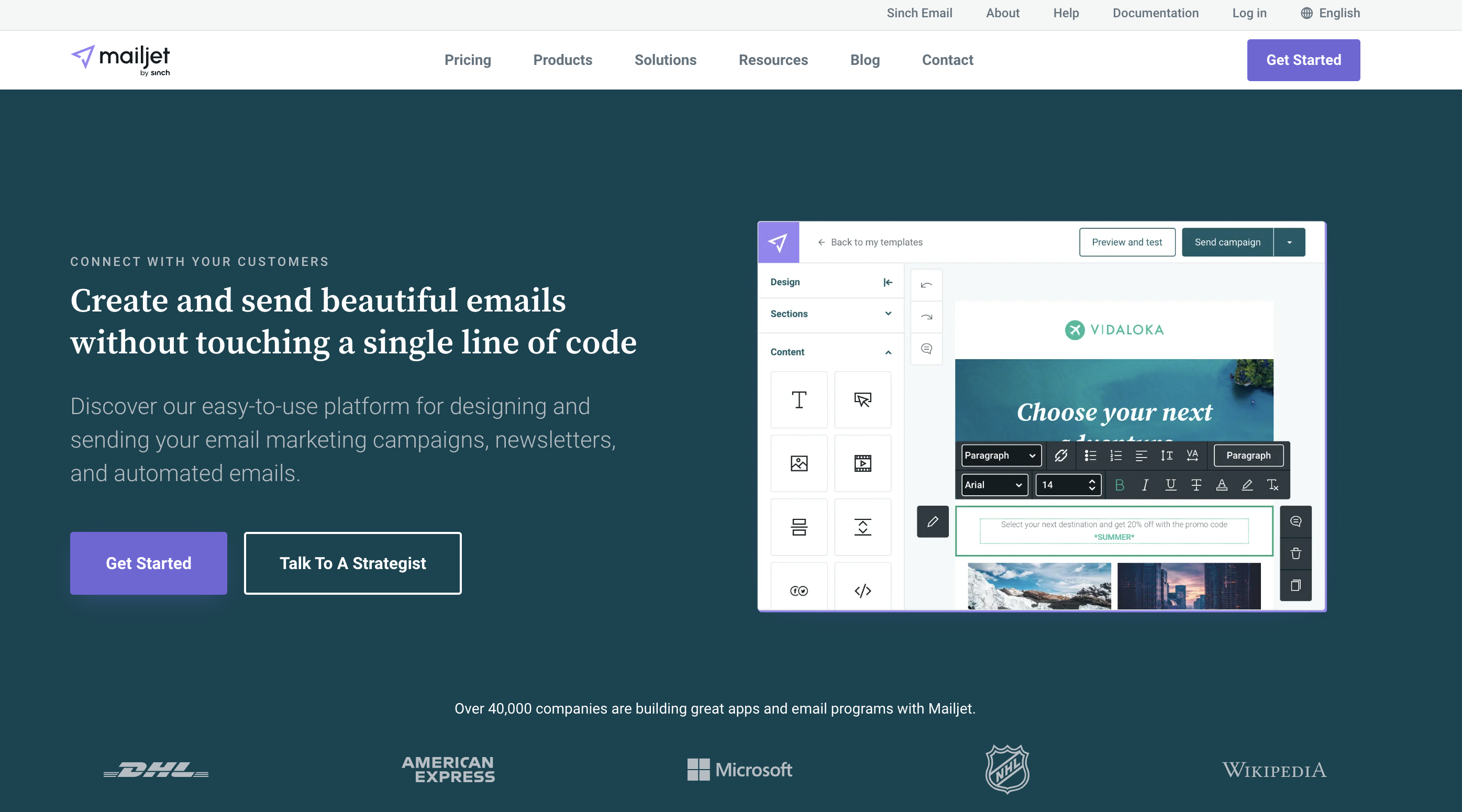 It's an easy-to-use platform to design and send email marketing campaigns, automated emails, and newsletters. Mailjet is an intuitive email editor where you can build impressive responsive emails in just a few minutes.
With plenty of pre-designed templates and a flexible drag-and-drop email editor, it ensures you create engaging emails. Moreover, collaborating with your team is easy via its collaboration tools. As in Google docs, you can comment, read, edit and make changes with the team, here too, you can perform these actions in real time.
Pricing
Free: Sign up here. (6000 emails per month).
Essential: Starting at $15 per month (15,000 emails per month).
Premium: $25 per month (15,000 emails per month, no daily sending limit).
Custom: Click here .
Why should you use Mailjet?
Content management is effortless with this platform. You can easily modify individual contacts, create personalized campaigns, and manage email lists.
It's possible to avoid the spam folder and increase open rates with Mailjet. To ensure that the email addresses on your list are real, it also performs email verifications.
Guarantees unmatched deliverability and engagement statistics via Mailjet's statistics dashboard .
What to Look For While Choosing an Email Marketing Tool?
Plenty of email marketing tools provide excellent features and packages. However, there are a few important considerations when choosing the perfect email marketing tool for your brand. We have curated a list of the same:
1. A/B Testing
A/B testing is crucial to optimize email campaigns and get great engagement. It will be highly beneficial if the A/B testing tool can test all the elements, such as subject lines, images, content, etc.
This testing entails which changes bring in the most conversions! That's all one needs, right?
2. Number of Contacts
Invest in the tool that allows you to add the maximum number of contacts within your budget. Some providers charge very high to add contacts, so make sure you choose the most economical option on a tight budget!
The more contacts, the more chances of increased ROI!
3. Personalization
Top tools allow you to personalize various elements of an email, such as content, subject line, videos, images, etc. Personalization results in an increased number of subscribers and conversion rates as it enhances your relationship with the customers.
72% of users say they only respond to emails aimed directly at them. Hence, include this aspect while choosing the email marketing tool for the best results!
4. Mobile Compatibility
More than 50% of subscribers prefer opening emails on mobile devices. Hence, it becomes essential to choose a mobile-friendly tool. If you lag here, you may lose valuable customers.
5. Spam Compliance Rules
Spam compliance rules are turning stringent. The regulators continue to shield their users from junk mail.
Hence, the email marketing tool must guide you with steps to avoid spam folders. Make sure the company has updated the spam compliance rules accordingly.
Final Remarks
Email marketing is an essential part of marketing for businesses. We have enlisted the best tools for an effective email marketing strategy. These tools assist you in achieving your desired goals.
However, there are plenty of options available in the market. So, it can become confusing to land on a decision.
To help you with it, this post ensures you know the 10 best email marketing tools and their best features and pricing.
Always align your business's needs with a tool's features while deciding! Pick up the best match that's also economical.
We hope this information helps you get answers to what you were looking for!
Adios!
People are also reading: