Note-taking is one of the most important aspects of our life. Be it at school, at work, or at meetings.
Our memory is very limited. So we want to take notes to remember the things we learned so that we can revisit them later. This is where the role of transcription software comes into play.
A transcription software allows you to convert any audio into human-readable text. The primary intent of this software is to automatically transcribe any audio file into text, making it easier for humans to maintain notes.
Here are some of the business use cases where converting audio to text is really useful:
A student trying to take notes from a recording.
A vlogger trying to convert his video content into articles.
It helps people with hearing disabilities to learn things on the internet.
A YouTuber can convert his videos into text format and build a blog with minimal effort.
Supporting runtime subtitles on video on platforms like YouTube, Instagram, etc.
A podcast needs to be converted to an article to be published as an article.
These are just some examples.
A good transcription software lets you convert anything, from audio and videos to podcasts, into readable text. Also, it allows you to edit transcribed files to maintain accuracy.
Apart from this, the world is full of people with different preferences. Many people love reading content more than watching videos.
This article discusses some of the most popular transcription software that are both paid and free.
Factors To Consider While Choosing the Best Transcription Software
Transcription software is on the rise. There are many tools available on the market with their advantages and disadvantages.
Here are some of the important factors to consider while choosing the best one for your use case:
Accuracy: Accuracy is the most important factor when choosing transcription software. Good ones have an accuracy of > 90. Although it depends on a number of factors like the technology (machine learning models) used, the quality of the audio, the way a person speaks on the audio, etc. Choose software that has good accuracy.
Cost: Even though accuracy is important, if the software is not affordable, people will not buy it. Choose the one that has the best features and is available in the budget you have.
Turnaround Time: In the context of transcription software, the turnaround time is the time taken to convert an audio file into a text file. The turnaround time is usually more than a day if the tool provides manual transcription. If it's an automated tool, in general, for an hour-long video, good software usually returns the results in less than 30 minutes. Turnaround time becomes important if you're looking for quick results.
Timestamp: Some software adds timestamps while converting audio. This helps you identify when a specific was spoken. This is helpful in use cases like subtitle generation, vlogging, video editing, etc.
Use Interface: Usability is an important factor in any software. Even if the software provides great features, if it is not user-friendly and easy to use, people would not want to use it.
Privacy & Security: Privacy becomes important when you're transcribing confidential information.
10 Best Transcription Software for Note-Taking (Convert Audio and Videos to Text)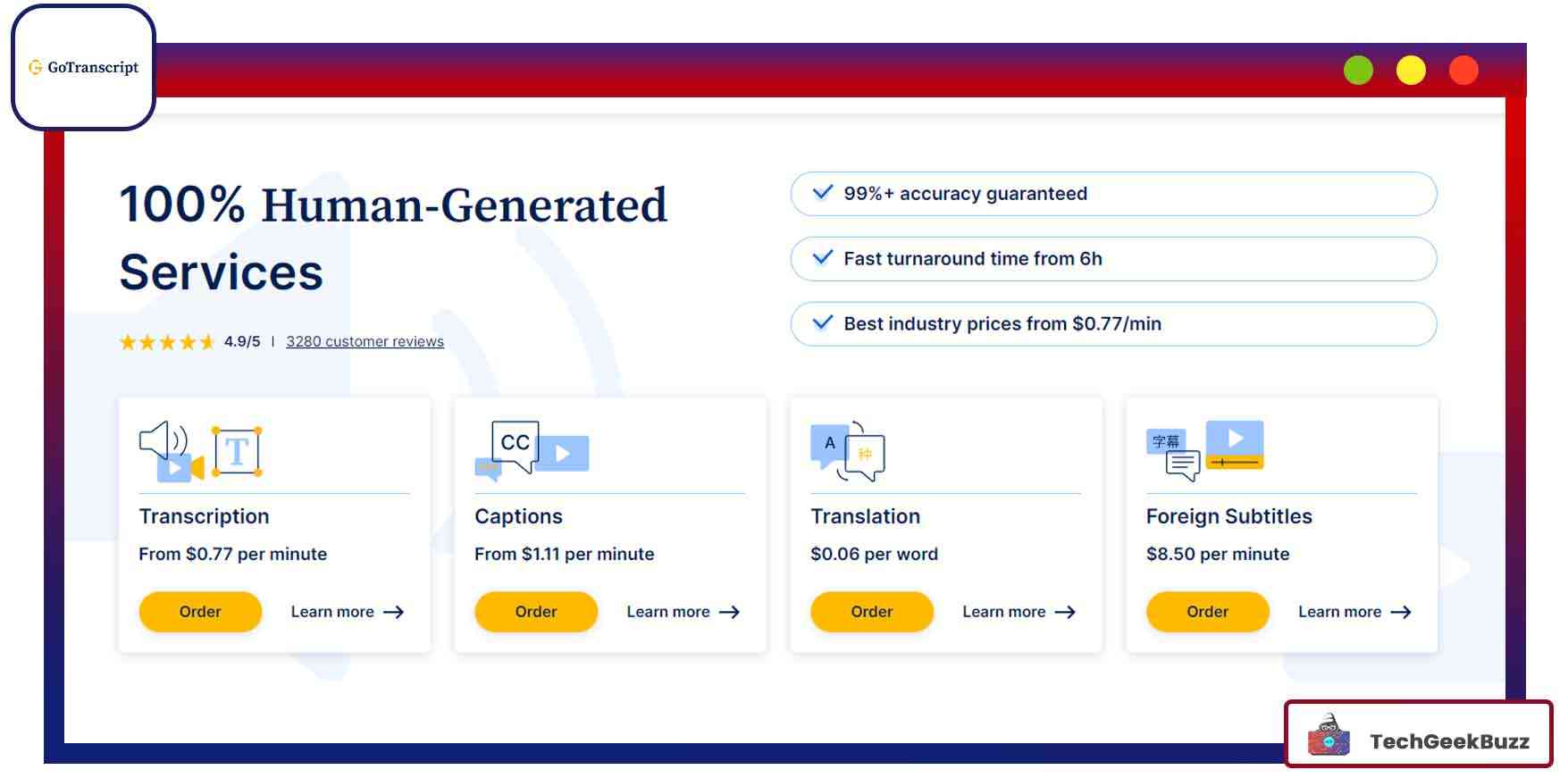 GoTranscript is best suitable when you want manual transcribing with the best in the industry prices. This platform supports over 60+ languages with professional native transcribers ready to convert your video to text.
Transcription is done by industry experts, regardless of the industry, language, and accent. So, they provide 99% accuracy having exceptionally high-quality transcription.
The process contains transcription, review, proofreading, and quality check. They provide interactive UI for all of their services in one place.
Moreover, they also have competitive pricing plans and very generous loyalty programs that make them an excellent choice for transcription services. Ordering is simple and hassle, allowing you to specify the turnaround time and any special requirements.
Once your order is complete, you may modify your video transcript, captions, and subtitles, export them into various formats, and more using GoTranscript's free resources.
Key Features:
Transcribe YouTube, Vimeo, Dropbox, and Google Drive videos through URL.
100% human-generated transcriptions.
Personalized for different types of industries.
Cost of Services:
Transcription

$0.77 per minute
Convert video or audio to text
Captions

$1.11 per minute
Caption your videos

Translation

$0.06 per word
Translate audio or text into 30+ languages

Foreign subtitles

$8.50 per minute
Subtitles for English videos
Amberscript is a tool that combines human intelligence and artificial intelligence together to provide you with the most accurate and reliable transcription and translated subtitles.
It provides an interactive UI to upload a video or audio file, choose between manual transcription or human transcription, edit the transcribed files, and export them to various formats, including text file, SRT, VTT, EBU-STL, Word, XML and JSON . The platform supports 39 languages.
The editor makes it possible to ensure 100% of the transcribed files. Netflix, Disney, and Microsoft love this tool.
Along with the transcription service, Amberscript also provides the service of generating subtitles for your videos. It has competitive pricing and fast turnaround and comes with GDPR compliance for security.
Key Features:
With prepaid transcription, you don't have to subscribe to them for a month, which is ideal for one-off projects.
Seamless integrations help you customize your workflows.
Place your order and get it done within 24 hours with the automated transcription.
Cost of Services:
Manual Transcription:

100% accuracy
$1 per minute

Automatic Transcription:

Subscription-based plan

$25 per month
5 hours of audio or video uploaded

Prepaid based plan

$8 per month
1 hour of audio or video uploaded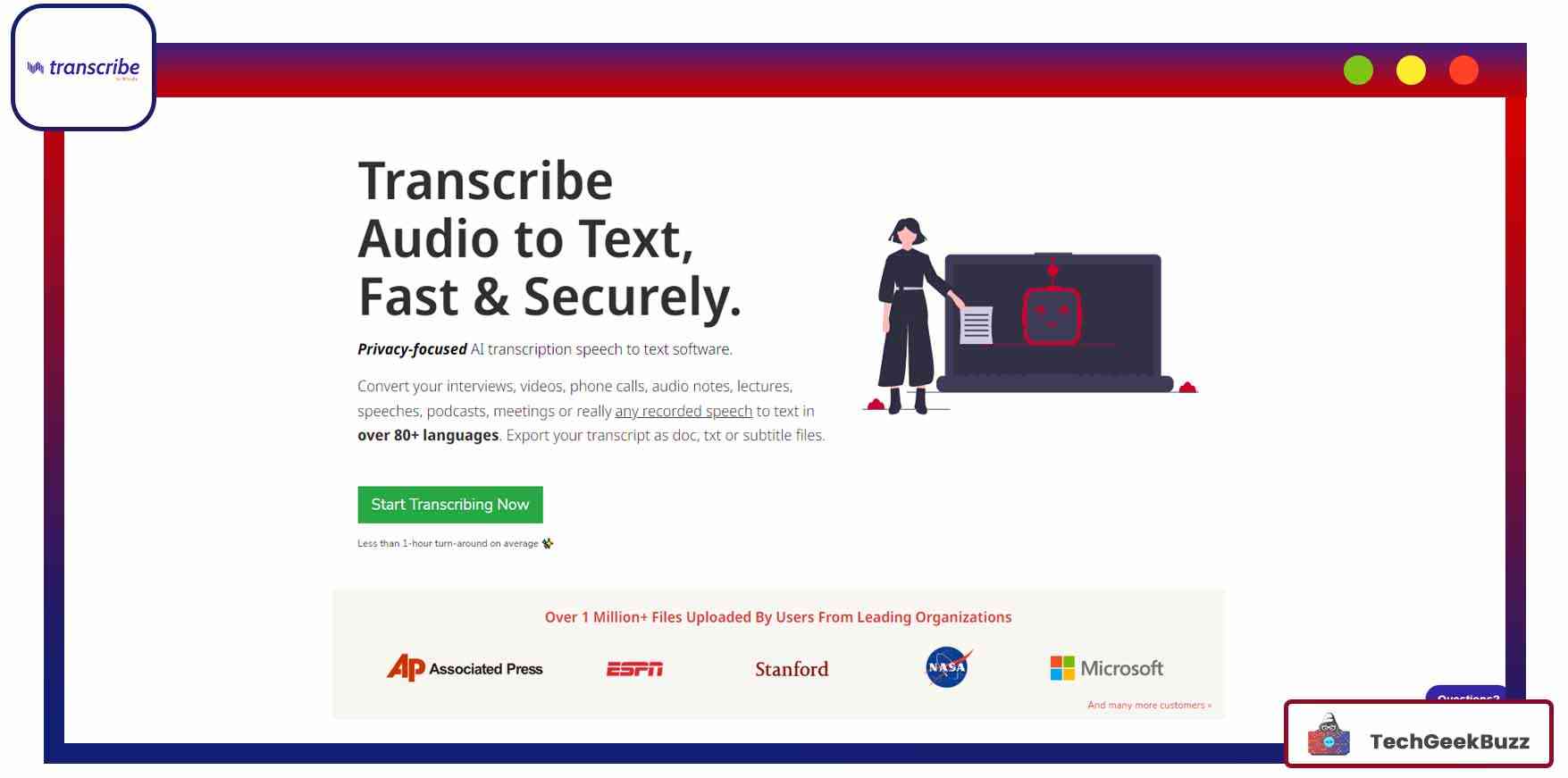 Want to convert your meeting, phone calls, interviews, speeches, audio notes, or podcasts into text? Transcribe is the best solution. It is a privacy-focused AI transcription speech-to-text software. It is best if you want only audio-to-text transcription.
This platform has an integrated editor and a media player. It provides you with speech-to-text transcribing, manual transcribing, and audio-to-text transcribing. Moreover, it supports 50+ languages for self and automating transcription.
The transcription is machine-generated. So it may not be accurate sometimes. But other times, it works really well.
Key Features:
Foot Pedal Integration
Works offline
Autosave
Auto loop
Cost of Services:
Self Transcription: $20 per year
Automatic Transcription: $20 per year + $6 per hour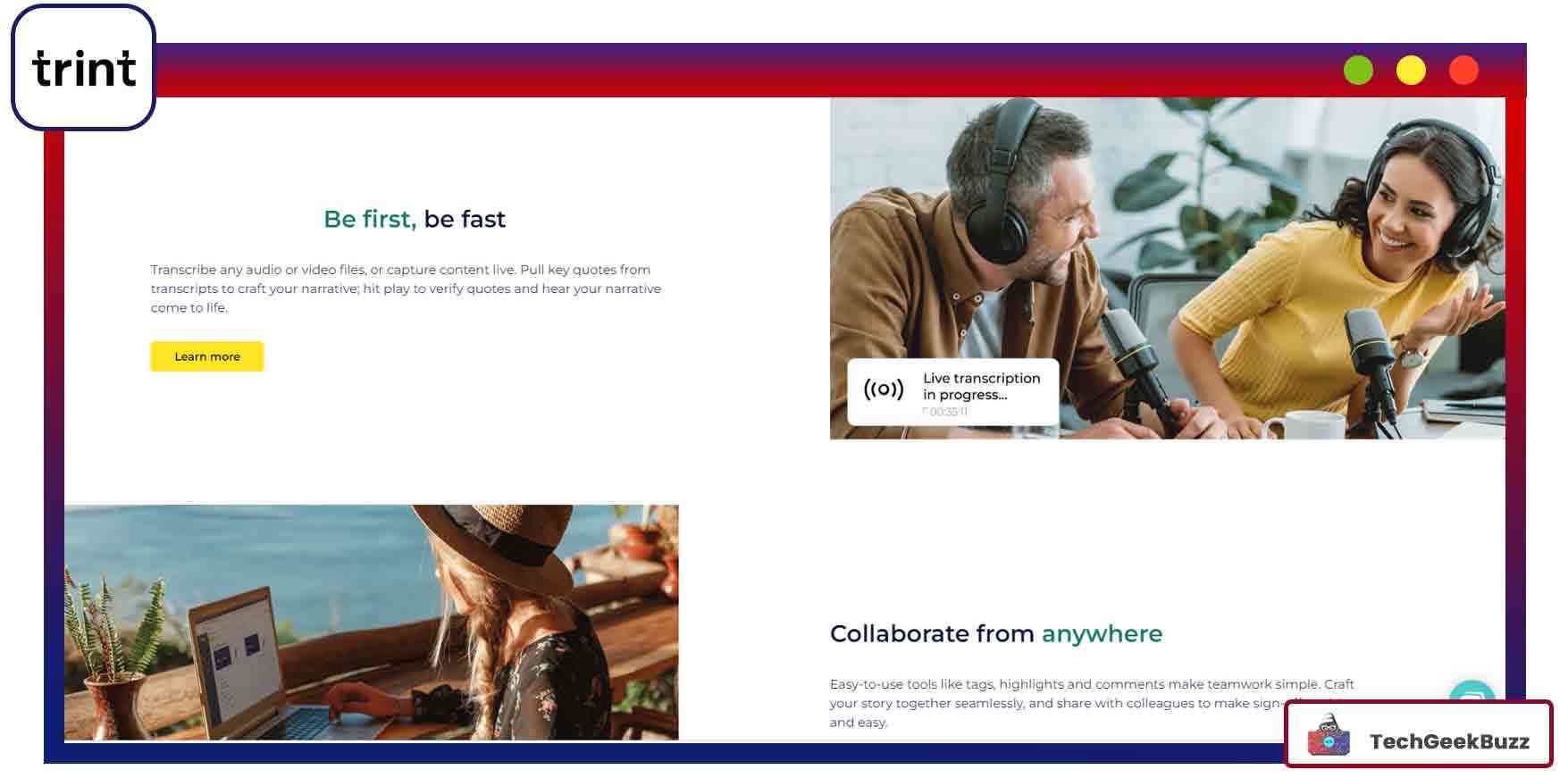 Trint is an AI audio transcription software to transcribe audio or video files. It is one of the best tools that convert audio and video files in real-time into text. It provides you with editable, collaborative, and searchable documents to make the transcribed text 100% accurate.
The platform supports 30+ languages. It provides an interactive dashboard to collaborate with other members in a workspace. With the help of the dashboard, you can upload your file, and the platform transcripts the file and allows you to select the format in which you want to export the result.
Moreover, the platform facilitates collaboration by allowing you to share the resulting file with team members.
Key Features:
Collaborative
Best in class ISO certified security
Multiple format support
Cost of Services:
Starter plan:

For individuals and teams that need to transcribe up to 7 files per month
$48 per user/ month

Advanced plan:

For individuals and teams that need unlimited transcription
$60 per user/month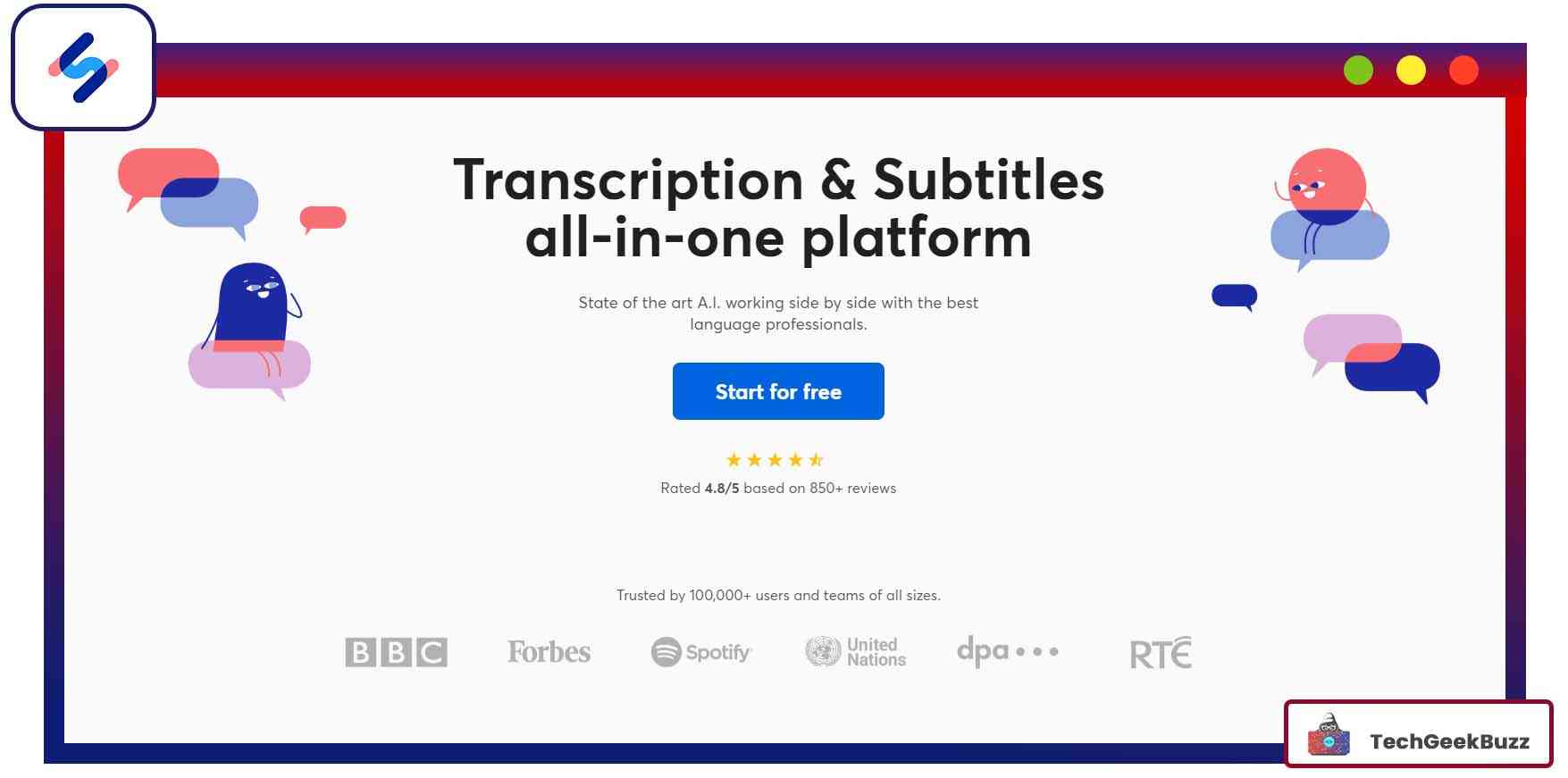 It is a free transcribe software that has an elegant UI to interact with. It provides manual transcribing for free and automated transcribing and human transcribing as part of its paid plan. Along with transcription, you get the service of subtitles, where you can add captions to your videos.
The platform supports 60+ languages. It enables you to integrate team members into the platform, such as editors and proofreaders, and enjoy a fluid workflow for cooperation.
Additionally, this website has a built-in interactive editor for manual transcription. You can import videos from any of the public URLs and transcribe them manually. Besides, it has other features like auto-loop and shortcuts for faster work.
Key Features:
Elegant UI
Free editor for manual transcription
No limitations on uploads
Seamless integration with other third-party apps
Security is paramount
Cost of Services:
Manual Transcription:
Automatic Transcription Software:

€0.20 per minute
85% accuracy

100% Human-Made Transcription

€1.75 per minute
99% accuracy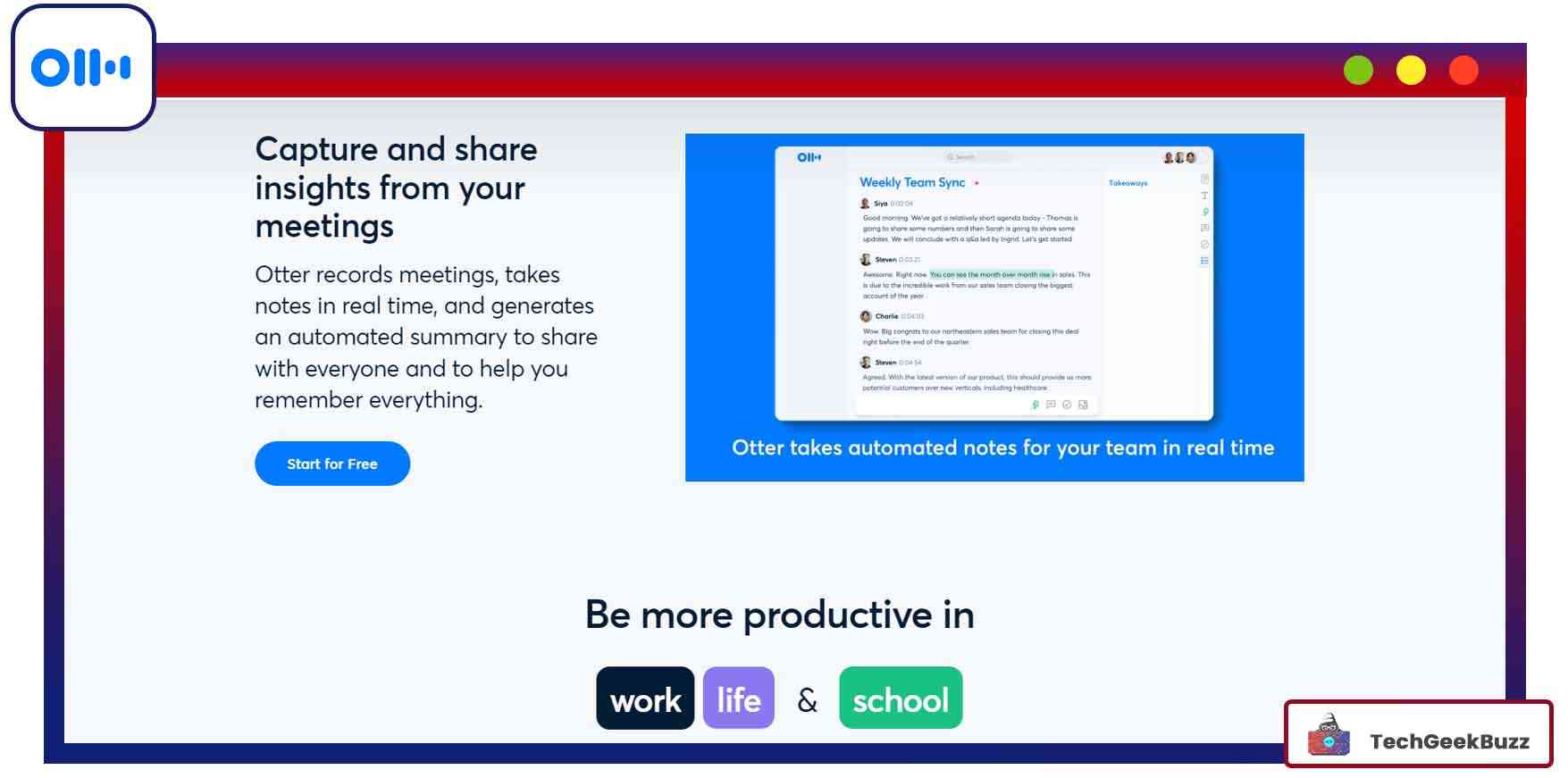 Whether you wish to record an ongoing meeting or take notes from an ongoing lecture, Otter.ai is a solution for you. It is an industry-leading transcription tool for real-time transcribing. You can either record audio from your phone or immediately transcribe it using a web browser.
It can add speaker ID, notes, images, and key phrases in addition to transcription, saving you time from having to fiddle with extra third-party tools for simple enhancements.
Otter.ai provides integrations for leading communication platforms, like Google Meet, Microsoft Teams, Zoom, etc. This makes this tool very unique from others. It also allows users to import pre-recorded videos to transcribe.
Key Features:
Transcribe real-time meetings (Google Meet, Zoom, Microsoft Teams)
Speaker identification
Custom Vocabulary
Advanced summary
Cost of Services:
Basic Plan:

For individuals just getting started
300 monthly transcription minutes
30 minutes per conversation

Professional Plan:

For individuals who need more minutes and features
$16.99 per month

Business:

For small teams and organizations that need to share & collaborate
$30 per user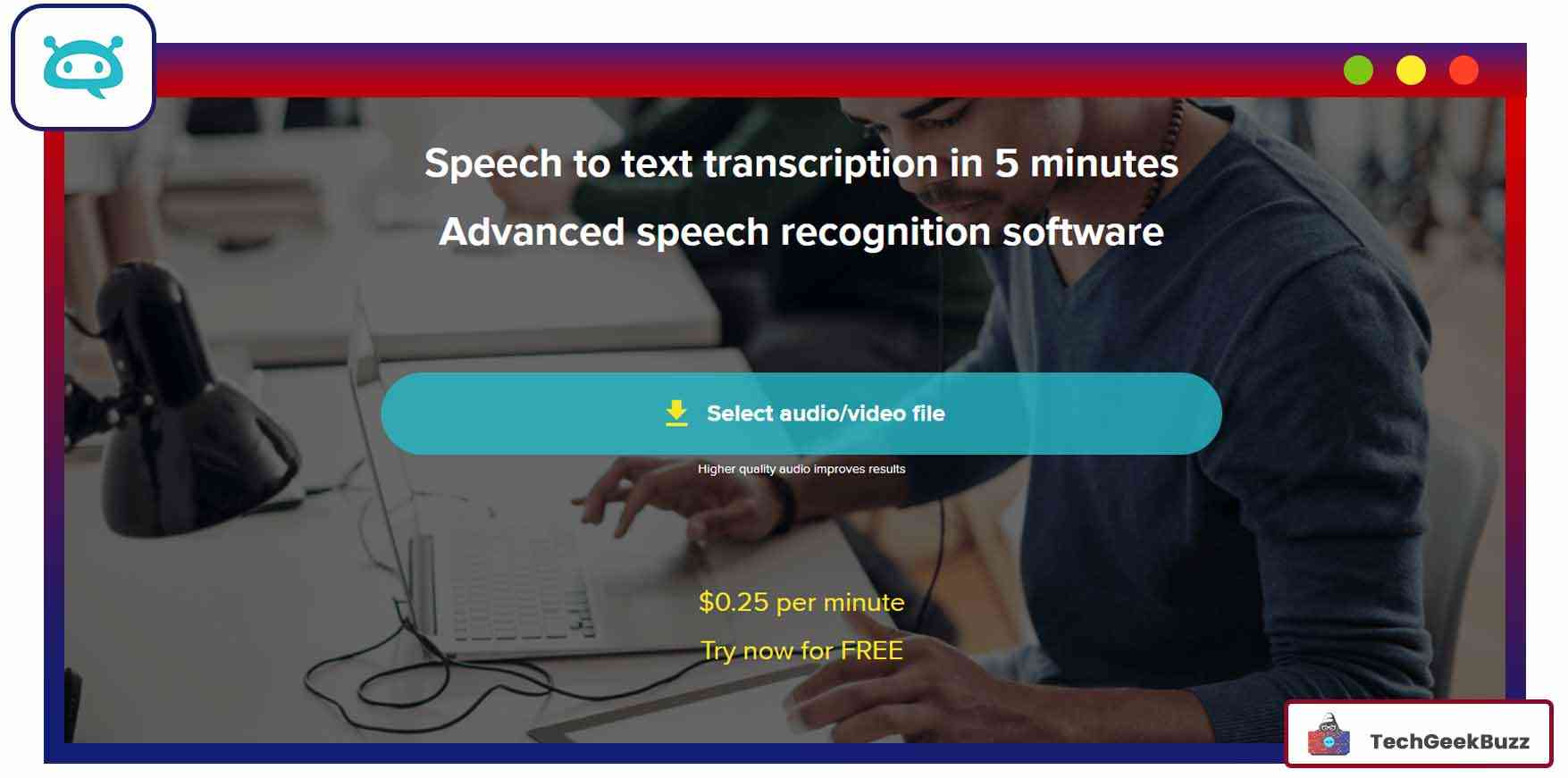 Temi is an advanced speech recognition software that can generate speech-to-text transcription in minutes. Machine learning specialists and speech recognition specialists have built it, so you can guess the accuracy.
You can also organize, edit, and share transcribed audio/video files. This tool is perfect for journalists, bloggers, authors, students, etc. Also, it provides one free transcript of under 45 minutes.
Moreover, you get a free editor that lets you edit your transcripts within minutes. The edited transcripts can be exported into a text or closed caption file. Also, it provides APIs if you want to implement speech-to-text in your own product.
Key Features:
Speaker identification
APIs available to integrate into your product
90-95% accuracy
Cost of Services:
Automatic Transcription Software: $0.25 per audio minute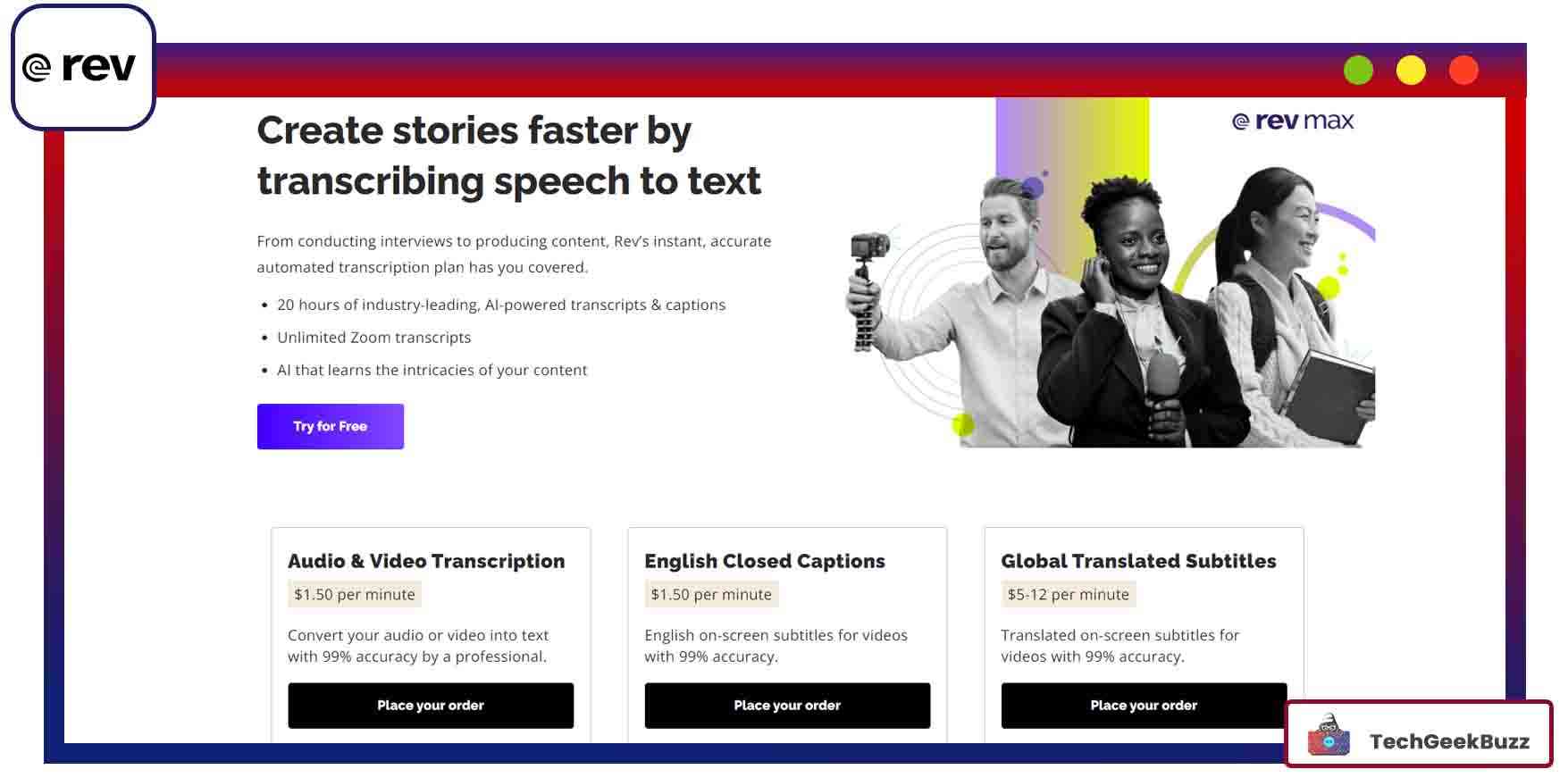 Rev provides both AI-based automated transcription and human transcription services. It provides immense accuracy in text-to-speech recognition that will help your content to grow faster.
This tool is like the godfather of all transcription software, providing everything from human transcription to closed captions to real-time meeting transcription. How cool is that?
Rev also offers APIs for developers if they need to integrate Rev's speech recognition into their own products.
Key Features:
All-in-one transcribing software
Seamless integration with Google Drive and Dropbox
Cost of Services:
Human transcription:

$1.50 per minute
99% accuracy

Automated transcription

$0.25 per minute
90% accuracy

English closed captions

$1.50 per minute
99% accuracy

Global translated subtitles

$5-12 per minute
99% accuracy

Live captions for zoom:

$20 per month per user
99% accuracy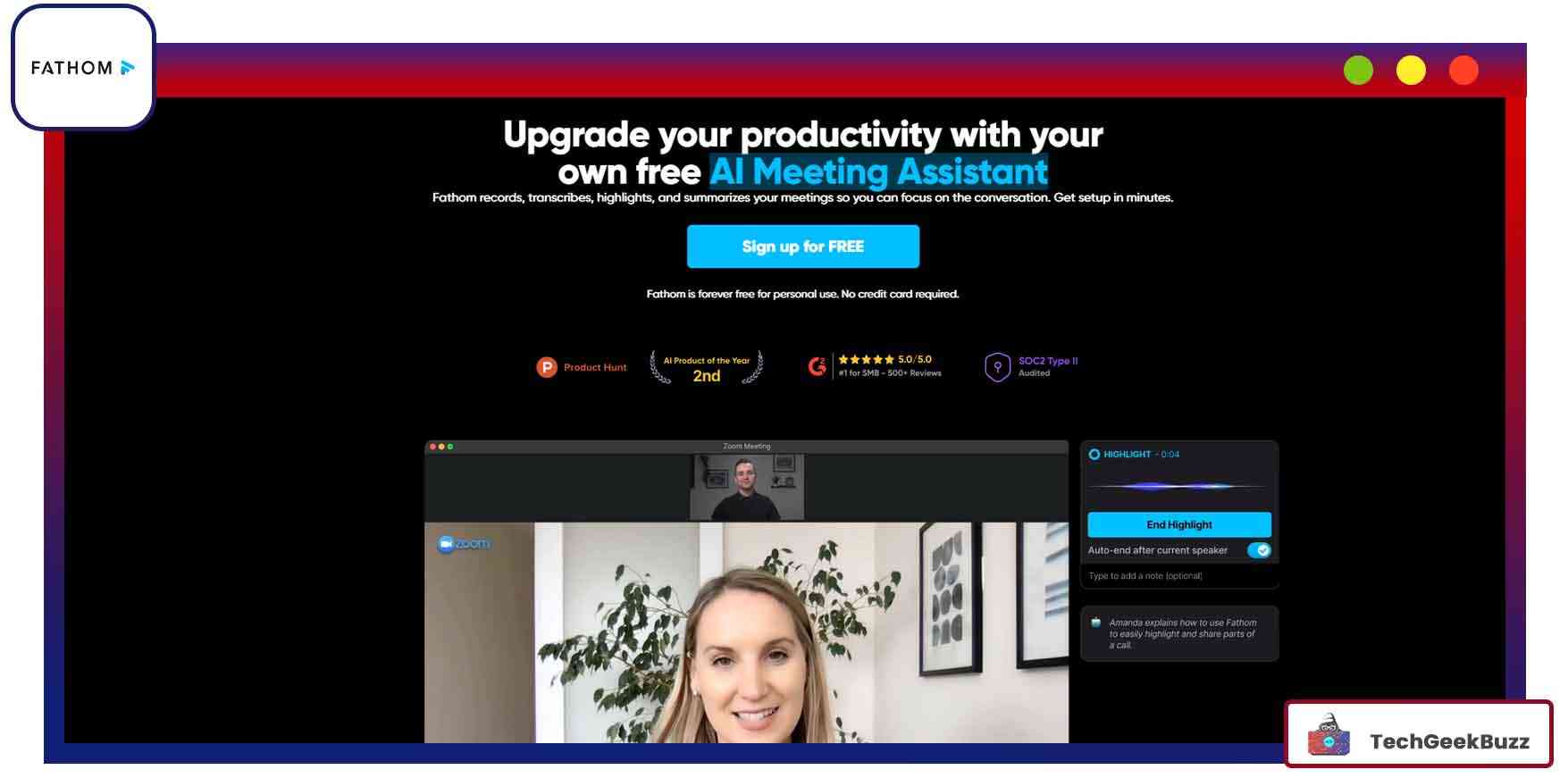 Fathom is an automated transcription software that is very helpful to corporate employees, students, and people in general who attend numerous meetings throughout the day. It helps them take notes on the important points discussed during such meetings.
It records, transcribes, and highlights your Zoom meetings so you can focus on the conversation. With just a single click, Fathom allows you to summarize everything that was discussed in a meeting. Immediately after a meeting ends, it provides you with a summary and access to a call recording.
Key Features:
Highlight particular moments from meetings
Instant access to transcription to share and take notes on it
Cost of Services:
Forever free for personal use!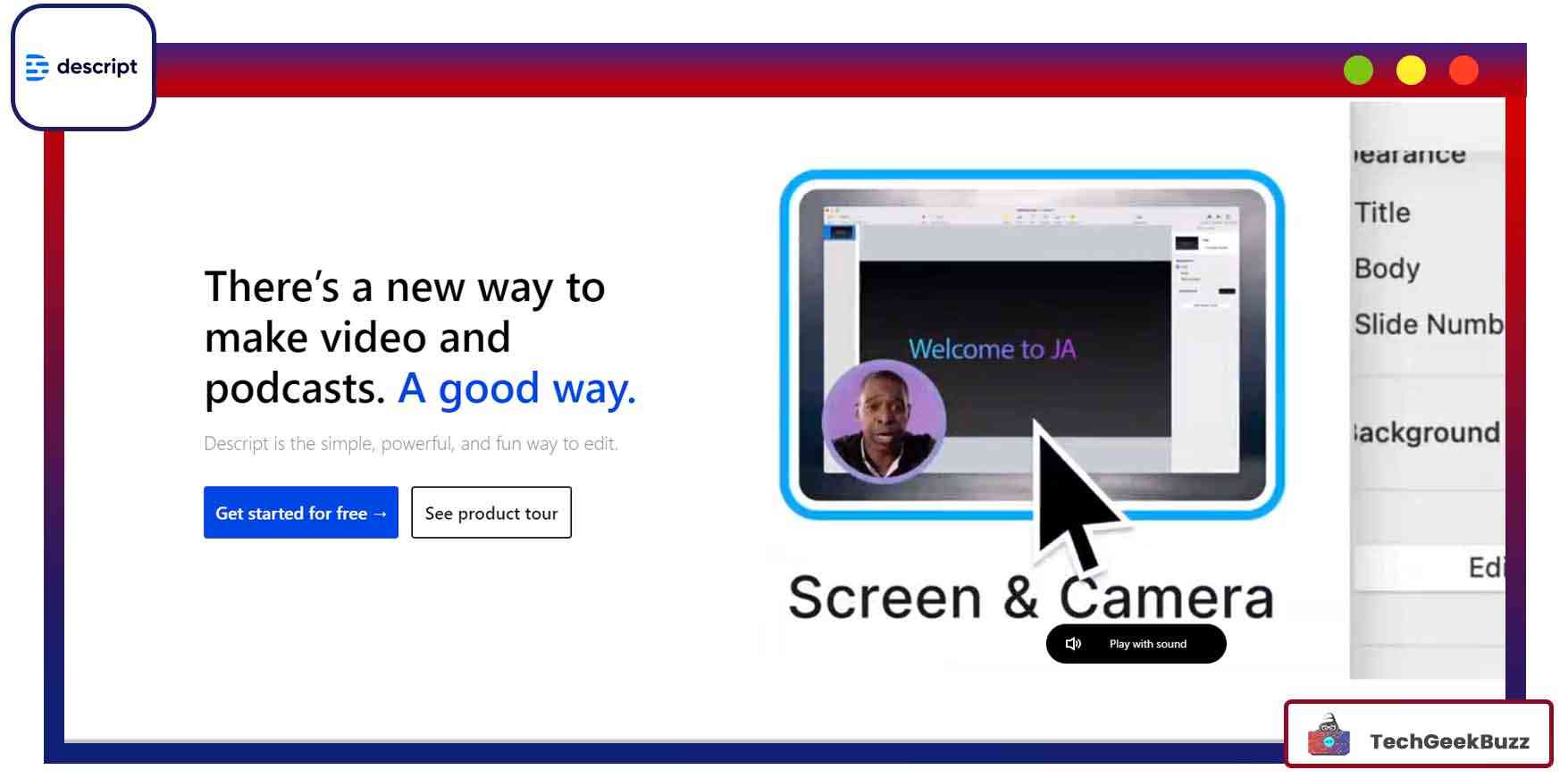 Descript is an AI-based transcription software. It provides you with automated transcribing as well as human transcribing services.
Along with transcription, Descript provides different functionalities, like screen recording, podcasting, studio sound, etc. You can transcribe audio into 22 different languages and export it into DOC, RTF, or VTT formats.
More interestingly, it is cloud-based, allowing you to access your files from anywhere with full version history.
Key Features:
Automatic speaker recognition
The White Glove service provides 99% accuracy
Leverages world-class technologies and services to keep your data secure
Cost of Services:
Free transcription - 1 hr/month
Creator transcription - 10 hr/month
Pro transcription - 30 hr/month
Conclusion
In this digital revolution, content plays a very important role.
Whether building a business, converting lectures to notes in academics, or creating more marketing channels, transcription software makes it really easy to convert content into text format.
Instead of doing all the hard work yourself, you can use a free or paid tool available, as discussed in this article, to repurpose your content with minimal effort.
People are also reading: