We know that Apple devices are more secure than others, and iPhones are no exception. Even though your Apple iPhone can protect itself from any malware or viruses, you shouldn't get too snobbish when protecting your online activities. The best way to protect your online privacy and security is to opt for a VPN.
A virtual private network is a service that allows you to browse the Internet anonymously without revealing your identity. It masks your IP address and provides a new one while you surf the Internet.
In addition, a virtual private network enables you to unblock geo-restricted websites and bypass censorship.
To know more about it, check out: What is VPN?
Though iPhones are safe and secure, keeping your online activities private is impossible without a VPN. Some people think the iPhone is already high on security measurements and no one can ever track or misuse your data.
iPhones are superior in protecting your privacy, but when logging into a public Wi-Fi network like your favorite local cafe, you need a virtual private network to mask your IP address. Without it, hackers can easily peek into your online activities when you connect to public WiFi networks. As a result, it becomes essential to use the best VPN for iPhones, regardless of the security iPhones provide.
Another reason is that you can access restricted content, such as streaming sites, video libraries, and any other content that is not accessible in your region.
There is a gamut of VPNs available out there. However, choosing the best one that fits your needs becomes essential. In addition to this, there are many other factors to consider.
With the primary aim of making you aware of some of the best VPNs for iPhone, we have created this article. We have also highlighted the factors you must consider when choosing the best virtual private network.
How to Choose a VPN for iPhone Devices?
As mentioned before, the foremost factor to consider while choosing the best iPhone VPN is it should offer a dedicated app for iPhones and iPads. Also, the app should be easy to use and have a low learning curve.
Besides, the following are some other factors to consider:
A virtual private network undoubtedly allows users to stay anonymous on the web. However, it should also protect you against potential cyber threats . This means that the service should provide the feature of blocking annoying ads and pop-ups, preventing you from visiting malicious websites.
You may often encounter a scenario where your VPN connection may lose. In such a condition, your device will connect to the default internet connection, allowing hackers or third parties to track your online habits.
The kill switch feature comes in handy when your VPN connection suddenly drops. This feature terminates the internet connection and avoid your iPhone's data from leaking or going into the wrong hands.
This feature allows you to route half of your iPhone's traffic through an encrypted tunnel; the rest has direct access to the default internet connection.
Encryption is one of the most typical methods for data security. It hides your original data from everyone other than you and the receiver. Choose a virtual private network that leverages the AES-256-bit encryption standard .
When your VPN service incorporates this feature, it provides a different IP address every other minute. This ensures that your entire traffic is not stuck to a single IP address, encouraging anonymity over a network.
When you get an option of obfuscated servers , you can even hide from others that you are using a virtual private network. There might be cases where third parties or hackers may track your VPN connection and try to crash it. So, choose one that provides the feature of obfuscated servers.
10 Best VPNs for iPhone Devices to Use in 2023
Supports all iOS devices with 12.0.0 and above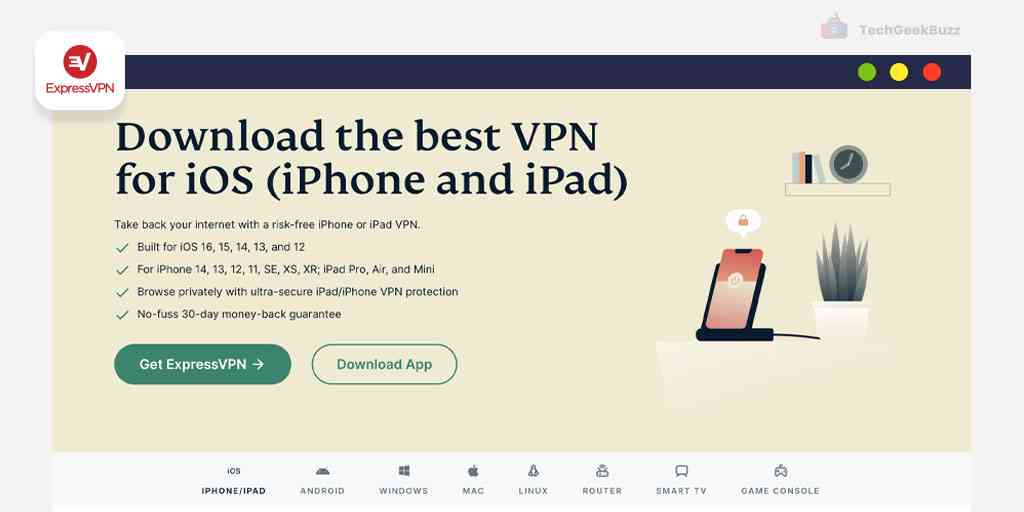 ExpressVPN is probably the most popular name you have heard in a while. It is available for all devices, including Windows, Mac, Android, and iOS. It is quick, cares about your privacy, and is easy to use for beginners. If you have used it on your Windows device or any other device, you will also know how to use it on iOS.
The service has over 3000 servers across 94 countries — it doesn't matter where you stay; you can always find a quality connection anytime. It uses AES-256-bit data encryption as its standard format, and it also uses a group of VPN protocols and a kill switch, and split tunneling to customize your bandwidth usage.
Apart from these features, ExpressVPN comes with a very simple user interface where you can easily navigate through the functions and configurations. Customer support is available 24/7 to resolve your issues.
Specialties
3,000+ servers from 94 countries.
24/7 live chat support.
No-logs policy.
Maximum 5 simultaneous connections.
Unblocks streaming sites like Netflix, YouTube, BBC iPlayer, Amazon, Hulu, etc., and geo-blocked content.
It defeats ISP throttling .
Unlimited bandwidth.
Pros

Cons

Perfect user interface.
Great customer support.
No knowledge of DNS.
Brilliant streaming options.
Comes with a password manager .
30-day money-back guarantee.

No customer support for phone devices.
Expensive
Pricing
1-month: $12.95/mo
6-month: $9.99/mo
1-year: $6.67/mo
Supports all iOS devices with 13.0.0 and above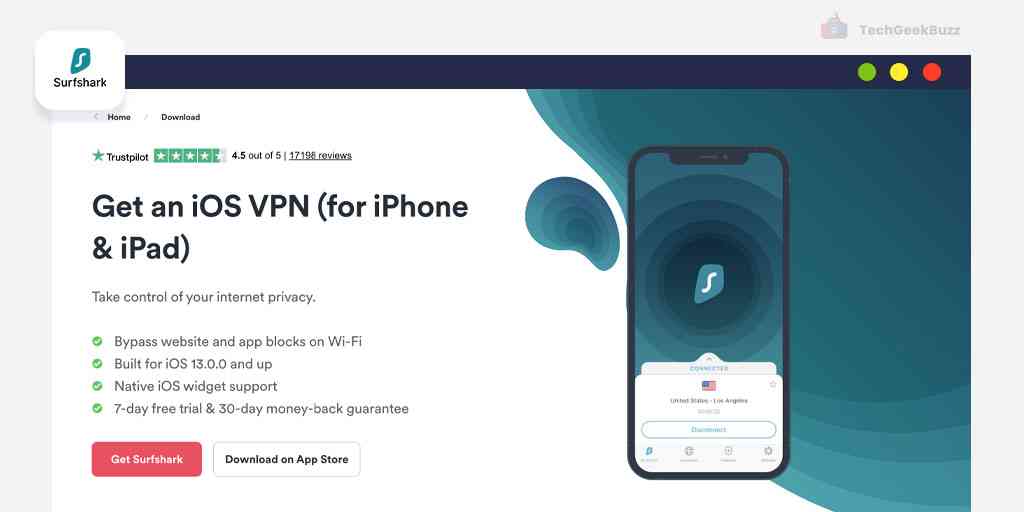 Surfshark VPN comes with a load of features and security arrangements, and it is surprisingly easy to use for beginners. You can quickly start with Surfshark and jump into preferred countries for a secure connection. It has customized privacy tools and security options that help stabilize a healthy connection between your computer and the network.
You won't even have to search for anything in the VPN setting. When you are using the service to connect to another country, if the server is unavailable, it will automatically connect you to another server of that or another country. Even if you cannot figure out what server to connect to, you can ask their customer support team or search for help from the user guide library.
Surfshark's network collection is not huge like that of ExpressVPN's, but when it comes to features, it makes up for it. You can even add Surfshark on Firefox or Chrome browser as an extension to protect your privacy. Apart from iPhone devices, it is available on Mac, Windows, Android, routers, and fire TV. You can install it on game consoles and configure it through DNS settings.
Specialties
3,200+ servers across 65 countries.
Intuitive user interface.
Unlimited simultaneous connections.
Unblocks streaming sites, like Netflix, Hulu, Amazon, YouTube, BBC iPlayer, etc., and geo-restricted websites.
Operates on diskless infrastructure.
Strictly no-logs policy.
Ad and malware blocker and cookie pop-up blocker.
Pros

Cons

Out-of-the-box security.
Unlimited connections.
Affordable
Excellent speed
30-day money-back guarantee.
Threat protection.

A little too basic for advanced users.
No support over the phone.
Pricing
1-month: $12.95/mo
12-months: $3.99/mo
24-months: $2.05/mo
Supports all iOS devices with 11.0.0 and above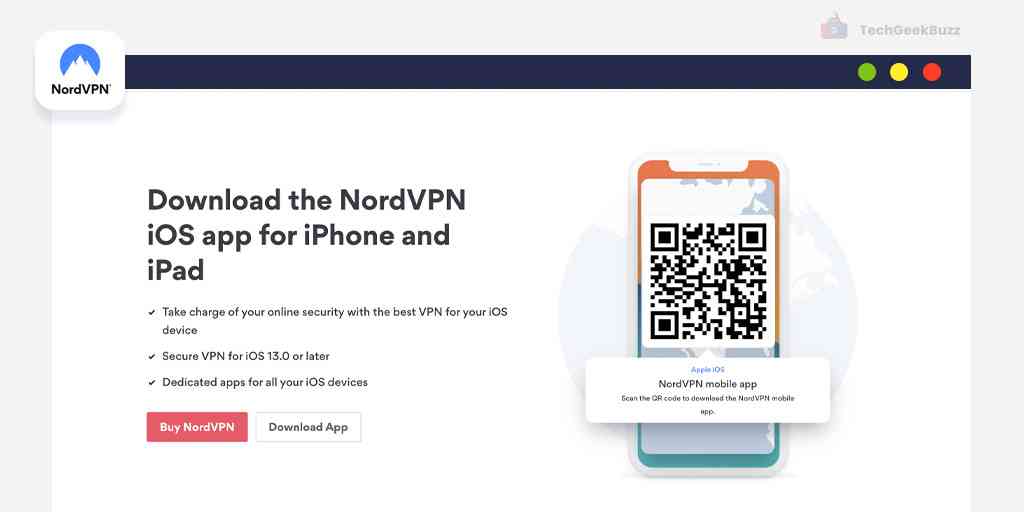 It is another reliable and secure VPN for iPhones available online. It is also available for Windows and Mac computers. The best reason why it is so popular is that it presents a spontaneous design.
When you launch the NordVPN application, you will see a blue-scale home page; from there, you can find which country to select for a fast connection. It offers different servers from the same country. If one server is not the fastest, you can change it to another.
Moreover, it comes with a split-tunneling feature, allowing you to select other apps you don't want to run through the VPN connection. You can join a total of 6 different devices with a single account. It even has a dedicated IP option and a kill switch feature. You can use this service on Tor Browser .
Specialties
Supports 6 simultaneous connections.
Unblocks Netflix, Hulu, Amazon, and YouTube.
Offers 5,400+ servers across 59 countries.
Special servers, including P2P and Onion Over VPN .
AES-256-bit encryption standard.
Threat protection with built-in ad and malware blocker.
Pros

Cons

Great security features.
No-logging feature.
Threat protection with bulletproof encryption.
Perfect for streaming geo-blocked content.
Supports all iPhone models.
30-day money-back guarantee.

The iPhone app's interface is not that good.
Pricing
Standard: $3.69/mo (2-year plan)
Plus: $4.69/mo (2-year plan)
Complete: $5.99/mo (2-year plan)
Supports all iOS devices with 4.2.0 and above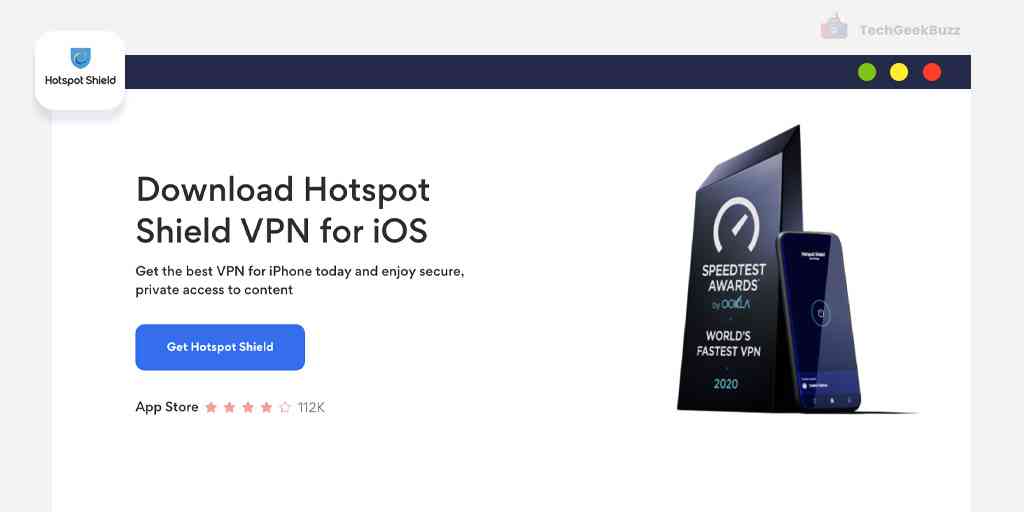 If you are not looking for a wide range of features, you can use Hotspot Shield. It is extremely fast and comes with a simple-looking interface.
Hotspot Shield uses a catapult Hydra protocol with superb speed; you can unblock any streaming site whenever you want. It is perfect for those travelers who want nothing but to watch a good movie on Netflix even when the movie they want to watch is unavailable in their current location.
You can install Hotspot Shield from your Apple Store on your device so that whenever you are on the go, you can connect your phone through the encrypted network and start watching whatever you want without any restriction. Hotspot Shield has peer-to-peer compatibility, excellent protection, great speed, etc. However, like the other ones we have listed in this article.
Hotspot Shield does not come with the kill switch, split tunneling, auto-connect, and other options. But the majority of Hotspot Shield users do not even need those features. So it is pretty popular. Still, Hotspot Shield does not have the best server option, so you won't get the fastest service.
Specialties
Max 5 simultaneous connections.
Offers 3,200+ servers in 80+ countries and 35+ cities.
Supports streaming sites Netflix, Hulu, YouTube, and BBC iPlayer.
Unlimited bandwidth.
24/7 live tech support.
Pros

Cons

Quick to connect.
Quite easy to use.
Ideal for streaming.
Simple interface.
45-day money-back guarantee.

Does not unblock Amazon Prime streaming options.
Some logging issues.
Pricing
Basic: Free forever
Premium: $7.99/mo
Premium Plus: $11.99/mo
Supports all iOS devices with 13.0.0 and above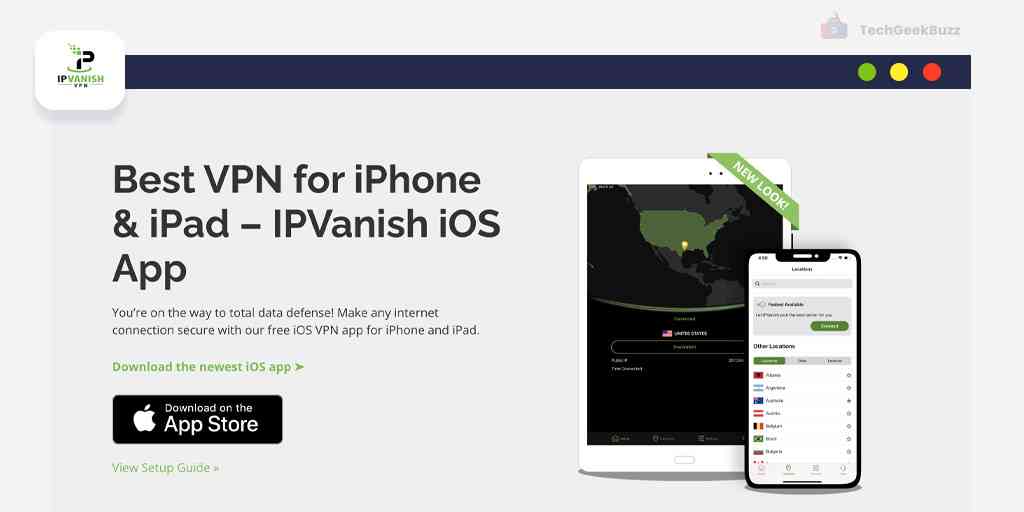 IPVanish is one of the oldest entries on the list. It is a great service for those living in the US because it provides great speed for servers.
If you have never used a VPN on your iPhone device, IPVanish can be the best. This service is flexible, easy to configure, and comes in the form of a simple iOS application.
This service can create visual graphs of your internet activities; it has a split-tunneling feature, LAN connection, and more. If you want to control your iPhone's traffic, IPVanish lets you do that through its graph feature.
Another reason why people use this service is that it allows them to find geo-blocked content from Netflix. It even supports a Kodi media player . An in-built IPVanish Kodi plugin helps you access media from anywhere.
Specialties
More than 1,600 across 75 locations.
Strict no-logs feature.
Unmetered (unlimited) connections.
Alternative connection mode to connect in countries where VPN is hard to achieve.
Prevents ISP tracking and bandwidth throttling .
SOCKS5 proxy.
24/7 live chat and phone support.
Pros

Cons

Quite speedy.
Unlimited connections.
Detailed connection information is displayed in-app.

Not as easy to use as others.
No money-back guarantee.
Pricing
Monthly: $11.99/mo
Quarterly: $10.00/mo
Yearly: $3.99/mo
Requires iOS 12.1+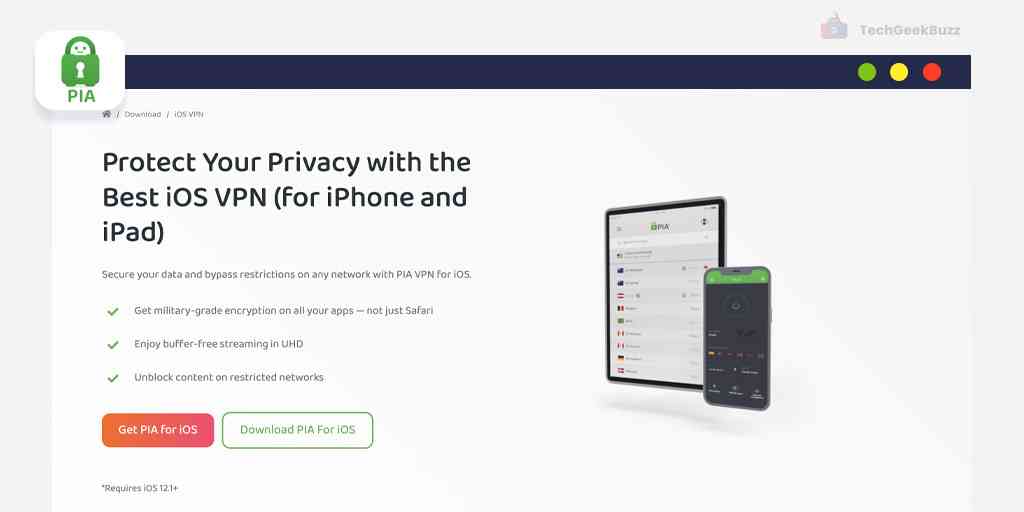 Private Internet Access (PIA) provides the best-in-class performance. If you are looking for a cost-effective VPN service for your iPhone, PIA is a go-to option. Go to your Apple's App Store and search for Private Internet Access, and you will see that it has a 4.6 rating from the users.
Regarding security, PIA comes with OpenVPN, ikev2, and WireGuard protocols. It utilizes 256-AES encryption for safe and secure network access. A kill switch is also available, and it does not require you to log in to this app to use the VPN Service.
One thing we like about this service is its section where you will find all the commonly used servers you have connected your computer to recently. Even if you don't connect to a server manually, it has an auto-connect option to find specific networks and connect your device.
Another bonus point of this Private Internet Access is that it can block malware and advertisements within and outside the app. Also, it supports streaming geo-blocked content.
Specifications
Available for Windows, Mac, Android, and Linux as well.
Connect 10 devices simultaneously.
Unblocks Amazon Prime videos, Netflix, Disney Plus, and iPlayer on your iPhone, but the Netflix service is only available in the US.
Integrated kill switch feature.
Buffer-free streaming in UHD.
No-logs policy.
Advanced split tunneling.
Unlimited bandwidth.
Free email breach monitor
Pros

Cons

Easy to stream content.
Military-grade encryption.
Affordable pricing.
Secure and privacy protected.
Reliable.
30-Day money-back guarantee.

Not suitable for Netflix streaming outside of the US.
Pricing
Starts at $10.89/month
Supports all iOS devices with 12.0.0 and above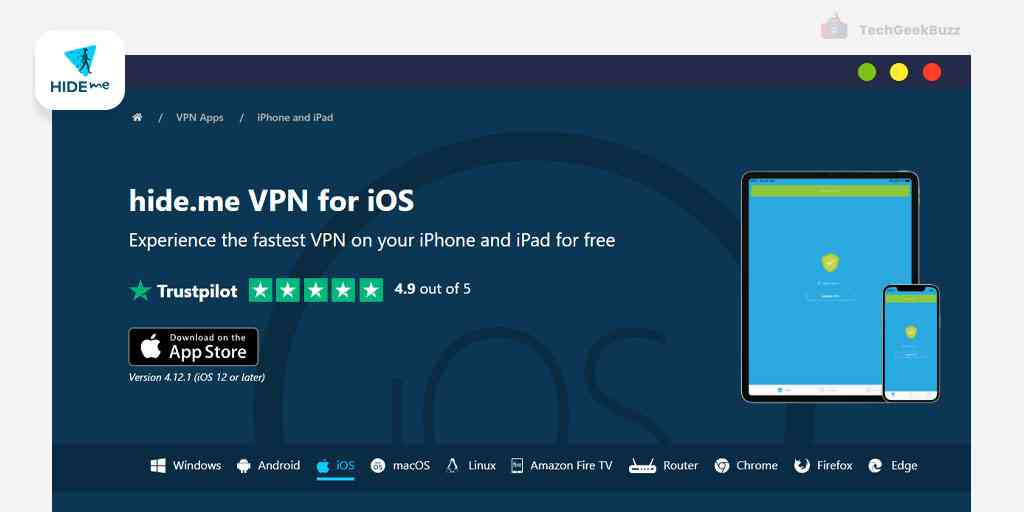 We like how Hide.me represents itself through its name only, but that's not the only thing we like about this app. It was not that popular a few years ago, but with regular improvements, it has unblocked various regions for streaming services such as Netflix, Amazon Prime, iPlayer, Disney +, etc. It has also adopted a very good protocol to give you a good or average speed.
Moreover, we like Hide.me's user interface because it's simple and user-friendly. A hit button allows you to connect your iPhone to the server. Mostly, the server location tends to be your nearby location, but you can also change it to your preferred place.
You can also add your most common servers to a favorite tab, and every time you try to enable the connection, you can choose one server from that tab. Also, you get 24/7 customer support in case of any issues.
Specialties
Comes with 2100+ servers across 77 locations.
Comes with an integrated kill-switch feature.
Supports up to 10 simultaneous connections.
Unblocks NetFlix, Disney+, Crackle, BBC iPlayer, etc.
Strict zero-logs policy.
IP leak protection.
Unlimited server switching.
Advanced split tunneling.
Pros

Cons

Excellent speed
Customizable
Simple to use and set up.
More than enough devices.
30-day money-back guarantee.
Pricing
Free: Free forever
1-month: $4.95/mo
6 months: $5.82/mo
Supports all iOS devices with 12.0.0 and above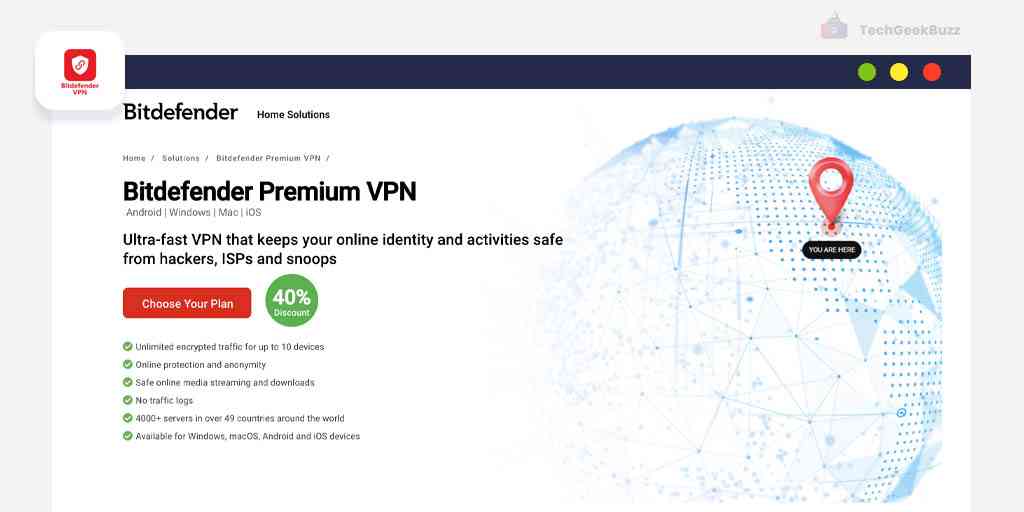 You may have heard about BitDefender antivirus before, but BitDefender VPN is another security product that we recommend you use to enjoy the freedom of the Internet. It is compatible with Windows, Android, and iOS devices, thus listing it VPN for iPhones. This service uses the Hydra VPN protocol that originated on HotspotShield; it also uses the OpenVPN protocol but does not support WireGuard.
Regarding server and server locations, BitDefender offers 4,000+ servers across 49 countries, slightly less than the others. When you connect your device to BitDefender, it routes your traffic through the encrypted VPN tunnel.
However, as we know, BitDefender does not gather your traffic resources or store your IP addresses. You can still read their policy page, which is written in a tiny font but might help you find out about this information. However, even if BitDefender does store your logs, it does not sell your data. Hence, it is reliable.
Specialties
Supports 10 simultaneous devices.
Split-tunneling feature.
Bypass censorship.
Bypass the ISP throttling.
Protection against cyber-attacks.
Pros

Cons

Affordable
Reliable
Simple interface
Safe online media streaming
Ultra-fast

30-day money-back guarantee
Pricing
Starts at $2.24/mo if billed annually; otherwise, $4.82/month.
Supports all iOS devices with 14.0.0 and above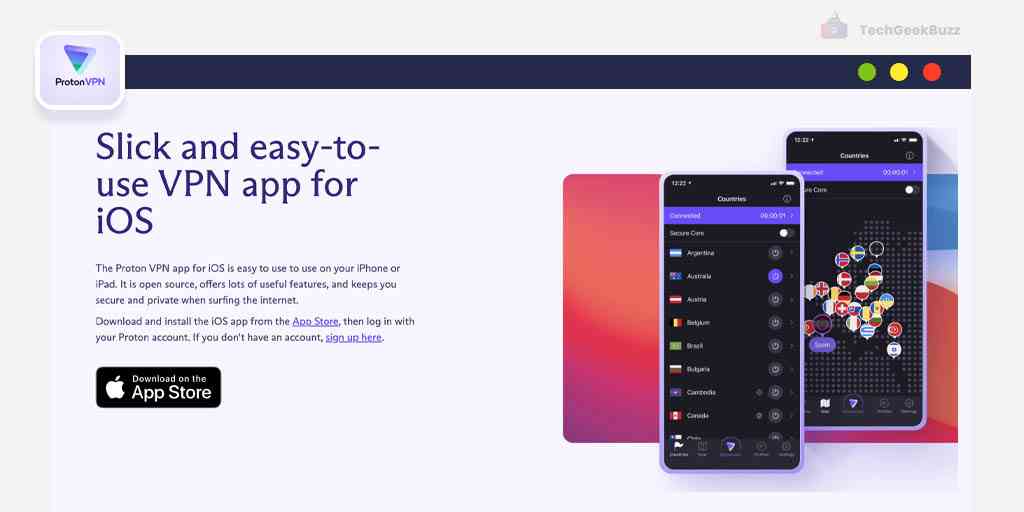 ProtonVPN is another name we should have mentioned before, but it got lost in the crowd of famous VPNs for iPhones. It protects your internet traffic well so that even your ISP and other third-party advertisers can't track your browsing activities.
Furthermore, it also offers a wide range of privacy tools available only on expensive VPN products. However, if you are only starting to use a virtual private network or have not used one before on your iPhone device, ProtonVPN is a great option. This one has no limit on data usage and comes with a free subscription.
However, unlike other free VPN services, this one is reliable and does not store or sell your logs to market advertisers. Peer-to-peer connection and BitTorrent file sharing are available with this service, and it also comes with the NetShield ad and tracker blocker.
Specialties
Uses IKEv2 and OpenVPN protocols
Available for Android, iOS, Linux, Mac, and Windows
Comes with 1916 servers across 67 countries
Access to the Tor network
Routes traffic through multiple servers
Built-in kill-switch feature
Integrated ad blocker called NetShield
DNS and IPv6 leak protection
No-logs policy
Unblocks Amazon Prime Video, HBO Max, Disney+, Peacock TV, and any restricted websites
Pros

Cons

Awesome free subscription.
Flexible subscription plans.
Various security tools.
Excellent customer support service.

Not many server locations as compared to others on the list.
Pricing
Free: Free forever
Plus: $4.99 /month
Supports all iOS devices with 12.0.0 and above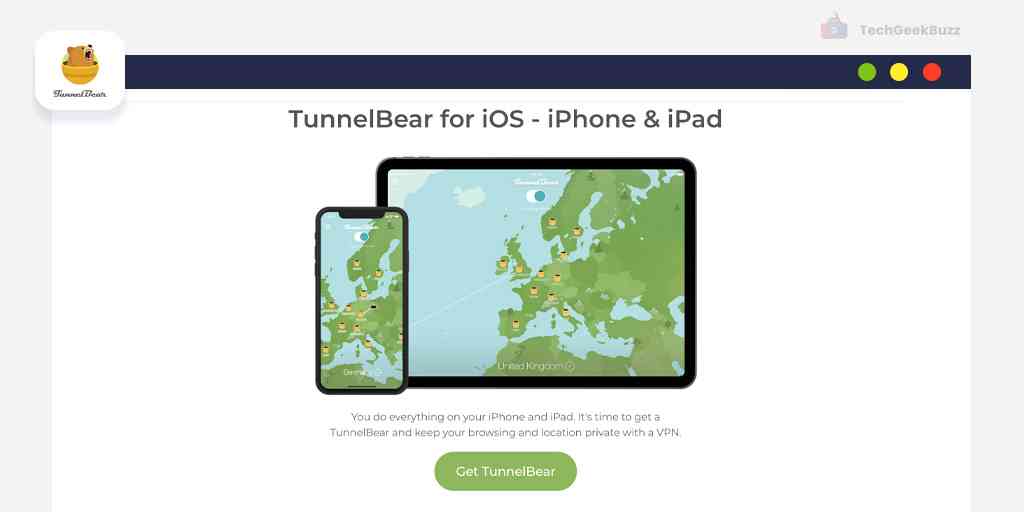 Tunnelbear offers a free version where you get 500 MB monthly for their network connection. But if you like their limited version, you can choose from their unlimited plan.
In TunnelBear, a bear searches for the best server from your chosen country and then connects it to your device so you can enjoy its privacy protection.
However, TunnelBear only offers servers from 47 countries, unlike others on the list. As per privacy concerns, it does not store your logs, IP addresses, DNS queries, etc. This feature applies to free subscribers as well.
TunnelBear is a cross-platform application; it releases updates regularly and does not slow down your Internet. If you want a free but reliable VPN service, TunnelBear will win your heart.
Specialties
Supports unlimited simultaneous connections.
Cross-platform availability.
Better than other free VPNs.
AES-256-bit encryption.
Unblocks HBO Max, Hulu, Amazon Prime, and others.
Integrated kill switch feature (called the Vigilant Mode).
The dedicated support staff is available to help users.
Defect VPN blocking with GhostBear.
Pros

Cons

Annual independent audits.
Reliable privacy protection.
Friendly and attractive interface.
Easy to use.
Affordable

Only a few location options.
Not available in India.
Pricing
Starts at $9.99 per month.
Conclusion
These were the best VPNs for iPhones. The ones mentioned above are popular and provide fast speed and high-grade security.
When using a VPN, you should recall that it won't protect your device unless it comes with malware and an ad blocker. So, while choosing one for yourself, ensure its privacy policy page clarifies that the provider does not store your web history or sell it to advertisers.
We recommend you choose a VPN that offers a free trial. So, you can use it, explore its features, and then choose to go with it. This way, you can save money by investing in the right VPN.
People are also reading: