Zoom is a platform for video conferencing that enables you to host a virtual meeting with other people using audio-only, video, or both. On your PC, phone, or tablet, you can use the webcam to join a similar video conference on Zoom. Linux and Windows operating systems both support Zoom.
Here, in this article, we will discuss the methods for installing Zoom on Ubuntu.
What is Zoom?
Zoom is a popular cloud-based video-conferencing application that enables users to communicate digitally with others via audio or video calls. Businesses primarily utilize this software to host a variety of interior meetings. To contact international clients and arrange meetings with them, this software comes in handy.
Both a free and a premium version of the Zoom app are available. A free plan allows you to continue a meeting for 40 minutes with 100 simultaneous users. However, with the commercial version, you can add up to 1000 people, record calls, and many other capabilities.
Zoom is a very user-friendly tool that provides HD video and audio in high definition together with collaboration tools like text chat and screen sharing. During the pandemic, this application has proved to be a boon to many organizations and educational institutions.
How to install Zoom on Ubuntu?
If you are looking to use Zoom on Ubuntu , here are two ways you can install it: Ubuntu's Software Center and the command line.
Let us discuss each of these ways step-by-step below.
Method 1: Using Ubuntu's Software Center
Follow the below steps to install Zoom through Ubuntu's Software Center:
Visit the Zoom website's download page to obtain a Zoom client. Zoom offers RPM packages for Fedora, Red Hat, and SUSE as well as DEB packages for Debian-based distributions, such as Mint, Ubuntu and Fedora (Red Hat-based distributions)
It detects Linux automatically and offers you the choice to download Zoom for several Linux distributions . Choose the distribution you want to use here. The OS architecture would most probably be 64-bit on your machine.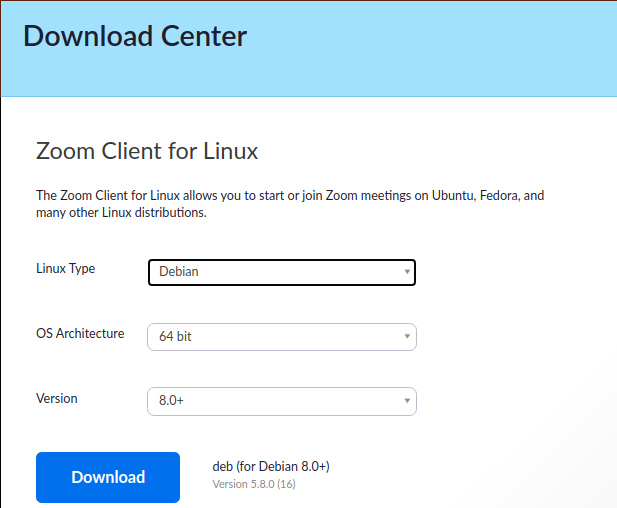 After downloading, right-click the download file and select 'Open with Software Install' from the context menu. You only need to click the Install button once the file has been opened in the Software Center.
After a while, Zoom will be installed in your system.
Method 2: Using the Command Line
It is also possible to install Zoom using the command line. You can follow the below steps to do so:
First, make sure that APT is updated in your system. To update APT, run the following command:
$ sudo apt update && sudo apt upgrade
Tools like ' wget ' and 'curl' can be used in the Linux terminal to download files the '.deb' file by running the following command:
$ wget https://zoom.us/client/latest/zoom_amd64.deb
Then, after giving the appropriate path to the deb file, install the deb file using the command:
$ sudo apt install ./zoom_amd64.deb 
Zoom will now be installed into your system, and you will see the below interface after opening the application.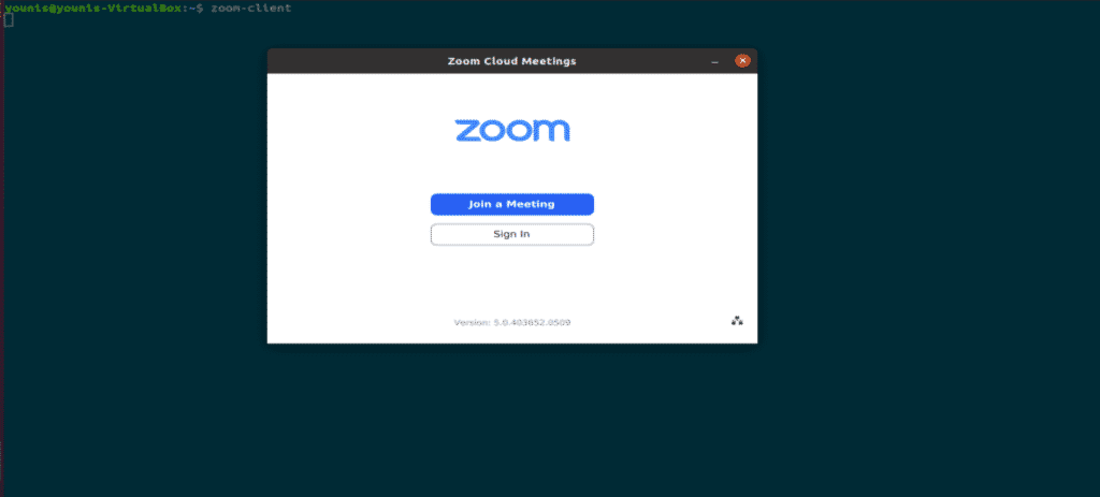 Conclusion
In this article, we went through the ways to install Zoom in Ubuntu. We first saw the graphical method, which includes downloading the Zoom client from the official website and then installing it. Later, we saw the steps to install Zoom using the command line, where we fetch the installing file using the 'wget' command and then install it.
So, installing Zoom on Ubuntu is pretty easy with simple steps. We hope this article has helped you to do so.
People are also reading: