Angular is an application-design framework for building scalable single-page applications (SPAs) and mobile applications. It is a development platform entirely built on Typescript. This component-based framework comes pre-packaged with well-developed libraries for various functions, including routing, form management, client-server communication, etc. In addition, it provides a suite of developer tools that help you write, debugs, and run your code.
The Angular team keeps on releasing updates frequently. The newer versions always come up with bug fixes and are more updated on security; hence, it becomes essential to update its version. The latest and most stable version of Angular is 15.0.1.
To help you update Angular to the latest version, we have come up with this article. In this article, we will go through the steps to upgrade Angular to its latest version in Windows.
How to Update Angular on Windows?
Follow the below steps to check your current Angular version and upgrade it to the latest one.
Here, we will update Angular 7.2.4 to Angular 15.0.1.
So, let us get started!
Step 1
Check the current version of Angular on your system.
To find out the current version of Angular, open the command prompt and Run it as Administrator. When it pops up, type in the following command:
ng --version
When you enter this command, the command prompt will show all the details about the currently installed version of Angular. See the attached screenshot.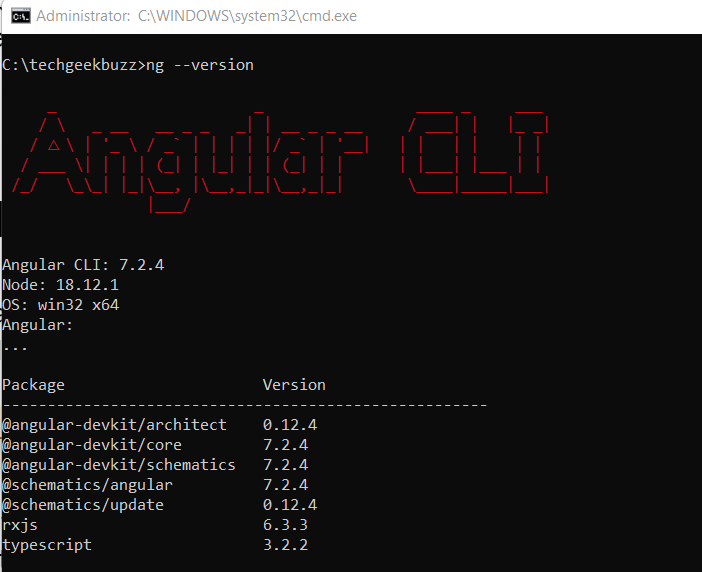 Step 2
As seen in the screenshot, the current version of Angular is 7.2 on our system, and we want to update it to the latest version.
To initiate that process, we need to uninstall the current version first so we don't face problems overwriting the libraries. To uninstall the current version, use the following command.
npm uninstall -g @angular/cli


Step 3
After successful uninstallation, as seen in the screenshot above, we will verify the cache.
If you want to make sure everything is consistent, you have to use the following command.
npm cache verify

Step 4
You're now ready to install the latest Angular version in your system. Use the following command and update the framework in your system.
This command will install Angular 15, the newest version of the framework in the market. The execution of this command will take some time.
npm install -g @angular/cli@latest

Step 5
You can verify the version of Angular installed by using the same command again that has been used in Step 1. If the command at Step 1 is not supported now, use the following command.
ng v

Conclusion
Checking and updating Angular on Windows to its latest version is a simple and 5-step process. You just have to use a few commands, and you can easily upgrade Angular on Windows.
We hope our step-by-step guide has helped you upgrade Angular on your Windows systems. If you face any issues with upgrading, feel free to comment below in the comments section.
People are also reading: