Turn your ideas or words into mesmerizing images with AI image generators! Check out the list below.
Artificial intelligence ( AI ) is one of the technological breakthroughs of this century that is revolutionizing every industry vertical. It has gained traction in the past decade, and still, today, it is showing no signs of slowing down. Everywhere around us, we experience AI, whether it is a smart wearable or mobile phone.
As of 2022 end, the value of the global AI market is $136.6 billion; it is expected to reach $1.81 trillion by 2030, according to GrandViewResearch .
This technology has made things possible that were once unimaginable. Have people in the early era ever thought that the future would witness the use of self-driving cars or robots?
Obviously, the answer is no! But AI has the ability to turn unimaginable and impossible into reality.
Have you ever thought that you would be able to draw pictures or images without picking up a brush or using painting tools on your computer system?
However, AI has made this possible with the help of AI image generators. These tools simply transform words or text into realistic pictures. Sounds cool, right?
So, let us now explore a list of some hand-picked AI image generators in this article.
What is an AI Image Generator?
It is a computer software, also known as a text-to-image generator, that leverages machine learning models to transform the text into realistic images. Machine learning models are pre-trained with a large set of images, along with their descriptions.
Whether you want to visualize your ideas or generate art for your creative projects, these tools come in handy. Though the concept of text-to-image conversion has been around for years, now AI has made it possible through easily-available software solutions.
Anything you image, turn it into an appealing image with AI image generators, along with a lot of customization options and details. These images are generally referred to as computer-generated art.
One common use case of this tool is creating memes. Memes you often see on Facebook or any other social media platforms are the byproduct of AI image generator tools.
How do AI Image Generators Work?
As mentioned above, these tools work on trained machine learning models so that they are able to determine the relationship between images and text. When you type short text, the tool analyzes it and, based on the trained dataset (images and their corresponding descriptions), creates an image.
10 Best Artificial Intelligence (AI) Image Generators To Create Amazing Images in Seconds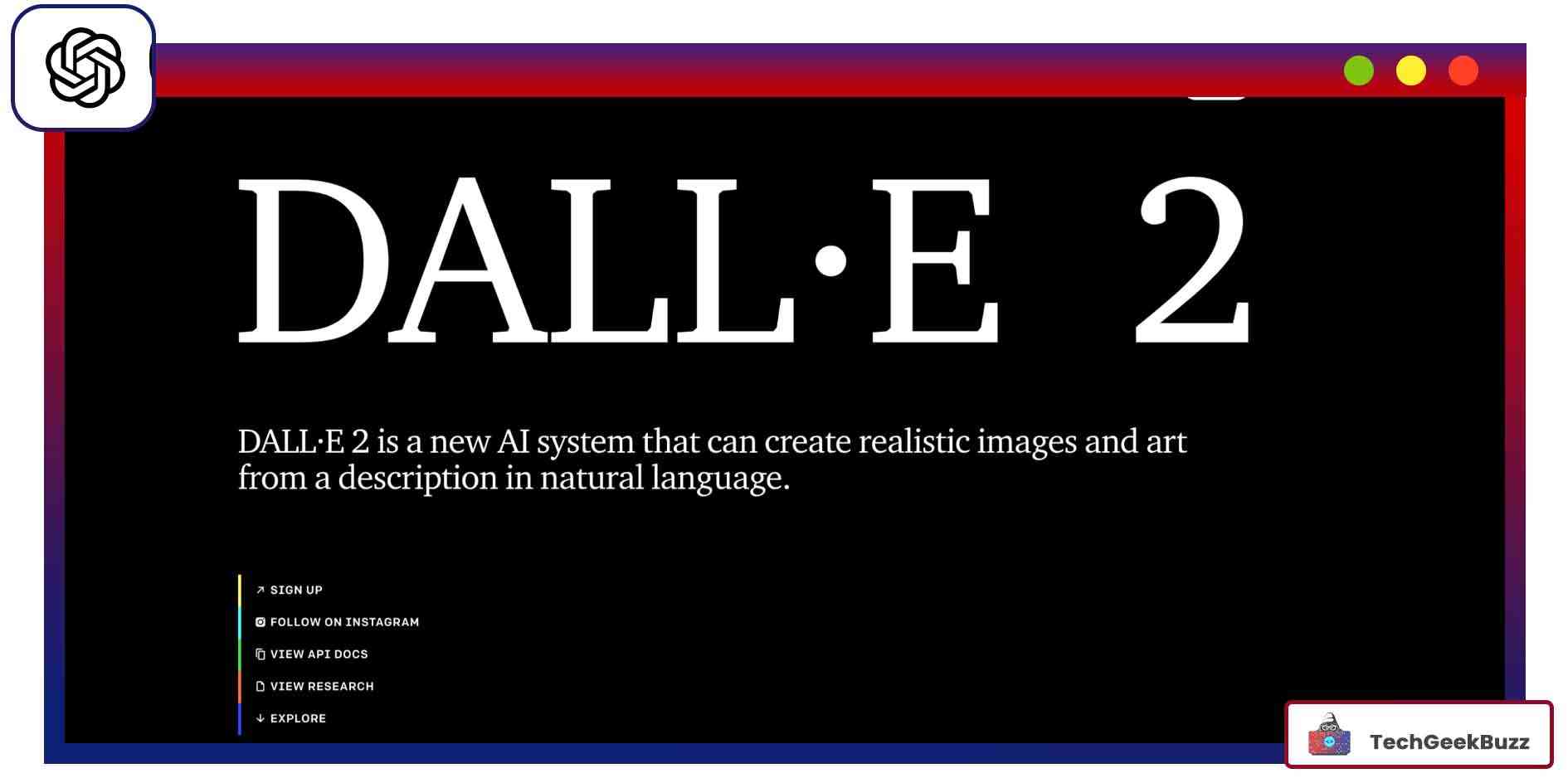 Among all state-of-art tools, DALL-E 2 is the most famous and widely used one. It has the ability to produce realistic images and art with intricate details when you provide a description in a natural language. You get original images that will be a combination of concepts, attributes, and styles.
Besides, it has a low learning curve, making it easier for noobs to produce photorealistic art. There is no need to search for tutorials on the web to use the main text-to-image generator.
Moreover, the tool provides the feature of editing existing images by considering shadows, reflections, and textures. It makes adding and removing elements from images hassle-free. You simply need to provide a caption in a natural language. In addition, it supports creating a variation of your existing images.
DALL-E 2 uses the process of 'diffusion' to create images. Initially, it begins with a pattern of dots and then gradually turns the pattern to form an image as soon as it detects the aspects of the image.
Moreover, it is possible to generate multiple images at a time within minutes. Overall, the tool is popularly known for its caption matching and photorealism.
Pricing
| | |
| --- | --- |
| Resolution | Price |
| 1024×1024 | $0.20/image |
| 512×512 | $0.18/image |
| 256×256 | $0.16/image |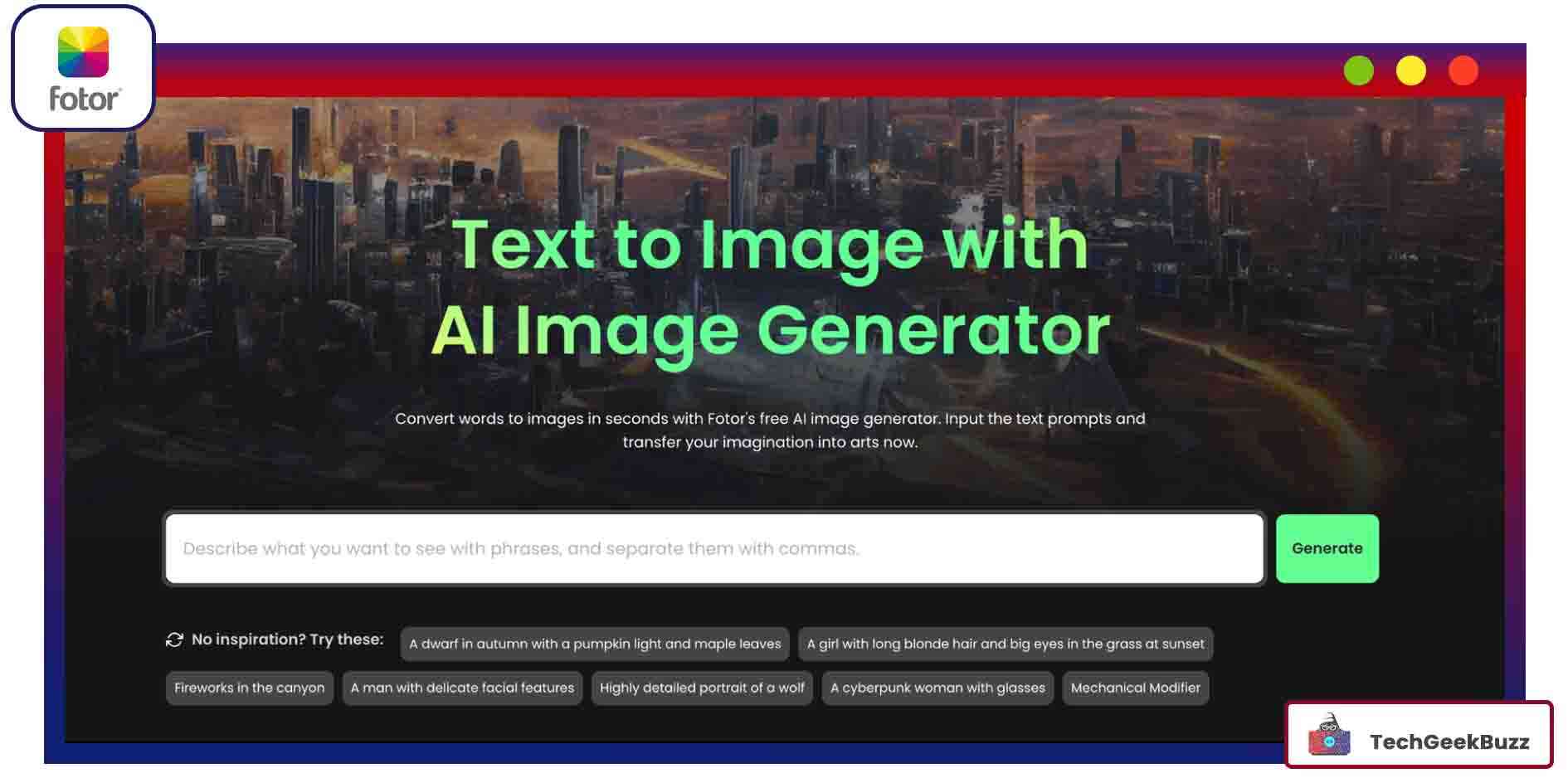 Fotor's text-to-image generator is free to use. It has a very simple and easy-to-use interface, making it hassle-free for noobs to turn their imagination into beautiful visuals and art within a matter of seconds.
The interface comes with a text field to input the text prompt and the 'Generate' button. When you put your ideas into words and click Generate, the tool provides you with options to select the style of an image. If the generated image does not satisfy you, you can again click Generate to get a new one. Finally, click on 'Download' to get the image on your system.
Furthermore, even if you have no idea, Fotor provides you with a few recommendations.
Fotor's AI image generator helps artists, painters, and NFT creators transform their design ideas into realistic images with ease. Whether you want to create cartoon portraits, science fiction movie characters, oil paintings, digital art, or anything else, Fotor's text-to-image has got you covered.
Besides generating images from the text, Fotor allows you to create images from images as well. Simply provide the image you want to create, and Fotor will take care of everything else.
Pricing
Fotor Basic: 10 free image generations per day.
Fotor Pro: $8.99/Month
Fotor Pro+: $19.99/Month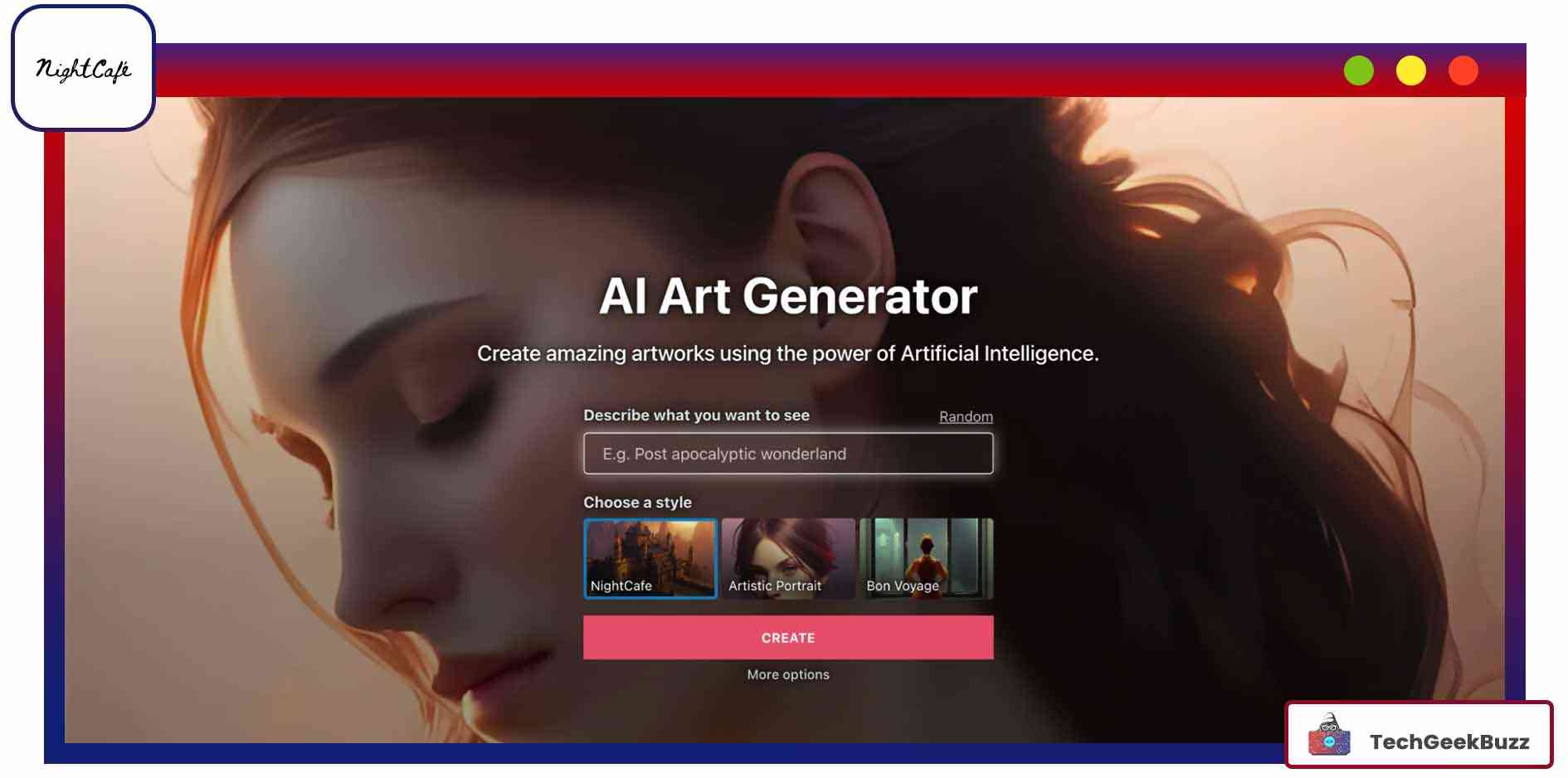 NightCafe Creator is an AI art generator that provides multiple methods of creating AI-powered digital art. While being easy to use and clean, it lets you turn your ideas into beautiful visual creations.
The tool comes with a text field to enter your text prompt, followed by a variety of styles to choose from. Finally, you will find the 'Create' button, which, when clicked, starts creating your visual masterpiece. Besides, the tool offers even more options and requires a sign-up to access them.
Furthermore, it is a free online tool and also comes with applications for Android and iOS phones. It supports creating and downloading images in bulk. In addition, improving, duplicating, and upscaling your creations is easy with NightCafe.
When it comes to using AI algorithms, NightCafe leverages three - Neural Style Transfer, VQGAN+CLIP, and CLIP-Guided Diffusion. In addition, it uses the Real-ESRGAN algorithm to improve creations. The admiring feature is that the tool lets you print your creations.
Pricing
Free: 5 artworks free/day
NightCafe Pro
AI HOBBYIST: $9.99 USD /month
AI ENTHUSIAST: $19.99 USD /month
AI ARTIST: $49.99 USD /month
AI PROFESSIONAL: $79.99 USD /month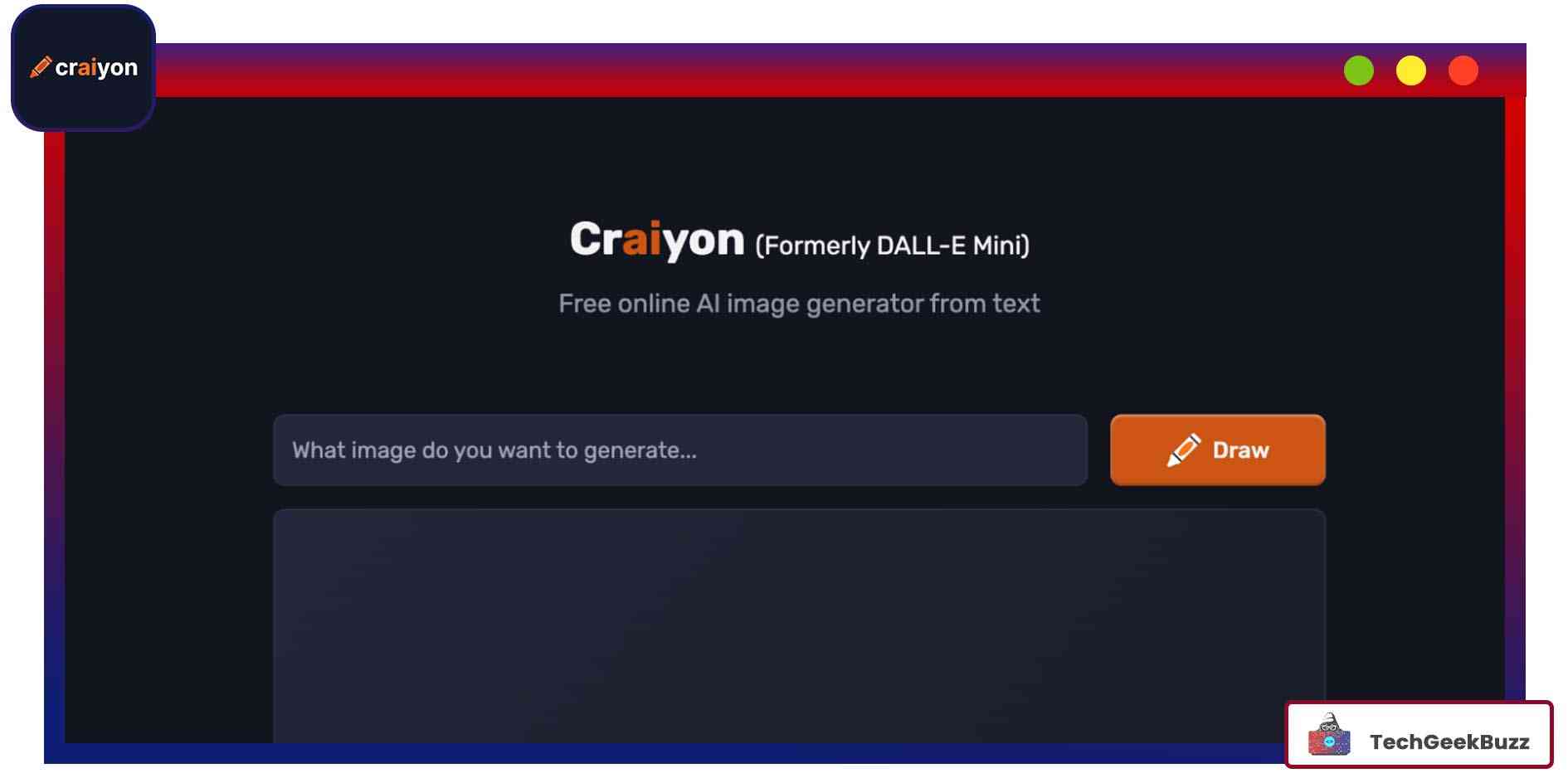 Craiyon, formerly known as DALL·E mini is yet another free AI image generator. It has a simple and minimalistic interface that comes with a text field, the 'Draw' button, and a space for an image to display. For the text you enter, the tool creates 9 different images. Select one with which you wish to forward.
The tool allows you to share the generated images with your friends or print them on your t-shirt. Besides being accessible online, Craiyon is also available as an application for Android phones. You can create unlimited AI images for free without the need to sign up.
However, the only drawback of this tool is that images may contain glitches and sometimes be plain. Also, there is no inpainting and outpainting. In a nutshell, this tool is minimal and comes with limited features.
Pricing
Free.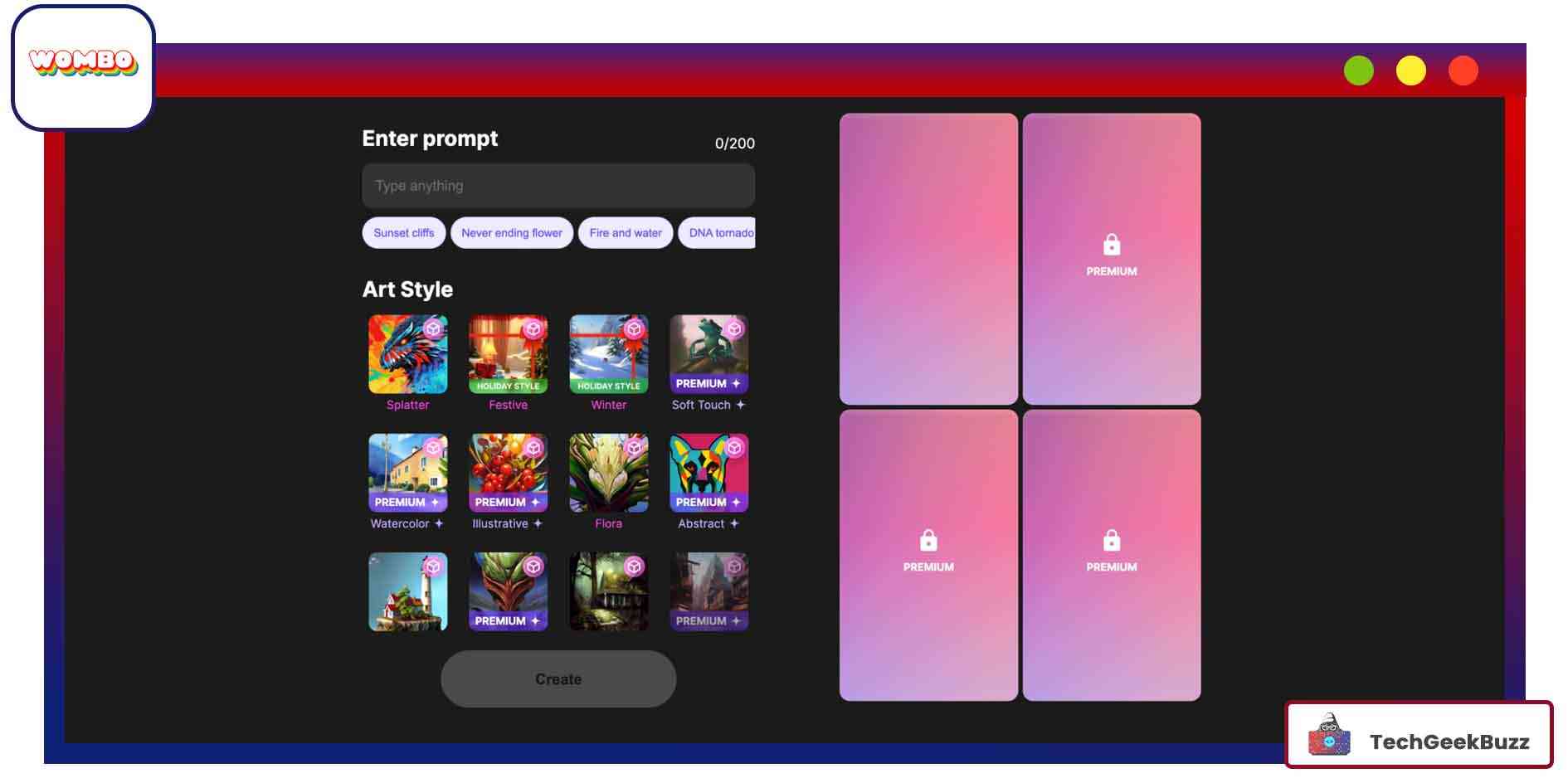 WOMBO is a Canadian artificial intelligence (AI) startup that created Dream, a text-to-image generator. Dream is a go-to solution for noobs as well as seasoned users, as it has a user-friendly interface. It is pretty analogous to NightCafe Creator.
Enter the prompt in the text field, choose a style from the given library, and hit 'Create'. The tool then generates 4 different images, one available for free and the remaining accessible through the premium plan.
More interesting, it provides a feature for remaking your existing NFTs. Simply provide the image of your existing NFTs as a reference, and Dream will create a new one for you.
With the premium plan, you get extra benefits, such as access to exclusive style options, a supporter role and access to exclusive channels in Dream's Discord, and an option to download a video of Dream's generation.
Pricing
Free: Free forever
Premium: $9.99/month or $169.99 lifetime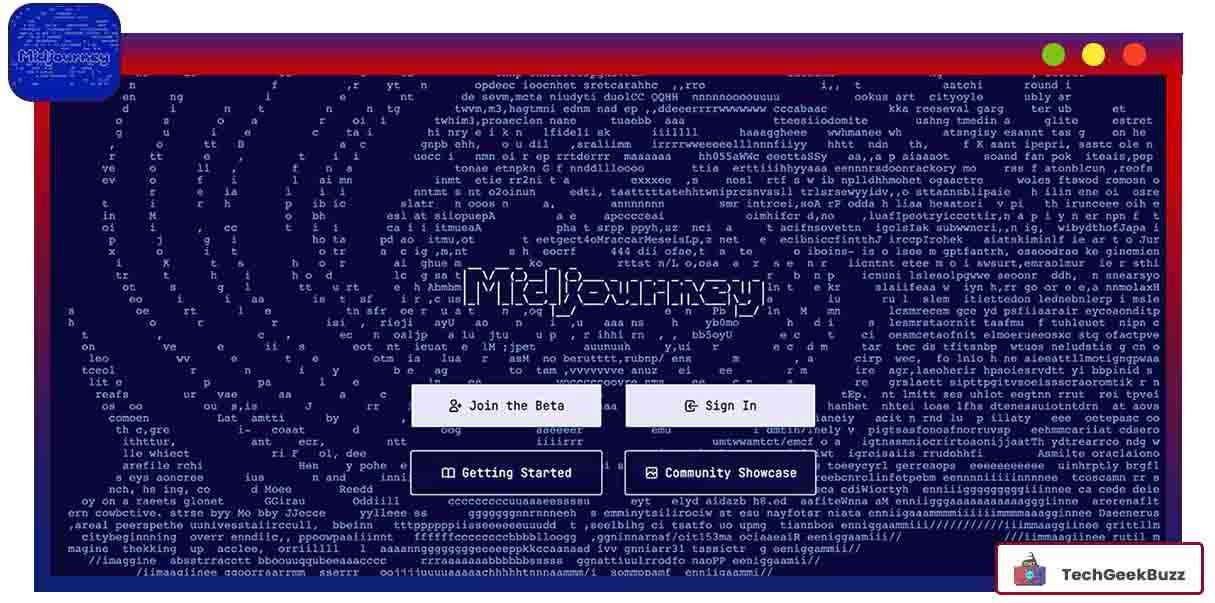 If you are looking for a fast AI art generator, Midjourney is a solution for you. Besides being fast, it is well-known for generating dark fantasy scenes and futuristic landscapes with a painterly aesthetic. Also, it is possible to create photorealistic images, but you need to put in a little more effort.
One of the great creations of Midjourney is "Théâtre d'Opéra Spatial", an AI painting that won the first prize in a fine art competition at the Colorado State Fair.
At this moment, a Discord server hosts the tool, Midjourney. So, you first need to join Midjourney's Discord server to create images using Discord bot commands. Rather than entering your prompt into a text field, as you do with other AI art generators, you need to send a query to Midjourney's Discord bot to create images.
To instruct your prompt to the bot, use the command '\imagine' and then type your prompt. You will get the output that will be visible to other members of the channel.
Pricing
Free: Free forever
Pro: $48-$60/month, allowing you to use your own private Discord server.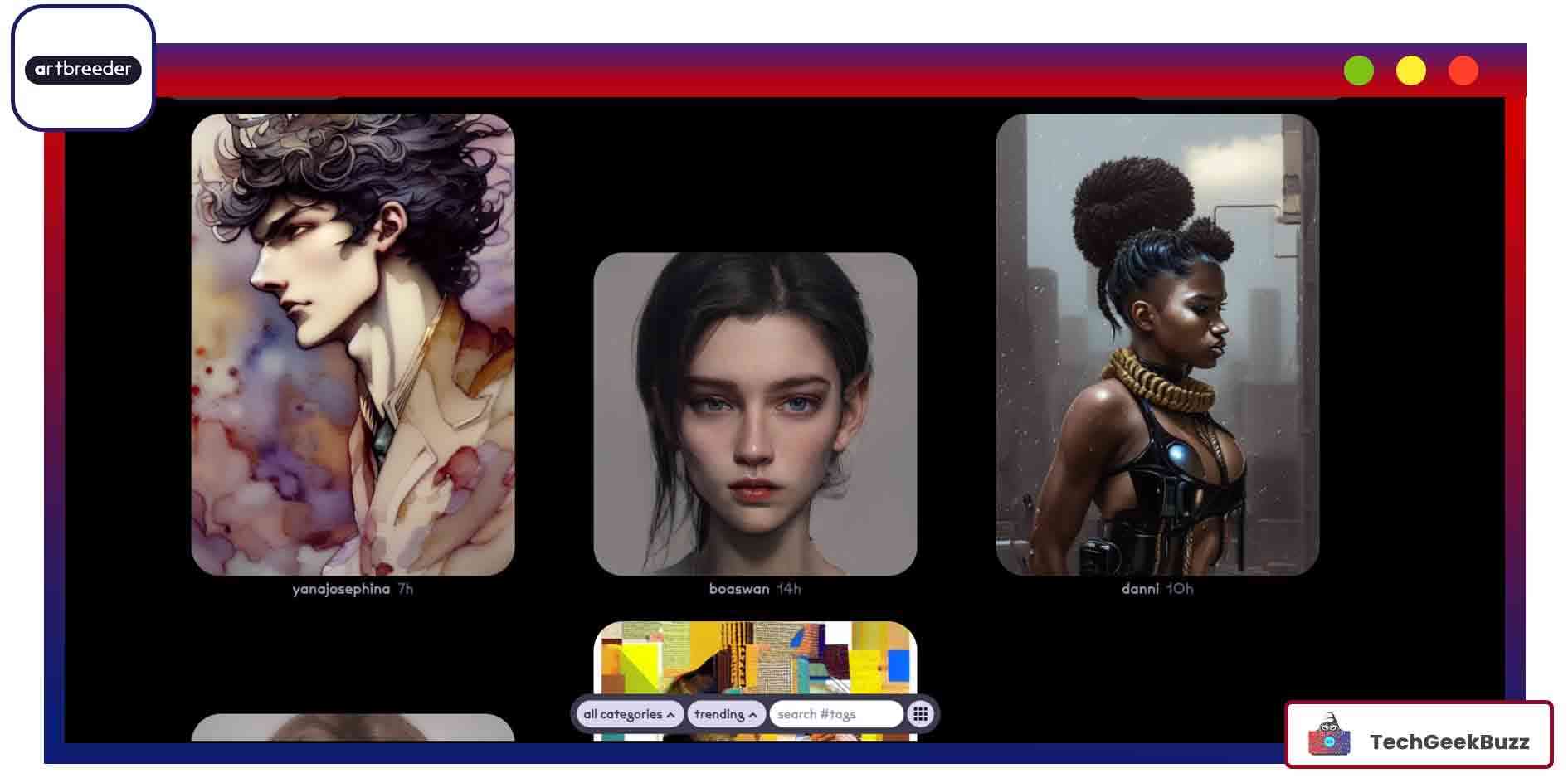 Artbreeder is a pretty different tool than the ones mentioned above. Rather than using diffusion to create images, it leverages generative adversarial network (GAN) models. It provides a space where you can add different shapes and images, create a collage, and write a prompt to bring your idea to life.
Splicer is a tool of Artbreed that allows you to mix or combine images together and create a new one. These images can either be already on the site or your own. At this moment, the tool only supports creating portraits and landscapes.
Along with creating images, you can edit them to the next level with a variety of options. You can take your own selfies, edit them based on parameters like age, gender, and blue, and create amusing transformations.
Pricing
Free: Free forever
Starter: $7.49
Advanced: $15.99
Champion: $30.99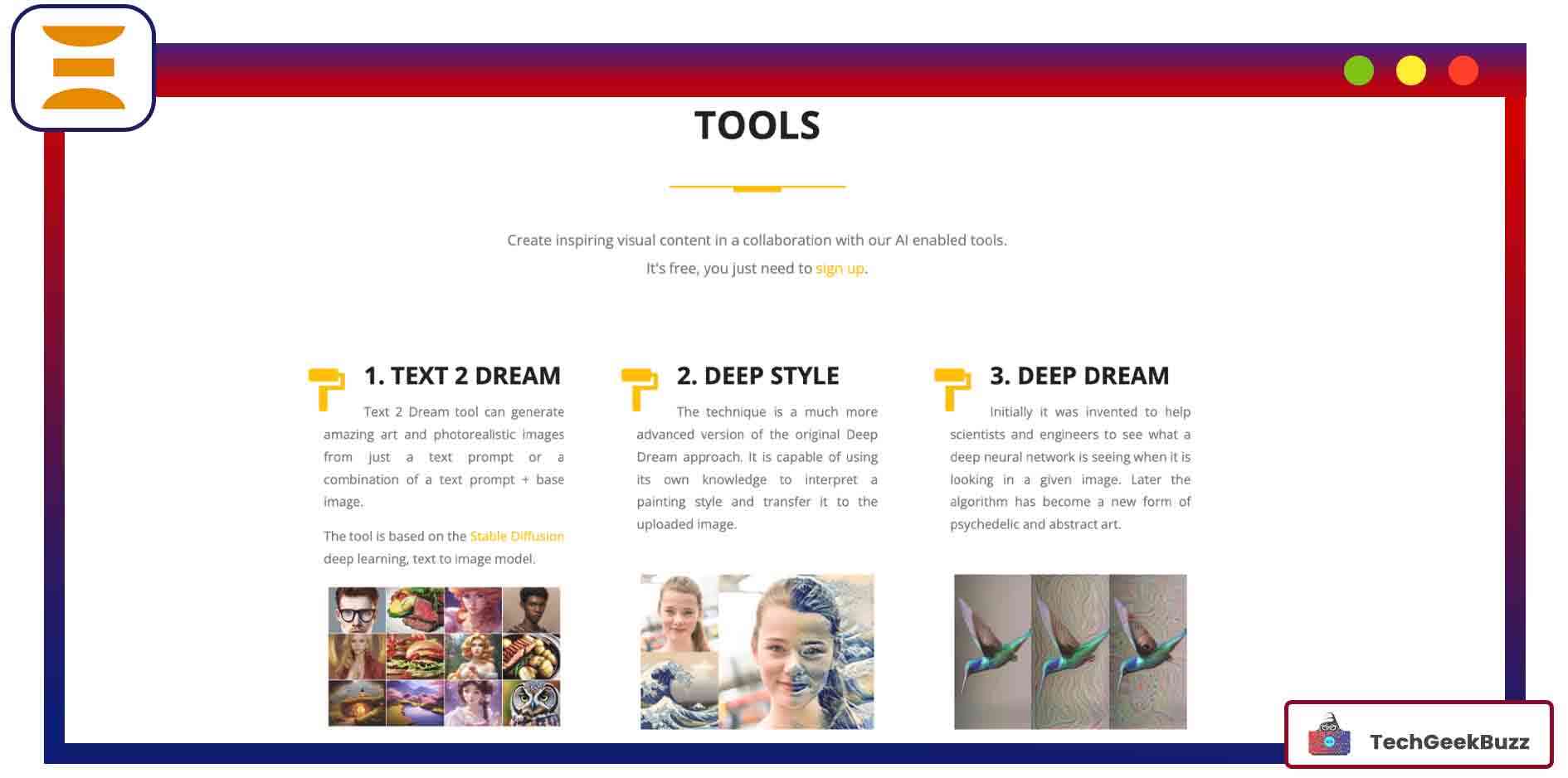 It is a free tool that allows you to create visual content with the help of AI-powered tools. With just a simple text prompt or text prompt with a base image, this tool makes it possible to create photorealistic images. It follows the text-to-image stable diffusion deep learning model.
The tool is so advanced that it uses its own knowledge and automatically interprets the best painting style for images. Additionally, there is no need to sign up to use the tool. Simply go to the website and start creating realistic visual content.
Pricing
Free.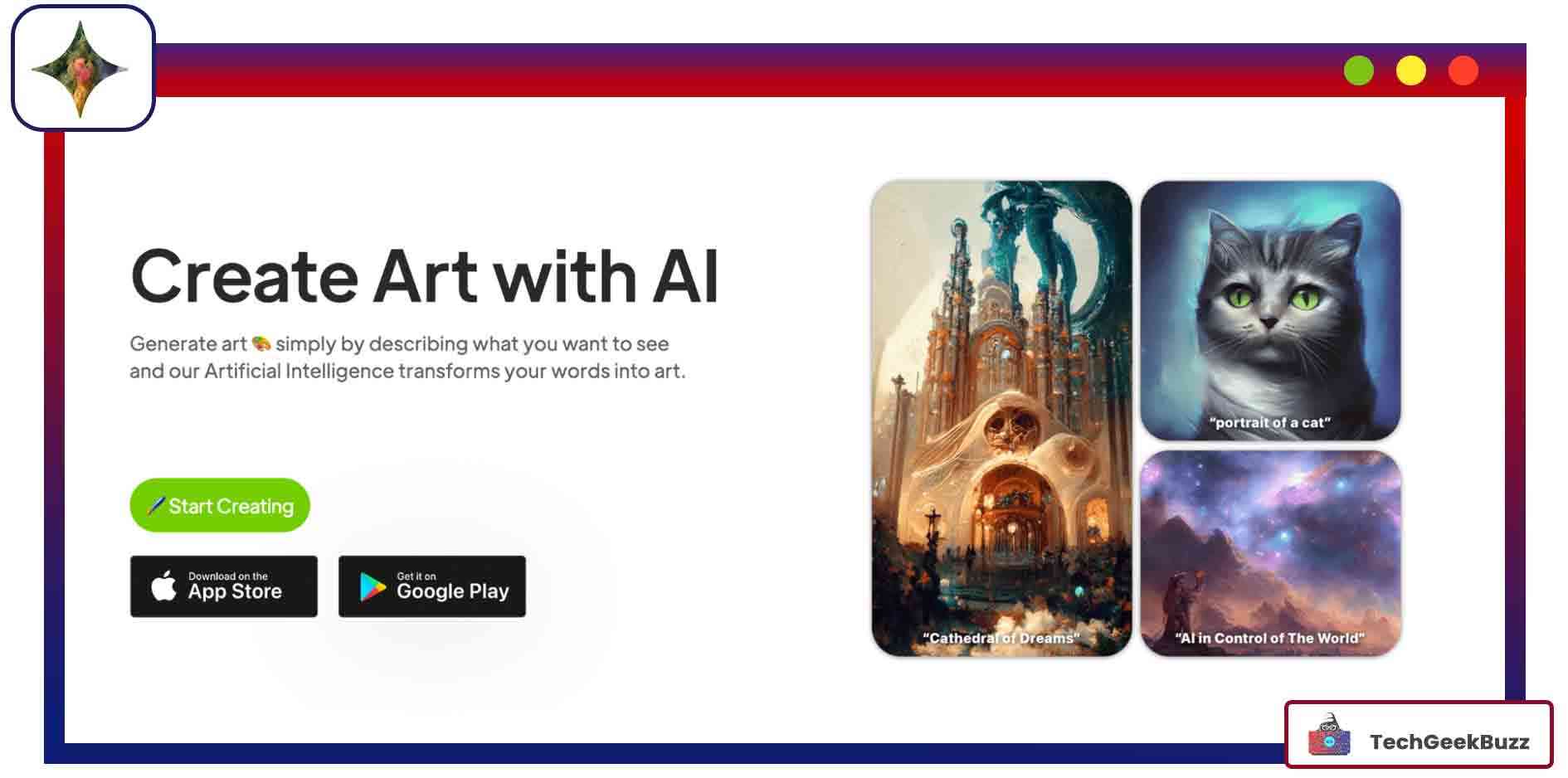 A simple and beginner-friendly AI art generator, StarryAI is web-based and also available for iOS and Android. It requires users to enter a text prompt and takes care of the rest.
Moreover, the tool provides an array of styles, approximately over 1000. Users can generate images in bulk, enhance them, upscale them, and give them custom sizes.
StarryAI does not claim ownership of your creations; you can use your creations anywhere. The tool follows the stable diffusion process to create images with intricate details. In addition, StarryAI makes it easy to create NFTs and Avatars within seconds.
To create Avatars, the tool requires you to upload 10 to 20 images in different lighting and environment. Once the tool analyzes and gets trained, it creates 100+ personalized avatars.
Pricing
5 artworks for free (without watermarks)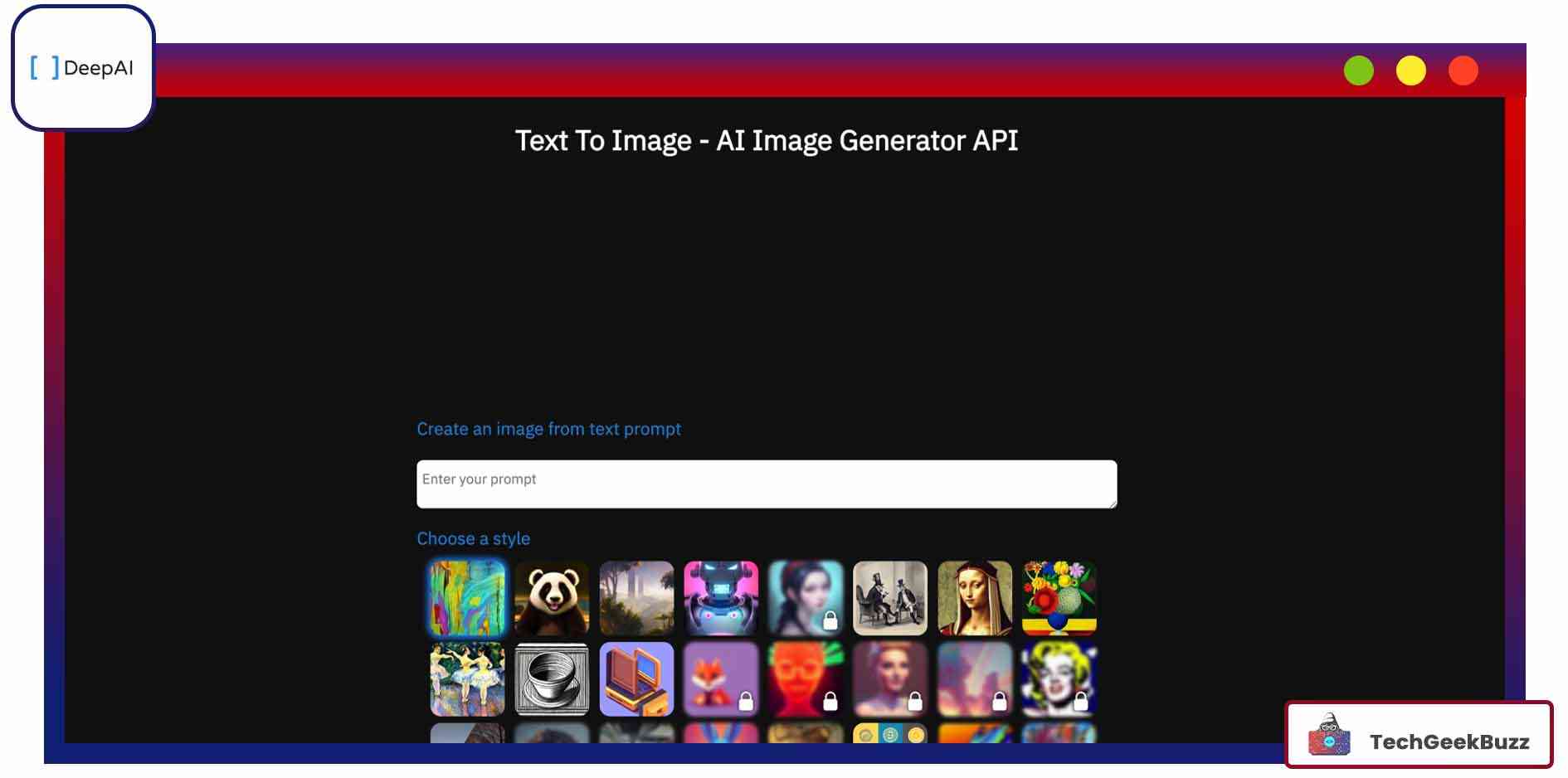 DeepAI is yet another text-to-image generator based on stable diffusion that creates beautiful images from a text prompt. It provides a text field to enter the text prompt, a library of styles, and a Generate button to create images. It is a free tool but does not provide a photorealistic quality.
Pricing
Free.
Conclusion
Whether you are a graphic designer or a general user who wants to enjoy generating images from text, the above AI generators come in handy. Almost all of the above tools, except Midjourney, have the same process of generating images from a text prompt. Midjourney, on the other hand, requires you to join its Discord server and use a bot command to create images.
I hope the above list of text-to-image generators has helped you choose one that best fits your needs.
If you want me to add any other AI art generator tool to the list, do let me know in the comments.
People are also reading: