Gaming is among the fastest-growing industries worldwide, all thanks to the technological advancements that have made it possible to create realistic games. A game engine is one of the key technologies that make it possible to create next-level games.
If you are a gaming enthusiast, you might already know that Unity and Unreal are two of the most popular game engines. However, many often argue which among them is a better choice for game developers.
There is no doubt about the popularity of these game engines in the market.
According to Slintel , Unity has 25.15% of the market share, while Unreal engine has 13.09% market share.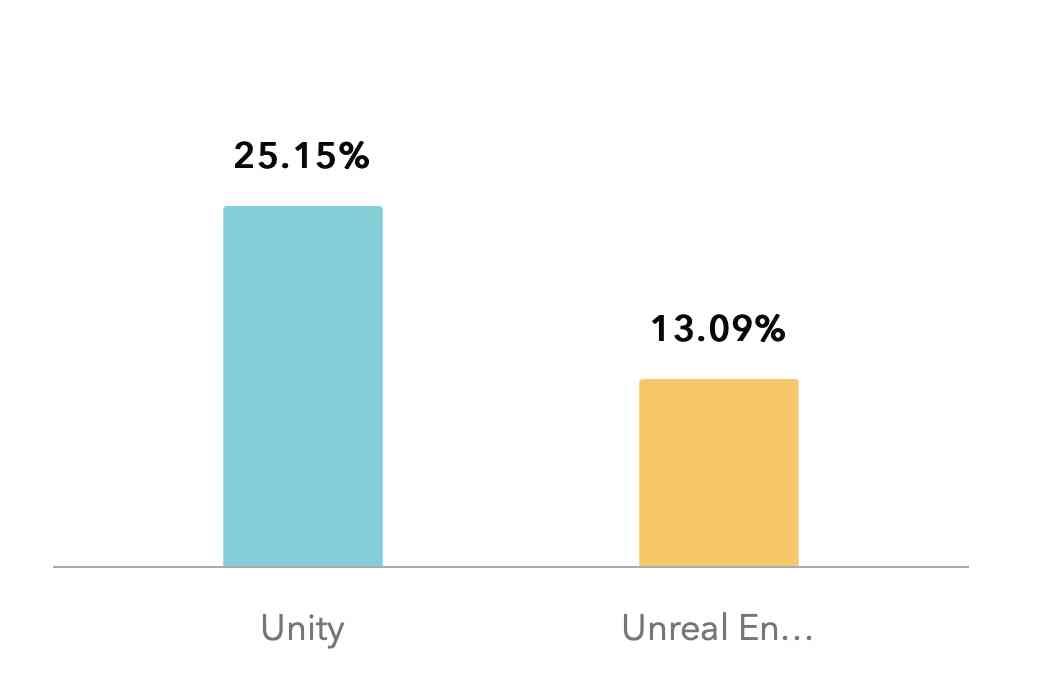 Well, in this article, we will focus on the Unity vs Unreal debate and compare both game engines to help you decide which one is better. Also, we shall walk you through a brief introduction and history of Unity and Unreal Engine, along with their applications and pros and cons.
So, without further ado, let's get started!
What is Unity?
Unity is a cross-platform game engine prevalent for developing Android and iOS mobile games. Also, several popular mobile games, such as Cuphead, Call Of Duty: Mobile, Monument Valley, Beat Saber, and Pokemon Go, are developed with the Unity Engine. We can create three-dimensional and two-dimensional games and interactive simulations with this game engine.
Key Features of Unity
The following are the salient features of Unity:
Unity's straightforward workflow lets game developers assemble game scenes in an editor workspace.
It allows developers to create high-quality games with AAA visuals, full-throttle action, and high-definition audio.
It comes with dedicated tools for 2D and 3D game creation.
You can instantly create natural and realistic animations with a very flexible and unique animation system.
You can save much time by using the already-created assets in the Unity Asset Store.
History
In June 2005, Unity Technologies first announced and released the Unity game engine as a Mac OS X - exclusive game engine at Worldwide Developers Conference at Apple Inc. Unity Technologies initially released Unity for Mac OS X but later added support for web browsers and Microsoft Windows.
Unity 2.0
In 2007, Unity Technologies released Unity 2.0 with around 50 new features. Some significant features included real-time dynamic shadows, video playback, an optimized terrain engine for 3D environments, and directional lights and spotlights. In addition, Unity 2.0 enabled developers to create multi-player games based on the User Datagram Protocol (UDP).
Unity 3.0
In September 2010, Unity Technologies released Unity 3.0. This version expanded the Unity engine's graphics features for video game consoles and desktops. It also featured the integration of Illuminate Labs' Beast Lightmap tool, native font rendering, audio filters, automatic UV mapping, a built-in tree editor, and deferred rendering.
Unity 4.0
November 2012 witnessed the release of Unity 4.0. This version featured support for DirectX 11 and Adobe Flash. It included new animation tools called Mecanim and access to the Linux preview.
Unity 5.0
In 2015, Unity Technologies developed Unity 5.0 with improved lighting and audio. Also, this version enabled developers to add their games to compatible web browsers through WebGL. Unity 5.0 featured Nvidia PhysX 3.3 physics engine, Unity Cloud, light mapping previews, real-time global illumination, and a new audio system.
Unity 2017.x, 2018.x, 2019.x, 2020.x, and 2021.x
After Unity 5.0, Unity Technologies released Unity 2017.x, Unity 2018.x, Unity 2019.x, Unity 2020.x, and Unity 2021.x. The current stable release of Unity is Unity 2021.2.1.
Applications of Unity
We can use Unity for creating:
Interactive experiences, like interactive touch screen maps, a touch screen experience for ordering food, etc.
Previsualization for films.
Animation.
Simulations.
Architectural Visualization.
Pros and Cons of Unity
Pros
The following are some significant upsides of using the Unity game engine:
The Unity game engine has better cross-platform integration, i.e., it enables us to deploy our game across all major TV platforms, web browsers, gaming consoles, VR, and desktops.
It is an ideal choice for developing mobile games and mobile VR.
Unity engine makes it possible to develop games easily and quickly.
Since the architecture of Unity is simple to understand and work with, the launch process of a game becomes less complicated.
Unity has a large community of active developers who can help you in case you face any issues while developing a game.
Cons
Here are the downsides of the Unity game engine:
The documentation of some features of Unity is outdated, whereas, in some cases, it is non-existent.
With the Unity 3 Pro license, you cannot get access to all its features on mobile. You need to pay an additional amount of $1,500 to $3,000 for a Mobile Pro license.
Since Unity 5.0 is 32-bit, the editor will crash if you run out of memory. Therefore, Unity is not ideal for developing AAA games.
Rendering in Unity is slower.
Popular Games Developed with Unity
The following is a list of the popular games developed with Unity:
Monument Valley 2
Kerbal Space Program
Firewatch
Battlestar Galactica Online
Pray for the Gods
Rust
Wasteland 2
Pokemon Go
Super Mario Run
Temple Run Trilogy
What is Unreal Engine?
Unreal Engine, abbreviated as UE, is a game engine and a state-of-the-art real-time 3D creation tool. This engine was initially developed for creating first-person shooter games for PC. However, it has undergone several advancements over the years that made it suitable for creating 3D games for various genres. In addition, UE supports various desktop, console, mobile, and virtual reality platforms.
Key Features
This feature enables us to connect to media production pipelines with Alembic, USD, and FBX. With USD support, you can collaborate with your team members effectively. Also, the Unreal Editor fully supports industry-standard Python Scripting.
Datasmith converts entire scenes from 3ds Max, Rhino, SolidWorks, Catia, Cinema 4D, SketchUp Pro, and BIM Formats into high fidelity. Also, the Unreal Engine seamlessly integrates with ShortGrid to connect with both upstream 3D data assets and downstream image data.
Unreal Engine provides astounding mesh and animation editing tools with features such as blend spaces, state machines, and physics-driven animation. It comes with an Animation Blueprint, a specialized Blueprint to control the animation of a Skeletal Mesh. You can use Animation Blueprint to create and control complex animation behaviors.
Rendering, Lighting, and Materials
Unreal Engine features a physically-based rasterizer and ray tracer that enables game developers to achieve Hollywood-quality visuals. It also incorporates Path Tracer, a DXR-accelerated and physically accurate rendering mode. Also, you can get a wide range of advanced lighting tools to create interior and exterior lighting effects.
Advanced shading models of Unreal Engine include Unlit, Clear Coat, Skin, Hair, Lit, Two-sided Foliage, and Thin Transparency. The Movie Render Queue feature enables game developers to create high-quality media for cinematics.
Unreal Engine has a built-in Niagara visual effects editor that allows you to create film-quality levels of VFX polish in real time for effects like water, fire, dust, and smoke. Also, it comes with clothing tools, like PhysX or the Chaos physics solver, to simulate clothing and other fabrics.
Chaos is one of the best features of Unreal Engine. It is a high-performance physics system that enables us to shatter, demolish, and fracture the cinematic quality of scenes using its destruction feature.
Unreal Engine seamlessly integrates with Perforce to bring several version control commands directly into the Content Browser. In addition, you get free access to the source code of Unreal Engine. Therefore, you can study, customize, debug, and extend this game engine as per your requirements.
History
Unreal Engine
Tim Sweeney, the founder of Epic Games, developed the first generation of Unreal Engine (UE). In 1995, he started writing the engine for the production of a game, which later became the first-person shooter game, Unreal. He released Unreal in 1998, introducing Unreal Engine to game developers.
Unreal Engine 2
In the same year, Sweeney started researching his next-generation game engine, and in 2002, he released the second version of Unreal Engine, i.e., Unreal Engine 2, with America's Army. The U.S. Army developed America's Army as a free multiplayer shooter recruitment device. This version of UE witnessed improved rendering features and an enhanced toolset.
Unreal Engine 3
In 2004, Unreal Engine 3 came into existence. It was based on the first-generation Unreal Engine with more advanced features. Initially, Unreal Engine 3 supported PlayStation 3, Windows, and Xbox 360 platforms. Later in 2010, it started supporting Android and iOS platforms. The first Android game developed using Unreal Engine was Dungeon Defenders, whereas the first iOS game was Infinity Blade.
Unreal Engine 4
Epic Games unveiled Unreal Engine 4 to limited attendees of the 2012 Game Developers Conference. In June 2012, technical artist Alan Willard released the video of UE4 to the public via GameTrailers TV. Later in March 2014, at the Game Developers Conference, Epic Games released Unreal Engine 4 with a licensing model that required a subscription fee of $19 per month.
Unreal Engine 5
Epic Games revealed the next version of UE, i.e., Unreal Engine 5, in May 2020. This version will support the existing platforms with added support for PlayStation 5 and Xbox Series X/S. The full launch of Unreal Engine 5 is expected at the beginning of 2022.
Applications of Unreal Engine
With Unreal Engine, you can create:
AAA video games.
Visual sets for films that can track a camera's motion around actors and objects.
Unreal Engine also serves as a foundation for a virtual-reality tool to explore pharmaceutical drug molecules. In addition, it is used for cable news networks to support real-time graphics.
Pros and Cons
Pros
Unreal Engine is ideal for developing high-tech triple-A games, where quality is the ultimate objective.
The best advantage of Unreal Engine is that it is open-source.
Rendering in Unreal Engine is relatively fast.
Many game developers use Unreal Engine to achieve the best picture quality for VR projects.
Another desirable benefit of Unreal Engine is its high performance since it requires fewer resources and memory.
Cons
Unreal engine is not an ideal choice for developing simple games. It is a suitable engine for developing complex games, however, the cost for such games will be very high.
Unreal Engine has a small asset store since it only uploads assets that are chosen through a thorough process.
Popular Games Developed
Gears of War
Fortnite
Unreal Tournament 2004
Life is Strange
Mass Effect 2
XCOM: Enemy Unknown
Borderlands 2: Tiny Tina's Assault on Dragon Keep
Enslaved: Odyssey to the West
Borderlands 2
Unity vs Unreal: Key Differences
This section will compare Unity and Unreal engines based on different parameters.
When it comes to graphics, developers mostly prefer the Unreal engine. The Unreal engine provides better graphics quality as compared to the Unity engine. Using Unreal, you will also access features such as volumetric fog, post-processing, etc. you can use such features also in Unity as free assets, but you need to install them separately.
Unreal Engine 4 has Blueprint visual scripting, so you don't need to write code. It offers fast prototyping levels that allow you to create entire games using a Blueprint. In other words, even if you do not have technical knowledge, you can still create games with the Unreal engine.
However, the blueprint feature is missing in the Unity engine.
Unity is highly popular among indies for developing games. On the other hand, Unreal is preferred by big studios, the AAA giants, and also indies due to its affordable pricing.
If we consider the code itself, the base programming language for the Unity Engine is C#, and for Unreal engine 4 is C++. It is known that the C++ language has a steeper learning curve than C#.
Unity vs Unreal: Head-to-Head Comparison
| | | |
| --- | --- | --- |
| Parameters | Unity | Unreal |
| Graphics | Global illumination, post-processing | Global illumination, post-processing, material editor |
| Target audience | Indies, developers, coders | Indies, artists, AAA studios |
| Coding | C#, prefab | C++, blueprints |
| Community | 200k + members | 100k+ members |
| Unique features | Great 2D support | AI, Network support |
Why Choose the Unity Engine?
In 2005, Unity entered the market and started releasing its products. Over time, Unity has become a suitable choice for creating amazing games. There are various convincing reasons for choosing Unity Engines.
One of the benefits of Unity is its ease of use, which makes it more suitable for beginners.
It uses C# language, which is easy to learn and understand.
It has an intuitive user interface.
In 2020, Unity integrated Bolt visual scripting tool, which made the game engine even more powerful.
It allows users to create prototypes quickly.
It offers fast iteration cycles.
Unity is a cross-platform engine supported by Windows, macOS, and Linux platforms.
The Unity engine allows it to build games for more than 19 platforms, including mobile, desktop, gaming console, and virtual reality .
It comes with an amazing asset store containing several free and commercial assets created by the community members.
It has a huge and active community.
Why Choose the Unreal Engine?
In 2014, Epic Games launched Unreal Engine 4 with a new subscription model that was better than the Unity pricing model. This change in Unreal's pricing model has helped it attract more and more game developers. Unreal is suitable for studios that want to create innovative games, such as Gears 5 and Days Gone. Unreal is well known for creating the most photorealistic games.
Following are some key reasons to use Unreal Engine for game development:
The main feature of Unreal Engine is its ability to develop games with impressive graphics.
Like Unity, Unreal has a blueprint that has somewhat resolved the coding efforts.
Unreal has a vast and active community of developers.
It has a large asset store that allows you to add additional game features.
Unreal Engine has detailed documentation that makes it easy to understand all its features.
Conclusion
Unreal and Unity are among the most popular game engines out there. While they both allow you to develop games, the overall experience of working with each game engine is different. Through this article, we have made you familiar with the key differences between Unity and Unreal that can help you decide which one is best for you.
Both game engines are capable of developing a wide range of games. However, it's important to choose one that best suits your requirements. Thus, it's important to learn each game engine's key features before making a choice.