If you aim to develop or enhance your graphic design skills, this article is for you. Here, we will list down some of the best books that can help you gain all the essential knowledge required to become a professional graphic designer. We see graphics everywhere these days. From a small candy wrapper to an e-commerce website promoting a business, graphics are everywhere.
Also, if you have noticed, most products out there feature some sort of design on their packages, such as a company logo or some other design elements. Newspapers, hoardings, menu cards, and Instagram advertisements are some typical examples that make use of graphics to convey certain information to people effectively.
Thus, pursuing a career in graphic designing is likely a great choice considering the increasing use of graphics in a wide variety of businesses. But before we discuss the top graphic design books, let us take a quick look at what graphics design is all about.
What is Graphics Design?
When you think of graphics design, what flashes across your mind? Impressive graphics on websites? Well-organized layouts on magazines? Well, all these fit into the definition of graphics design, and the term encompasses a lot, including posters, software interfaces, logos, signs, business cards, mobile apps, and book covers. Graphic design is the art of conveying information visually.
More specifically, it is a process of communicating with the audience using images, text, thoughts, ideas, design elements, and so on. Graphics design is not just an art but also an approach that promotes communication between businesses and their audience. Therefore, it is also referred to as communication design. Businesses and organizations use different types of graphics design for advertising their products to target customers.
For creating impressive and impactful designs, there are multiple graphics design elements. Web designers generally use these elements to produce appealing and eye-grabbing designs. Some significant graphics design elements include:
Shape
Texture
Line
Form
Size
Space
Color
Along with graphics design elements, there is a set of rules or principles that help to produce an effective and well-balanced piece of work. These principles are:
Movement
Rhythm
Emphasis
Balance
Contrast
Proportion
Best Graphic Design Books
Here is a list of our handpicked graphic design books ideal for beginners as well as experienced graphic designers who want to level up their skills.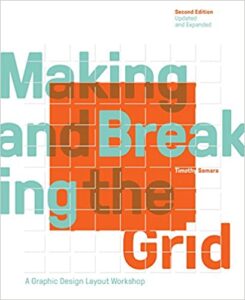 Author: Timothy Samara We all know that one of the most crucial segments of graphics designing is grids. This book discusses various types of grids, like compound, modular, and column grids. In addition, it highlights the rules and regulations of grids that are to be used while developing layouts. The author has discussed the history of the grid and highlighted some use cases of the grid. In addition, he has depicted layout concepts with diagrams and colors, helping readers to understand better.
Major Topics that Making and Breaking the Grid: A Layout Design Workshop Covers:
Understand how grids work.
Go through several examples of productive layouts developed with and without using grids.
Use visual language to communicate effectively.
Understand case studies to learn design processes.
You can read this book in Kindle and Paperback formats.
About the Author
Timothy Samara is a graphics designer from New York. He has more than 18 years of experience in branding and information design. Also, he has worked on multiple projects in various domains, such as packaging, prints, user interface design, and animation.
Publisher: Rockport Publishers
Paperback Print Length: 240 pages
You can buy this book from here .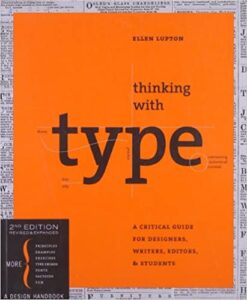 Author: Ellen Lupton
This award-winning book is a perfect guide for individuals aspiring to become a typographer. It describes different approaches with examples of using typography in graphics.
In addition, this graphic design book introduces you to all the essential information related to font licensing, style sheets, hands letters, mixed-use typefaces, and ornaments. In this book, the author has clearly illustrated how words, paragraphs, and letters should be shaped, ordered, aligned, and spaced.
Moreover, thinking with type introduces you to the fundamentals of typography, starting from typefaces, kerning, and tracking to using a grid.
Major Topics that thinking with type Covers:
The usage of captions and ornaments.
Combining typefaces.
Lining and non-lining numerals.
The usage of small caps and enlarged capitals along with stylesheets for the web.
This book is available in Paperback and Kindle formats.
About the Author
Ellen Lupton is a prominent design educator. In addition, she is a contemporary design curator at Cooper-Hewitt in New York, as well as a director of the Graphic Design MFA program at MICA in Baltimore.
Publisher: Princeton Architectural Press.
Paperback Print Length: 224 pages
You can buy this book from here .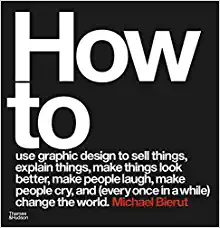 Author: Micheal Bierut
This book is Micheal Bierut's first design manual, monogram, and manifesto. This graphic design book describes the author's remarkable and exceptional design projects developed for different clients. The author has penned his own struggles and artistic ideas for creating innovative ideas and techniques for designing graphics. He has categorized this book into two segments - principles and practices.
The first section talks about the basic concepts of design, like layout, grid structure, typography, composition, color, hierarchy, and many others. In the second segment, the author has discussed the techniques to deploy the basics discussed in the first section into practice. You will also get aware of production issues and studio approaches related to several design principles. Furthermore, the second segment also provides information about various career opportunities in the design domain.
You can get ideas and insights from this book on how to combine different design elements to form exceptional and top-notch designs. You can purchase this book in Hardcover and Kindle formats.
About the Author
Michael Bierut specializes in every genre of graphics design, from nooks and posters to packaging and signage. Moreover, he is a senior critic at Yale's School of Art and a fellow of its School of Management.
Publisher: Thames & Hudson
Paperback Print Length: 320 pages
You can buy this book from here .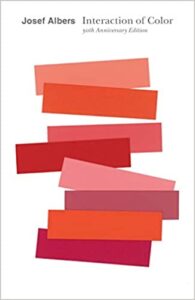 Author: Josef Albers and Nicholas
Fox Weber As its name suggests, this book primarily focuses on one of the most significant design elements - color. This graphics design book is not only designed for seasoned design artists but also for aspiring designers.
Interaction of Color incorporates around 60 color studies and has its primary focus on core principles of color in design, like color intensity, color relativity, vibrating and vanishing boundaries, color temperature, and so on. This book is an excellent guide for designers, painters, and artists aiming to create better color strategies. You can buy it in Paperback format.
About the Author
Josef Albers was an influential art educator of the past century. Also, he was the chairman of the Design Department at Yale University. Nicholas Fox Weber is the executive director of the Anni and Josef Albers Foundation.
Publisher: Yale University Press
Paperback Print Length: 192 pages
You can buy this book from here .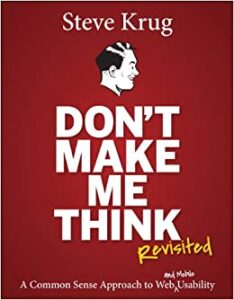 Author: Steve Krug
The usability factor in designing holds extreme importance. This book is a perfect tutorial for web developers and designers to understand information systems and navigation principles. The author has described some common design mistakes and illustrated effective solutions to those mistakes.
In addition, this book explains the concepts of UI/UX, testing, usability, accessibility, and design of web applications. You can read this book in Paperback and Kindle formats.
About the Author
Steve Krug operates a consulting firm in Chestnut Hill, MA, named Advanced Common Sense. Currently, he spends his time teaching and consulting.
Publisher: New Riders
Paperback Print Length: 216 pages
You can buy this book from here .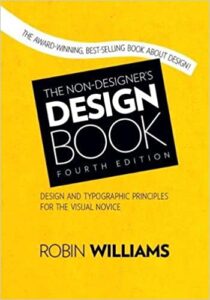 Author: Robin Williams
The Non-Designer's Design Book is intended for individuals who do not have any experience in graphics designing. Thus, it is among excellent graphic design books for beginners looking to learn the fundamentals and principles of graphic designing.
The author has described every design concept using a step-by-step approach. In this book, the author has explained topics like basic design principles, designing with color, designing with type, and designing with a combination of typefaces.
This book comprises the basics of typography, practical and effective design tips, exercises and quizzes, multiple updated design projects, and visual and typographic examples. Furthermore, this book will introduce you to advanced layout concepts like split, shift, and splice.
Major Topics that The Non-Designer's Design Book:
Four design principles.
Designing with color and type.
Ways to combine typefaces for the utmost effect.
Effective tips on designing flyers, newsletters, and brochures.
You can buy The Non-Designer's Design Book in two different formats - Kindle and Paperback.
About the Author
Robin Williams is the author of a variety of best-selling and award-winning books. She has influenced an entire generation of computer users in design, typography, web, and desktop publishing through her books, teachings, and seminars.
Publisher: Peachpit Press
Paperback Print Length: 240 pages
You can buy this book from here .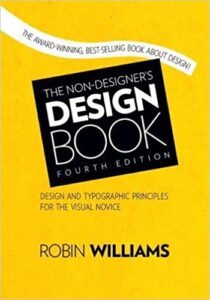 Author: Josef Muller-Brockmann
Grid Systems in Graphics Design is a perfect choice for those who already have some experience working with image design and automated text.
It educates readers on utilizing all grids in the Grid System, i.e., 8 to 32 grid fields. Josef Muller-Brockmann has penned a number of examples in this book to explain different problems that occur while using grids. Moreover, this book introduces you to typography. It also features the world's excellent typography work, illustrating top-notch and commercial ingenuity.
In addition, it provides details about exciting design projects and cover stories that feature insights by renowned and industry-recognized design studios. You can buy this book in Kindle or Paperback formats.
About the Author
Josef Muller-Brockmann was a graphic designer, author, and educator. Also, he was the principal at Muller-Brockmann & Co. design firm. He was a pioneer of the International Typographic Style.
Publisher: Antique Collectors Club
Paperback Print Length: 176 pages
You can buy this book from here .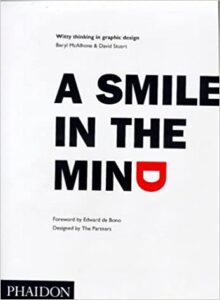 Author: Nick Asbury, David Stuart, Greg Quinton, and Beryl McAlhone
As its name indicates, this book follows a humorous or witty approach to learning graphic design. It is one of the most noteworthy and influential books on graphic design. This book explains how wit plays a pivotal role in graphics design. In addition, it incorporates classic examples illustrating how today's practitioners use wit in graphic design.
The book also includes classic interviews with prominent designers, where they have shared their experiences of how they got the idea of developing award-winning designs. This book is available in Paperback and Kindle editions.
About the Author
Beryl McAlhone is a London-based writer with a particular interest in design. Greg Quinton is an Executive Chef Director at The Partners, which is a design company in London. David Stuart is one of the founders of The Partners. Lastly, Nick Asbury is a writer for branding and design based in Cheshire.
Publisher: Phaidon Press
Paperback Print Length: 272 pages
You can buy this book here .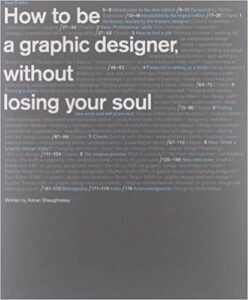 Author: Adrian Shaughnessy
This book acts as one of the most remarkable and trusted guides on graphic design. It helps graphic design aspirants to embark on their careers by combining philosophical guidance and practical advice. The author has described the creative process and professional skills of designing.
In addition, this book also features motivating and stimulating interviews with prominent designers, such as Paul Sahre, Dmitri Siegel, Sara De Bondt, Stephen Doyle, and many others. How to be a graphic designer without losing your soul offers guidance for establishing, operating, and promoting a design business. You can purchase this in Kindle and Paperback formats.
About the Author
Adrian Shaughnessy is a self-taught graphic designer. He is the co-founder of the design group, Intro. This studio won numerous awards under his leadership. Moreover, he received an Honorary Degree from the University of the Creative Arts.
Publisher: Princeton Architectural Press
Paperback Print Length: 176 pages
You can buy this book from here .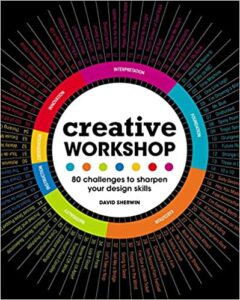 Author: David Sherwin
This book incorporates 80 distinct challenges related to design concepts, starting from the basics, like typefaces, to the most advanced, like designing web pages.
It is an excellent source for those who aim to hone their designing skills and enhance their ability to create effective and innovative designs. Creative Workshop will help you come across exciting exercises to develop a typeface within an hour to design interactive and responsive web pages.
Moreover, many well-known designers have provided solutions to exercises included in this book. You will also get acquainted with brainstorming techniques scripted by top designers. You can read this book in Kindle and Paperback formats.
About the Author
David Sherwin is a Senior Interaction Designer at a global innovation firm, Frog Design. Moreover, he is a teacher and speaker. He was employed at a wide range of small to large-scale agencies, which includes AT&T, Holland America Line, and Toshiba.
Publisher: HOW Books
Paperback Print Length: 256 pages
You can buy this book from here .
Conclusion
Several graphic design books are available in the market, and choosing among them is a pretty daunting task. Therefore, to make it easier for you to choose the best one among a pile of books, we have curated this list of the top 10 graphic design books.
Every element, right from the rough sketch to the final layout of a design, is essential. Hence, it is important to learn graphic design comprehensively. The books described above talk about different aspects of graphic design. Therefore, we recommend you refer to multiple books to gain comprehensive knowledge of graphic design.
People are also reading: