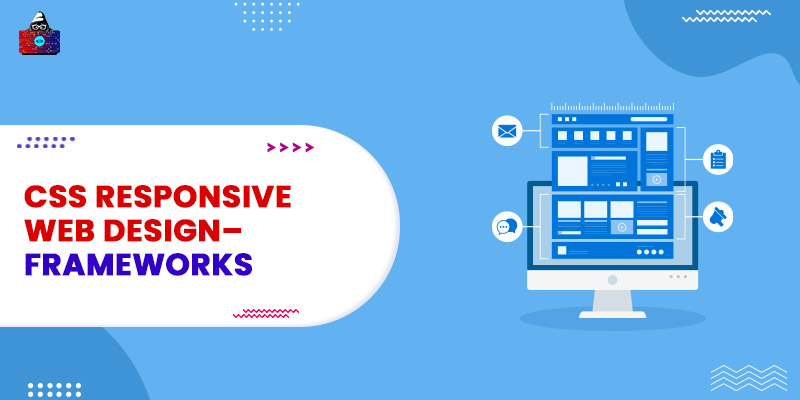 These days designers and developers use frameworks to create responsive web pages. Instead of writing code from scratch, it would be a great idea to use a framework, and there are many open-source, free-to-use frameworks available that can make your webpage more interactive and mobile-friendly. In this article, we will discuss the best CSS frameworks for responsive web design. Frameworks provide you with prewritten code that you just need to copy and paste into your documentation, and if you want to make some changes in the code, you can do that too. Mostly all the CSS frameworks provide you with a basic web page layout with a defined number of grids, buttons, tooltips, icons, and other interactive UI patterns. If you are done with CSS coding, then you might want to move further in web designing and thinking of learning JavaScript! In that case, you can explore CSS frameworks because many companies like to hire web designers who also have some hands-on experience with popular front-end frameworks.
Reasons to Use a Framework
There is always a question among front-end designers who have just started learning HTML and CSS, "Why use frameworks when we can code a responsive web page design only using CSS and HTML?" Here are some reasons for using a framework:
With the help of a framework, we can build a webpage faster . If you are well acquainted with a framework, then it can save a lot of time because you do not have to write code for a tool-tip, button, or grid. You can simply use the framework (pre-written code) in your document.
With a framework, you can design a layout within minutes .
All CSS frameworks are mobile-friendly . With a framework, you do not have to worry about writing different media queries for different devices.
Here is a quick view of our pick of the 5 best CSS frameworks for responsive web design:
Bootstrap
Foundation
Pure
Bulma
Semantic UI
Let's know more about each of these CSS frameworks.
Bootstrap is the most popular CSS framework, and the current version of it is Bootstrap5, which was released in May 2021. It comes with many significant features such as modifiers, containers, classes, jumbotron, and color schema. With Bootstrap, you can create responsive web pages that look good on every device. Using Bootstrap is also very easy. It comes with in-depth documentation that will lead you through a step-by-step tutorial.
Foundation is the second most popular framework of CSS. It is also used along with Bootstrap, and many big companies such as eBay, Facebook, Mozilla, Adobe, HP, and Disney use the Foundation framework for building webpages. Like Bootstrap, you can build flexible and advanced responsive pages using this CSS framework for responsive web design that will look good on every device.
Pure is a lightweight CSS framework that was created in 2014 by Yahoo. It is built on the top of Normalize.css, and using this framework, you can build a responsive web page with the help of grids and flexboxes. Using Bootstrap and Foundation, you can also build static or fixed webpages, but with Pure, you can create responsive web pages.
Like Pure, Bulma is also a lightweight CSS framework. However, unlike Bootstrap and Foundation, Bulma is a pure CSS framework. Bootstrap and Foundation also use JavaScript and jQuery, but this is not the case with Bulma because it is all about CSS. When you download Bulma, you only have to download the CSS file. Moreover, being a pure CSS framework, it becomes very easy to learn. That's why it has a bigger userbase than Foundation.
Semantic UI is one of the most popular responsive front-end frameworks built on HTML, CSS, and JS. It provides you with thousands of themes variables and more than 50 UI components. Moreover, it can be easily integrated with other popular frontend tools like React, Angular, Meteor, and Ember. It is a fully-fledged front-end framework that uses all three frontend technologies, namely JavaScript, CSS, and HTML , making it one of the most powerful and robust front-end frameworks.
Summary
CSS frameworks for responsive web design provide pre-written code for developing essential web design components such as grids, buttons, tooltips, and icons. Although the majority of CSS frameworks can build responsive web pages, these 5 are the best ones.
People are also reading: