We can build a responsive website or webpage using only HTML and CSS that look good on every web browser and screen size. There are two approaches to using CSS for a responsive website. Either we can write complete CSS code from scratch or just use one of the best CSS frameworks.
If you are a master in Cascading Style Sheets, you might not need to use any CSS framework to design a web page, but if you are not, then using the CSS frameworks, you can design a web page like a professional.
There are lots of properties and values along with the rules and media queries in CSS, and you have to use all these tools to make a responsive web page. Instead of writing code from scratch, we can simply use a CSS framework and its pre-defined classes and ids and save a lot of time.
Here in this article, we have mentioned the best CSS frameworks that you can explore in 2022. Before discussing the best CSS frameworks of 2022, let's discuss what a CSS framework is and why we use one.
What is a CSS Framework? Why do We Use CSS Frameworks?
A CSS framework is a collection of pre-written CSS code that makes web designing more accessible, faster, and responsive. Mostly all the CSS frameworks come with a grid system, which divides the complete web page into multiple grids so that the different components of the webpage can be placed in proper areas or grids.
Many powerful CSS frameworks also use JavaScript for more functionalities and a better UI design. However, many CSS frameworks are purely written in CSS without using JavaScript and jQuery . We can either download a CSS framework or its package in our local system or directly link to its official URL.
With CSS frameworks, we adhere to the idea of why to write code again and again if it has already been written for us.
Here are Some Good Reasons to Use a CSS Framework
Using a CSS framework, we can build a website faster by using the CSS prewritten classes and ids.
Mostly all the CSS frameworks can create responsive websites that look good on every web browser and are adjustable according to the display size.
A CSS framework reduces the chances of errors, and we do not have to worry about broken code.
Mostly all the CSS frameworks come with built-in classes for basic components like forms, tooltips, navbars, buttons, badges, and breadcrumbs so that we do not have to write code to build such components.
For a front-end developer, learning a CSS framework is very important because, in many CSS interviews , the interviewer asks questions about the popular CSS frameworks.
Best CSS Framework for Front-End Developers
The following is our list of the top 10 CSS frameworks that are widely used by front-end developers and web developers:

CSS framework
145k GitHub Stars
Bootstrap is the most popular and widely used CSS framework, and it has the highest number of stars on GitHub. In the past few years, Bootstrap has gained too much popularity among front-end developers. Apart from CSS, it also uses HTML and JavaScript for developing beautiful and interactive user interfaces. The latest version of Bootstrap is bootstrap 5, which was released in May 2021.
Bootstrap5 offers many new features, such as a new color scheme, modifiers, and utility classes. Apart from these new features, Bootstrap also offers all the common website components, including navbars, dropdown menus, pagination, forms, tooltips, and breadcrumbs. Thus, with this CSS framework, front-end developers do not need to write code for the basic components.
Important features of Bootstrap
Bootstrap comes with built-in and ready-to-use components that can be simply copied and pasted from its official documentation.
Bootstrap5 is compatible with all the popular web browsers, so we do not have to worry about incompatibility and code break issues.
It is a mobile-friendly framework, and the website built using Bootstrap will be rendered good on every web browser and device.
It has a low learning curve. Thus, a front-end developer does not need to master CSS to use Bootstrap.
The popular CSS framework has well-written documentation that walks you through every component of Bootstrap.
Bootstrap is the perfect framework for building a prototype and demo for a website. With it, you can easily set the complete layout for your website within minutes.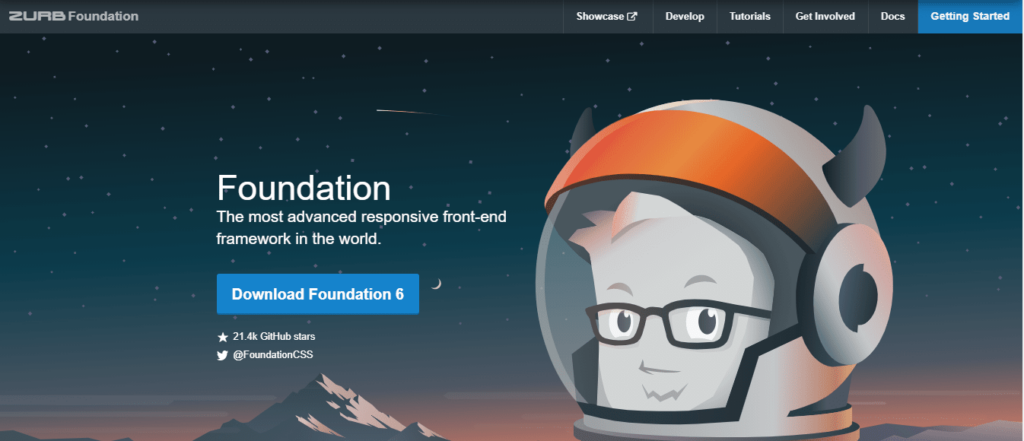 CSS framework
28.8k GitHub Stars
Foundation is one of the most popular CSS frameworks, and it is pretty similar to Bootstrap. It blends HTML and CSS perfectly to provide a beautiful and responsive user interface. Developed as a ZURB's project for the better designing of front-end code, Foundation is considered more sophisticated than Bootstrap because of its flexible and customizable nature. Foundation is an advanced CSS framework. Thus, a beginner could find it difficult to use.
The CSS framework also uses the grid approach for setting the different components and layout of a web page, and like Bootstrap, it comes with ready-to-use components like forms, buttons, tooltips, badges, and navigation bars. It has been tested on many web browsers, including mobile browsers, and made sure that its code does not break on any device.
Important features of Foundation
It is similar to Bootstrap and capable of creating responsive websites and web applications.
It is more customizable than Bootstrap, allowing you to have more control over the CSS of your web page.
The CSS framework comes with an email framework that can be used to build responsive HTML emails.
It has many commonly-used HTML user interface elements, such as buttons, drop-down options, navigation lists, labels, typographic, and messages.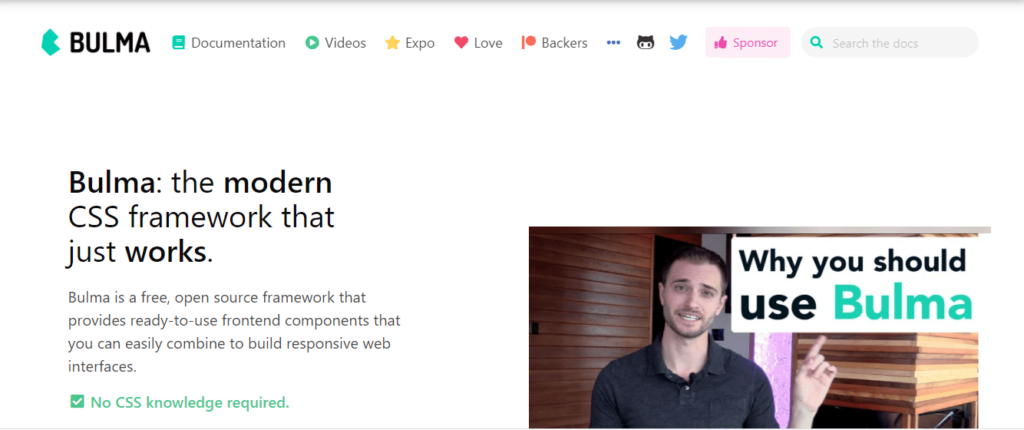 CSS framework
41k GitHub Stars
Bulma is another popular and powerful CSS framework. It has more than 41k stars on GitHub, which is more than Foundation. This shows the popularity of Bulma among web developers and designers. Bulma uses the flexbox layout for creating responsive and modern websites. Like Bootstrap and Foundation, Bulma comes with many predefined CSS classes and ids for common components like buttons, columns, forms, tooltip, and so on.
This framework is completely written in CSS, and it does not use any JavaScript. Still, Bulma is capable of creating beautiful and robust UIs. As it uses CSS, web designers and developers can easily provide a custom look to their websites by modifying the classes and variables. With this customizable feature, developers do not have to worry about the same-looking websites.
Important features of Bulma
It uses flexbox for creating responsive and mobile-compatible websites.
The CSS framework uses only CSS, and all of its classes have readable and memorable names.
Bulma is a very small framework with a low learning curve.
It has well-written documentation that helps developers to understand all of its components easily.

CSS Framework
48k GitHub Stars
Semantic UI is an advanced CSS framework that uses JavaScript along with jQuery. It is mostly used for designing modern and advanced website themes. It is highly compatible with popular front-end frameworks , such as React, Angular, Ember, and Meteor, which allow developers to build dynamic and interactive user interfaces for multiple devices.
Apart from its overall complex structure and high learning curve, Semantic UI has tried to provide concise HTML and CSS classes using natural languages so that it could become a comparatively less complex framework for CSS. Semantic UI has an actively growing community that keeps contributing to its development. Currently, there are more than 3,000 themes made using Semantic UI.
Important features of Semantic UI
Semantic UI provides human-readable HTML formats and CSS classes.
It comes with intuitive JavaScript for better user interfaces and functionalities.
It supports more than 3,000 theming variables for responsive design.
The CSS framework also comes with more than 50 UI components, including buttons, containers, dividers, flags, and forms.
It is flexbox-friendly, which ensures that your website will adjust its dimensions according to the device's display size.

CSS Framework
21k GitHub Stars
Pure is one of the best lightweight CSS frameworks. It is a perfect framework for creating responsive web pages that also look good on mobile devices. The complete pure module zipped file is less than 5KB, and it is highly recommended for small websites and web applications containing 4 to 5 pages.
Like Bootstrap and Foundation, Pure also uses the grid system and comes with built-in common components like forms, buttons, tables, menus, and bases. If you are creating a single-page web application, such as a to-do app, counter app, or notes app, then Pure would be a great choice because it contains only that CSS that loads fast in the web browser.
Important features of Pure
It is a very small framework that only contains CSS code.
Pure is capable of creating responsive websites, and it is specially designed for creating websites with mobile compatibility in mind.
The CSS framework has a very low learning curve, which makes it a perfect beginner CSS framework.
It is purely written in CSS, and it loads fast on web browsers.

CSS Framework
38k GitHub Stars
Materialize CSS is a modern CSS framework that does all the heavy lifting for front-end developers and provides them with a responsive design component. Google developed it in 2014, and it mainly focuses on responsive web design that looks perfect on Android and desktop-based browsers. It boasts custom components, animation, and transition tools for a better and smoother developer experience.
This framework contains a wide range of color schemes that helps developers to build distinct websites. Like other CSS frameworks, it also includes many built-in components so that the developer does not have to write code from scratch.
Important features of Materialize
Materialize CSS is maintained and supported by Google.
It can build responsive websites that run perfectly on every screen size.
The CSS framework also uses jQuery and JavaScript for better UI design.
It comes with common components such as navbars, toasts, cards, and tabs.

CSS Framework
17k GitHub Stars
Skeleton is a very small and responsive CSS framework. It is a pure CSS framework and contains only two CSS files, namely normalize.css and skeleton.css. It is so small that even its complete documentation is a single page. Its core developers endorse it as a "light as a feather framework," which is also true because the complete skeleton CSS code is around 400 lines.
The popular CSS framework helps in creating responsive websites that are also mobile-friendly. Despite its small size, Skeleton offers all the common components for responsive web designing, including grids. Similar to Bootstrap and Foundation, Skeleton divides the complete web page into multiple grids with 12 columns. It is ideal to use for creating small websites and single-page web apps.
Important features of Skeleton
It is a very lightweight CSS framework.
You can use this framework to create responsive and mobile-based websites.
Skeleton is easy to learn and get started with.
It offers all the common components, such as forms, grids, buttons, tables, and lists.

CSS Framework
29k GitHub Stars
Tailwind is a highly customizable and low-level CSS framework. It is low-level because instead of offering predefined components, Tailwind offers low-level utility classes. This means that unlike other CSS frameworks such as Bootstrap, Foundation, and Bulma, we get utility classes for our own HTML in Tailwind.
Most CSS frameworks are not well suited for custom web designing because of their predefined and predesigned components. Tailwind, however, does not provide predefined and predesigned components. Instead, it provides customizable utility classes for custom-designed websites that stand out from the rest.
Important features of Tailwind
Tailwind does not force developers to use predesigned components.
It provides a wide variety of utility classes that you can apply to individual elements.
Although it has a very high learning curve, it can design a website of any size.
Tailwind supports flexbox as well as a grid column layout.

CSS Framework
16k GitHub Stars
UI Kit is another lightweight and responsive CSS framework. Designed for developing a fast and powerful UI with minimal complexity, it comes with a perfect blend of HTML, CSS, and JavaScript and provides a wide range of predefined components. It is easy to learn and often used to design UI for iOS and Android-based web applications. In its predefined components, UI Kit also provides SVG icons, animations, and parallax for a better and smoother user experience.
Important features of UI Kit
The CSS framework helps web developers and designers to build a clean and modern website.
UI Kit comes with a wide range of predefined components, including SVG, animation, and parallax.
It also uses JavaScript and provides support to every popular web browser.
It is a highly customizable CSS framework, and you do not have to worry about same-looking websites.

CSS library
68k GitHub Stars
As its name suggests, Animate.css is a CSS library that provides ready-to-use, powerful, and interactive animation components. Mostly all the frameworks come with some kind of animation components, but Animate.css is a dedicated module for animation. It provides a wide range of animation classes, including bounce, flash, rubberbounce, shakeX, and shakeY.
Important features of Animate.css
It offers different types of animation effects.
Animate.css is very easy to use and learn.
It has extensive documentation.
Conclusion
With this, we have reached the end of our article on the best CSS frameworks to use in 2022. Here, we have listed all the top CSS frameworks according to their popularity and usage among the web development community. All the frameworks we have mentioned above have huge community support and wide adoption.
If you are thinking of learning CSS, then you can go with one or more of these CSS frameworks. If you use a CSS framework other than the ones mentioned above, do let us know in the comments section.
To gain a deeper insight into the CSS world, buy this course .
People are also reading: