In this digital era, there is a huge amount of data being generated every day. It has become a necessity to keep this data secured for the benefit of organizations and clients. This includes personal information, confidential business data, bank details, and so on. It becomes extremely necessary to protect this data from the threats posed by cybercriminals.
The data that is stored online is vulnerable to such attacks, and hackers can identify security vulnerabilities to extract, leak, or modify data. This is where ethical hackers come into the picture. In this article, we will discuss our pick of the 10 best ethical hacking books, but before doing that, let's discuss ethical hacking.
What is Ethical Hacking?
Ethical hacking is a cybersecurity domain that aims to secure and safeguard organizations from such threats and protect the data. Professionals in this domain are responsible for preventing cyberattacks and protecting data from cyber theft and misuse using various techniques of ethical hacking. Ethical hackers think like cybercriminals.
They start by identifying the weaknesses in systems and networks of an organization and use the best ethical hacking tools and software to fix them in order to keep the data secure.
10 Best Ethical Hacking Books
Now that you have read and understood the basic need for cybersecurity and ethical hacking, we will discuss the 10 best books for ethical hacking that will help you become a successful ethical hacker: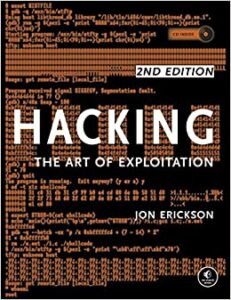 Author: Jon Erickson
This is a classic book on hacking written by Jon Erickson. Hacking: The Art of Exploitation is a comprehensive guide for those who are interested in ethical hacking. With the help of this book, you can gain skills in the C programming language from the perspective of a hacker rather than a developer.
Apart from this, you will come across numerous techniques and methods associated with ethical hacking, such as hijacking network communications, overflowing buffers, and bypassing and exploiting secured systems.
This ethical hacking book aims to offer you a complete understanding of network communications, programming, and other significant modules of ethical hacking in a way that even beginners can understand.
Hacking: The Art of Exploitation will not only help you understand various hacking techniques but also help you learn how they work. The topics and examples covered in this book will also help you learn to exploit cryptographic vulnerabilities, debug code, and more.
About the Author
Jon Erickson works as a cryptologist and security specialist in Northern California. He possesses formal education in computer science. Also, he speaks frequently at computer security conferences across the globe.
Publisher: No Starch Press
Paperback Print Length: 488 pages
You can buy this book from here .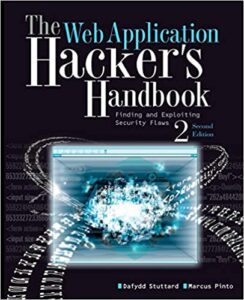 Author: Dafydd Stuttard and Marcus Pinto
Web Application Hacker's Handbook by Stuttard explains a range of the latest technologies in web apps. It details the advanced methods of hacking attacks that are commonly used by attackers while hacking into systems. Also, you will learn in detail about the new frameworks, UI redress, hybrid file attacks, cross-domain integration techniques, HTML5, and so forth.
The book on ethical hacking covers almost everything that you need to learn and understand about penetration testing in web apps. It will guide you through web application security testing from beginning to end. Moreover, it will help you understand the working of the HTTP protocol, giving you a better knowledge of the various attacks that can exploit the web servers and how to prevent them.
About the Author
Dafydd Stuttard is an author and security consultant. Also, he is a software developer and specializes in penetration testing of web applications and compiled software.
Marcus Pinto is a security consultant. Also, he provides training on security attacks and defense to many industries in the government, retail, finance, telecom, and gaming sectors.
Publisher: Wiley
Paperback Print Length: 912 pages
You can buy this book from here .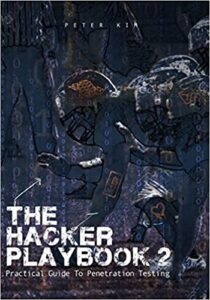 Author: Peter Kim
The next name on our list of the best ethical hacking books is The Hacker Playbook 2. This hacking guide by a long-time CEO and Security Expert at Secure Planet, LLC is written to help ethical hacking enthusiasts learn the step-by-step process of becoming proficient in pen testing and other hacking techniques.
Moreover, with the numerous practical examples and tutorials available in this book, you will easily be able to grasp the concepts explained.
The Hacker Playbook 2 consists of explanations of the best methods and techniques from the first edition of the book, along with the latest tools, attacking methods, and so on. It also outlines the development of a lab. Further, you will also read about various attacks and their test cases, and learn about customized code.
About the Author
Peter Kim has more than 14 years of experience in the information security industry. He has been running penetration testing for more than 12 years. In addition, he has worked in numerous utility companies, government agencies, financial organizations, and Fortune 1000 companies.
Publisher: Createspace Independent Pub
Paperback Print Length: 339 pages
You can buy this book from here .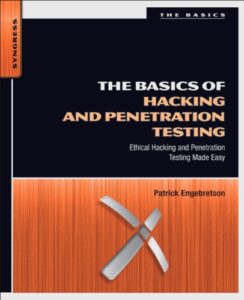 Author: Dr. Patrick Engebretson
It is an introductory guide that you can use to learn penetration testing and ethical hacking from the root level. The author of this book on penetration testing and ethical hacking is Patrick Engebretson. You will also learn to use several best penetration testing tools .
The Basics of Hacking and Penetration Testing offers a simple explanation of the effective use of penetration testing tools and the steps that need to be followed during the process of pen testing.
All the chapters in The Basics of Hacking and Penetration Testing consist of numerous exercises and examples that will help you interpret results and use them. This ethical hacking book is one of the best ones to kick start your ethical hacking career and equip yourself with the skills demanded by this profession.
About the Author
Dr. Patrick Engebretson holds a Doctor of Science degree in Information Security from Dakota State University. Currently, he serves as an assistant professor of information assurance. Simultaneously, he works as a senior penetration tester for Midwest, a security firm.
Publisher: Syngress
Paperback Print Length: 178 pages
You can buy this book from here .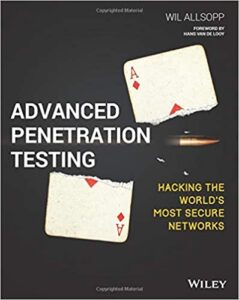 Author: Wil Allsopp
This hacking book allows ethical hacking aspirants to ingrate programming, social engineering, and vulnerability exploits. It offers a multidisciplinary method to compromise and target environments with high security. Also, it includes significant methods that give an accurate understanding of the defenses of a system.
Although this hacking book may not be the first choice for beginners, it includes all the concepts of penetration testing in detail, especially the advanced concepts. In Advanced Penetration Testing, the author also covers APT modeling techniques and complex attack simulations that go way beyond Metasploit and Kali Linux. Along with this, the other advanced concepts covered in this book include malware and social engineering.
About the Author
Wil Allsopp has served as an IT security expert for more than 2 decades. He specializes in penetration testing, red team engagements, security audits, vulnerability assessments, advanced persistent threats, and social engineering.
Publisher: Wiley
Paperback Print Length: 288 pages
You can buy this book from here .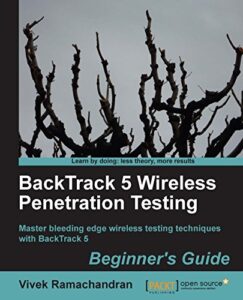 Author: Vivek Ramachandran
This comprehensive ethical hacking book, authored by Vivek Ramachandran, is curated for beginners in this IT domain who wish to learn about hacking and wireless security from scratch. Using this guidebook, you will be able to understand the techniques that will help you perform wireless attacks.
BackTrack5 Wireless Penetration Testing Beginner's Guide discusses all the latest techniques and methods in detail. Further, you will come across a varied range of lab exercises for all the steps that need to be performed to protect the systems from such attacks. Also, it includes concepts like WLAN penetration testing, wireless lab setup, and bypassing authentication of WLAN.
About the Author
Vivek Ramachandran is a popular security researcher and evangelist. He discovered the well-known wireless 'Caffe Latte Attack.' Also, he has delivered presentations at renowned conferences, such as Defcon and Toorcon in the US. He holds a B.Tech. degree from IIT Guwahati.
Publisher: Packt Publishing
Paperback Print Length: 220 pages
You can buy this book from here .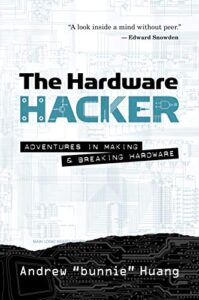 Author: Andrew "Bunnie" Huang
The Hardware Hacker is among the best ethical hacking books for many reasons. Written by Andre Huang, it will inspire you to learn and gain experience as an ethical hacker.
In this book, the author shares his knowledge and experience in hardware manufacturing. The book's content is a combination of interview sessions and essays based on personal experience and spans a diverse range of topics, including intellectual property and reverse engineering.
This hacking book will help you gain an in-depth understanding of hardware manufacturing and also help you develop the ability to fix various hardware issues. So, if you are interested in learning how to hack hardware, you must check out this book.
About the Author
Andrew "Bunnie" Huang is a hacker and open hardware activist. He holds a Ph.D. degree in electrical engineering from MIT.
Publisher: No Starch Press
Paperback Print Length: 418 pages
You can buy this book from here .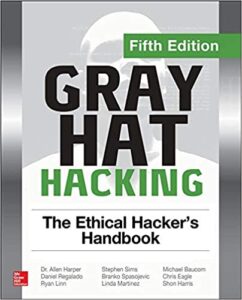 Author: Branko Spasojevic
This hacking book includes all the basic and intermediate concepts of hacking in a comprehensive manner, allowing both beginners and professionals with some experience in this field to learn and benefit from it. It covers the basics of ethical hacking tactics and tricks before moving on to slightly more advanced concepts, giving you a better understanding of this IT field.
The Gray Hat Hacking book aims to help ethical hackers gain access to various networking devices. Even though a few concepts are not explained in detail, it is more than enough for individuals who want to start their careers in cyber security and ethical hacking.
About the Author
Branko Spasojevic works at Symantec as a senior software engineer.
Publisher: McGraw Hill
Paperback Print Length: 640 pages
You can buy this book from here .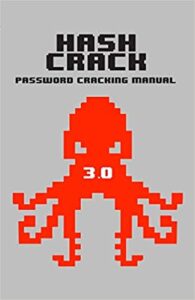 Author: Joshua Picolet
Number 9 on our list of the best ethical hacking books is Hash Crack. This reference book by Picolet covers password recovery methods, along with analysis tools and methods. Further, it includes both basic and advanced methods for network security experts and penetration testers, who are responsible for evaluating the network security of an organization.
Moreover, with the help of this manual, you will learn various syntaxes that are commonly used in analysis and password recovery tools. This will save you a lot of time and effort in researching the use of those tools. Also, the ethical hacking book includes commands and tables that will substantiate your learning and boost your career in ethical hacking and password cracking.
About the Author
Joshua Picolet is the best-selling author of many security books, such as Red Team Planner, Blue Team Planner, One-Time Grid, and Operator Handbook.
Publisher: Independently Published
Paperback Print Length: 138 pages
You can buy this book from here .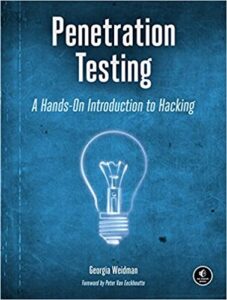 Author: Georgia Weidman
This book on hacking and penetration testing is by Georgia Weidman, and it aims to provide you with an introduction to all the techniques and fundamental skills required by pen testing. It also consists of practical lessons and examples for multiple tools. Further, it will cover vulnerabilities of web applications, bypassing antivirus software, automated attacks using social engineering, and more.
Through this book on ethical hacking, you will also learn how hackers and attackers gain access to the systems of the organization, crack network passwords, and more. You will learn to access a single machine of the organization, using which you will be able to take over all the systems of the organization.
About the Author
Georgia Weidman is a penetration tester and researcher. She is also the founder of the security firm, Bulb Security. Moreover, for her work in mobile devices security, she was awarded a DARPA Cyber Fast Track grant. She also delivers presentations at global conferences and teaches students about penetration testing, mobile hacking, and exploit development.
Publisher: No Starch Press
Paperback Print Length: 528 pages
You can buy this book from here .
Start Your Career in Ethical Hacking
There is a plethora of ethical hacking books and resources available online and offline that aim to help you attain the skills that recruiters of top organizations look for while hiring ethical hackers. The aforementioned list details 10 of the best books for ethical hacking. So, if you are an ethical hacking aspirant with a keen interest in building your career in this popular and among the most sought-after career, start reading the book(s) most suitable for you today!
People are also reading: