Photos are memories for a lifetime. They preserve the most important and cherishing moments. Each photo has a different and exciting story. Also, photos are not only limited to personal lives but are also associated with business marketing strategies. Usually, many of us store photos and images on a variety of devices, such as desktops, laptops, and mobile phones. However, what if your laptop, PC, or smartphone crashes that contains your important images and photos? Well, in such a case, you likely lost them. So, to avoid a mishap where you lost all your important photos and images, you may need to consider using the services offered by an image hosting website. Image hosting is an effective way to keep your photos or videos securely stored. An image hosting website lets you store images on the cloud, and you can access them from anywhere and anytime. This article lists the 10 best image hosting websites that are trustworthy and are quite popular among users. You can also consider using these websites to store your images and share them seamlessly with others. But before we discuss those image hosting websites, let us take a quick overview of image hosting to understand what it is all about.
What is Image Hosting?
Image hosting is an online service that enables you to upload, store, and share images and/or videos. When you upload photos or images on any image hosting platform, you get the flexibility to access them whenever required using the internet. Many people get confused between image hosting and photo sharing. Photo sharing is when you share stored photos on different platforms, like Facebook, Instagram, and Flickr. On the other hand, when it comes to image hosting, it is all about storing images securely on the cloud, i.e., stored on various servers spread across multiple locations, and these servers are connected through the internet. Also, many image hosting websites allows you to share images with others directly using a link.
Best Image Hosting Sites
We have listed some best image hosting sites along with their features and prices. You can compare these and pick the one that best suits your needs and budget.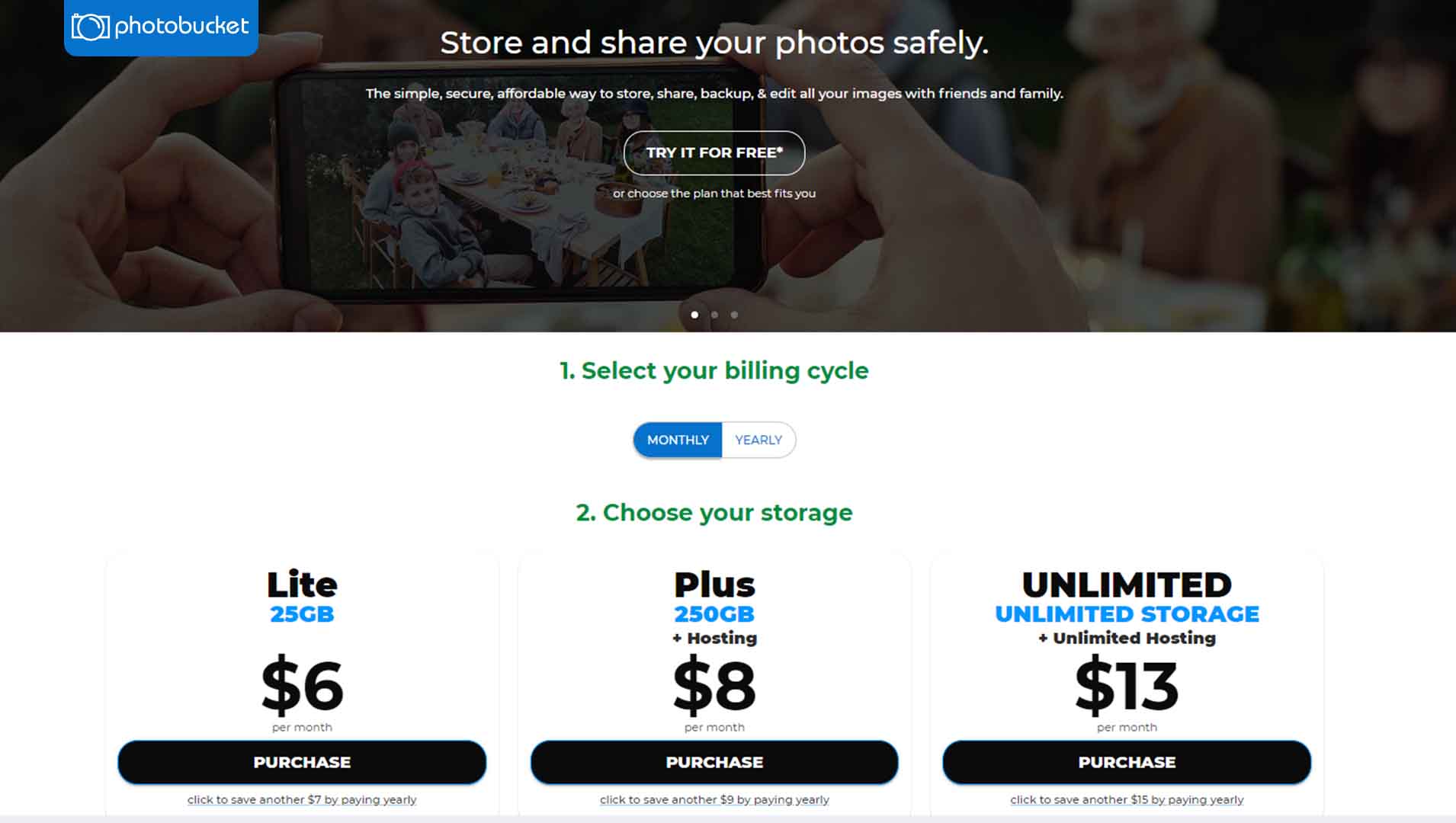 Photobucket is a secure, affordable, and user-friendly platform to store, share, edit, and back up photos. More than 90 million people around the world trust Photobucket because of its secure and reliable features. You can download the Photobucket app on your Android or iOS device and upload your photos with ease. All images you store on Photobucket retain their original quality, and thus you do not have to compromise the image quality. Also, you can access your photos on a desktop, laptop, or tablet. With Photobucket, you do not have to upload the same image to different sites, blogs, or forums. Instead, you can copy an image's link and share it with different sites. Moreover, Photobucket enables you to edit images using unique stickers and filters, crop them, and add annotations. You can control who can view your photos or which photos to share with friends or family using privacy settings.
Pricing
Photobucket's free trial allows you to upload only 250 pictures and does not support public hosting on other websites. In the paid tier, there are 3 options, namely Beginner, Intermediate, and Expert.
The Beginner plan charges $6 per month for 2,500 pictures and offers a storage space of 25 GB.
The Intermediate plan charges $8 per month for 250 GB storage space and allows you to upload 25,000 images. Also, it offers unlimited hosting.
The Expert plan charges $13 per month for unlimited storage and unlimited hosting.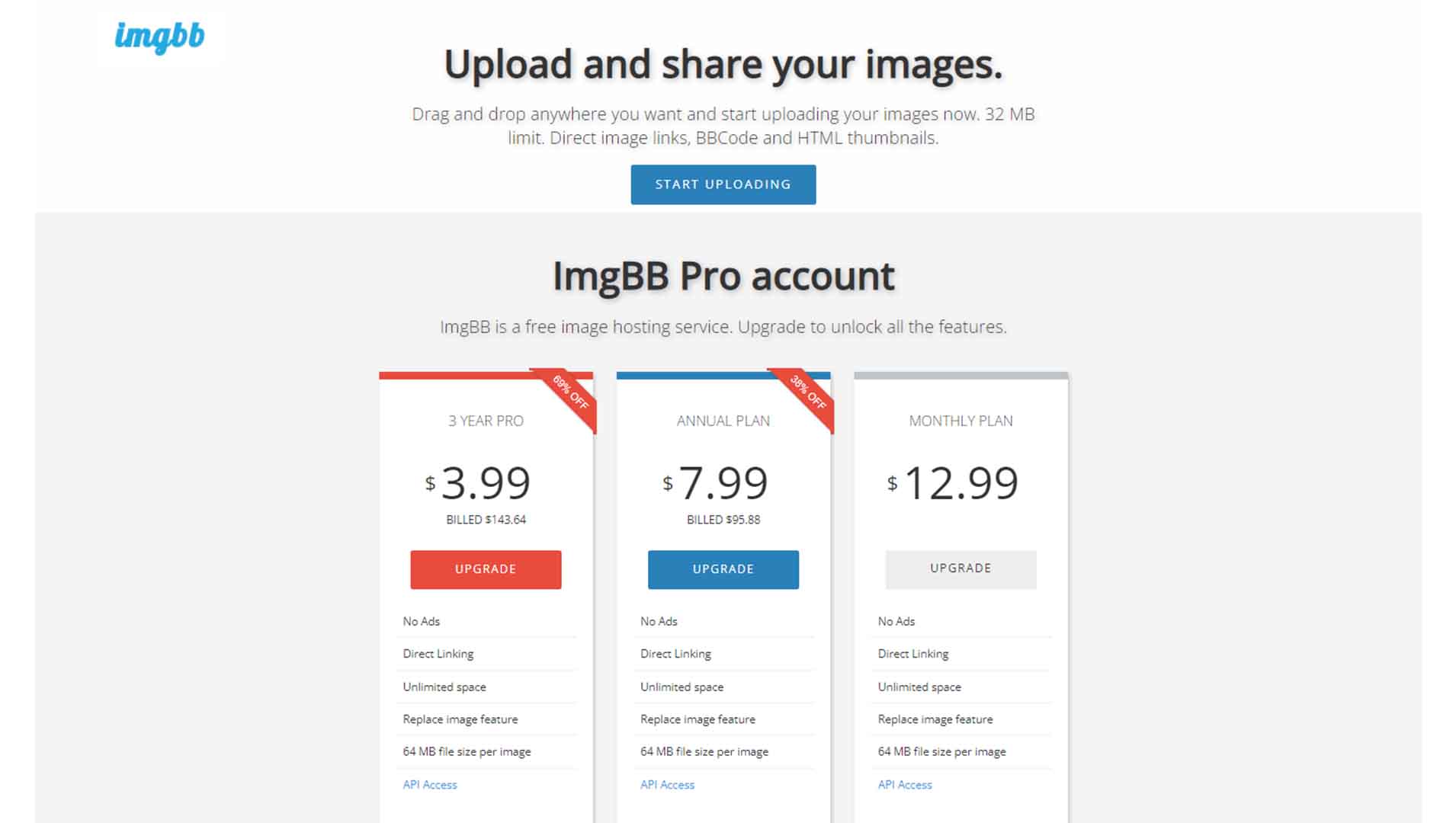 Imgbb is one of the most popular image hosting platforms. It is free-to-use and has a user-friendly interface that supports drag-and-drop. Thus, you can drag and drop your pictures on this platform and upload them to different platforms with the help of the upload plugin . The upload plugin can be inserted into any website. Just copy the plugin code and paste it into the desired website's HTML code. Then, the upload button gets placed on the website and offers features like image resizing and uploading. Imgbb supports all major file formats and uploads files with a size up to 32 MB. The most desired benefit of this platform is that it does not restrict the number of images for uploading and the period for storing them. You do not even have to register to store your pictures. The most important thing that you need to take care of is to not upload copyrighted images on Imgbb. The image hosting site employs human editors that review and check whether the uploaded photos are copyrighted or not.
Pricing: Free to use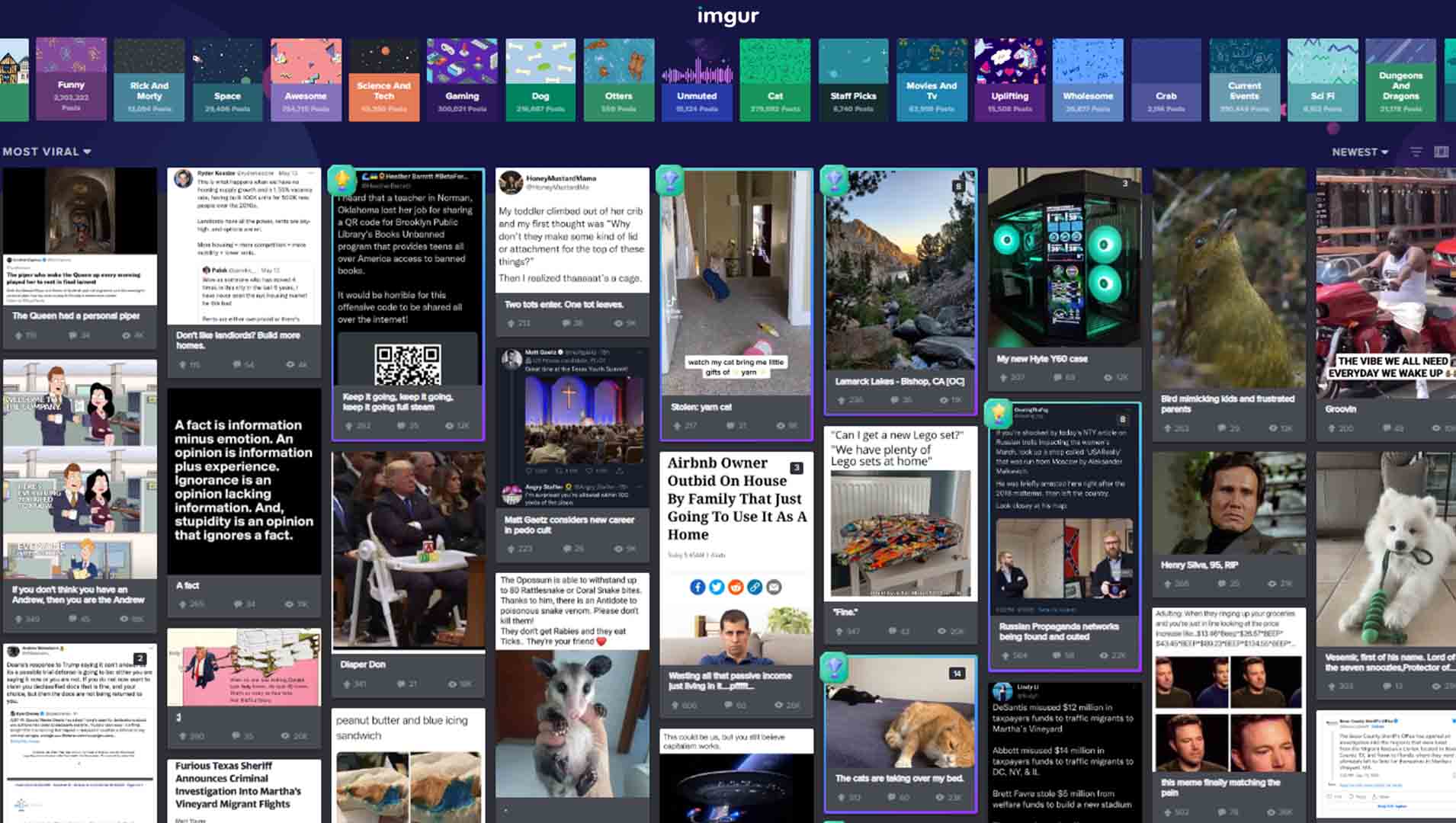 Imgur is a platform that offers image hosting and image sharing services. It has a vast collection of photos, memes, gifs, visual stories, etc. People from any part of the world can join Imgur to share their stuff and vote for the best ones. Imgur supports all photo formats, such as APNG, PNG, JPEG, XCF, BMP, PDF, and TIFF. Non-animated files of up to 20 MB size and gifs of up to 200 MB can be uploaded on this image hosting platform. Moreover, Imgur does not require you to have an account to upload pictures. Each uploaded photo has a unique link, and you can add it to your forums, websites, etc., using the link alone. If you want to add captions to pictures or directly upload an album of photos, you can create a free account on Imgur. Besides image hosting, the platform ranks images that have the highest votes. In addition, several account holders can upvote and downvote particular posts. Also, this platform is the best for photographers to get exposure and showcase their work.
Pricing: Free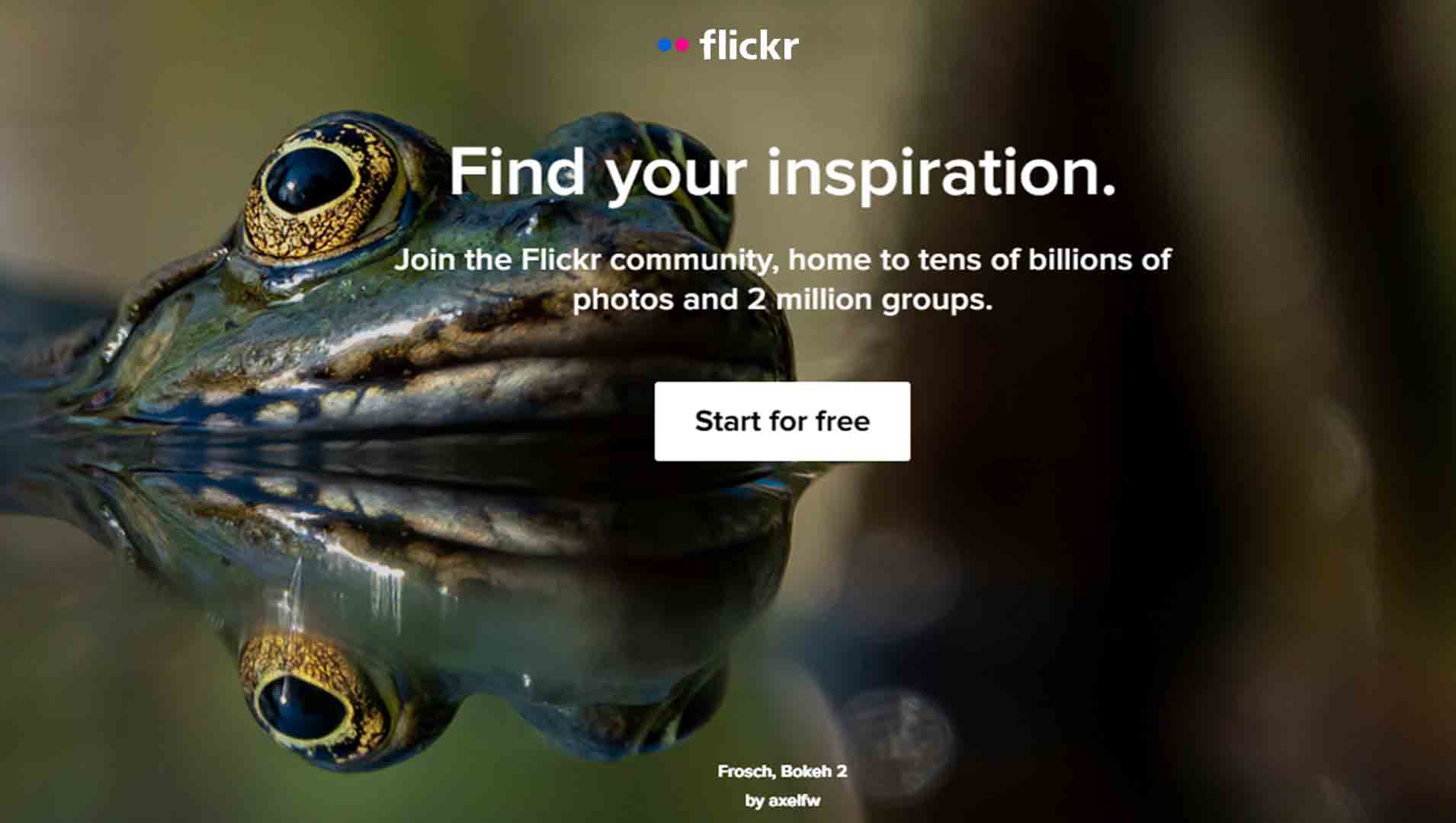 Flickr is one of the oldest and most popular photo-sharing and photo management platforms. In addition to photo sharing and image hosting, it also serves as a social networking platform where you can share your pictures with the Flickr community. Flickr offers editing features to refine your images. In addition, as it is a photo management tool, you can arrange your pictures into well-organized albums. The privacy settings of Flickr enable you to share photos privately. In addition, you can use the uploader tool to upload your pictures from a PC, Apple iPhoto, Dropbox, and other platforms.
Pricing
Flickr has a free version that allows you to upload 1,000 images and videos. On the other hand, the paid edition of Flickr, Flickr Pro, offers more advanced features, such as ad-free browsing, automatic image uploads, and advanced stats, along with all the essential features. Also, you can upload unlimited photos to Flickr with Flickr Pro.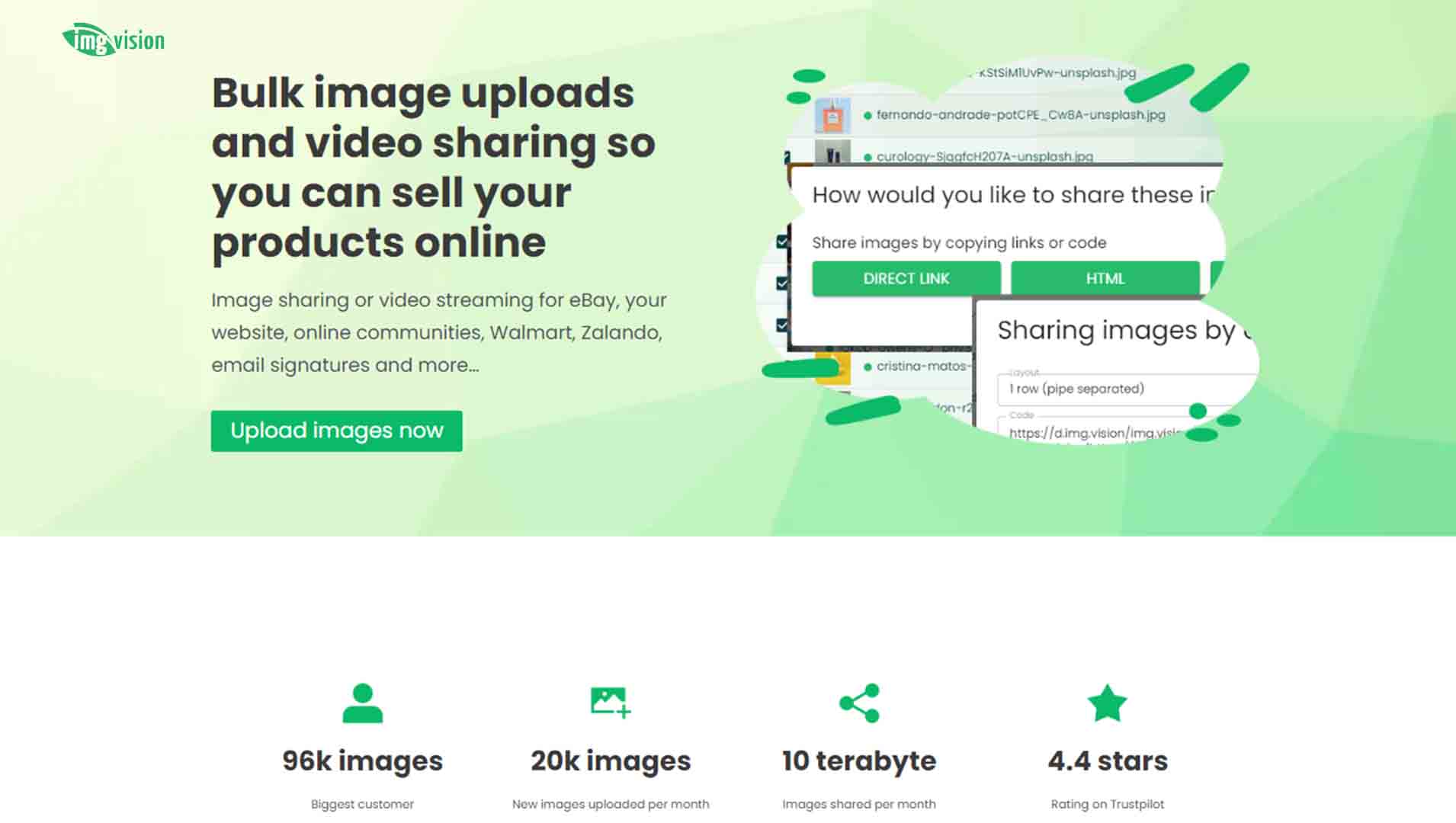 Img.vision is a reliable and easy-to-use image and video hosting platform. After hosting your pictures and videos on Img.vision, you can embed them on your websites, forums, et cetera. It has a straightforward interface for uploading images and videos from Google Drive, OneDrive, PC, Dropbox, Android, iOS, etc. Also, its browser-based photo editor allows you to fine-tune your pictures and videos too. As soon as you upload any photo or a video, Img.vision generates a customizable code that you can use to embed the uploaded photo or video on your website. The content delivery network (CDN) provider of Img.vision offers quick image and video uploading. With Img.vision, you can share hosted photos and images on 18 different social media platforms with a simple sharing button. In addition, it supports different web image formats, including GIF, PNG, and JPG.
Pricing
The pricing of Img.vision is based on the number of images and videos that you want to host on it. For instance, you can upload 20 photos, generate their codes, and use an image resize tool with the free edition. However, for 1,000, 2,500, and 5,000 images, with all the basic features, you have to pay $9.60, $12, and $15 per month, respectively. The pricing for hosting videos is different and is as follows:
25 videos - $12 per month
50 videos - $24 per month
100 videos - $48 per month
200 videos - $96 per month
400 videos - $192 per month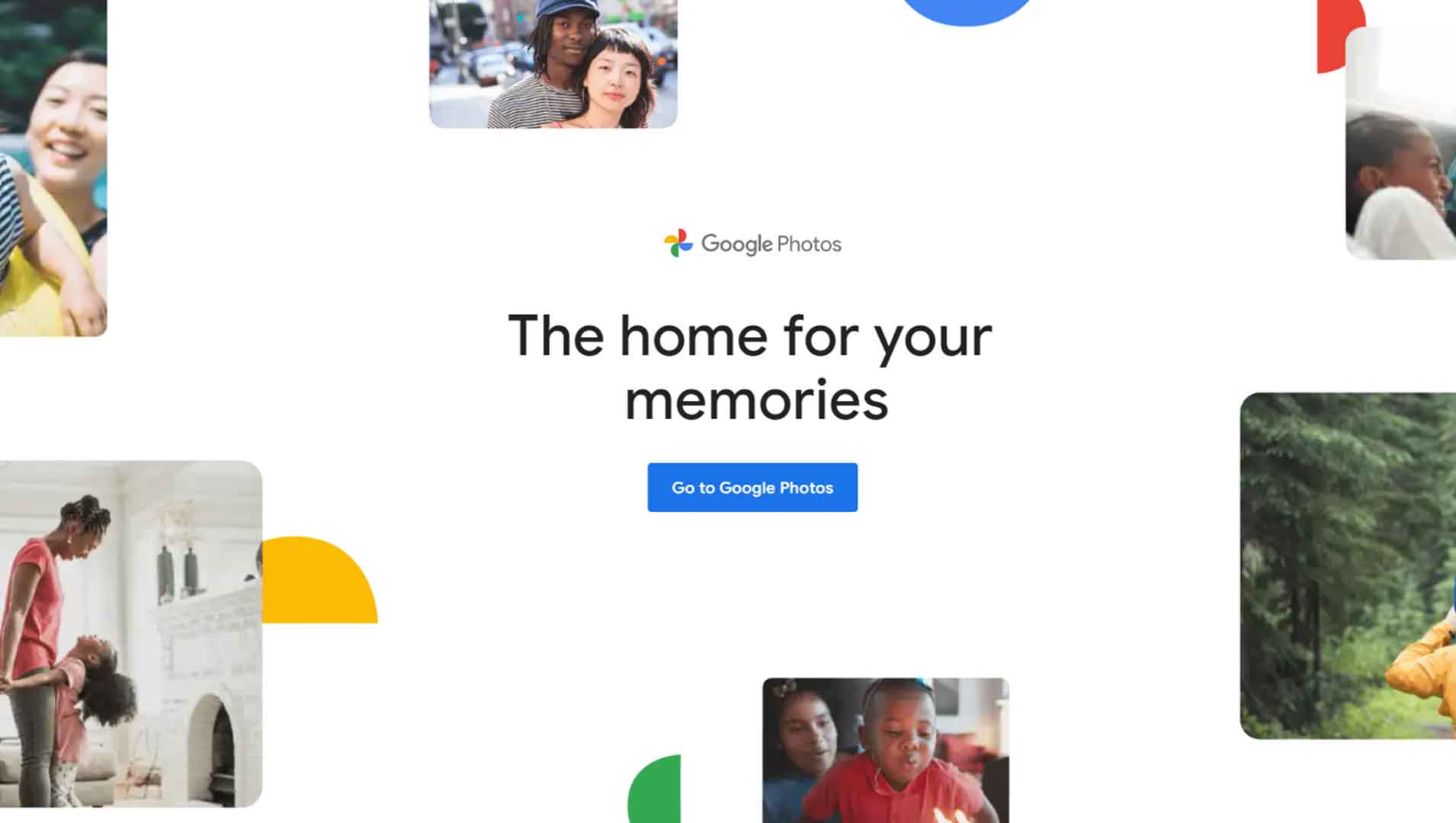 Both individuals and businesses use Google Photos, all thanks to its user-friendly interface. Also, it is one of the most-used image and video hosting sites worldwide. Moreover, it is a free-to-use platform that offers superb features. The automatic backup feature allows you to have peace of mind as the photos on your devices are uploaded automatically. In addition, you can upload photos of a size up to 16 MB and videos of 1080 pixels resolution while retaining their original quality. You can access pictures and videos from any device via the web app or use the Google Photos app available for iOS and Android. By using artificial intelligence technology, Google Photos can recognize places, people, things, and events in the photos. Also, it can store pictures under different categories based on people, places, and things. For example, it creates a dedicated album for all photos of yours, a different album for pictures of your pet, a separate one for your family, and so on. Google Photos also has a built-in photo and video editing tool consisting of various filters, colors, etc. You can even create collages, movies, and animations of the uploaded pictures. It also allows you to share photos and videos via email, text, and multiple social media apps installed on your device.
Pricing
You get 15 GB of free storage space with Google Photos. In addition, it has 3 paid versions based on the storage space:
For 100 GB of storage space, you have to pay around $1.78 per month.
To get 200 GB of space, you have to pay around $2.87 per month.
To get 2 TB of space, you need to pay $8.89 per month.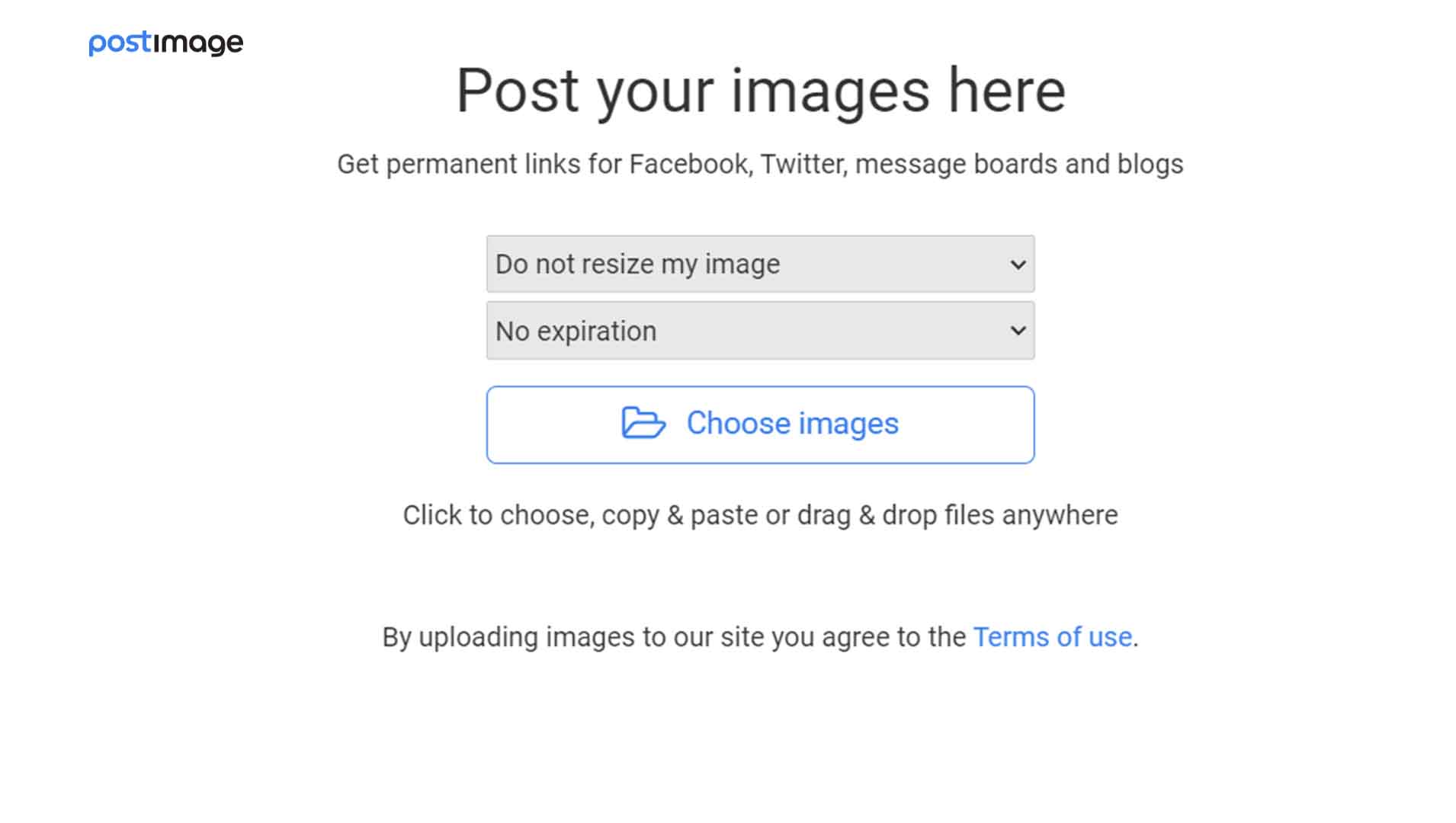 Postimage is yet another open-source and free-to-use image hosting platform. It is a reliable image hosting site that can host images of size up to 8 MB. Postimage allows you to link uploaded images to message boards, auctions, websites, and blogs. Also, you do not have to register yourself for uploading pictures. Each picture uploaded on Postimage has a dedicated link. Hence, you can share any image quickly using the link. Furthermore, you can adjust the size of an image and set its expiry date, like one day, one week, or one month.
Pricing: Free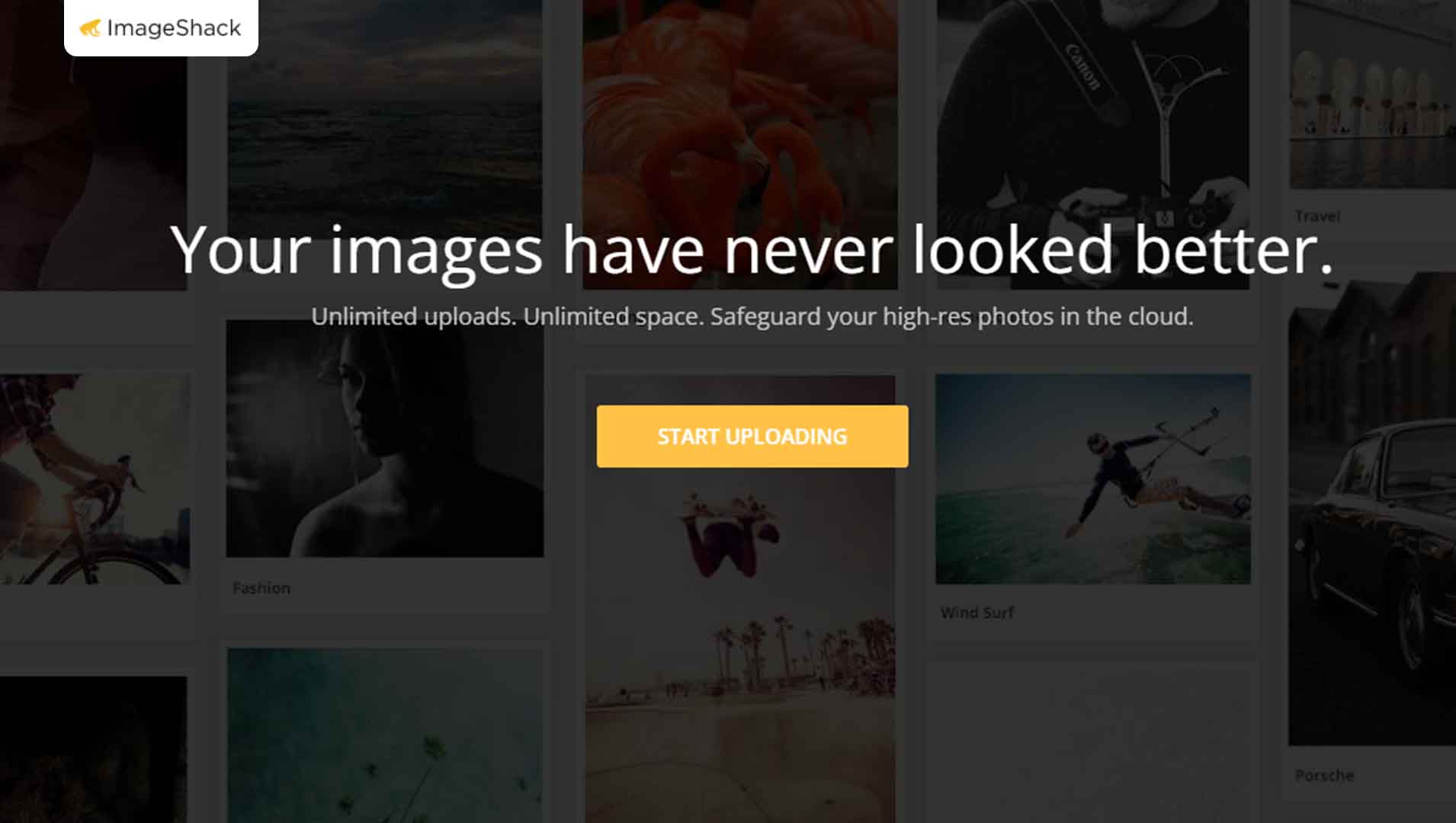 ImageShack is one of the top-rated image hosting sites that offers several robust features. It has the same layout like Pinterest. You have to first create an account on ImageShack to use it for storing your pictures. Additionally, there is a file selection section on the homepage that allows you to upload images with ease. ImageShack supports various image file formats, such as PNG, TIFF, BMP, JPG, and GIF. If you are using the free plan of ImageShack, you can upload images having size up to 5 MB. On the other hand, the paid version lets you upload photos having a maximum size of 10 MB. When you upload BMP or TIFF images on ImageShack, they automatically get converted into the PNG format. Also, pictures uploaded on this image hosting site can be organized into albums.
Pricing
The 30-day free trial period of ImageShack offers 10 GB of storage space. In addition, there are 3 paid plans; Basic, Pro, and Premium.
In the Basic plan, you get 30 GB of storage space.
The Pro plan offers 30 GB to 1 TB of space.
The Premium plan provides storage space of 1 to 4 TB.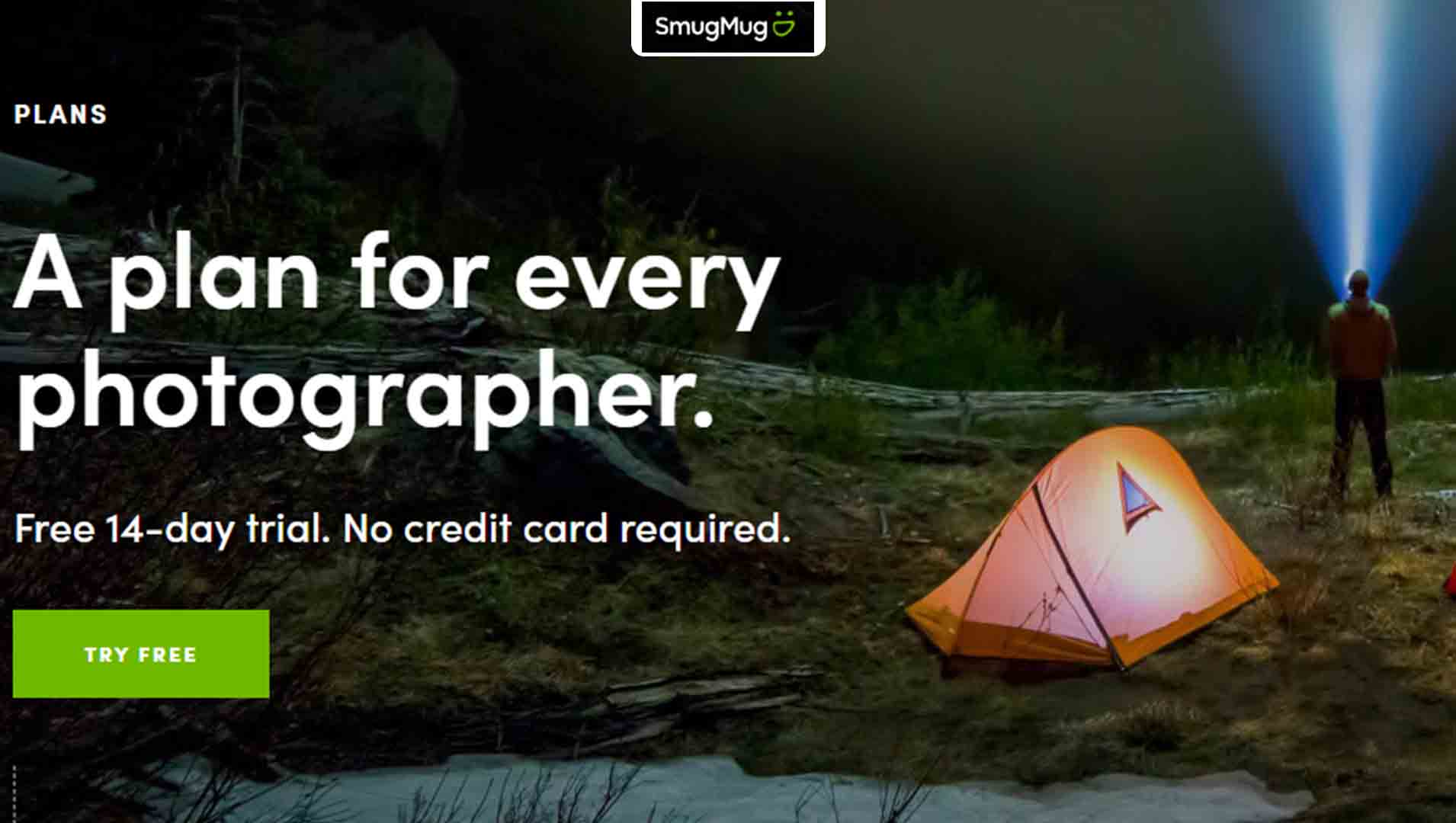 SmugMug is an image hosting, image sharing, and online video platform. You can securely upload your pictures and videos without compromising their quality. The image hosting site also allows you to share the desired photo or video with a person. You can upload unlimited pictures and videos on SmugMug and control who can view and access them. One of the most exciting features of SmugMug is that it enables you to create an online store to sell prints of your pictures. It allows you to create your own portfolio or site using several impressive templates, a drag-and-drop interface, and HTML and CSS integration. In addition, SmugMug can seamlessly integrate with Lightroom , Luminar, etc., to help you edit photos using professional tools.
Pricing
SmugMug offers a free trial period of 14 days. Once the trial period expires, you need to subscribe to one of the 4 paid plans, namely Basic, Power, Portfolio, and Pro. The Basic plan is available at $7 per month, Power is available at $11 per month, Portfolio is available at $27 per month, and Pro is available at $42 per month. You can even opt for an annual subscription to these plans.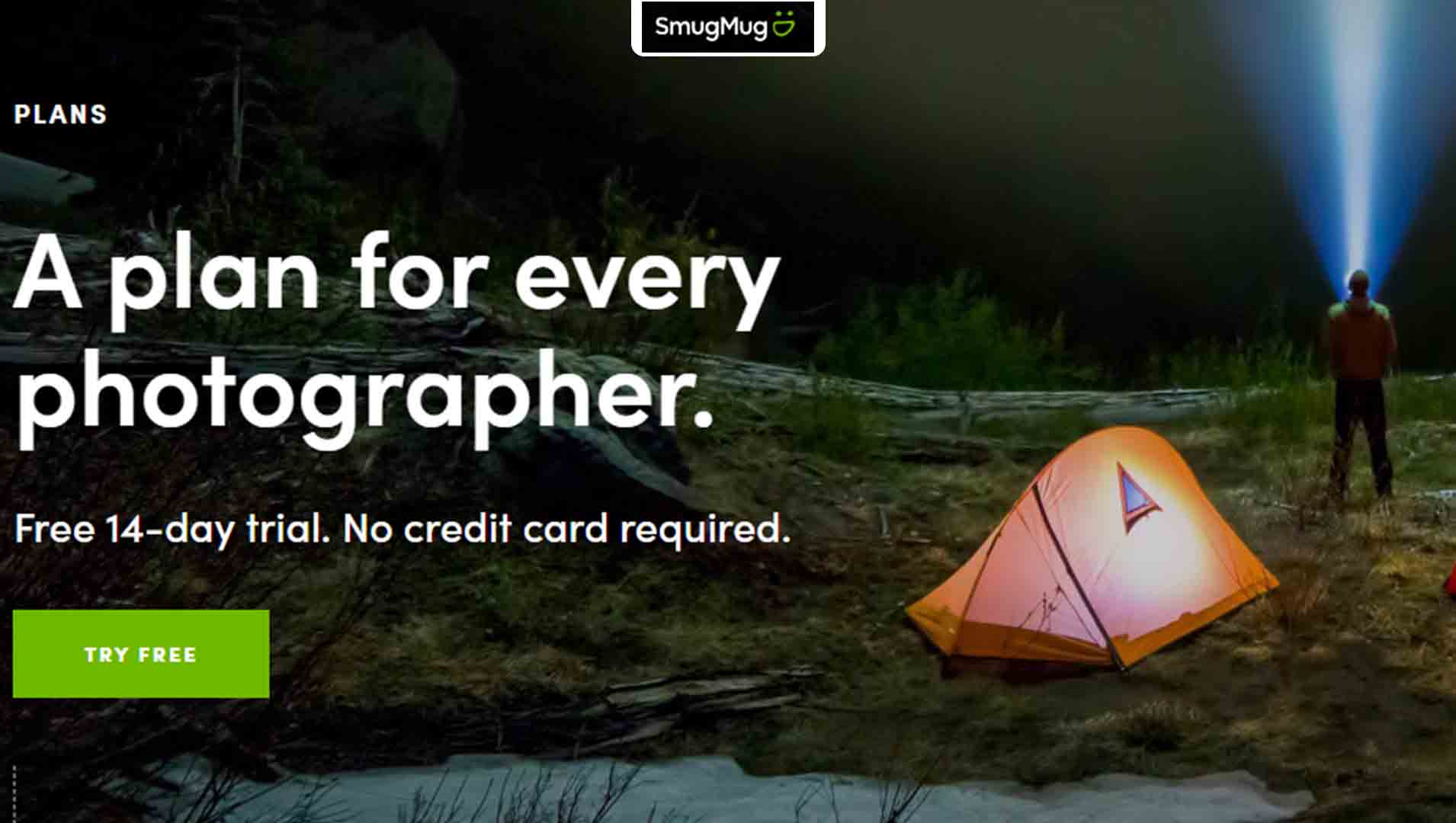 Dropbox is another commonly used image hosting platform that is ideal for individuals, businesses, and freelancers. Also, Dropbox is not just limited to image hosting. Instead, it acts as a brilliant workspace that combines different tools and allows teams to collaborate. It is a one-stop solution for your business. You can create and share content and upload images from Google Sheets, Google Docs, Microsoft Office files, Google Slides, and Dropbox Paper . When you upload images or documents to Dropbox, they automatically get backed up in their original sizes. You can organize your pictures or documents in folders and share them only with the people of your choice. Dropbox is compatible with Linux, Windows, and macOS systems.
Pricing
Dropbox offers you 3 GB of storage space for free. Also, there are 2 paid plans, namely Dropbox Plus and Dropbox Business that offer you much more cloud storage space. For instance, Dropbox Plus offers 2 TB of storage space, while Dropbox Business provides 3 TB of space.
Benefits of Image Hosting
Following are some of the key benefits offered by image hosting:
1. Saves Storage Space
When you run out of storage space on your device, you can free up some space by hosting your images or photos on an image hosting site.
2. Flexible and Easy-to-access
You can access and share any of your hosted pictures from any device and at any time.
3. Robust Features
Image hosting sites offer flexible and robust features, like quick uploading, sharing, backups, and collaboration.
Conclusion
It can be disturbing to lose your crucial work-related or personal images. However, with image hosting platforms, you do not have to worry anymore about losing your pictures due to a system crash or any issues with your device. Image hosting sites have made it easier for us to store photos and videos securely. Moreover, they allow us to access the uploaded content anytime from any device and share them with others. We hope, that this article will help you in selecting the best image hosting sites that meet your requirements. Among the best image hosting sites listed above, some are completely free-to-use, while others require you to buy one of their subscription plans. Also, you need to keep in mind that paid image hosting platforms usually offer more advanced features than the platforms that are free.
People are also reading: