Want to develop an application or website but are coding skills stopping you? If so, here is a solution for you: a No-code or low-code platform. With a no-code or low-code platform, developing applications is more convenient and quick for individuals with or without coding skills.
We all know applications play a vital role in every human's life, whether for professional or personal purposes. Human life has never been easier because of software apps. Thanks to now-code or low-code platforms, there is no need to invest a lot of time, hire multiple skilled programmers, or spend a lot of money to create complex applications.
These platforms help you develop fully-featured software applications even if you have little to no experience in programming . Not only can you create unique applications, but you also can automate your workflow and streamline business processes using no-code or low-code platforms.
Now you may get a question: what exactly is a no-code or low-code platform?
In this blog post, we shall explore a low-code or no-code platform, its benefits, and some popular no-code or low-code platforms available on the web.
What is a No-Code or Low-Code Platform?
A no-code platform lets you create other software applications without putting down a single line of code. These platforms leverage a graphical user interface with drag-and-drop capabilities, eliminating the need to write code manually. Simply, you can drag and drop the feature you need to add to your application instead of writing code.
On the other hand, a low-code platform is closely related to a no-code platform but requires minimal logic. These platforms require users to possess a little bit of technical knowledge. Like no-code platforms, low-code platforms also come with a graphical user interface having drag-and-drop functionality.
While no-code platforms are ideal for non-technical users, low-code platforms are suitable for individuals who have just begun their careers in programming. In addition, there is a little bit of support from developers in manual coding or scripting in low-code platforms. However, in no-code platforms, development is entirely dependent on visual tools.
Both these platforms are the sorts of rapid application development (RAD) approach. They save development time, workforce, and significant costs.
Benefits of Low-Code or No-Code Platforms
Let us now shed light on some of the remarkable benefits of no-code or low-code application development platforms.
High Productivity: As no-code and low-code platforms help you create applications in less time, there is no need to wait months to get your application ready. Within a few weeks, you can develop a fully-fledged application.
Reduced Cost: In the traditional application development process, you require programmers, testers, and other professionals, require businesses to invest a lot of time. These platforms are replete with the development tools required to create complex and simple applications. With no-code and low-code applications, there is no need for multiple professionals and also no need to use various development tools.
Quick Application Change: With no-code or low-code platforms, making changes in existing applications becomes hassle-free. You can enhance any feature or add a new feature to an application as and when needed. This feature is helpful for businesses as they can ensure customer satisfaction by making application changes.
10 Best No-Code or Low-Code Development Platforms
Here is a list of the ten best no-code or low-code development platforms that help you create applications without hassle-free coding skills.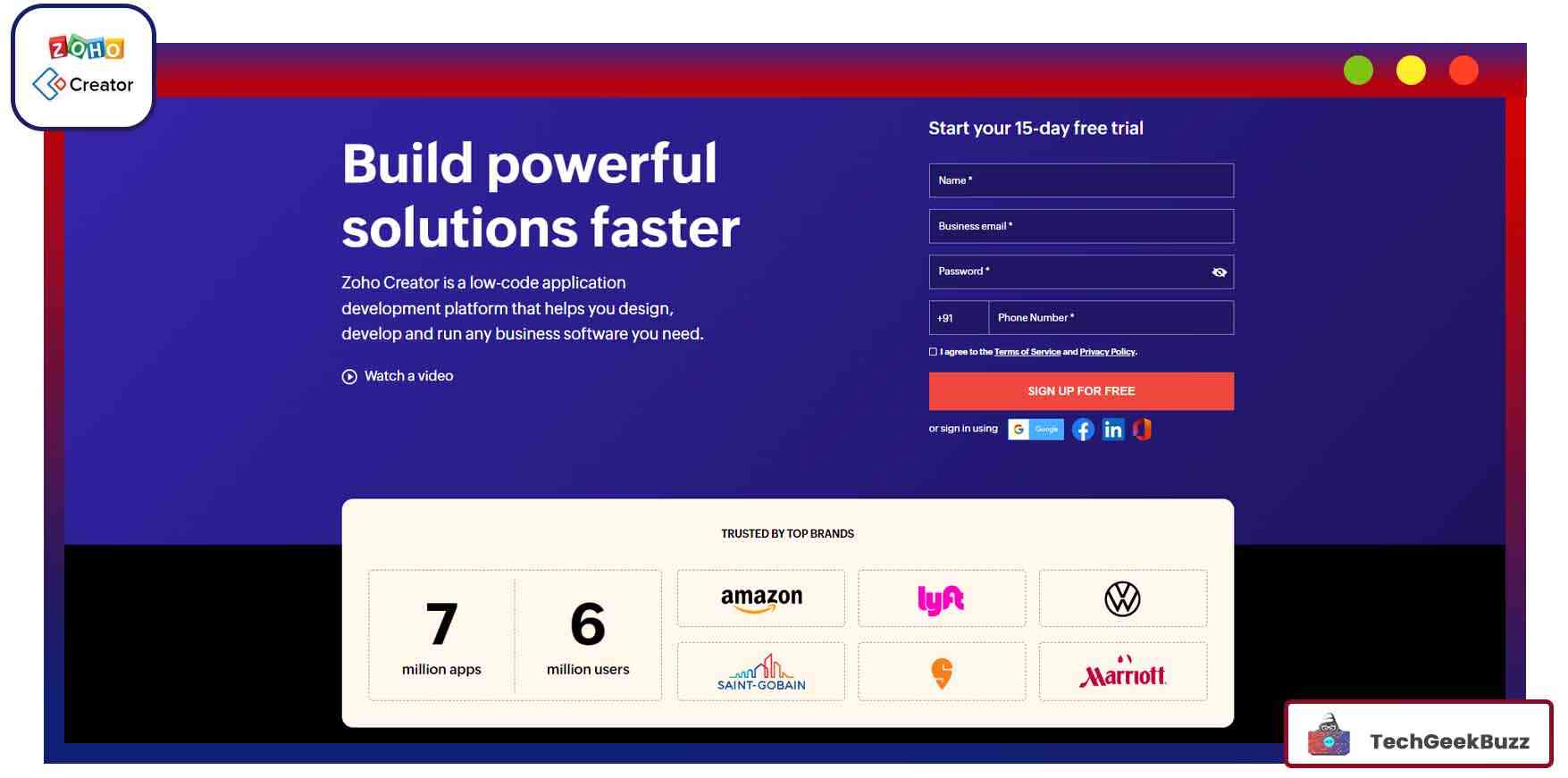 Zoho Creator is one of the most widely utilized low-code application development platforms. It helps you create and run any business application without effort in writing code. This platform is perfect for building apps for business use cases, such as sales management, customer portal, digital transformation, data management, remote workplace, and project management.
Even if you are an experienced programmer or a newbie, Zoho Creator helps you develop applications quickly, fastly, and securely. It provides you with an extensive set of application templates, and you can choose one, install it, and customize it as per your requirements.
Features
To carry out different business operations, build any application you need to run your business, whether a CRM, ERP, task manager, or any other.
The applications you develop using this platform can run natively on PCs, mobile devices, and tablets.
It comes with AI-assisted application tools that help you migrate data from existing applications into a new ones.
You can collect data of any type, create your data model, and visualize data structure.
It lets you generate reports by combining data from various sources and conducting in-depth analysis.
Zoho Creator takes care of all your repetitive tasks. It can collect data, make payments, send emails and reports, update CRM, and do anything you wish.
More interestingly, you can integrate more than 600 day-to-day applications into your workflow of Zoho Creator.
This tool guarantees Fortune-500-grade security for your applications as well as business operations. It ensures data center security, disaster recovery, and network security.
Pricing
You get two different plans with Zoho Creator, as follows:
Professional: $12.52 per user per month (billed annually)
Ultimate: $200 per user per month (billed annually)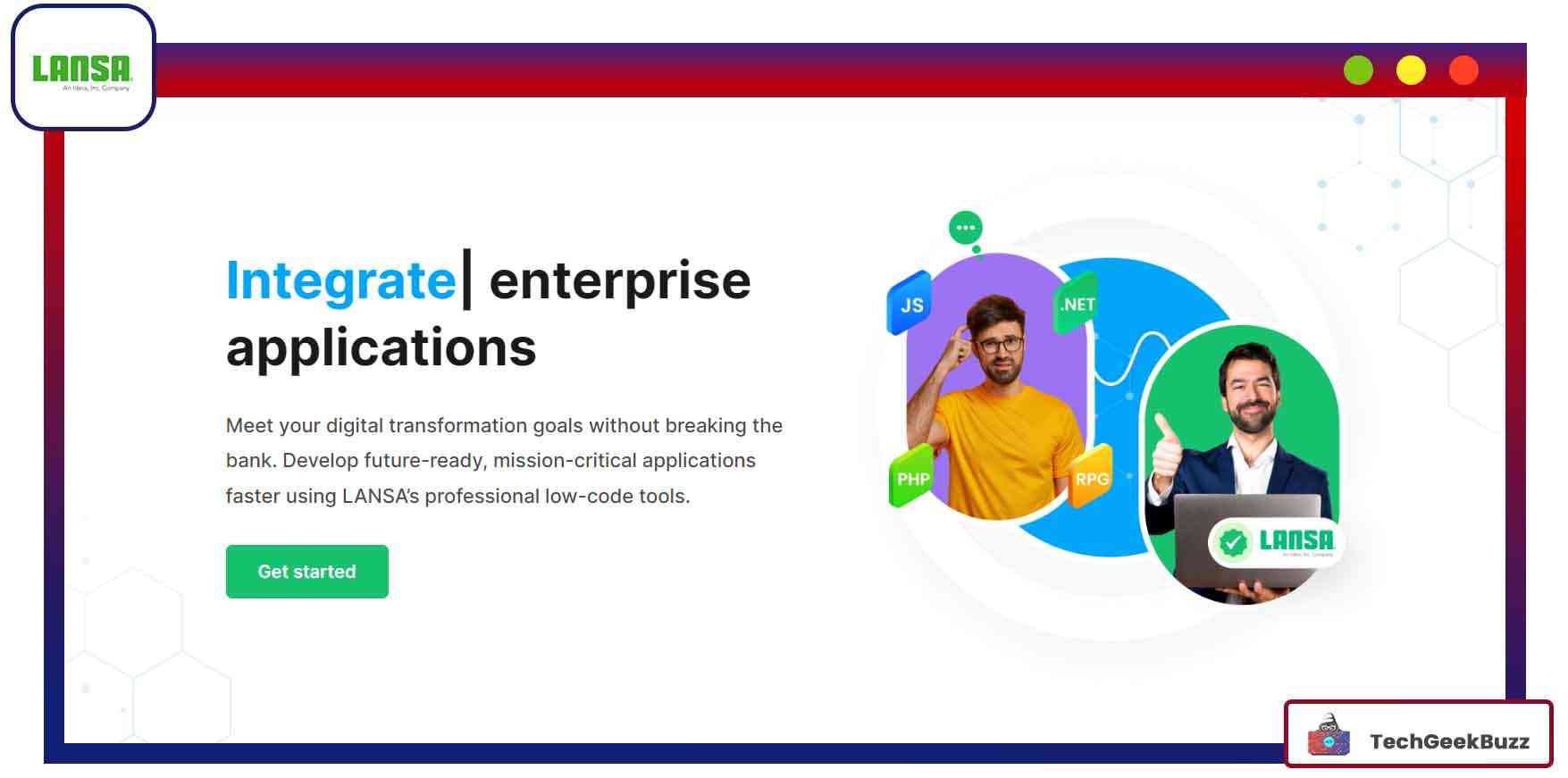 Visual LANSA is a low-code platform that enables you to develop fantastic business applications to make your business run more swiftly. The most admirable thing about this platform is that it combines low-code as well as conventional coding in the same IDE to make it possible to create progressive web and desktop applications under the same roof.
Moreover, it is the best solution that bridges the gap between development and IT teams. You can build a complete application or migrate an existing application developed in programming languages using LANSA's bridging features within the IDE.
Features
Visual LANSA can maintain a single codebase for the front-end and back-end of applications. It eliminates the need for full-stack developers, a pretty expensive option for businesses.
It has an active repository engine that holds all the components required to create an application. In this repository, businesses can store their rules and apply them to all the components of applications to improve efficiency.
This tool comes with an integrated development environment (IDE) through which you can even code manually or use the drag-and-drop capabilities. It is ideal for both novices and seasoned developers.
The applications you develop using Visual LANSA are easy to host on multiple platforms, including IBM I, cloud solutions, and Windows.
While working with Visual LANSA, you do not have to care about database intricacies, as it standardizes data access across database products.
Pricing
Visual LANSA offers a free trial of 90 days. Later, you need to subscribe to one of the following plans:
Essential: $999 for one developer
Standard: $4999 for ten developers
Premium: Custom pricing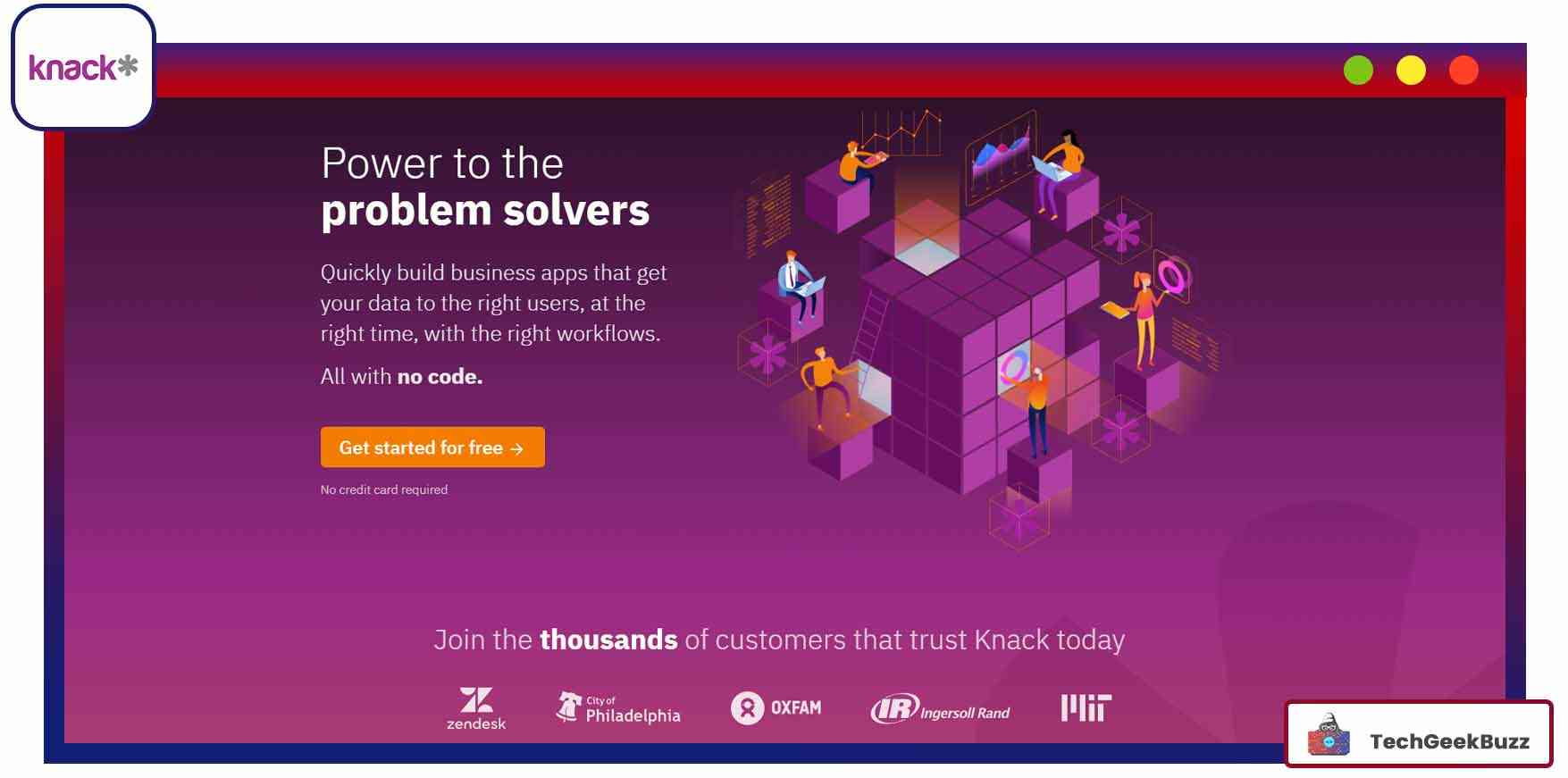 You can transform all your business data into an online database with the help of Knack. Knack is a no-code platform that helps you build databases quickly with simple and easy-to-use tools. It lets you structure your data with the help of any data type that suits you, like names or emails. You link all the related data records to connect data from various sources. Finally, it provides unique options, such as formulas and equations, to extend your data.
In addition, it provides an intuitive and clean interface that helps make the development process straightforward, quick, and easy, as they do not need to write a single line of code.
Features
With Knack, you can create a custom online database solution that fits your business needs. Also, it provides a plethora of templates to choose from. You can pick any template and modify it to fit your needs.
Knack provides super-fast searches, flexible filters, and the excellent features of a relational database to make it easy for you to connect related data records.
With Knack, you can develop a custom interface to add a calendar, forms, tables, and many other elements to make it easy for users to view and update records in a database.
Along with data collection, you can create enriching dashboards that provide data insights through various visualizations, such as graphs, charts, and pivot tables.
Knack's cloud infrastructure is specially developed to provide reliability, security, and speed.
It is possible to embed databases created by Knack with any website easily. It has an SEO plugin to index your data and make it searchable.
Knack lets you integrate with Gmail, MailChimp, DropBox, WebMerge, Google Drive, and Zapier to analyze and share data.
Pricing
After a 14-day free trial, Knack requires you to subscribe to one of its pricing plans:
Starter: $39 per month
Pro: $79 per month
Corporate: $179 per month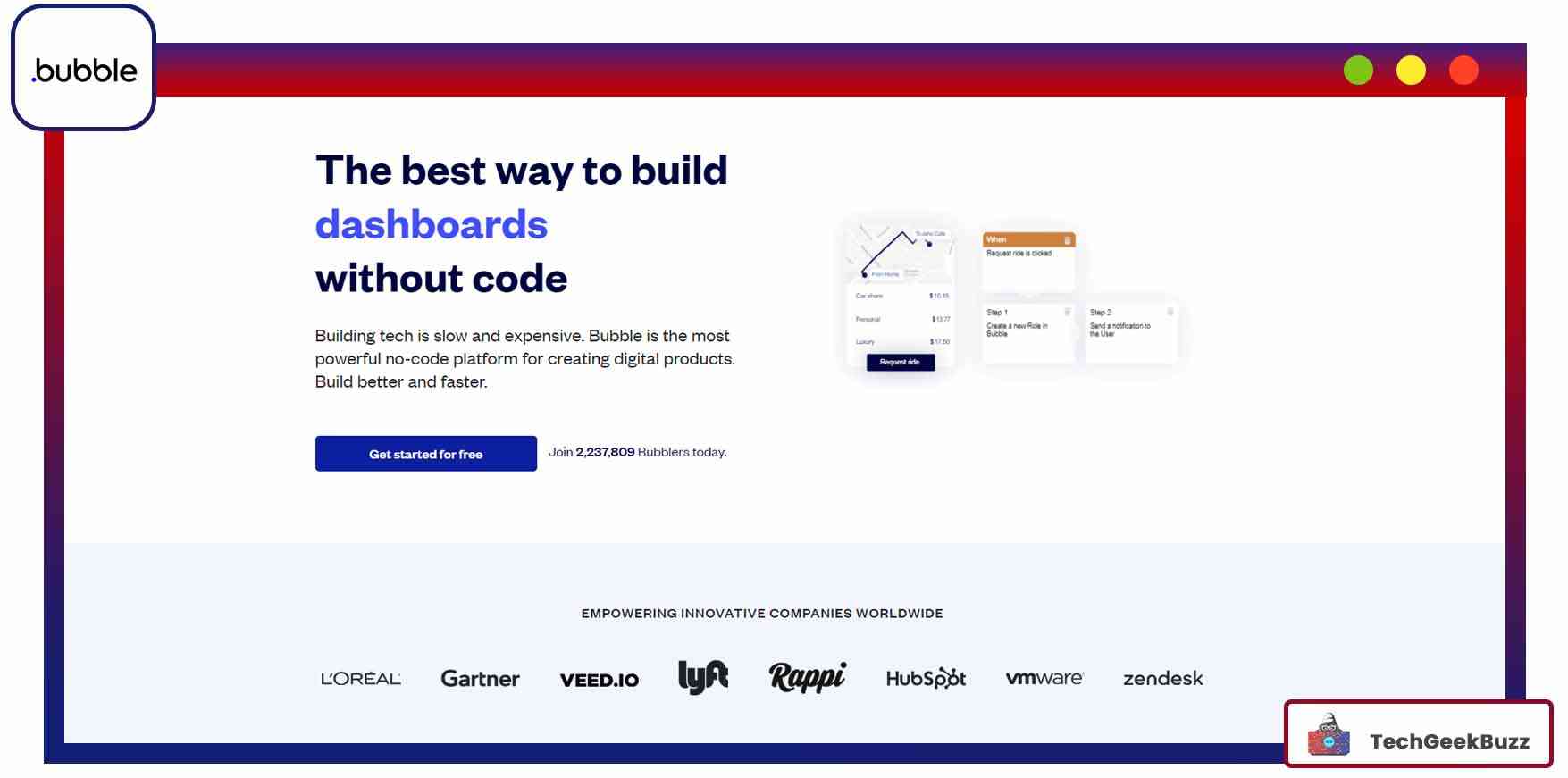 Bubble is a no-code platform, enabling users to create applications or digital products easily and quickly. It provides all the features you need to create full-featured websites like Facebook and Airbnb. The applications you develop using Bubble are compatible with desktops and mobile web browsers.
The drag-and-drop editor makes it easy for beginners to create applications hassle-free. It comes with an extensive library of design elements. You must drag the element you want and drop it into the interface. Bubble lets you extend your application's functionality using API integrations and JavaScript plugins.
Features
Bubble lets you create real-time interactive applications, like news feeds, chats, etc., with its dynamic container and a library of visual elements.
The data store of Bubble is secure and scalable, where you can design, search, and export data structures.
You do not have to worry about your application's user management system, as Bubble provides it by default.
This platform comes with a marketplace consisting of many plugins to extend your application's functionality. You can also create your plugin as per your requirements.
Bubble supports more than 80 international languages, which lets you change your application's text in any of the supported languages.
This platform takes all care of server maintenance, infrastructure, and operations. It manages the deployment and hosting of applications seamlessly.
You can determine the parts of your applications that users mostly use with Bubble's robust dashboards. Also, you can integrate your application with customer management services and analytics tools, such as Google Analytics, Segment, or Mixpanel.
By integrating with email management services, you can send customized emails to the users of your application.
Along with your 40 teammates, you can work collectively on your application. You can set up access permissions for every teammate as per their roles.
Pricing
There are four different pricing plans, as follows:
Free: Free forever
Personal: $25 per month (billed annually)
Professional: $115 per month (billed annually)
Production: $475 per month (billed annually)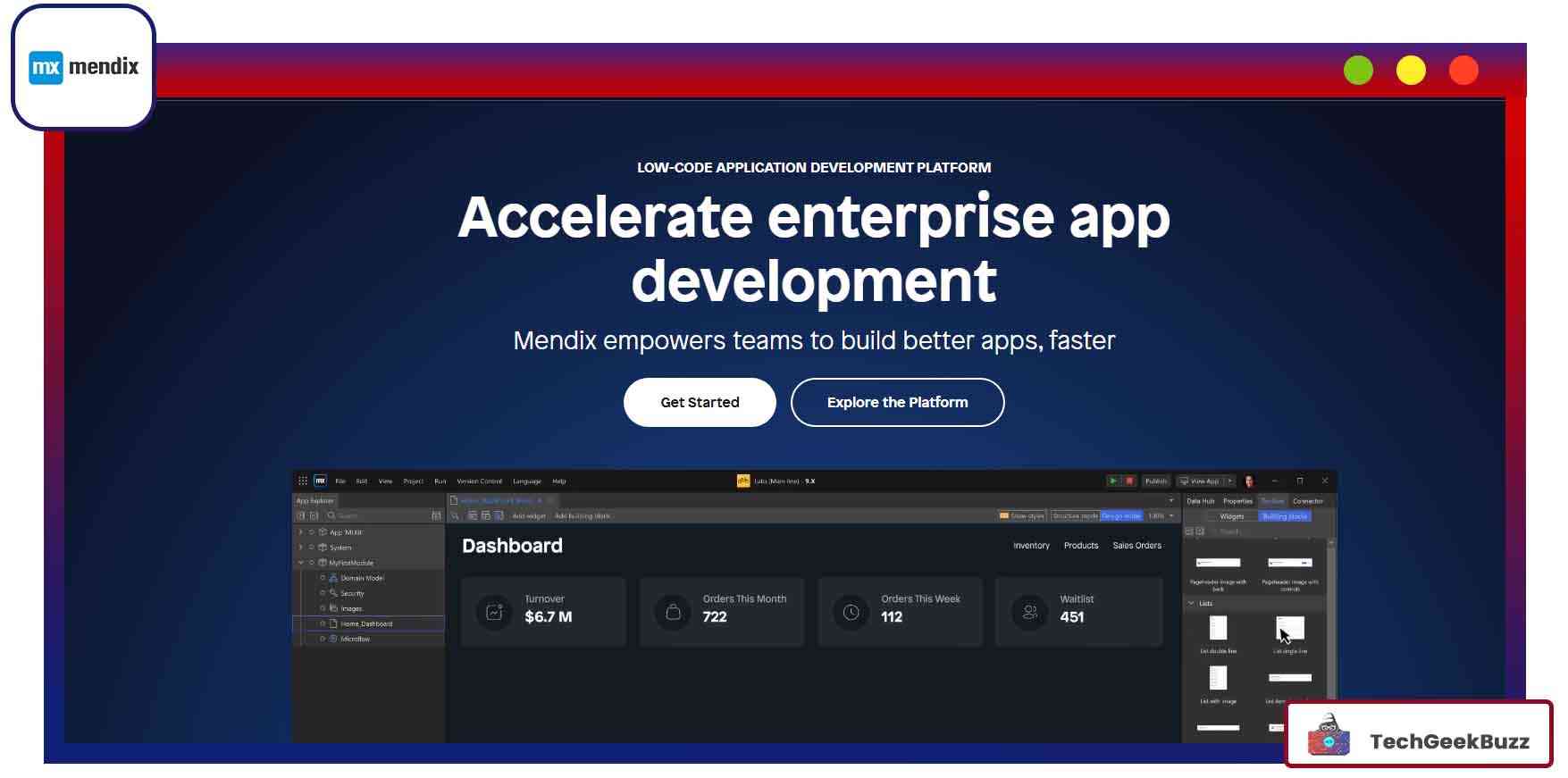 Mendix is a low-code and no-code platform for developing enterprise-grade applications with simple and convenient tools. It lets businesses improve their workflows by building applications without any code complexities.
Using Mendix, one can develop applications practical across various industries, including digital assurance solutions, SAP supply chain processes, high-value asset-field service, analytics and reporting, delivery management, and logistic tracking.
This comprehensive low-code platform helps users create high-quality software solutions by subtracting the development process.
Features
Mendix comes with out-of-the-box features, such as customized IDEs, collaboration tools, AI assistant bots, automation tools, and many others that help you create and deliver applications quickly.
Mendix Studio is a no-code IDE for non-technical professionals, whereas Studio Pro is a low-code IDE for professional developers.
You can develop, test, deploy, refactor, and monitor your applications with a single platform.
With this low-code platform, you can create native iOS and Android applications, IoT-powered applications, web-based portals, and any other applications your customers demand.
The applications you develop using Mendix are containerized by default. With just a single click, you can deploy your applications to different types of cloud, i.e., public, private, and hybrid.
Mendix has the Altas UI design system, which is cross-platform. It is replete with many pre-built widgets, templates, and many other tools, giving developers the flexibility to create applications that provide excellent user experiences.
You can reuse components and logic to develop new applications with speed.
The monitoring tools in Mendix help you monitor the performance of applications.
Pricing
Mendix offers the four following pricing editions:
Free: Free forever
Basic: €50 per month for five users
Standard: €800 per month
Premium: Custom pricing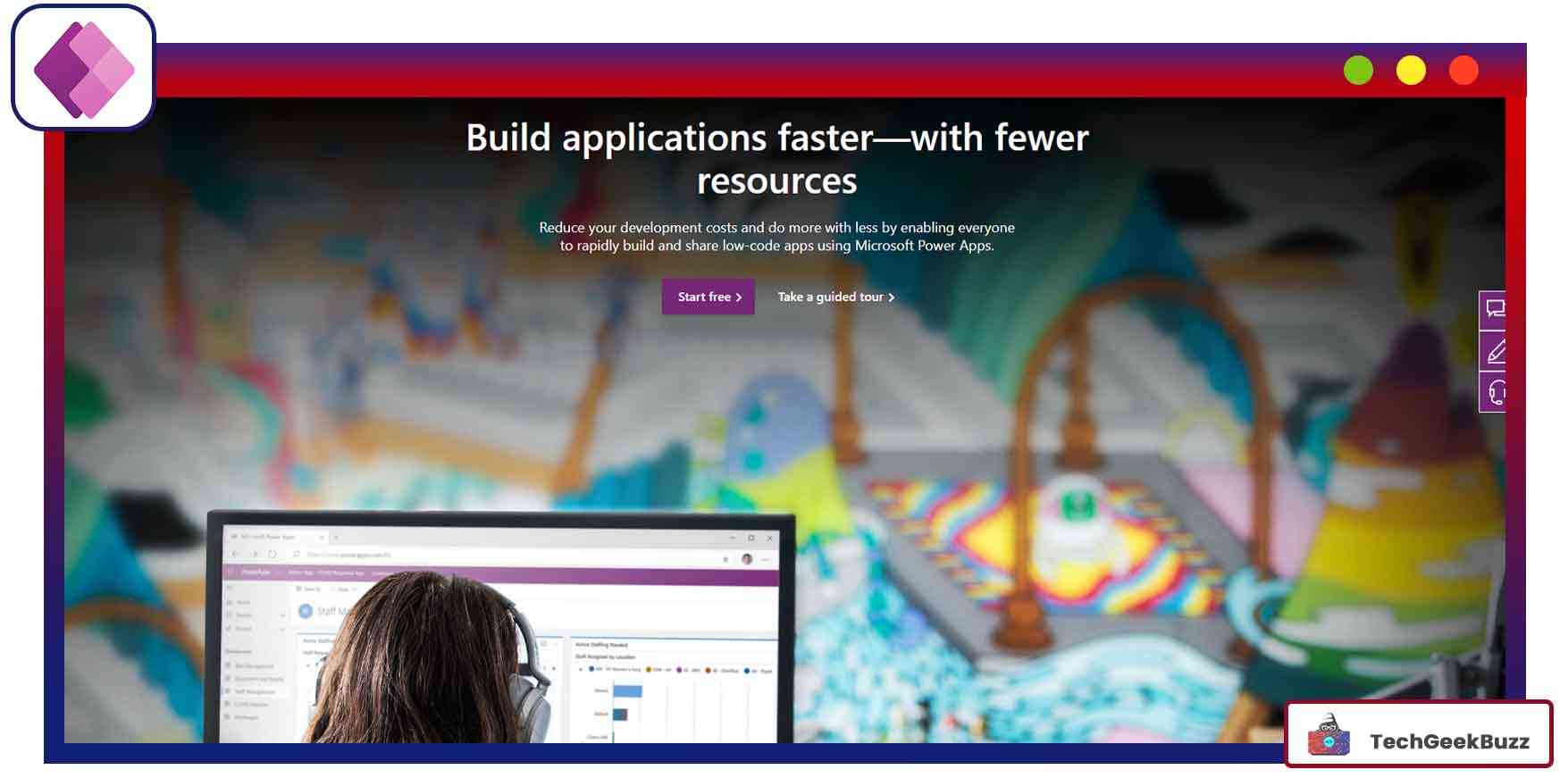 Microsoft Power Apps is a low-code platform that assists you in creating and sharing enterprise-grade applications and improves business agility. With the platform's drag-and-drop capability, it becomes easy for even novice developers to create fully-functional applications.
Once you develop and deploy applications, you can later improve them without any hassle as and when required. Previously, Microsoft Power Apps was only available for professional developers. However, with the inclusion of AI components, the platform has also been compatible with novice developers.
Features
This low-code platform has a galore of pre-developed AI components and a drag-and-drop interface, making it super easy to create high-quality applications.
As Power Apps is a Microsoft product, it seamlessly integrates with other Microsoft applications, such as Excel, OneDrive, SharePoint, etc. You can also integrate it with non-Microsoft products, like Salesforce.
It comes with a canvas where you can drag and drop design elements analogous to creating a presentation in PowerPoint.
Microsoft Power Apps provides the Common Data Service (CDS) feature to help you securely store and manage data that your business applications need and utilize.
This platform can connect with various cloud services, such as DropBox, Google Drive, and SQL.
Pricing
Microsoft Power Apps provides two pricing options to choose from:
Subscription-Based: This option further provides two plans as follows:

Per user plan: $20 per user/month
Per-app plan: $5 per user/app/month

Pay-as-you-go: $10 per active user/app/month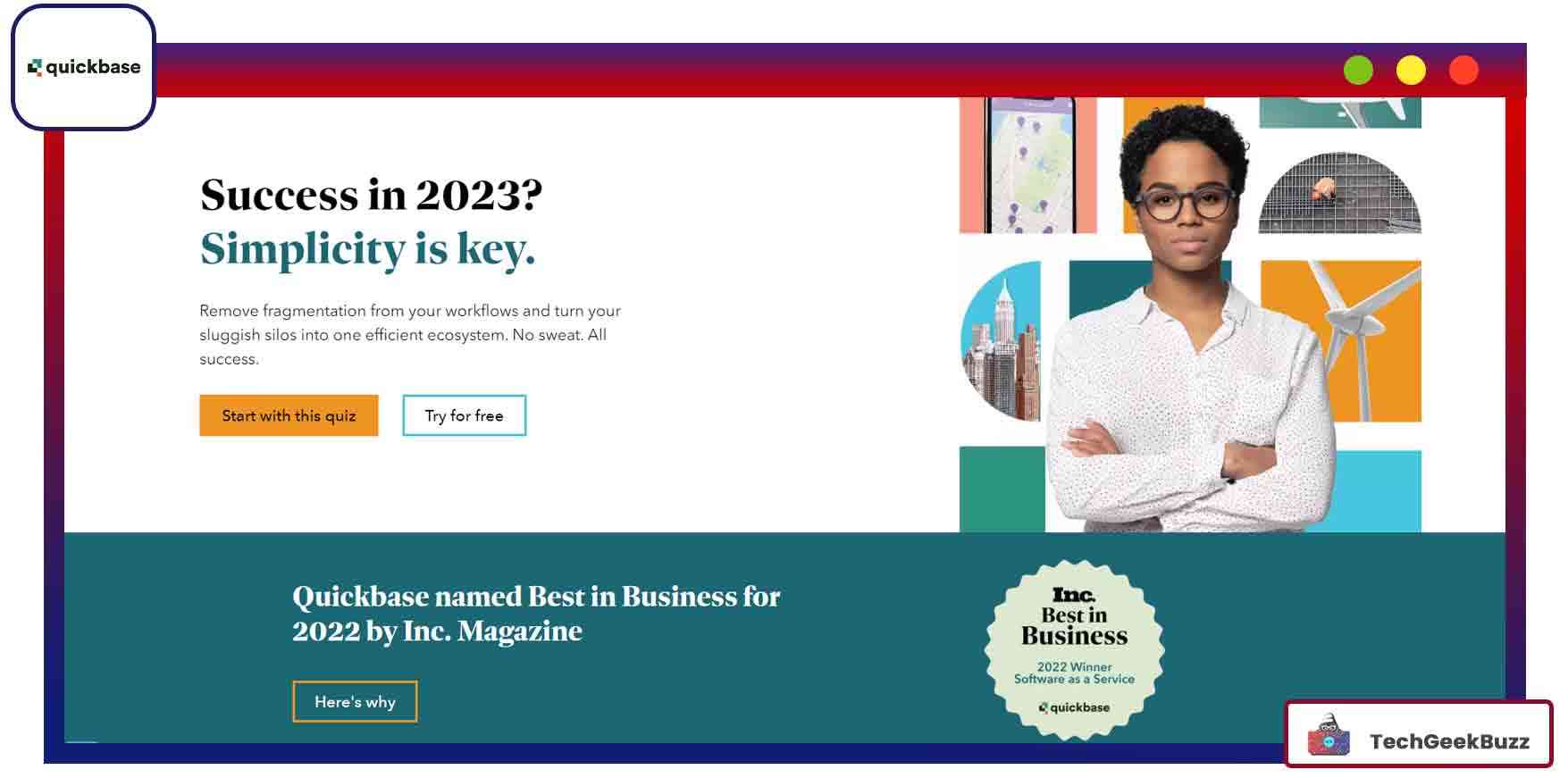 Quickbase is yet another robust no-code platform that aids in developing and controlling every minute detail of simple and complex applications. With QuickBase, you can create software solutions for diverse use cases, including project management, resource management, portfolio management, contract management, budgeting & finance, and work order management.
This is an ideal platform for businesses as it keeps the development and IT teams on the same page. They together innovate and develop secure, top-grade, and sustainable business solutions. Also, it helps to streamline your business operations.
With Quickbase, there is no need to leverage legacy systems as the platform provides integrated features to help you and your teammates work collectively. Also, it significantly reduces applications' development, deployment, and maintenance costs.
Features
Quickbase leverages Pipelines to integrate with your existing development platforms and connect with data to avoid repetition or duplication of effort.
The platform comes with a Sandboxing feature that lets you make improvements or changes to applications within no time and with no downtime. This means that you can enhance your application without taking it offline.
Quickbase's dashboard provides real-time insights into the business's processes and operations so that every employee can stay on the same page. It increases the visibility of business operations across your employees and improves their productivity.
If you want only specific employees to access and manage data stored in Quickbase, you can set up permissions accordingly. To adjust permissions for each worker, you may either use pre-defined roles or build new ones.
For mission-critical applications, IT teams, stakeholders, and application developers can collaborate and develop and modify applications in a secured and controlled environment.
Pricing
Quickbase provides three pricing options, as follows:
Team: $600 per month (billed annually)
Business: $2,000 per month (billed annually)
Enterprise: Custom pricing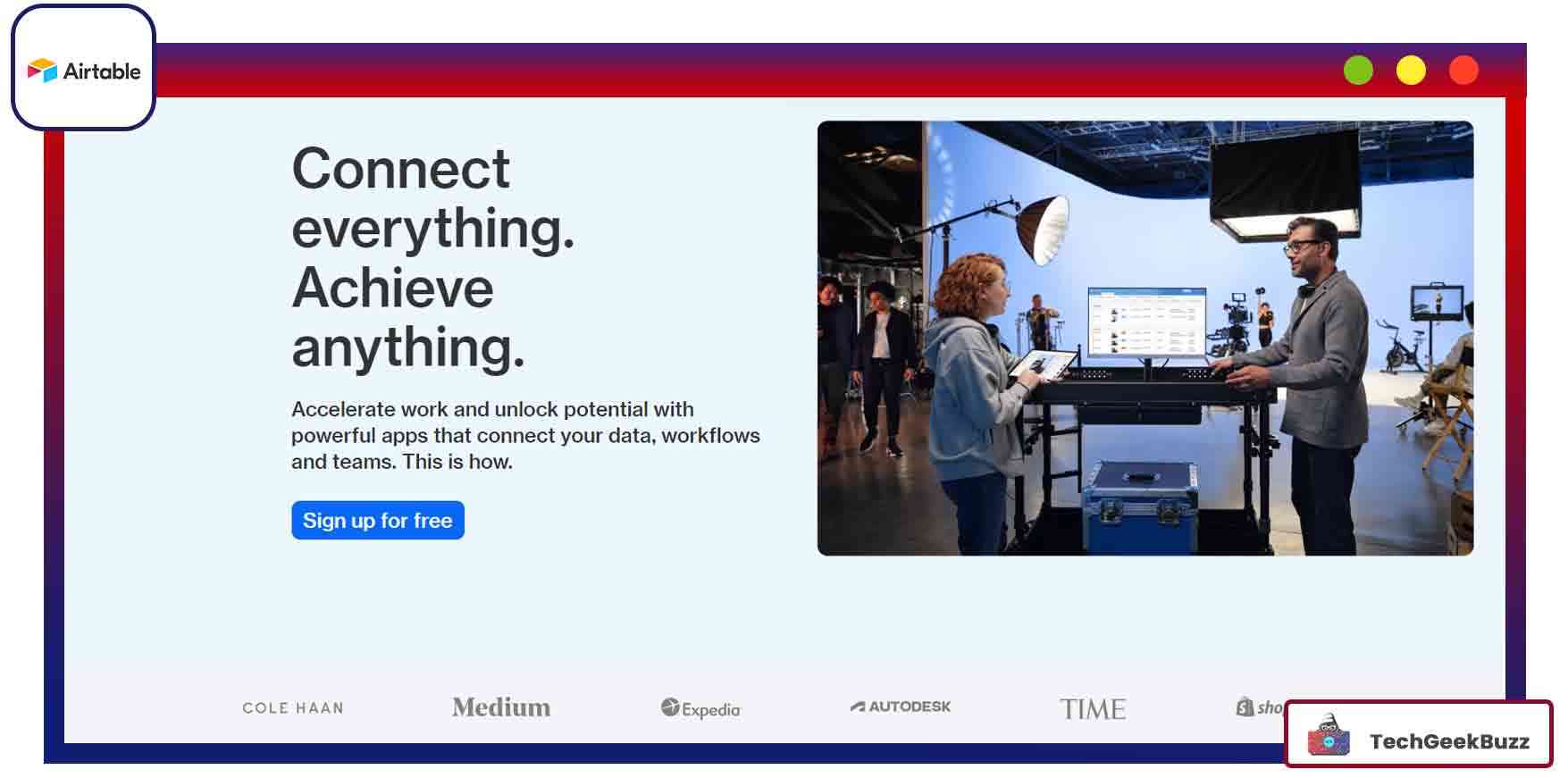 Airtable is a no-code platform that helps you create relational databases for reflecting your business and streamlining its processes. It comes with a simple, appealing, and beginner-friendly interface to create relational databases from the ground up without the need to write a single line of code.
Moreover, there is no need to learn SQL because Airtable lets you easily store, organize, manage, and collaborate on any information. Many organizations have adopted Airtable to modernize their workflows and achieve commendable outcomes.
Features
Under a single interface, Airtable lets you bring all your data from various sources, combine it the way you want, and change it as needed.
The feature of view in Airtable helps users to view and understand the same data in different ways or angles. Popular views include the Kanban View, Gantt View, Calendar View, Grid View, Gallery View, and Form Views.
With the interface designer, you can develop visual interfaces for your team so that every team member can view the required data. Drag and drop elements to create an interface and surface all the data your team members will require.
Airtable Automation helps you automate redundant activities and integrate them with other tools, like Facebook, Twitter, Slack, and Google Workspace.
You can even explore ready-to-use applications and scripts in the Airtable Marketplace in the form of extensions to enhance the effectiveness of your work.
Pricing
Choose from Airtable's four pricing plans that best fit your organization's needs:
Free: Free forever
Plus: $10 per seat /month (billed annually)
Pro: $20 per seat /month (billed annually)
Enterprise: Custom pricing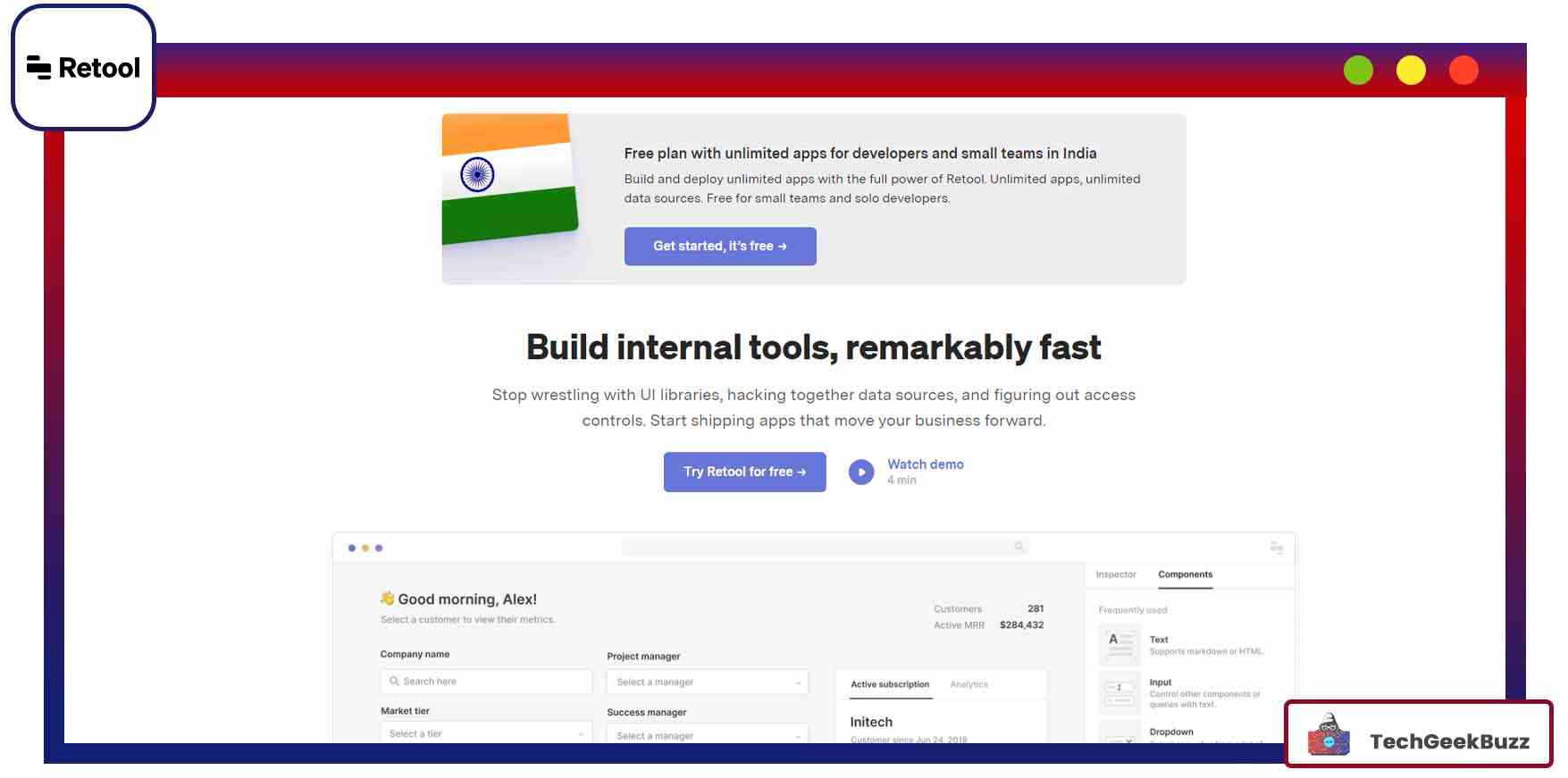 Retool is a low-code platform that helps users to create robust applications and various internal tools. You don't have to spend time working with UI libraries, considering access control, and integrating data from various sources. Create applications with a drag-and-drop interface and deploy them to streamline business operations.
Features
To create internal tools, Retool provides you with a collection of ready-to-use building blocks, including wizards, tablets, charts, lists, maps, and forms. You need to assemble those building blocks and build powerful internal tools.
Retool can connect to any database, including PostgreSQL, Elasticsearch , MongoDB, Couchbase, MySQL , Oracle, and SQL Server.
Some popular API integrations compatible with Retool include Slack, Asana, AWS S3, Firebase, Google Cloud Storage, GitHub, Jira, GraphQL, Salesforce, and REST API.
Querying assists components in reading and writing data from heterogeneous sources. Retool lets you query any supported database and API integration. More interestingly, you can read data from MongoDB, integrate it with PostgreSQL using SQL, and display the result to Stripe's API.
It is a hackable or customizable tool ideal for professional developers. The platform supports JavaScript , which lets developers create custom building blocks.
When you integrate Retool with Git, you can manage to Retool applications in source code, where you can keep track of application changes.
Retool lets you deploy applications via Docker and Kubernetes .
Pricing
There are four pricing options available, as follows:
Free: Free forever
Team: $10 per user per month
Business: $50 per user per month
Enterprise: Custom pricing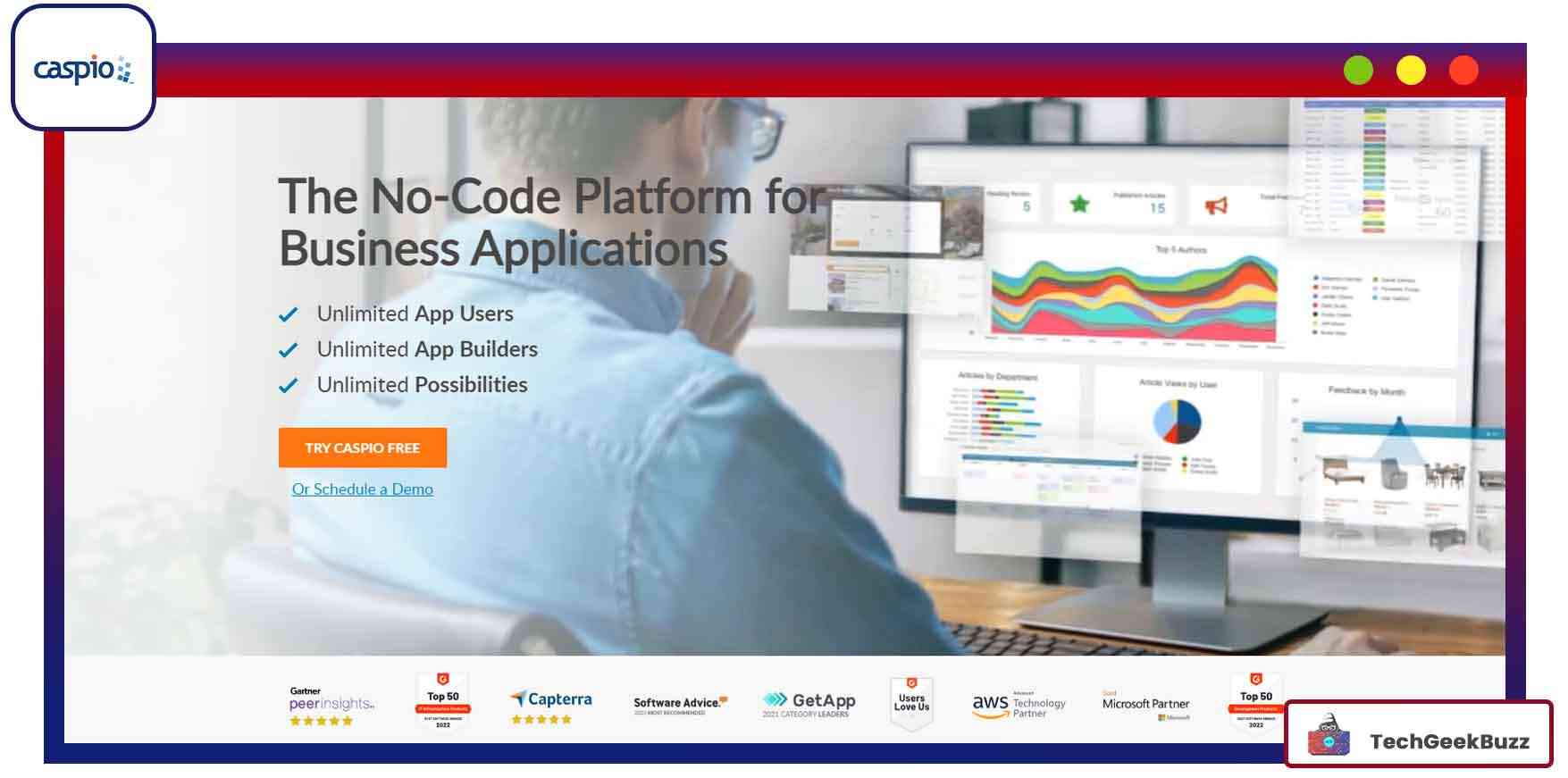 Caspio is a no-code platform for creating online database solutions. You can revolutionize your company into a digital organization by utilizing its integrated online database, visual app builder, and infinite user model. From small corporations to government agencies and non-profit organizations, Caspio provides everything that meets their needs. It helps these organizations to plan the database design, workflows, user access rights, and many other aspects.
Features
You can create apps with Caspio's point-and-click capabilities more quickly than conventional techniques.
Caspio lets you schedule tasks and database triggers to automate and streamline business workflow.
All Caspio plans feature limitless application users, allowing you to expand and set a budget without artificial restrictions.
Your applications get best-in-class security, including authentication, SSO integration, and data encryption.
This platform runs on Amazon Web Services (AWS) to provide top-level scalability and cloud capabilities.
You can also extend the functionality of your applications developed using Caspio through common scripting languages, such as JavaScript and Caspio's REST API.
Pricing
Caspio provides five different pricing plans as follows:
Free: Free forever
Explore: $112.68 per month
Build: $225.36 per month
Grow: $450.72 per month
Corporate: Custom pricing
Conclusion
Here ends the list of some of the best no-code or low-code platforms. All the platforms above have changed the conventional way of developing software solutions. They provide novices, seasoned developers, and even professionals from non-technical backgrounds with a simplified way of creating business solutions in the form of applications.
From the above list of no-code or low-code platforms, we recommend you choose the one that best suits your organization's requirements.
People are also reading: