JSON files are not just text files containing a large number of numbers and strings; rather, they contain objects and arrays that are stored in the order in which they were received. JSON to Excel converter tools are great for scanning a JSON file and converting data into an Excel sheet that can then be edited and modified.
This article will list the best JSON to Excel converters out there. But before we discuss them, let us get an overview of why we need to convert JSON files into Excel spreadsheets.
Why Convert JSON to an Excel Spreadsheet Format?
Saving, displaying, and interpreting data is easier with the Excel format. Excel provides many functions that make it quite easy to analyze data. Also, it enables you to extract and analyze just a portion of the data.
If you have a large JSON file and need to conduct certain operations on it, it is much more convenient to convert it to Excel, execute the necessary operations and extractions, and then convert the results back to JSON (as opposed to the other way around).
Best Tools for Converting JSON to Excel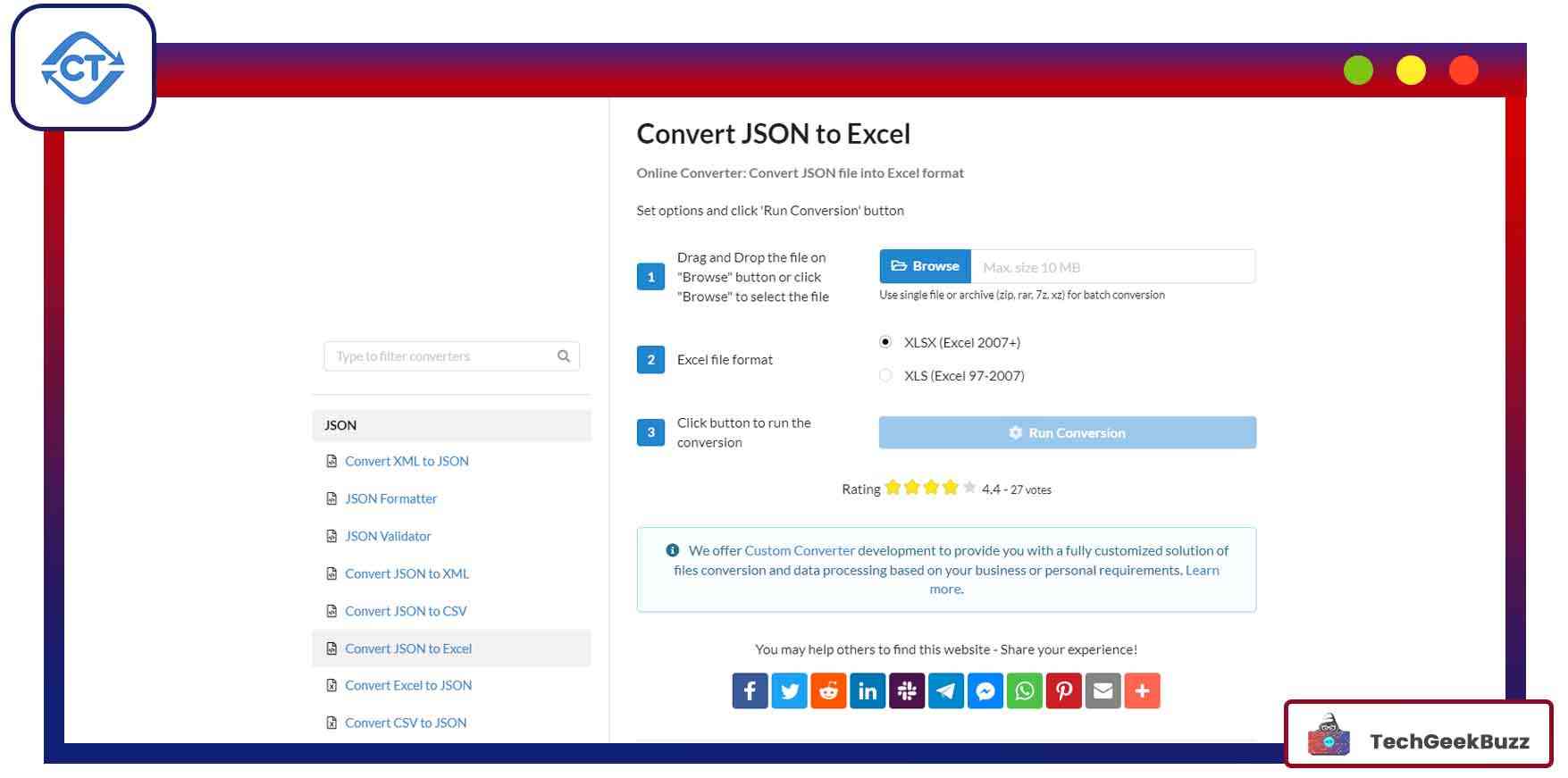 JSON files may be easily converted into Excel spreadsheets using Conversion Tools, which has a high conversion rate, outstanding customer feedback, and affordable pricing. Also, it is quite easy to use Conversion Tools, and you do not need any specific skills to operate them.
To start with the conversion, you must drag and drop the file you want to convert on the Conversion Tools web app. Then, you need to choose the excel file format that suits you and click on the Run Conversion button to begin the process.
Non-registered users can upload files with a maximum size of 10 MB and perform up to 10 conversions daily. On the other hand, registered users can upload files of sizes up to 20 MB and convert 30 files daily.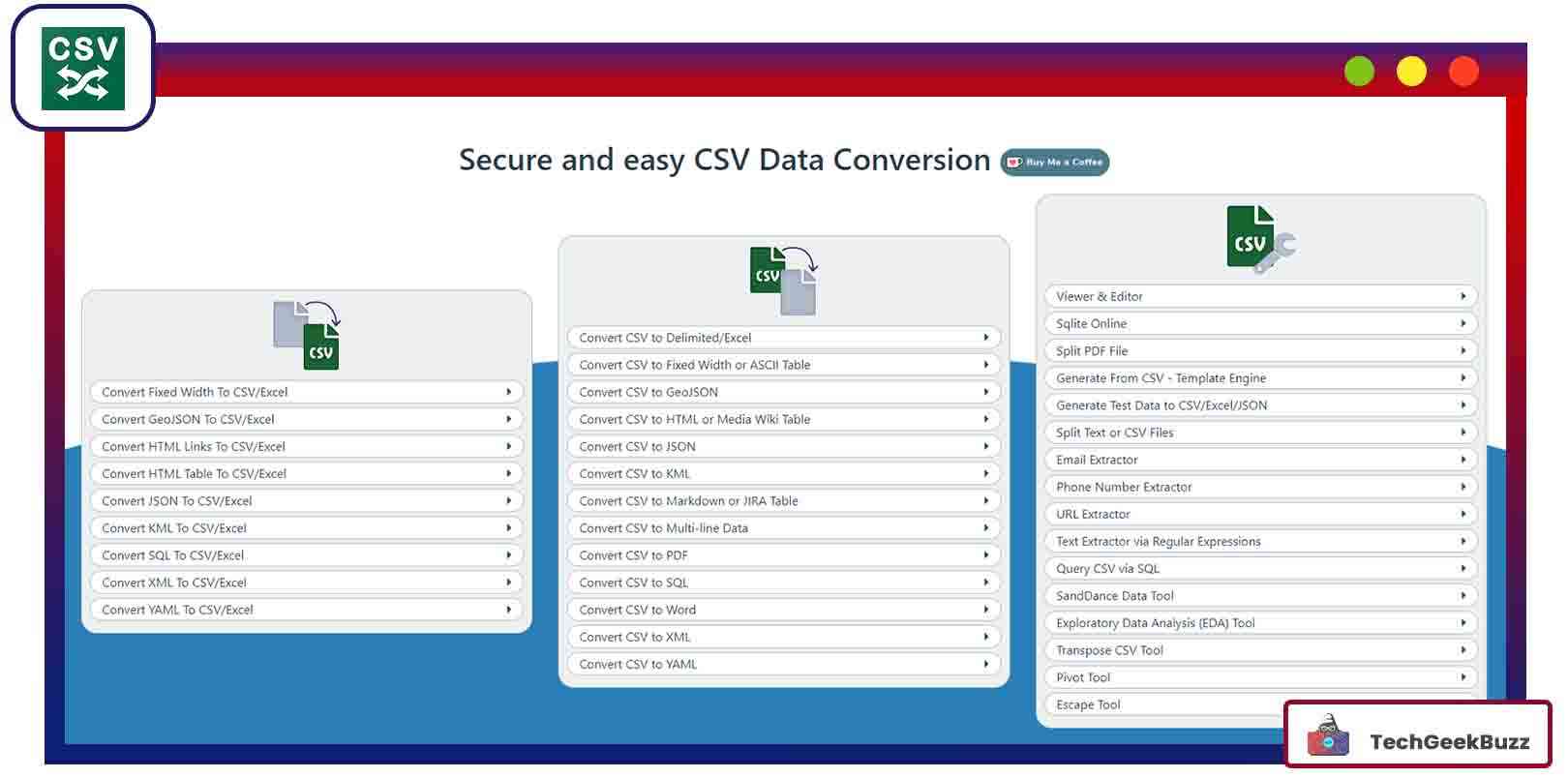 With Convert CSV, you can convert a JSON file into an Excel or CSV file. Your JSON data will be used to produce an Excel document, which will be stored as a new workbook named "FileName.xlsx." JSON data may be imported and exported quickly and easily using this tool.
Convert CSV comes with many sophisticated features, including ordering columns after the conversion and examining JSON files before converting them. An array of JSON objects, a single object with name/value pairs, or JSONLines/MongoDb format with each JSON record on a distinct line is the format this tool accepts as JSON input.
It's possible to use JSON Tool to convert JSON files into Excel files. It is a simple-to-use tool and only takes a few clicks to convert files. The JSON to Excel converter provided by JSON Tool makes it simple to transform JSON data in Excel and use it in charts and graphs. An Excel file is created from the root node of the JSON object and transforms each item one by one.
Your input may include non-string values like Date-Time instances, but they are not anticipated in an Array List (since they cannot be transformed). A string is created from these elements when they're converted back to their original form.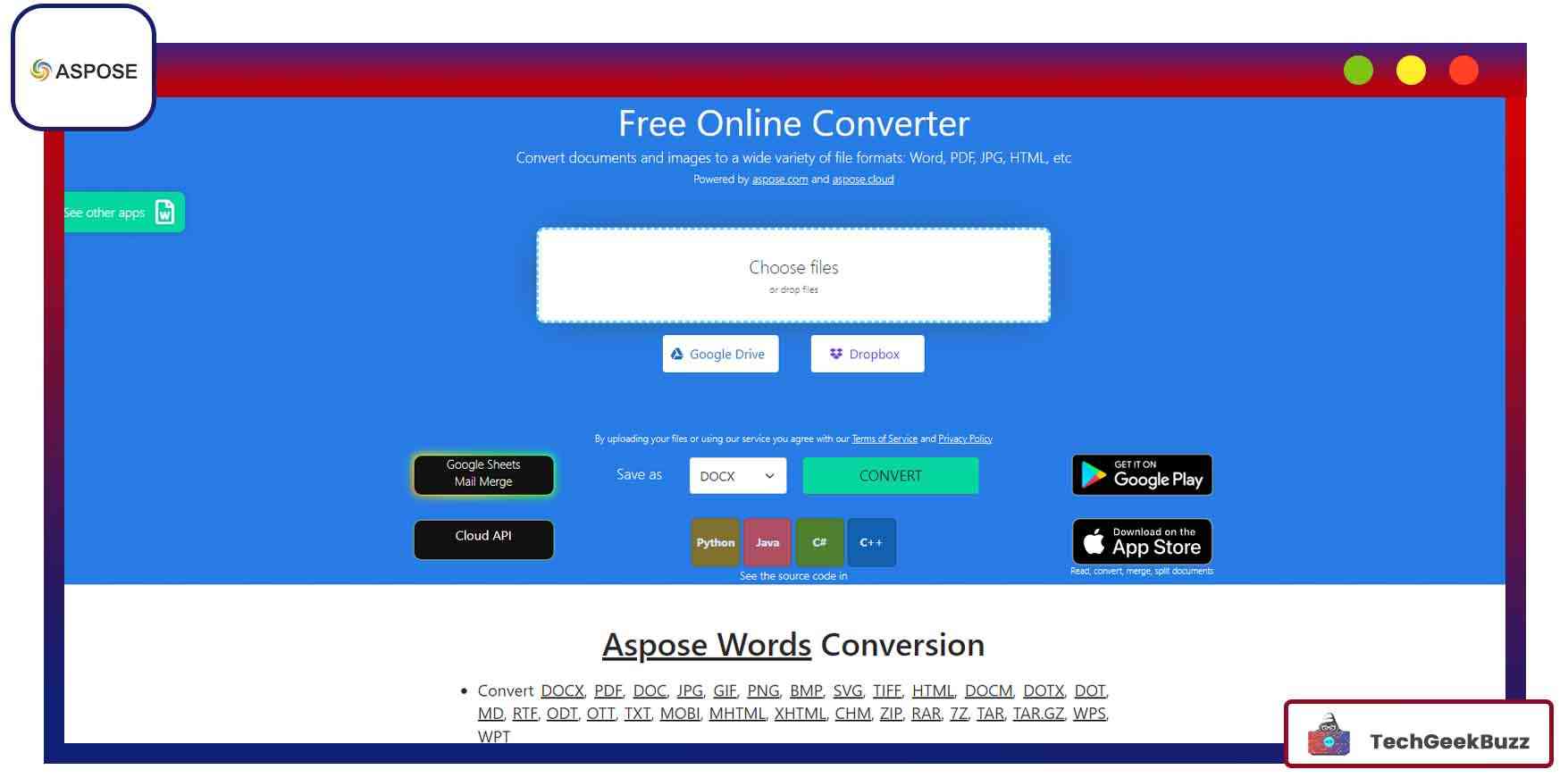 When it comes to converting JSON to Excel files, Aspose is a reliable tool that is also easy to use. Conversion speed, date and time formatting, cell formatting, HTML exporting, and transferring cells from one sheet to another are just a few of this tool's capabilities.
With a few clicks, you can convert several JSON files into the format of your choice — PDF, DOCX, XLSX, PPTX, ODS, and more. It's possible to upload a maximum of 10 files at a time and convert them.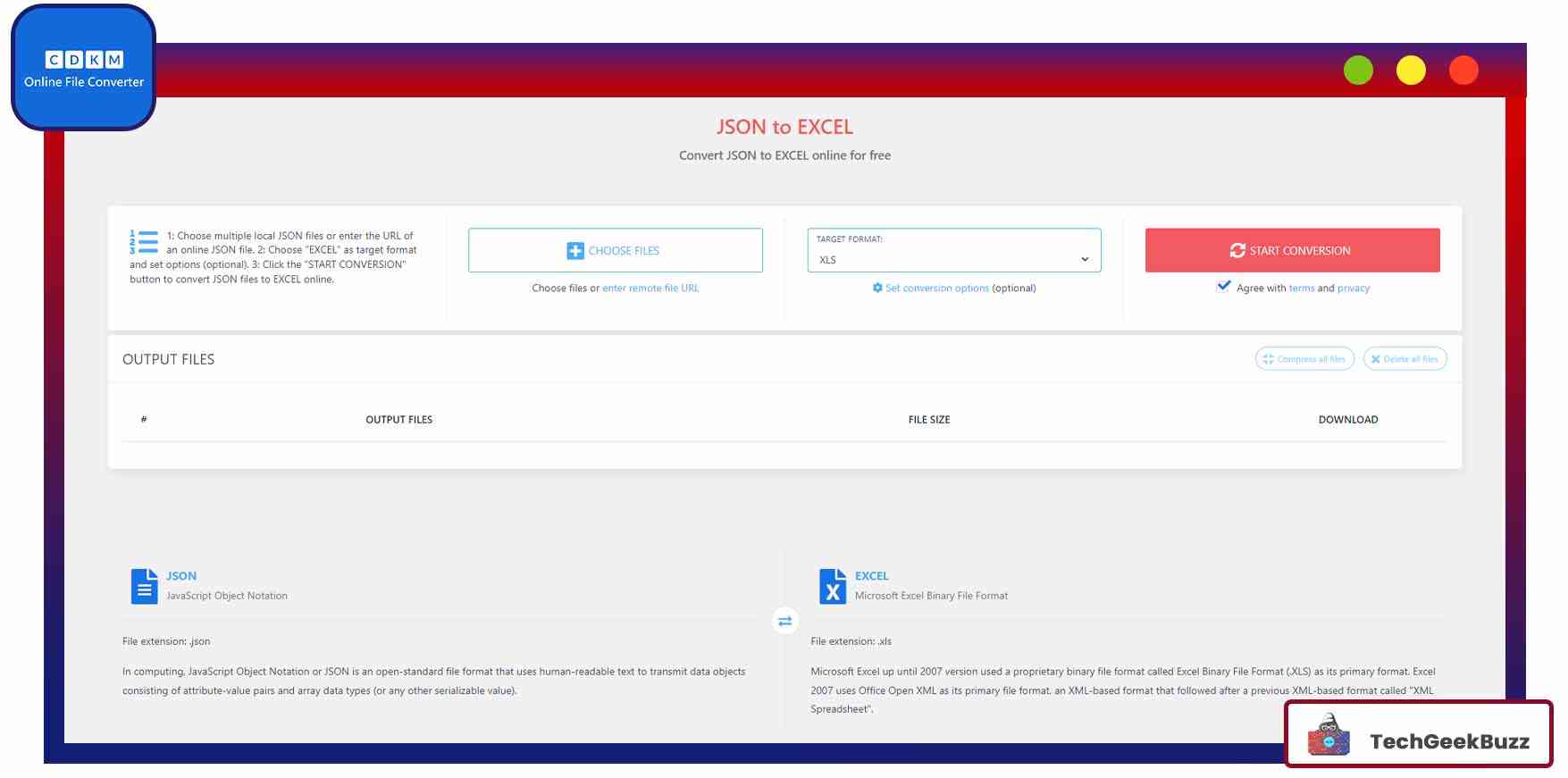 Using CDKM's free JSON to Excel converter, you can easily turn a JSON file into a workable Excel spreadsheet. Converting a JSON file into an Excel document and downloading the output file is quite easy. You need to provide the URL of the JSON file or upload it directly from your computer. CSV, XML, and HTML are just a few of the output types offered by CDKM.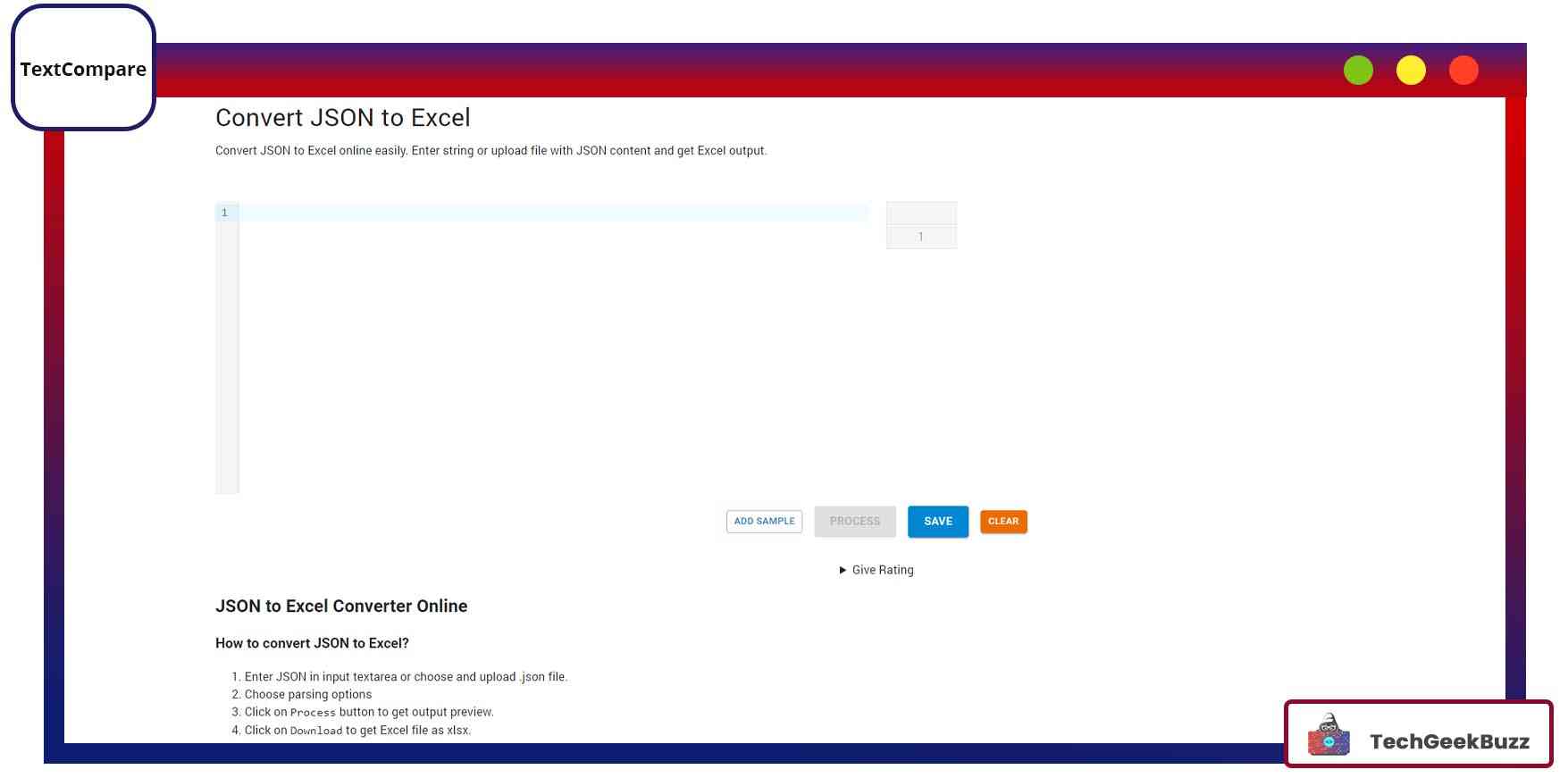 TextCompare allows you to compare two JSON files. It can tell you how similar two JSON files are. However, you must remember that the data types and object counts must be the same in both files for the operation to succeed.
TextCompare also allows you to read and convert JSON files into Excel documents. You may either type JSON in the input field or upload a file. Also, you must choose the parsing settings if you wish to convert your file to an Excel document. Before converting, you can get a preview of your JSON file by clicking the Show Output option.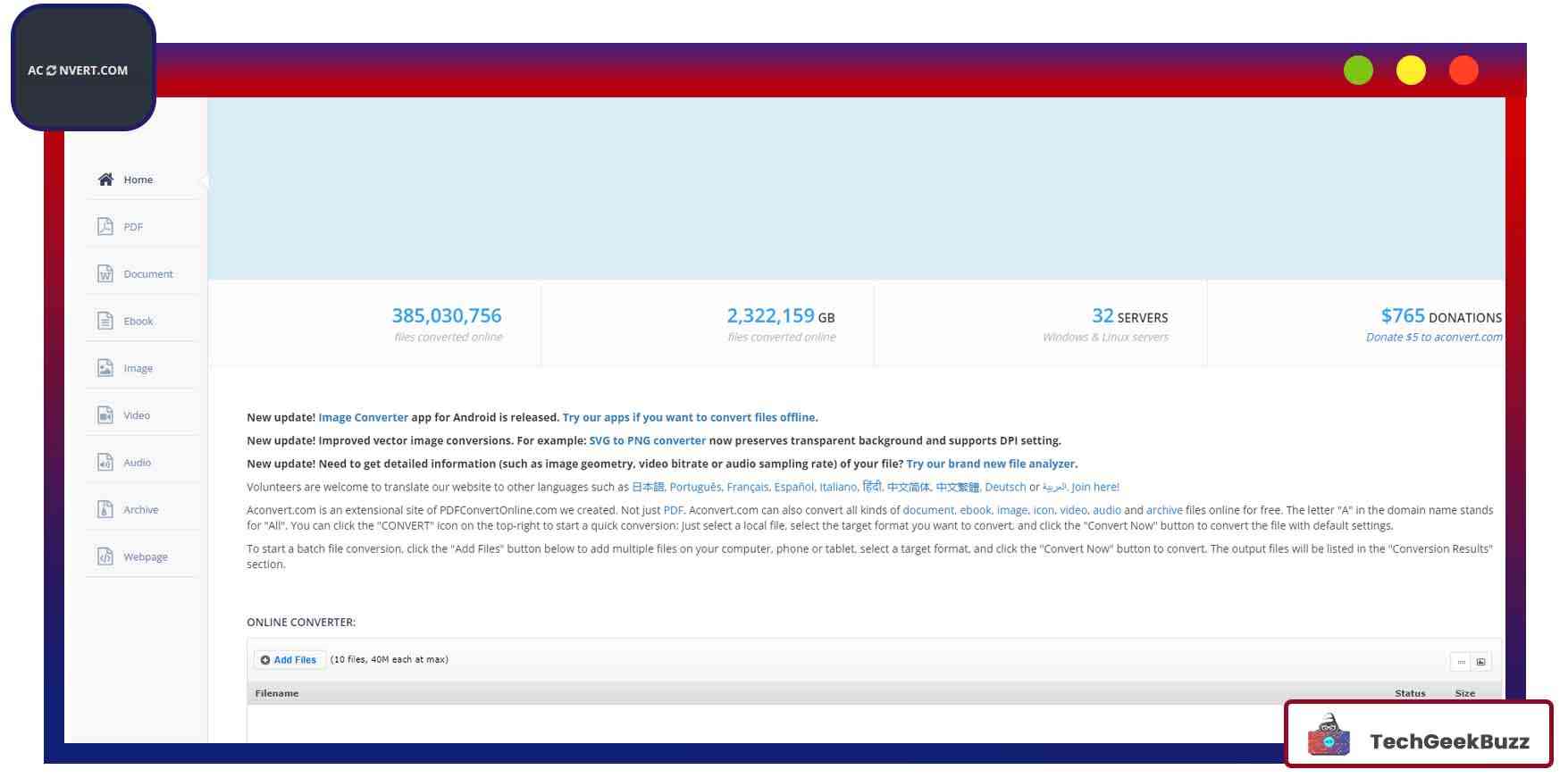 Aconvert is a free online program that can convert a JSON file into an Excel document in a jiffy. It supports multiple document formats, including DOCX, XLSX, and ODP. To use Aconvert to convert JSON files to Excel, you need to use its drop-down menu to upload a JSON file using a URL, Google Drive, or Dropbox. You may choose a target document format by clicking on the screen's matching icon in the lower left-hand corner. Further, to start the conversion process, you have to click the "Convert Now!" button.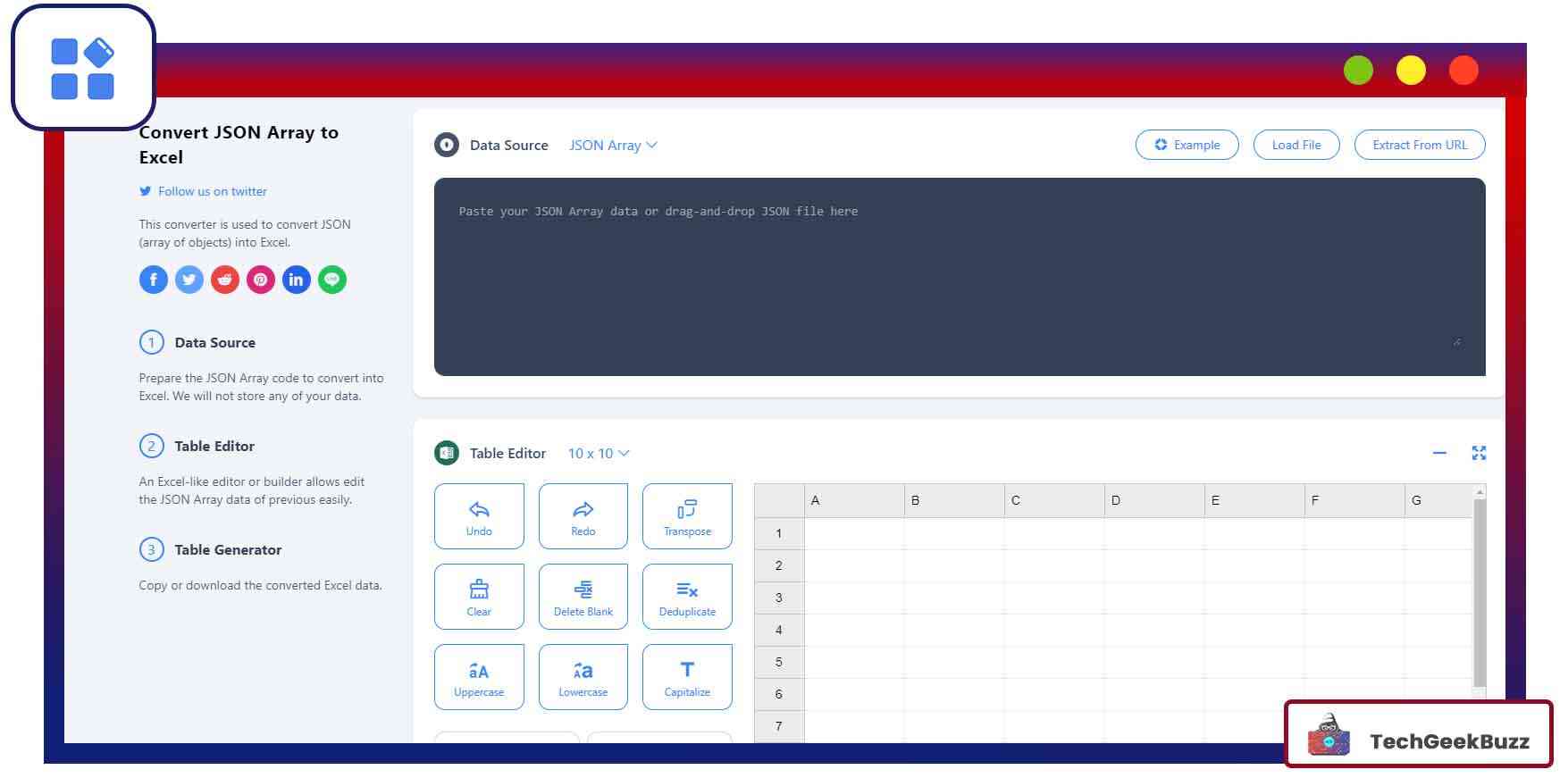 TableConvert is yet another reliable tool that you can use to convert a JSON file into an Excel spreadsheet. If you're looking for a simple, quick, and effective way to convert your JSON file into a spreadsheet, this tool is a great option.
Since this site employs XSLT to convert JSON data into Excel documents, it does so quickly and easily. Select Upload or Paste Your Link/Data into a Single File to convert JSON data into Excel format. Also, by using the drop-down box at the bottom of the page, you can either copy and paste the produced Excel file into Microsoft Excel or download it as an XLS file.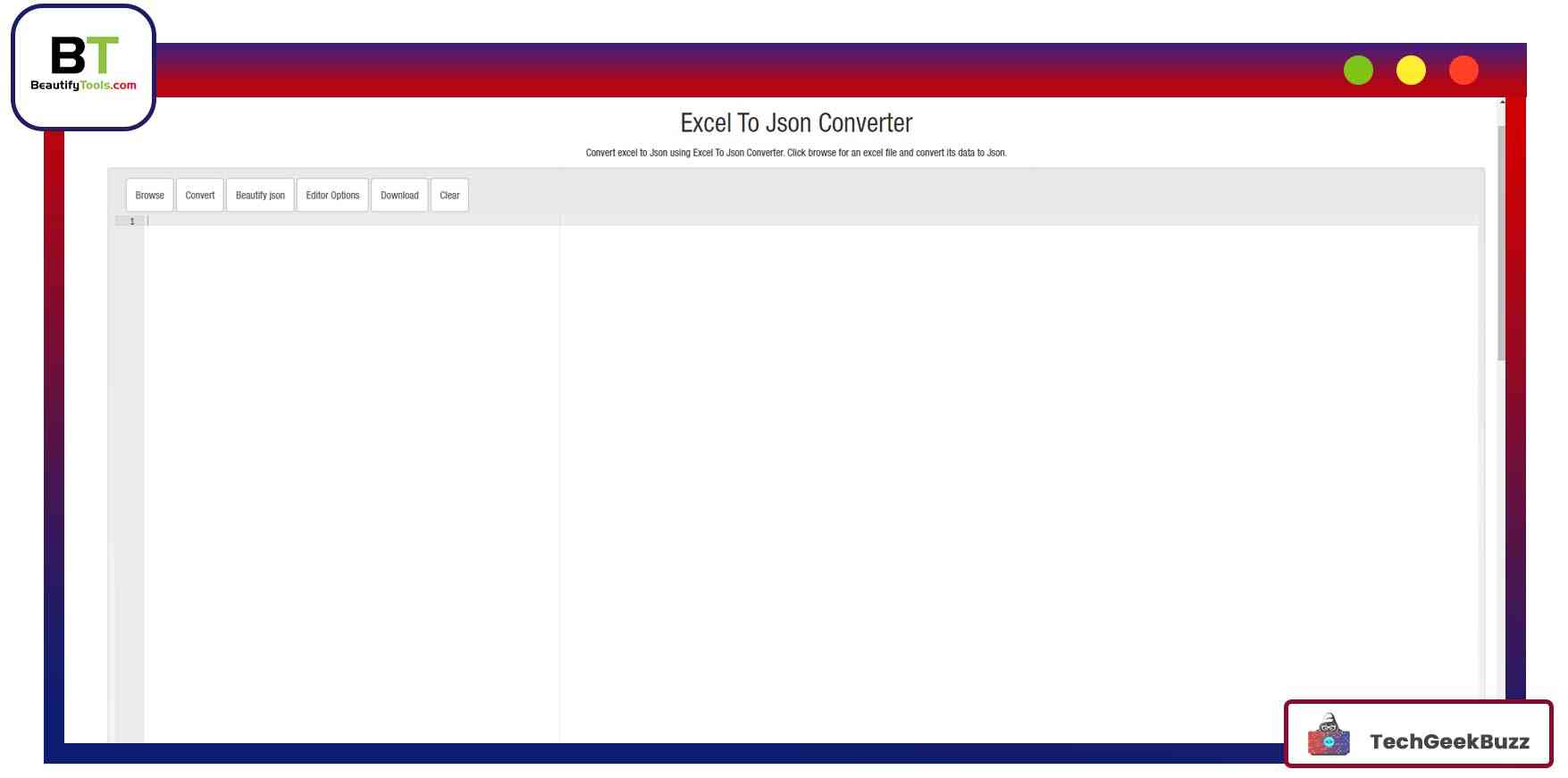 Using BeautifyTools Excel to JSON converter, you can convert any JSON file into an Excel spreadsheet in a matter of minutes. Also, the interface of this JSON to Excel converter is intuitive and, at the same time, easy to use. Depending on your demands, you may choose from one of three packages that cost between $9.99 and $19.99.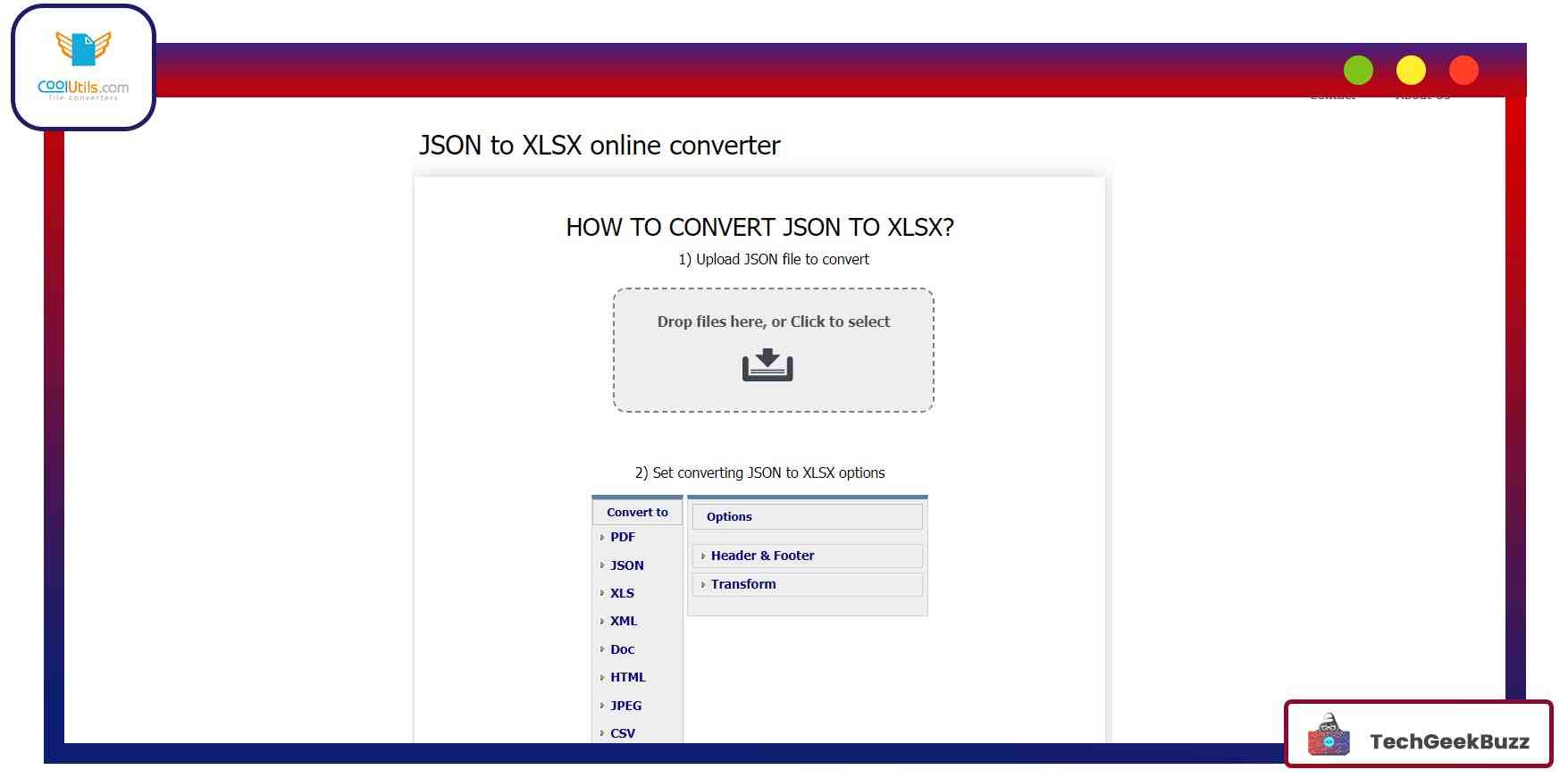 An Excel document may be created from a JSON file using the CoolUtils website. This tool is simple, and you can instantly convert JSON files into Excel files.
To start using CoolUtils converter, you need to open its website and drag and drop the JSON files you need to convert. Also, it provides several conversion options that you can use to customize the conversion process and get the desired output file.
Conclusion
In general, we need to convert the JSON files into Excel spreadsheets because it is easy to perform various operations on the data available in the latter. The aforementioned converts are among the best ones that make it possible to convert JSON files into Excel spreadsheets quickly.
If you are looking for a JSON to Excel conversion tool, you can definitely consider the ones we listed in this article.
People are also reading: