On every new social media or general site, you visit, there you might have to create a new account to surf that site. While creating an account you need to specify some credentials along with a strong password. However, now there are many websites that support Login APIs such as Login with Google, Facebook, etc. In this login system, you do not have to create an account exclusively. You can directly signup or login with your Google or Facebook accounts. This login and signup system prevents you from creating a new account and the tedious task of creating and remembering new passwords. A
ccording to a password security survey of 2022 more than 65% of people reuse the same password for all the social and general accounts. And this is very obvious, you might have more than 20 accounts on various websites. And creating and remembering strong passwords for all the accounts is nearly impossible. But keeping the same password for all the accounts make you vulnerable to hackers. If you use weak and repetitive passwords for your accounts, it raises the chances of you being hacked. Right now, hackers have many tools and software which can predict your weak and repetitive password.
So, you would better start choosing strong passwords for your accounts. Creating a unique and strong password is not a difficult task at all. The problem arises in remembering that password. There is a solid chance that you will forget your unique password within a minute after generating it. You can also save your password as a text document or write it down in a notebook. With this, you do not have to worry about remembering your password. But this is an old school and pretty unsafe approach. You are in 2022, now you do not have to write down your password on a notebook or save it as a text document. You can simply use a password manager tool that can create and store passwords for you.
What is a Password Manager?
A password manager is a tool or computer application that manages your password. With the help of a password manager tool, you do not have to worry about generating strong and unique passwords for your different accounts. The password manager can generate a unique and strong password and save it along with the other login and signup credentials. So, when you get back to the website, the password manager will automatically fill the login form with the username or email along with the password. The password manager stores all the data in an encrypted format so even if someone gets access to your device would not be able to read the passwords.
Top Password Manager Tools
Here in this article, we have comprised a list of top password managers. With the help of these password managers, you can manage your passwords and add more security to your accounts.
https://www.youtube.com/watch?v=immgP7cniXM
We all know the quality of Google applications and tools, and the security it provided. From 2 step verifications to multi-device synchronization, you do not have to worry about your passwords if you are using a Google password manager. If you using Google chrome or any stock android device there is a high chance that you are already using a Google password manager. The Google password manager comes preinstalled with Google chrome. It helps you to generate unique and strong passwords, and store them for you.  It also synchronizes all the data with other devices where you are logged in with the same account.
Google manager is not only limited to the website, it can also work along with android applications. The new stock androids come with a pre-install Google password manager which helps you to signup and login between android applications.
Pros
It is free to use
Comes with auto-fill form features.
Any Google device that supports Google chrome can use it.
Cons
It is only available for Google chrome, and stock android.
Limited functionalities, because of browser compatibility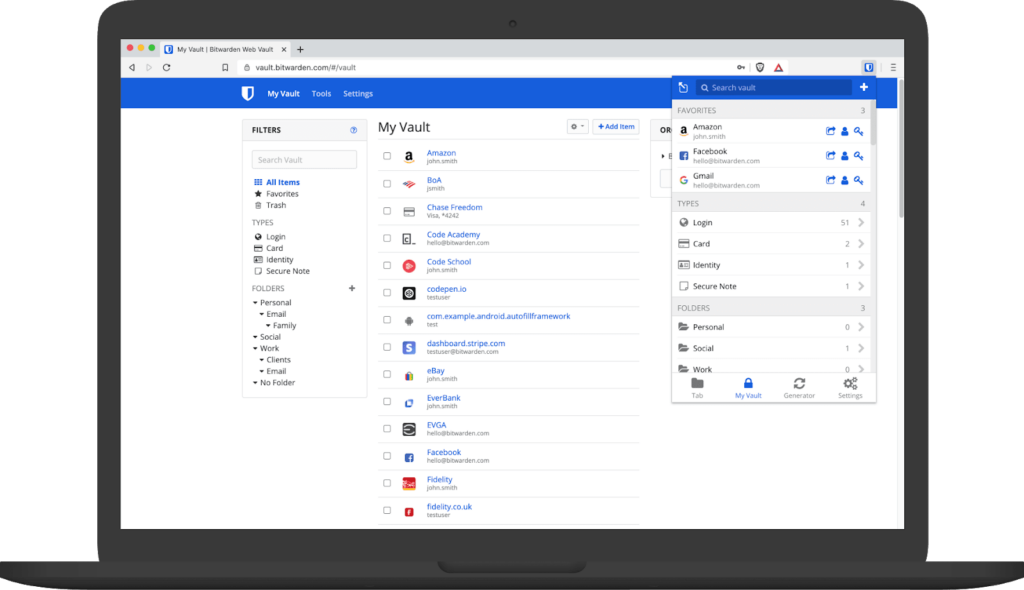 Bitwarden is a free to use Password Manager tool. It stores all of your sensitive data and information in an encrypted format. It is a cross-platform tool, and available for all the popular platforms. Unlike google password manager, you can access Bitwarden using the website, desktop application, mobile, command-line interface (CLI) and bowser extension. Although the base version of Bitwarden is free if you want a password manager for your business you can also pick the premium version by paying 3 to 5 dollars per month. In the free base version of Bitwarden, you get all the basic features that you expected from a password manager.
In the free version, you get features like all device sync, secure password generator, encrypted file storage, 2 step login, cloud host, self-host option, etc. In the premium version, you will get additional features like vault report, 1 GB of personal space, different types of 2 step authentication, etc. If you only want a password manager that can run on any device and sync data, Bitwarden would be a great alternative.
Pros
It is supported by all the popular operating system and browsers
Provide two-step authentications
It generates OPT and 2FA for supporting sites
Generate and analyze strong passwords
Data can easily be synced with all devices.
Cons
There is some limitation in iOS devices
For all feature's user has to pay for a premium account.
https://www.youtube.com/watch?v=TUKAUnhxr8U
Keeper is a popular password manager and digital vault tool. It comes with both versions free and paid. It provides a wide range of pricing lists covering a large market area from students to big enterprises. With keeper, you can generate strong and unique passwords for your confidential and sensitive accounts including financials. It uses 256-bit AES encryption, zero-knowledge architecture, and two-factor authentication to encrypt and secure your data and passwords. Keeper is available for all the popular operating systems including Linux, Android, iOS, Windows, and macOS. And this ensures that you can sync and backup your data in the cloud using any device keeper installed in it.
Keeper also provides the feature called password fatigue, in which the login forms get automatically filled by the stored login details. If you are running an enterprise and want to share passwords between your employees, the keeper provides sharing password feature. And all the passwords are shared with RSA encryption. Keeper also provides a secure communication room feature where you can chat with other users. And keeper make sure that your chat messages are secure.
Pros
It is supported by all popular operating systems including browser extensions
Provide 2factor Authentication
It provides encrypted secure password sharing
Option for secure messaging and file storage
Cons
The free base version only provides limited feature
There is some limitation in automatic form filling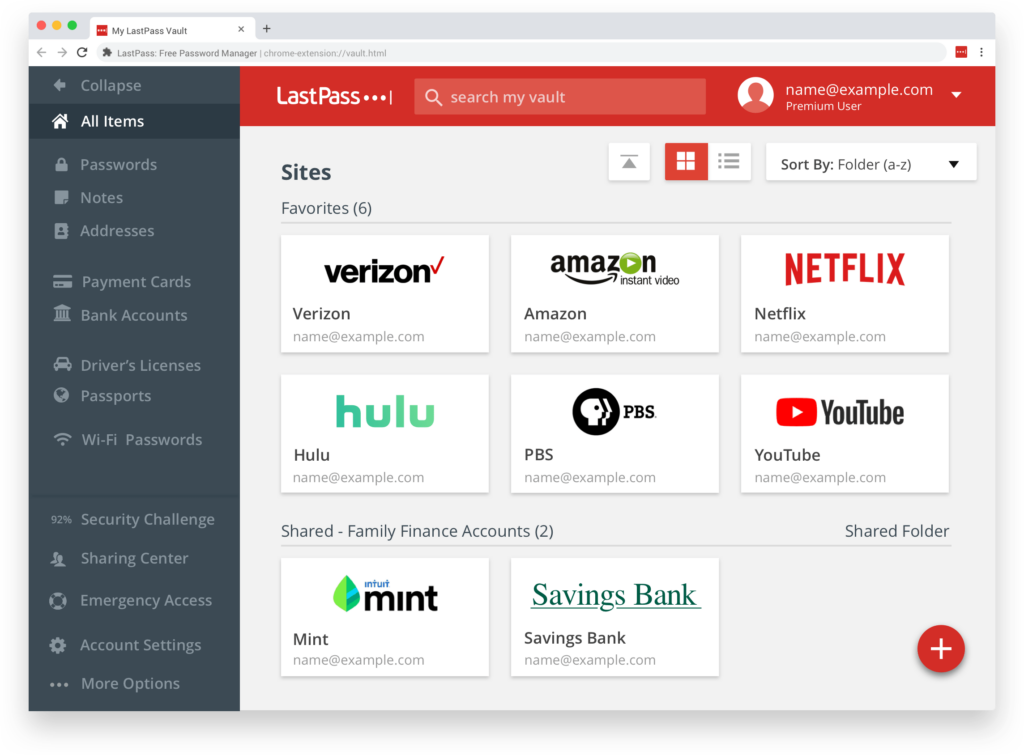 LastPass is an easy to use and fast password manager tool which is available for all the popular devices and browsers. It is a freemium tool, which means it is available in two editions free and premium. Originally it is a web-based password manager tool, but it is also available for smartphones. LastPass allows you to store all the sensitive data and passwords under a master password of the LastPass account. With LastPass, you do not have to worry about your passwords and devices on which you access your accounts. Lastpass uses multiple encryption techniques such as AES-256, PBKDF2 SHA-256, and salted hashes, so your data remain encrypted and secure.
LastPass comes with Dark Web monitoring feature which protects your account detail from the dark web cyber-attacks. If you want to share passwords and sensitive data with another user, LastPass provides you with end-to-end encrypted data sharing. Like other password managers, LastPass also comes with a password generator feature that can generate a strong and unique passwords for every account you create.
Pros
It provides a fee base edition
It is available for all the popular platforms and web-browsers.
Provide a dark web monitoring tool
It supports data and password sharing
Two Factor Authentication
Cons
It does not support U2F
There is no easy way to import a database.
https://www.youtube.com/watch?v=jBpft60jmec&t=50s
Dashlane is a freemium password manager and digital wallet tool. It is available for all popular devices such as macOS, iOS, Android, and windows. Its premium version is expensive as compared to other password manager tools. Dashlane provides all the basic features such as multi-factor authentication, auto form filling, password generator, digital wallet, dark-web monitoring, etc.
With its free variant, you will only able to store 50 passwords. If you want to store unlimited passwords you have to buy Dashlane premium subscription. In the premium version, you get features like unlimited passwords, unlimited devices, dark web monitoring, and VPN for WIFI protection.
Pros
Supported by all popular operating devices
It has a beautiful user interface.
It offers all the essential password management feature
It offers VPN protection
Provide dark web monitoring and alert feature
Cons
It is expensive.
You can only store 50 passwords.
Its free variant does not provide a synchronization feature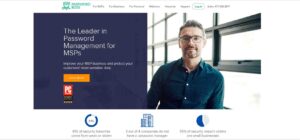 Like another password manager (PSM) tool Password Boss is a fully-featured password manager tool. It does not have unique features that make it different from other PSM tools. It provides all the basic and advanced features like other PSM. It is very easy to download and use Password Boss, you just need to enter your email and a master password. If you want to test the premium version, you can do that for 30 days without any commitment.
In Password boss, you will get all the basic features like password capture, secure sharing, automatic form filling, password inheritance, etc. If you are shifting to Password boss from LastPass, Dashlane, and RoboForm Everywhere, Password Boss provides you with import and export features. So, you can import previous PSM data.
Pros
It is available for macOS, Windows, Android, and iOS.
It syncs data between all the devices.
It offers 2-factor authentications
It provides a Security Dashboard
It fills the login form automatically
Cons
It does not support multi-factor authentication
Some of its settings are rigid.
https://youtu.be/mcly2-b1W20
1Password is developed by AgileBits INC in 2006. It is a PSM tool that uses PBKDF-2 techniques to encrypt all of your passwords and sensitive data. 1Password is available for all the devices such as Android, Windows, macOS, and iOS. And it is also available as an extension on every popular web-browser. Unlike other password manager tools, 1Password misses the feature of generating a new password.
Like LastPass and Dashlane you can store confidential information in 1Password. You can store any number of information related to your address and personal data. 1Password stores personal data and financial data (cards detail) in different sections.
Pros
Its app available for all popular devices such as Android, iOS, macOS, and Windows
Simple and secure authentication system.
Offer Two Factor Authentication
Cons
The import option is available for limited competitors.
Does not support the password inheritance feature.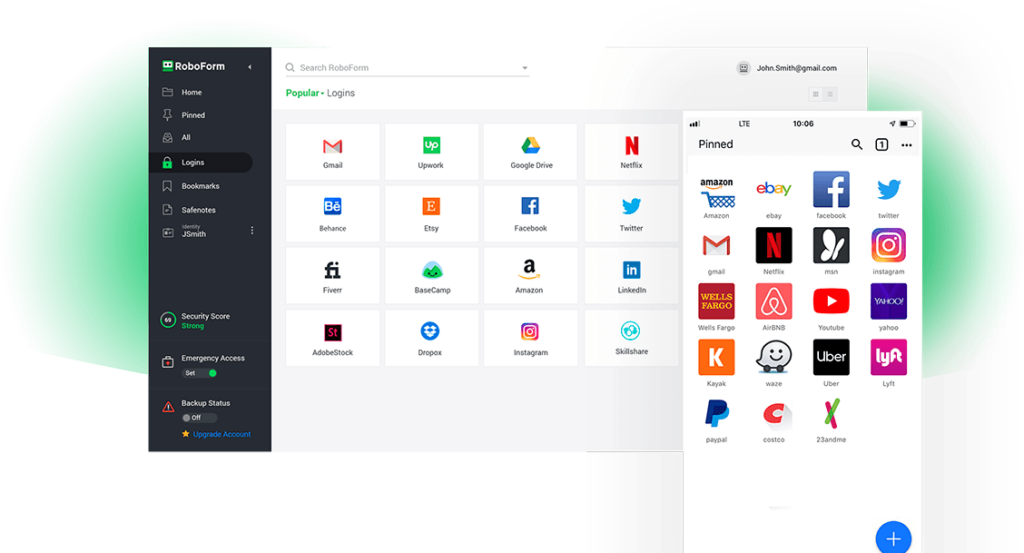 RoboForm makes it easy for you to generate and store unique and strong passwords. It is one of the best budget Password Manager (PSM) tool. Its app is available for all the popular operating systems such as Linux, Windows, Mac, IOS, and Android. RoboForm comes with many basic features such as 236-bit AES Encryption, 2Factor authentication(2FA), Password audition, one-clicks logins, etc. When you surf a new website and enter your login credentials the RoboForm capture all your credentials and store them.
It also provides a synchronization feature which makes sure that all of your devices share the updated credentials. With its mobile and desktop apps, you can access data offline too. RoboForm also offers folder management so you can categorize and store different passwords in diffident folders.
Pros
Auto synchronization
App available for all platforms
Offer encrypted data sharing between users.
Automatic login form filling.
Password Generator.
Cheap password manager.
Cons
Does not support dark web monitoring feature
It does not offer a one-click password changer for weak password feature.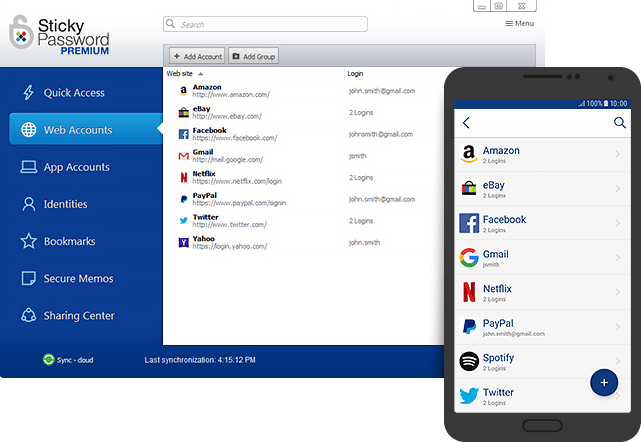 Stick password is a multi-platform freemium password manager tool. Its application is available for desktop and mobile devices. And it supported by 16 web-browser, including all the popular ones. Sticky Password can generate and remember strong and unique passwords for all of your accounts. It makes sure that all of your login, credentials, and credit & debit card details remain safe.
It uses the ASE-256 encryption technique with biometric authentication and 2FA to encrypt and secure your data. It also provides optional WIFI synchronization so your data never leaves your device. As you fill a form for the first time the Stick Password capture all the data, so you do not have to fill the form again as you visit back.
Password Pros
The app is available for all popular devices.
Sync data automatically.
Optional WIFI synchronization
Two Factor authentication
Password Cons
Its free version does not support cross devise synchronization.
No digital inheritance.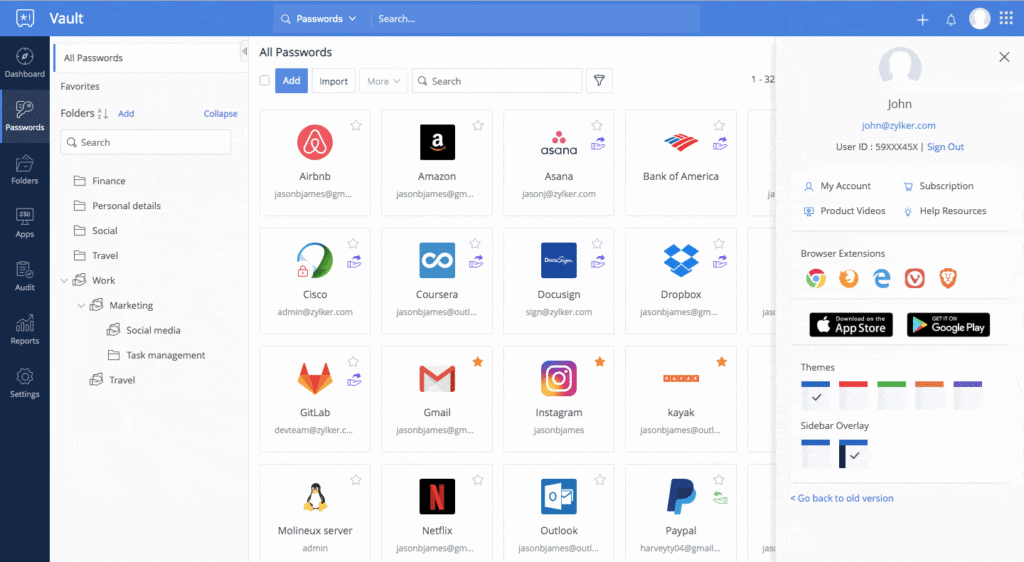 Zoho Vault is one of the best Password Manager tools for personal use. It comes with a lifetime free personal variant. In Zoho Vault you can store unlimited passwords, documents, notes, and other sensitive credentials. Zoho supports a wide range of import and export data. You can import data from CSV files, browsers, and other password managers.
Zoho Vault uses AES 256 encryption and it makes sure that all of your devices are synced with the updated data. Zoho also provides a sharing feature in which you can share data with your family and employees. With Zoho Vault you do not have to remember your passwords, with an auto-login form filling Zoho Vault log you into your account.
Pros
Accessible from browsers, desktop, and mobiles
Offer a password and document sharing feature.
With the free edition, you can store unlimited notes and passwords.
Cons
Extensions only available for Chrome, Firefox Safari, Vivaldi, and Brave
It does not support dark web monitoring
Conclusion
Either you can keep using the same password for all of your accounts and make them vulnerable against cyber-attack or you can use a password manager to generate and manage all of your passwords. In the era of the Internet and technology, you also need to stay strong on your side.
Tech giants are doing their best to make their website secure, but you also need to make sure that your passwords and other sensitive credential are safe, secure, and encrypted. Security must be your first priority when you are using the web. And the password manager is the first step to keep your accounts and credit card details safe.
People are also reading: