Disk cloning is the process of creating an extra copy of the content in the hard drive or solid-state drive to a new storage drive, so you can continue without reinstalling the Windows update or using any other software. These files are saved as disk image files and then transferred to other storage devices like hard drives, DVDs, and USBs.
If someday your original hard drive fails, you can use the clone you created, saving you from a lot of trouble installing the Windows again. Many disk cloning apps are available online and choosing the best cloning software can be challenging. To save you from performing lengthy research, we have picked and compared some of the best disk cloning applications that can be of great value for money.
Why Clone Your Storage Device?
People use disk cloning software for two main purposes; to have an exact copy of the data or migrate data to a new storage device. However, if there is any harm done to your drive, then you can easily recover it from the second drive. Apart from creating an exact copy of a drive, you can also use this software to migrate your data to a different drive. For example, if your HDD is slow and you want to upgrade it to an SSD, cloning software can help you move everything from an HDD to an SSD. Here are the pros and cons of using a disk cloning tool:
Advantages
It helps you to shift to the backup storage easily and quickly without reinstalling the OS.
You can install the same operating system with custom data on multiple computers.
Data from multiple computers can be managed and restored quickly in case of any virus or malware attacks.
You do not have to download the cloning software on the other storage to use the backup.
Disadvantages
Since an exact copy of the storage drive is created, cloning occupies too much space compared to other backup solutions.
Since you cannot back up on the same drive, you need to have another storage drive to back up the data.
Best Disk Cloning Software in 2023
1. Acronis True Image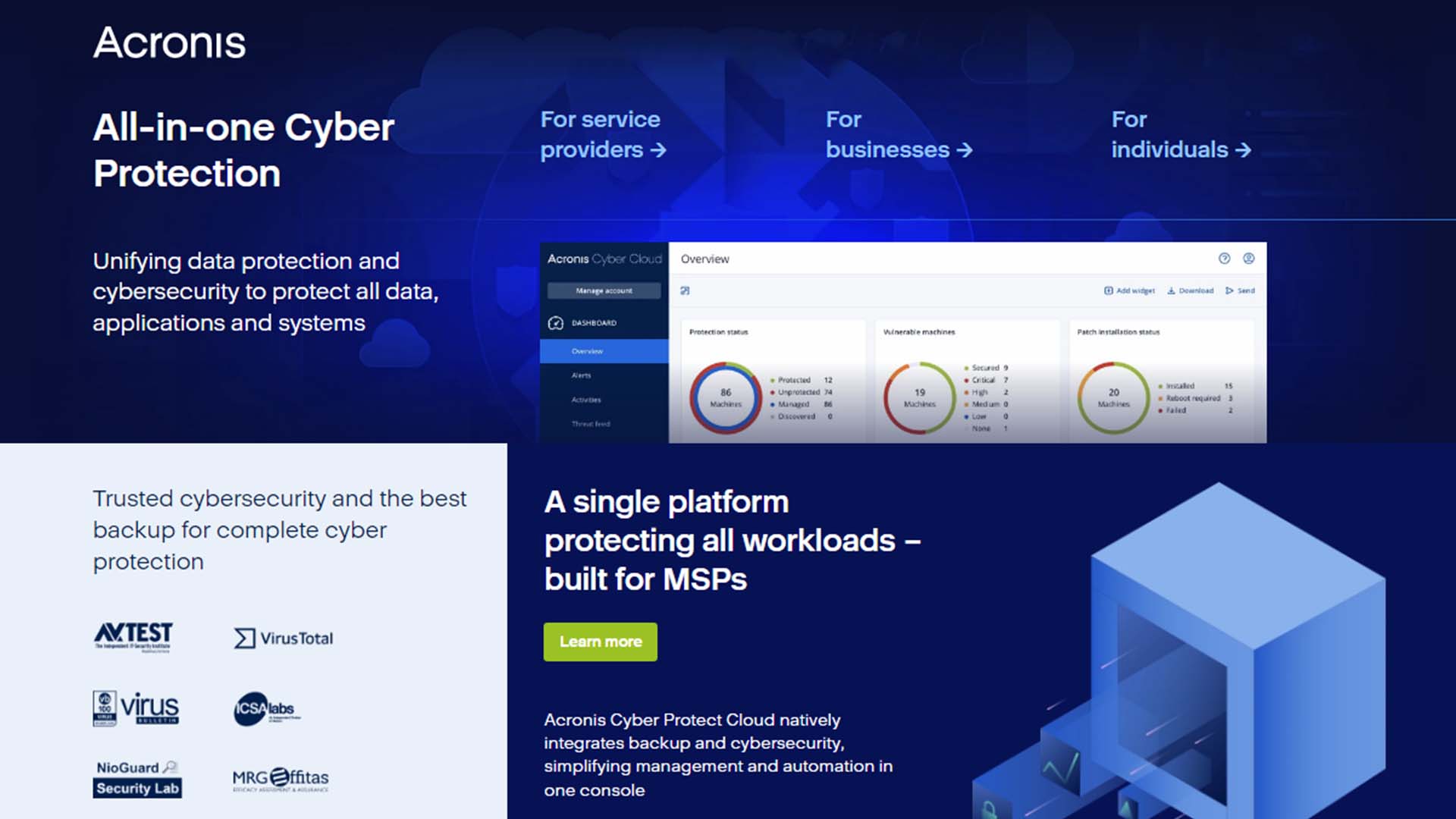 Acronis True Image is the best disk cloning software available on the list. It allows you to create a copy of your operating system without rebooting it. With Acronis, you can work on work on any other important work which running the backup process. It allows you to copy only selected files and folders. One of the best and unique features of this software is that it can create a backup and store it in the cloud. Having a cloud version of your disk is important to tackle situations in which your service is disrupted onsite; you can still access the original files. You can also backup data from your mobile devices. Acronis True Image protects your Android and iOS devices' data. Backups are created automatically and stored safely on your computers.
Pros
Easy to use and offers several advanced cloning features.
Compatible with both Windows and macOS.
Supports both local and remote backup.
Creating a schedule for your backup in just a few minutes.
Caters to both personal and professional needs.
Cons
It will take some time to learn and use the advanced features of this cloning software.
2. Clonezilla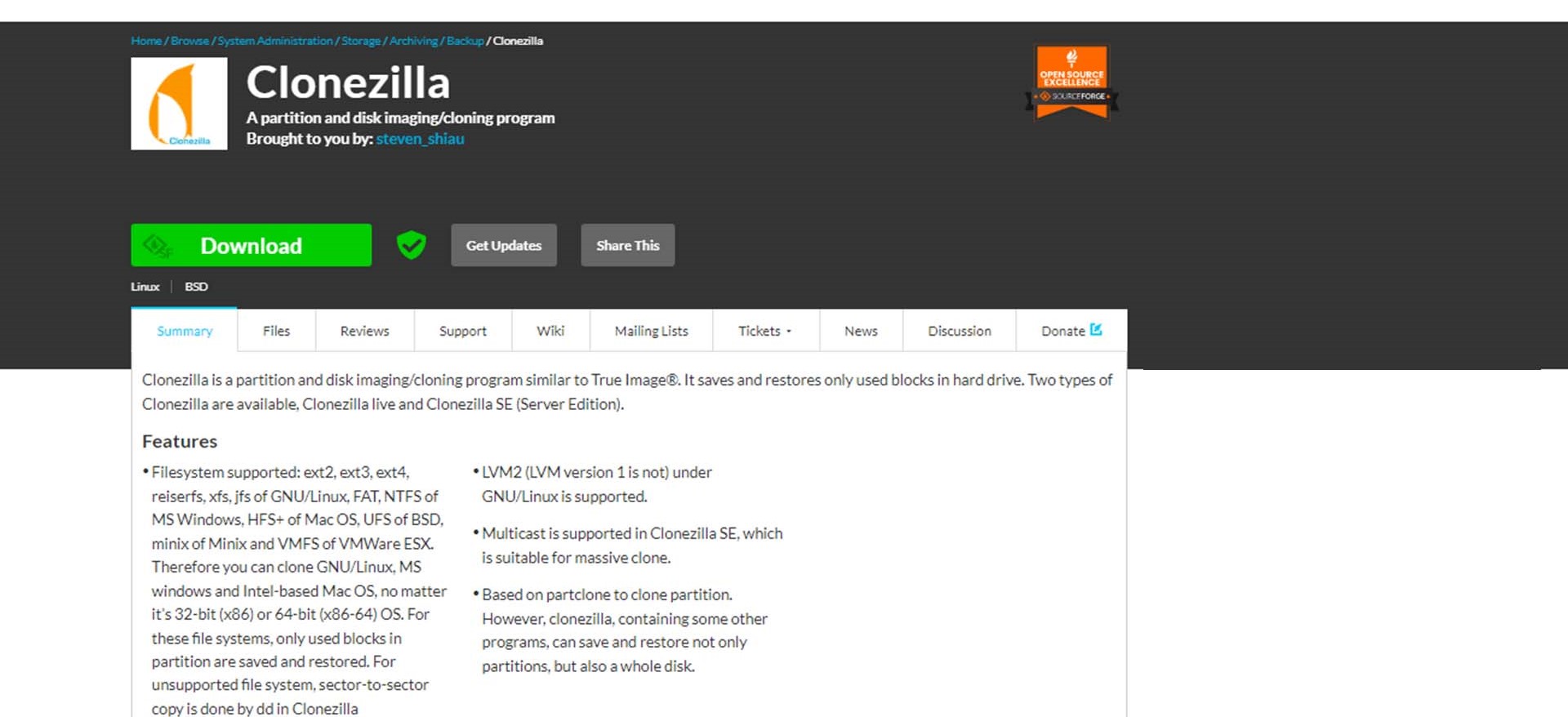 Clonezilla is an open-source disk cloning and image software for Linux users. It allows you to backup data to bare metal devices. The Clonezilla SE version, also known as the Clonezilla Server Edition, can clone over 40 computers simultaneously. If you want to install Clonezilla, you need to pre-build the program and then transfer it to a CD, hard drive, or USB. To keep your data safe, Clonezilla offers many encryption options. You can encrypt the disk image with eCryptfs to secure your data. Clonezilla is recommended for both small and large companies that are looking for low-cost open-source disk imaging solutions. This application has three different versions: Clonezilla Lite Server, Clonezilla Live, and Clonezilla SE.
Pros
It is open-source software.
It allows you to recover and restore data to bare metal servers.
It allows you to clone up to 40 machines simultaneously.
Cons
Does not offer a proper community for bug fixes ad support.
You need to transfer the cloned data into your USB or CD after the disk cloning is completed.
Does not offer an intuitive user interface.
3. Paragon Drive Copy Professional
Paragon Drive Copy Professional is used to create backups. With this software, you can back up their OS and migrate the data to another computer. You can either create a disk clone of the entire drive or choose a few specific files. The fast recovery feature in Paragon Drive Copy Professional helps a system to return to its normal state after encountering an issue. Paragon cloning software also comes with a wizard that assists you in restoring the backup images, resulting in a speedy recovery process. The Recovery Media Builder also enables the users to set up their recovery environment. This software is designed for businesses who want to have a backup of their data and organize it effectively for future use.
Pros
Provides an operating system migration option that makes it the best tool for hardware upgrades.
It uses a simple wizard that helps to recover and restore data faster.
It comes with an easy-to-use interface.
Cons
It is pricey and mainly focuses on enterprise usage.
Does not offer cloud-backup options.
4. EaseUS Todo Backup
EaseUS Todo Backup is among the best free disk cloning software that offers one-click data backup. It is used for full, differential, and incremental backup for all Windows devices. You can also schedule backups, and in case of virus and malware attacks, you can easily and instantly recover data. If your desktop crashes, then you need to restore it without reinstalling the Windows. This application supports different storage devices like FTP servers, NAS, DVDs, HDD, SSD, and more. In simple words, you can backup your file to any storage option of your choice. EaseUS Todo Backup is recommended for people who are looking for free cloning software to back up their hard drives. It is available for different Windows versions like Windows 10, 8.1, 8, 7, Vista, and XP.
Pros
EaseUS Todo Backup offers differential and incremental backup.
It is compatible with many recovery mediums like RAID, NAS, and USB.
Cons
This application is only compatible with Windows.
The interface might look clumsy.
Not the best options for enterprise-level cloning.
5. AOMEI Backupper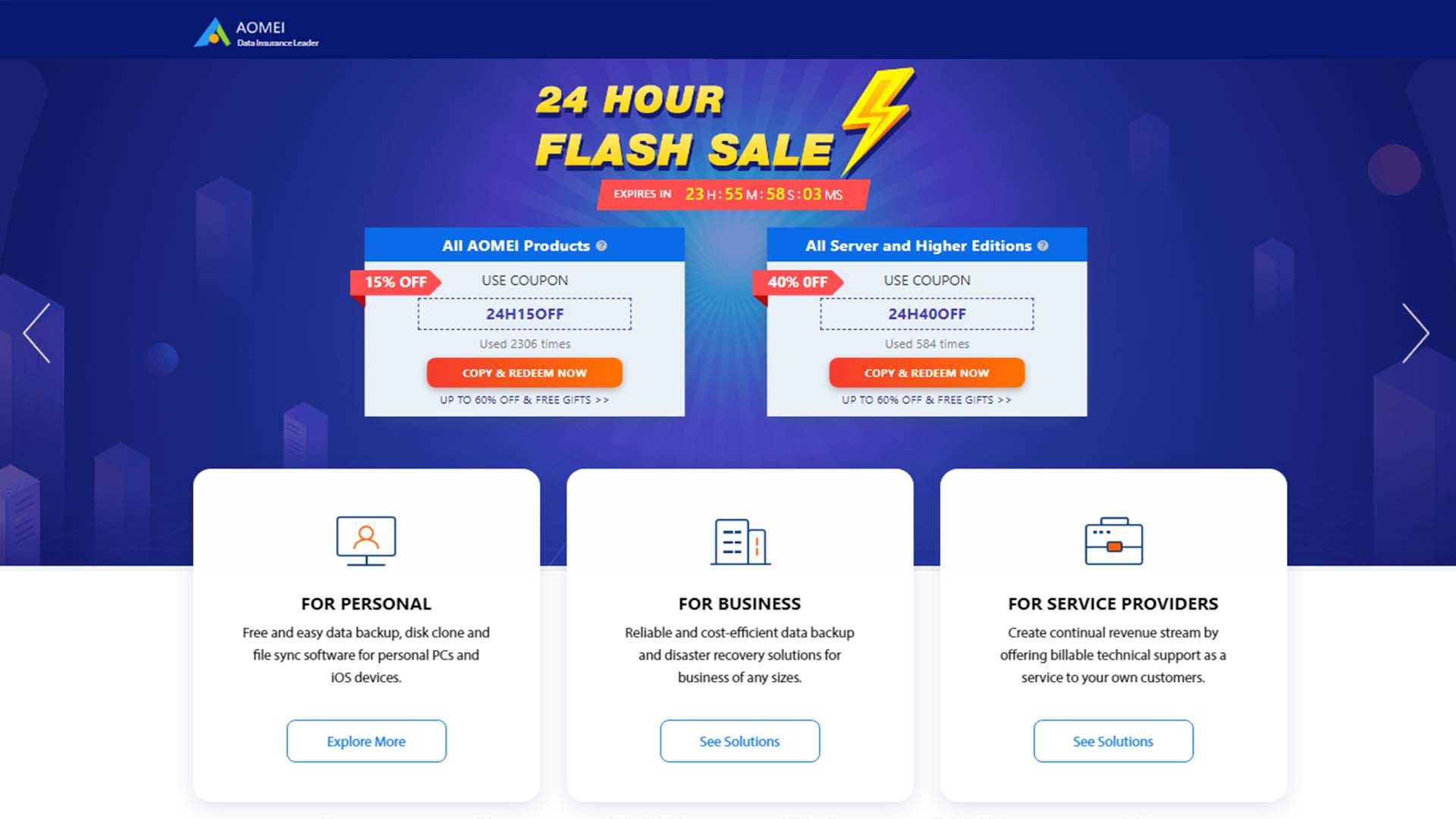 AOMEI Backupper Standard is a free cloning software that protects your system from crashing down and allows free network cloning and image deployment. This cloning software can restore files, applications, folders, and entire disk drives. Moreover, it helps in data compression, backup encryption, and data splitting. AOMEI Backupper is ideal for personal, professional, commercial, and non-commercial disk imaging and cloning purposes.
Pros
It helps to create bootable disks.
Offers incremental backups.
It comes with automatic backups and real-time sync.
It offers smart cloning, i.e. if the existing disk cannot hold all the data, then the user can clone the disk to a new one.
It offers sector-by-sector cloning, i.e., all the sectors are completely cloned to a target disk, and the functions of the source disk will be cloned to the target disk.
Cons
The backup speed is quite slow when compared to the other disk cloning software.
6. Active@ Disk Image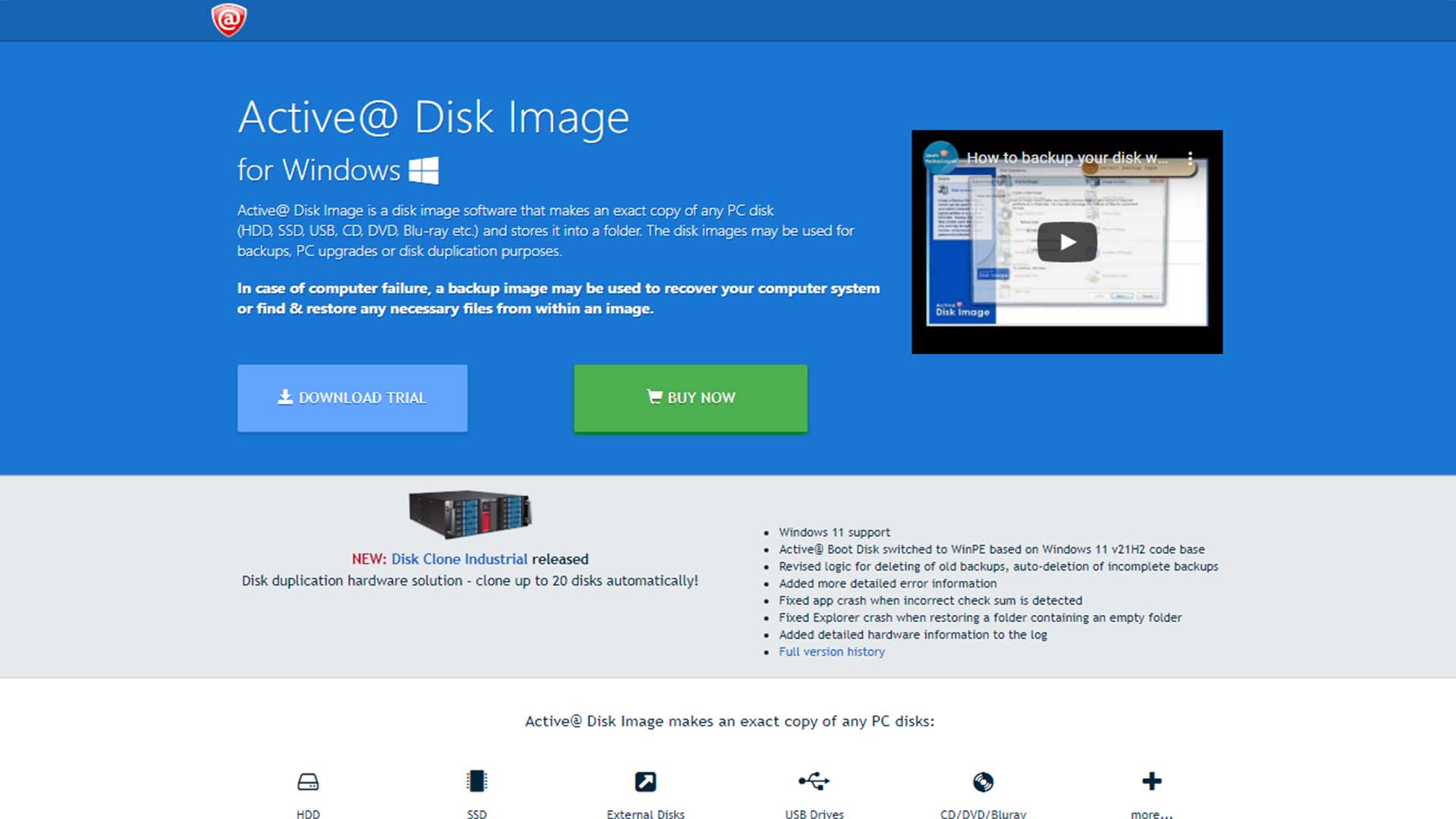 Active@ Disk Image is a budget-friendly disk cloning software for Windows that helps to copy and recover disk images. It is compatible with various storage systems like CD, DVD, SDD, HDD, Blu-ray, and more. It offers an intuitive interface that breaks down all the disk operations easily. With Active@ Disk Image is used to clone disk to image, create a raw image, image to disk, verify an image, clone disk, mount image, and more. Active@ Disk Image also offers a free version that helps to create and restore disk images, mount images, and compress images as virtual drives. The paid version of the application offers additional features like RAID support and image encryption.
Pros
It offers a free version for testing.
Offers cross-platform support for Windows, Linux, and FreeBSD.
Acitve@ Disk Image supports disk image encryption for safe storage.
It allows you to restore and recover the RAID system.
Cons
Has an outdated and very basic user interface.
It is designed for experts and should know how to use the application.
7. Macrium Reflect Workstation
Macrium Reflect Workstation is a disk backup software designed for enterprise users. You can back up your computer and laptop to a compressed disk file. When you want to restore your system, the Rapid Delta Restore feature helps recover your disk image in a few minutes. The live imaging feature ensures your disk image is up-to-date all the time. Macrium Reflect Workstation supports virtualization like Hyper-V . You can also boot or backup your images virtually with these virtual machines. The software is perfect for companies that are looking for a reliable and effective disk backup solution.
Pros
Macrium compresses the virtual machine data into image files for easy access and installation.
Supports live imaging, allows backing up during work hours.
Cons
The pricing is a little higher when compared to other disk cloning tools.
Designed for technical users. Not recommended for those who are new to using backup software.
8. Iperius Backup
Iperius Backup is a disk cloning software that allows you to create disk images with relative ease and is compatible with Windows 10. Moreover, it clones drive images and sends them to the cloud automatically. The major advantage of Iperius Backup is that it is compatible with a wide range of databases and services like MySQL, SQL Server, PostgreSQL, and MariaDB. Iperius Backup is the best disk cloning software for enterprise users that mainly focuses on the central perspective to monitor backups for files, databases, and VMs.
Pros
Allows you to integrate with cloud services like Google Drive, OneDrive, Amazon S3, and more.
Automatically encrypts backup with AES-256 bit encryption.
Cons
Compatible only with Windows.
Since it has nested tabs, the interface is a little complex to use.
Iperius is built especially for technical users, and it is not the best choice for home backups.
Final Thoughts
If you are cloning your device for the first time, then AOMEI Backupper or Macrium Reflect is the best one. Both the software are ranked among the best free cloning software. Also, they come with a user-friendly interface that makes the disk cloning process easier for you. Disk cloning software like Clonezilla and Acronis Disk Directors are recommended for those who are looking for a comprehensive disk cloning tool.
People are also reading: