Data is the greatest asset in modern times, may it be personal or professional. It is something that should be easily accessible while safe from inappropriate third-party access using stringent, end-to-end security measures. Over the years, the way the data is stored, managed, and shared has changed, a lot. In today's cloud generation, storing the same in-house - via hard-drive or some other physical storage means - is outdated. Nearly every business - whether small, large or coming in-between the two extremities - is now relying on cloud-based technology for securely storing their data. This is evident from the fact that 85% of businesses worldwide are making use of cloud technology to store data .
Why Cloud Storage?
Using cloud storage has many sensible reasons, the most important one is that it keeps the data:
Safe,
Easy to access, and
Affordable to manage.
To make the deal even more lucrative, storing data over the cloud gives you 24/7 access to your documents, backups, videos, etc. from wherever you are and on any compatible device. With a lot, many options available in the market, including big tech players like Amazon and Google, making the most suitable pick requires, obviously, a lot of research and time. Therefore, to make it easier for you, this blog contains a list of the best cloud storage services to choose from plus, the parameters used for creating the same. But before proceeding further, let's first understand what cloud storage is, in brief.
What is Cloud Storage?
Cloud storage is a very beneficial computer service model where individuals or businesses are allowed to store their files, data, images, videos, et cetera on remote servers. The security of your data - which is the most important aspect - will be taken care of by some cloud storage service provider. Cloud-stored apps and data will be easy to access and share from any part of the world. Using cloud storage services is also an affordable option as the cost of the subscriptions is much less, in the long run, than buying hard drives or other physical data storage options. Also, a few service providers like Google Drive and Dropbox provide free data storage, up to a certain limit, options.
Metrics Defining the Best Cloud Storage
With lots of cloud storage servers available to choose from, individuals should shortlist providers based on certain criteria so that the final pick meets their business, or personal, needs. Therefore, consider the metrics mentioned below for forming the right decision:
1. Security
Since you'll be storing confidential information like personal or business data, security becomes a major factor. Therefore, before making a decision, ensure that the cloud storage server comes with proper privacy and security measures with end-to-end encryption. You can research in-depth for the same or look at the reviews left by previous and/or present users to get a good idea.
2. Operating System
Select the cloud storage which serves the OS on which you're working. For example, iCloud is exclusively available for MacBook and iPhone while OneDrive is a dedicated Windows service. Therefore, you should choose accordingly. However, some providers, like Google and DropBox work irrespective of the operating system you're using.
3. Storage Limit
Make sure that the server provides you enough storage to save all your data. Every cloud storage service provides different plans that pertain to different storage limits. If you are looking to save documents that won't take much space, then you can opt for free plans as well. But if you are looking forward to storing moderately-sized or huge files, then you must opt for a paid subscription that fulfills your needs. However, it is super easy to add more space to your existing data storage limit by sparing a few extra bucks.
4. Number of Users
If you are a company that has employees to access and save data on a single server, then this is a serious point to look upon. You should check how many users will be able to use the stored data, how much data an individual can store, and what will be the charges you have to pay per user. Some cloud storage providers offer unlimited user access for storing files. Therefore, if you own a business with a lot of employees, you can opt for such providers.
Best Cloud Storage Services of 2023
Now that we have cleared the basics, it's time to jump on the list of the best cloud storage service providers of 2023. So without any further ado, let's begin: Running short of time? Here's a quick view of the list:
Google Drive
pCloud
iDrive
OneDrive
Zoolz
DropBox
Apple iCloud
Amazon Drive
Degoo Cloud
IceDrive
1. Google Drive
https://www.youtube.com/watch?v=wKJ9KzGQq0w
Launched in 2012, Google Drive has become one of the most popular cloud storage services to date. This highly-affordable cloud storage service resonates perfectly with other robust Google systems, like Gmail, Chrome, Google Docs, Android, Google Analytics, and YouTube. If your company uses Workspace (previously known as G-Suite) , then Google Drive comes included in the subscription. Therefore, your G-Suite account will have the access to the paid version of Google Drive. The cloud storage service from Google provides free 15 GB data storage to every individual and its paid version starts at just $6/month per user with up to 30 GB of storage space. The paid subscription of Google Drive comes with a galore of features, important ones among which are:
Responsive application. Compatible for all the devices i.e. laptops, desktops, mobiles, and tablets.
Centralized management for users and data.
Extra security and backup with data loss prevention services.
AI-driven predictions/suggestions for important content.
Shared drives for facilitating team access.
Cloud-based streaming.
Advanced sharing and accessibility options.
You can signup here .
2. pCloud
https://www.youtube.com/watch?v=9P7r0f4W8_o
pCloud is one of the leading  best cloud storage services that come with lifetime access. Therefore, if you are looking for long-term storage, choosing pCloud will serve you well as it will save you from the monthly pay cycle. The lifetime subscription plans from pCloud are:
Premium plan - Provides 500 GB for $480.
Premium Plus plan - Provides 2 TB for $980.
If you're someone who doesn't appreciate a lifetime subscription then you can opt for yearly subscriptions offered by pCloud as well. The cloud service provider offers 2TB storage with unlimited remote upload traffic. Also, 10 GB of free space is provided to the basic accounts. pCloud started its services in 2013. pCloud makes resizing pictures super easy with a wide range of resizing options. Also, folders and files can be shared with any non-user (of pCloud) as well. The cloud storage service generates an email address that helps you email files directly to a folder on your pCloud account. It comes with a range of features, including:
Shareable links and file requests to make it easy for users to share and receive files with colleagues, friends, etc.
TLS and SSL channel protection.
Automatic syncing for your data for a 360-degree backup.
Can be accessed offline once saved.
Built-in video and audio player to quickly access media files.
File versioning up to the last 30 days.
Available for Android and iOS systems to develop mobile applications.
You can signup here .
3. iDrive
https://static.idriveonlinebackup.com/jwplayer/Multiple_PC_Backup.mp4
iDrive is one of the finest cloud storage technologies, which runs on all the popular operating systems, may it be Windows, Android, or iOS. It has a lot of flexible pricing plans that allow you to pay according to the number of users and the storage space you need. Therefore, iDrive is an affordable way to leverage best cloud storage services for businesses of all sizes. Moreover, it comes with 5 GB of free space for users. The iDrive storage service provides access through cross-platforms. Without worrying about devices, your team members can access the data from anywhere and through any device. Have a look at the main features of iDrive:
Unlimited backup from PC, Mac, iPhone, Android, and tablet.
Regular and automatic data backup for easy data recovery.
Centralized user group and data management.
Fast 24/7 customer support.
Easy remote management through a browser-based application.
Backs up social media images and videos from different platforms, like Facebook and Instagram.
A yearly subscription of iDrive starts from $99.50 for 250 GB with storage limits up to 12.5 TB, if you need more. Moreover, monthly plans start at $49.95 per month for 1.25 TB. You can signup here .
4. OneDrive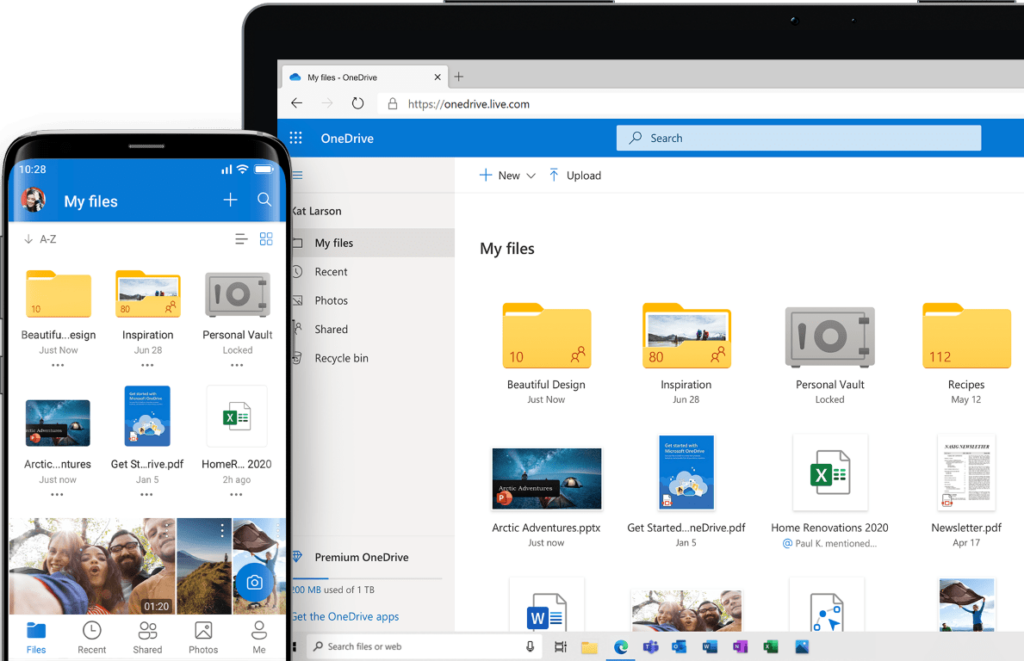 OneDrive was started by Microsoft back in 2007. It is best known for hosting files. Moreover, you can simply store, sync, and share different file types with it from various devices. Earlier, 15 GB of free space was offered, which is now reduced to 5 GB for basic accounts. If you have a Microsoft account, OneDrive will be available for free. It syncs files from Windows, or macOS, and allows individuals to set an expiration date for shared photos, files, and links for security. Have a look at the features of OneDrive:
Any modifications done to the files will be updated in real-time with automatic syncing.
Easy offline access makes it possible to access the files, even when you're offline.
Easy and smooth sharing of folders, files, and photos with family, friends, and colleagues.
Comes with an extremely affordable subscription plan.
Easy and centralized management of data so that users can access files anytime and from anywhere with a simple search.
A yearly subscription to OneDrive starts at $69.99. The monthly subscription is for just $1.99. Also, 5 GB of free space will be given after signing up. You can signup here .
5. Zoolz

Zoolz provides storage like no one else. If you are looking forward to backing up huge data then this cloud storage service is a perfect choice for you. It provides more than 100TB of backup storage space. They offer long term storage plans for 1, 3, and 5 years. The key to saving your money with a Zoolz subscription is to take a long-term subscription with bigger storage space. Zoolz provides high-end security with easy access to data for members through mobile and web applications. The main highlights of the cloud service provider are:
Automatic syncing and purging in a regular cycle.
Smart duplication algorithm even for encrypted files.
Smooth and easy deployment with the help of the Active Directory Deployment feature.
Advanced management and easy access to data.
Time-to-time monitoring over bandwidth and storage.
Automatic system alerts regarding all the updates.
Real-time file updation on the cloud.
Apart from the mass storage option, Zoolz offers standard subscription plans starting at $15 per month (or $99 per year) for up to 1 TB of storage space. You can signup here .
6. DropBox
https://aem.dropbox.com/cms/content/dam/dropbox/warp/en-us/features/ProductOverview_Hero@2x.mp4
DropBox is the go-to option for users with data requirements of the light-usage level. It offers you a place to keep all your workplace data and entire team content in one centralized place. All types of small and large videos, photos, PowerPoint presentations, or other large CAD files can be kept safely in Dropbox. One of the features of Dropbox, which makes it stand out from the rest of its brethren is the "remote wipe feature." It allows a user to protect all documents and files present in the lost devices by clearing documents from the device. Dropbox offers 2 GB of free space for registered users and is available for Linux, Windows, and macOS. The features of dropbox are outlined below:
Organizes the content together in a single place. From Google Docs, slides, docs, and sheets, you can easily create, stockpile, and share cloud content with it.
Its combination with DropBox Smart Sync facilitates real-time synchronization of your data to a cloud backup.
Recovers deleted files from the storage.
Access files from anywhere, and at any time.
Intuitive user interface.
You can signup here .
7. Apple iCloud
https://www.youtube.com/watch?v=c0xrvrAOHlA Launched in the year 2011, Apple iCloud is the best choice for Apple users. It can't be entitled, however, as a strong competitor to other best cloud storage services like Google Drive, but it works smoothly for users who are using Apple devices. The files uploaded on iCloud can be easily and safely shared with other users with end-to-end security. Also, it allows you to organize folders and files easily. The backup space in iCloud can be used for all the Apple device backups, including your Apple Watch, home screen, and app organization, purchase history, photos, videos, and device settings. This means you don't have to start from scratch if you upgrade to a new device. Some of its highlights are:
iCloud automatically stores the selected item once you point it out and upload it in your system and keeps a real-time synchronization.
iCloud will help you keep your vital documents and favorite music in a centralized place.
You can extend the space of your iCloud when required.
iCloud provides 5 GB of free storage for Apple users. However, the paid subscription plan starts at $0.99/ month in the USA which can be extended up to $9.99/ month with the increase in more backup space. You can signup here .
8. Amazon Drive
Amazon Drive is the cloud storage service offered by the global leader in eCommerce, Amazon . It is part of Amazon Web Services (AWS) and is effective in backing up your pictures and videos from your smartphone, tablet, or computer, and organize them online. If you're an Amazon Prime subscriber, you will get unlimited storage with it for free. Released in the year 2011, Amazon Drive works well and syncs properly on all major operating systems i.e. Android, iOS, macOS, and Windows. The best part of Amazon Drive is that it uses block-level file copying. This method makes your data synchronization speed fast as with this, only the changes are updated (received or sent from the cloud to your data). The main features of Amazon Drive are as follows:
Previews documents, spreadsheets, photos, and presentations directly on the cloud.
Comes with inbuilt video and music players.
Highly responsive for all devices and mobile phones.
Makes file organization simple and easy, accessible from one place.
Uses block-level file copying for fast synchronization.
Share heavy files easily with your family and friends.
Syncs perfectly with all major operating systems.
Amazon Drive offers 5 GB of free space for basic accounts and provides unlimited storage to Amazon Prime users. However, it has other storage plans that start at $11.99 per year. You can signup here .
9. Degoo Cloud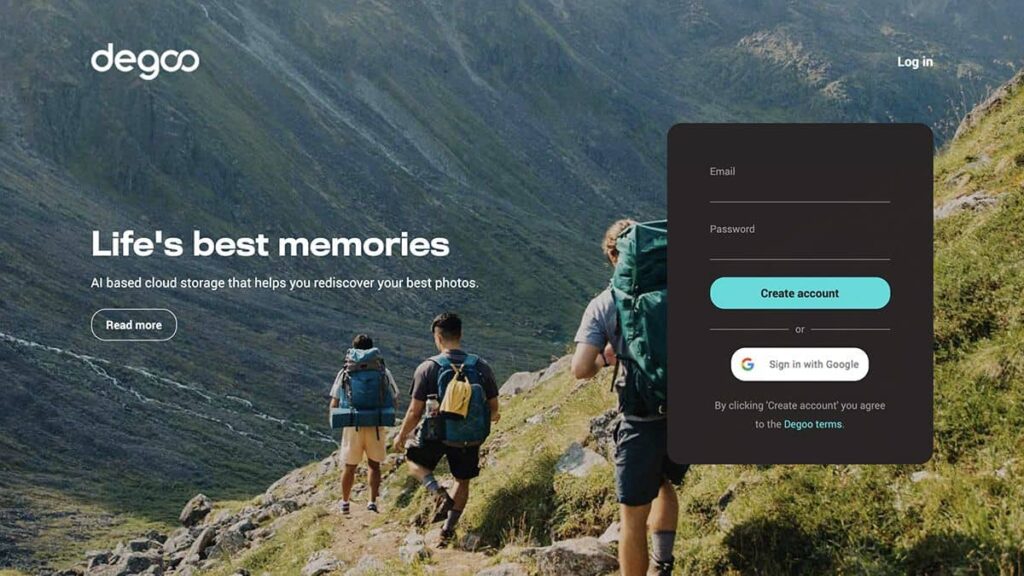 Bagging more than 23 million users worldwide, Degoo Cloud storage is best known for storing photos and media files. Unlike other storage services, Degoo uses Artificial Intelligence that highlights your best shots and discovers memories. Also, it comes with a built-in image feed feature. Taking security to the next level, Degoo Cloud lets you encrypt your photos with a password so that you can have 360-degree protection of your data. The best part is that it is not over-flooded with features. The layout and functioning are very straightforward in both web and mobile app versions.
Provides 100GB free storage data, with 3 devices and Digoo Ads.
Slick and straightforward interface for easy usage and management.
Use AI to highlight the best shots and discover memories.
Provides more space to your device by backing-up all your media files with high-end security.
You can stream music and video on the internet rather than downloading it on the device.
Provides zero-knowledge storage feature. This feature lets you make end-to-end encryption of your data. Therefore, not even Degoo employees can access your files.
Apart from their free plan, you can subscribe to a monthly plan which starts at $2.99. Also, this new year i.e. 2023, you can avail of their 58% off offer on yearly subscriptions ($99.99 for 2 years). You can signup here .
10. IceDrive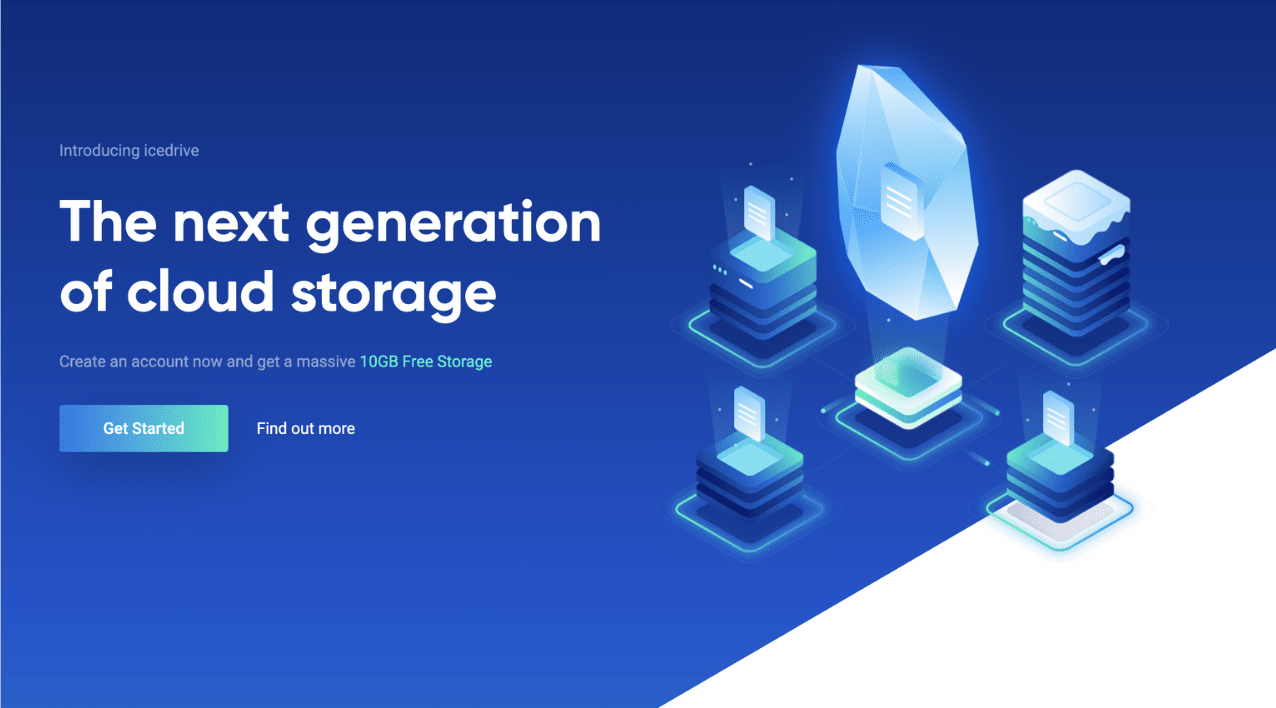 Offering great portability and flexibility to users, IceDrive is a choice for millions of users all around the world. The cloud storage service provider is unique as it has drive mounting software that allows users to access files as if they're stored offline on a computer. The TwoFish feature makes IceDrive stand out from the list. This feature allows individuals to keep files secure or confidential and can be encrypted client-side using the bullet-proof TwoFish algorithm. The major feats of IceDrive are:
Modern user interface with central management.
Twofish client-side encryption.
Accessible through all the devices from anywhere in the world.
Mobile applications for Android and iOS along with mounted drive capability for Windows desktop users.
Dynamic file-sharing options
Supported on Windows, macOS, Linux, iOS, and Android.
IceDrive comes with free storage up to 10 GB. The monthly subscription plan starts with $1.67 for 150 GB of storage. Alternatively, the yearly plan starts at $19.99, and a lifetime plan for £49 for 150 GB of storage. You can signup here .
Wrapping Up
With the advancement in technology, managing and storing files has taken a whole new level paired with advanced cloud security . Days are gone when people used to store data in hard-drives and regret after losing it. The revolutionary best cloud storage service is a game-changer, which is also affordable and safe. We have tried and tested a lot of cloud storage services and came up with the best ones mentioned in the blog so that you don't have to go through the hectic research process. Comment your suggestions, or queries, below and let us know which service you've opted for.
People are also reading: