Artificial intelligence has left no field untouched, and this term is now familiar to most people. In almost every industry vertical, from healthcare to education, it has reshaped the way of working.
AI's automation feature has taken the world by storm, benefiting multiple industries. In the workplace, this technology is utilized to eliminate redundant, mundane tasks, reduce human errors, make strategic business decisions, and improve employee productivity with the help of AI tools.
An AI tool is any software application that leverages artificial intelligence to perform a specific task, fulfill a particular purpose, or solve a certain problem.
The best and most well-known example of an AI tool is ChatGPT. It is a language model that generates text-based responses to human queries based on the data it is trained with.
Besides this, there are a plethora of AI tools available out there that help improve productivity by automating certain tasks and reducing human errors.
In this blog, I have mentioned a list of AI tools intended for different uses in the workplace. My entire team and I have used all these tools, and we can certainly say they are game-changers. These tools have helped us accomplish our tasks precisely within less time and effort.
So, I thought of creating a list of all AI tools that we use in our workplace and found them extremely useful. Let us get started with the list!
20 Best AI Tools To Use in the Workplace
Explore the following list of AI tools and their features and add them to your stack.
Research
AI has made it possible and quick to get information about anything at your fingertips within seconds. AI-powered research tools help you obtain information from different sources in one place. This eliminates the need to collect, organize, and manage data from multiple sources. As a result, you can completely focus on interpreting and analyzing data and accomplish your goal.
Here, I'm listing the tools that I usually use for collecting information from several sources. I have found these tools really helpful, as they cut down half of my research time.
1. ChatGPT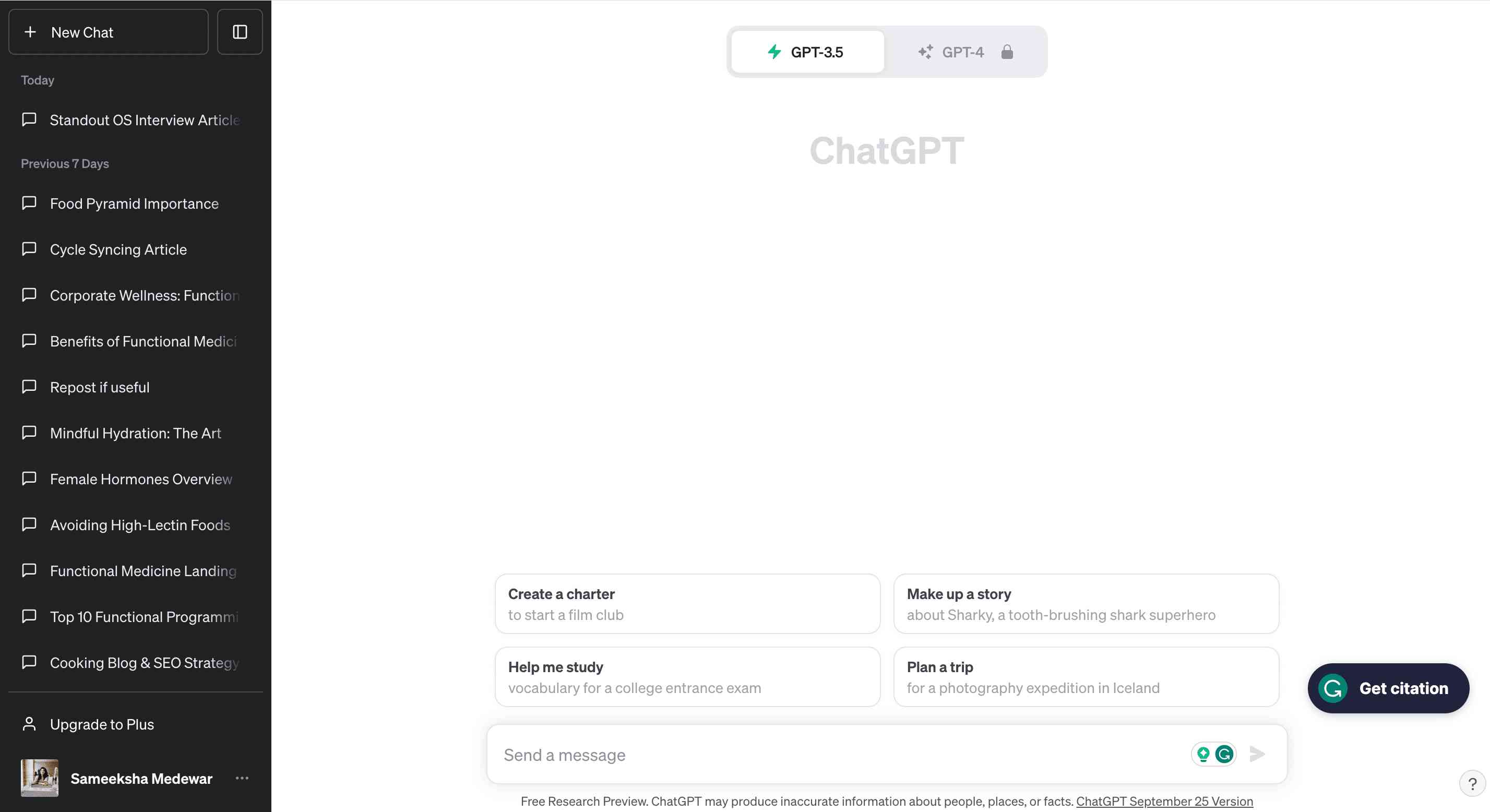 The year 2022 witnessed the inception of ChatGPT , a language model or an AI-powered chatbot developed by OpenAI. It leverages natural language processing (NLP) to process the input and generate the accurate, human-like output.
ChatGPT answers a wide range of human queries and assists in multiple tasks, such as composing emails, generating ideas, data analysis , translation, writing code snippets, etc. It is trained with a massive volume of knowledge and data. Hence, it serves as one of the best research assistants.
However, it is important to note that you must verify and evaluate the information generated by ChatGPT, as it may not always produce error-free responses. Additionally, its knowledge is limited till September 2021. Hence, it cannot provide any information regarding events or new trends and technologies after September 2021.
The latest version of this tool is ChatGPT 4, which is available as a ChatGPT Plus plan.
Features
Leverages deep learning algorithms to understand the context of the text provided and generate accurate results.
Provides personalized results based on user preferences and previous conversations.
Generates responses in multiple languages.
Capable of analyzing the sentiment of a conversation.
Generates ideas on numerous topics.
Quickly summarizes lengthy text or findings.
Generates engaging and comprehensive content on any topic.
Serves as a coding assistant for developers.
Pricing
ChatGPT Free (GPT-3.5 Model): Free Forever
ChatGPT Plus (GPT-4 Model): $20/month
Best For
Researchers, content creators, students, developers, marketers, and anyone who needs answers to specific questions and create content for various purposes.
2. Perplexity.ai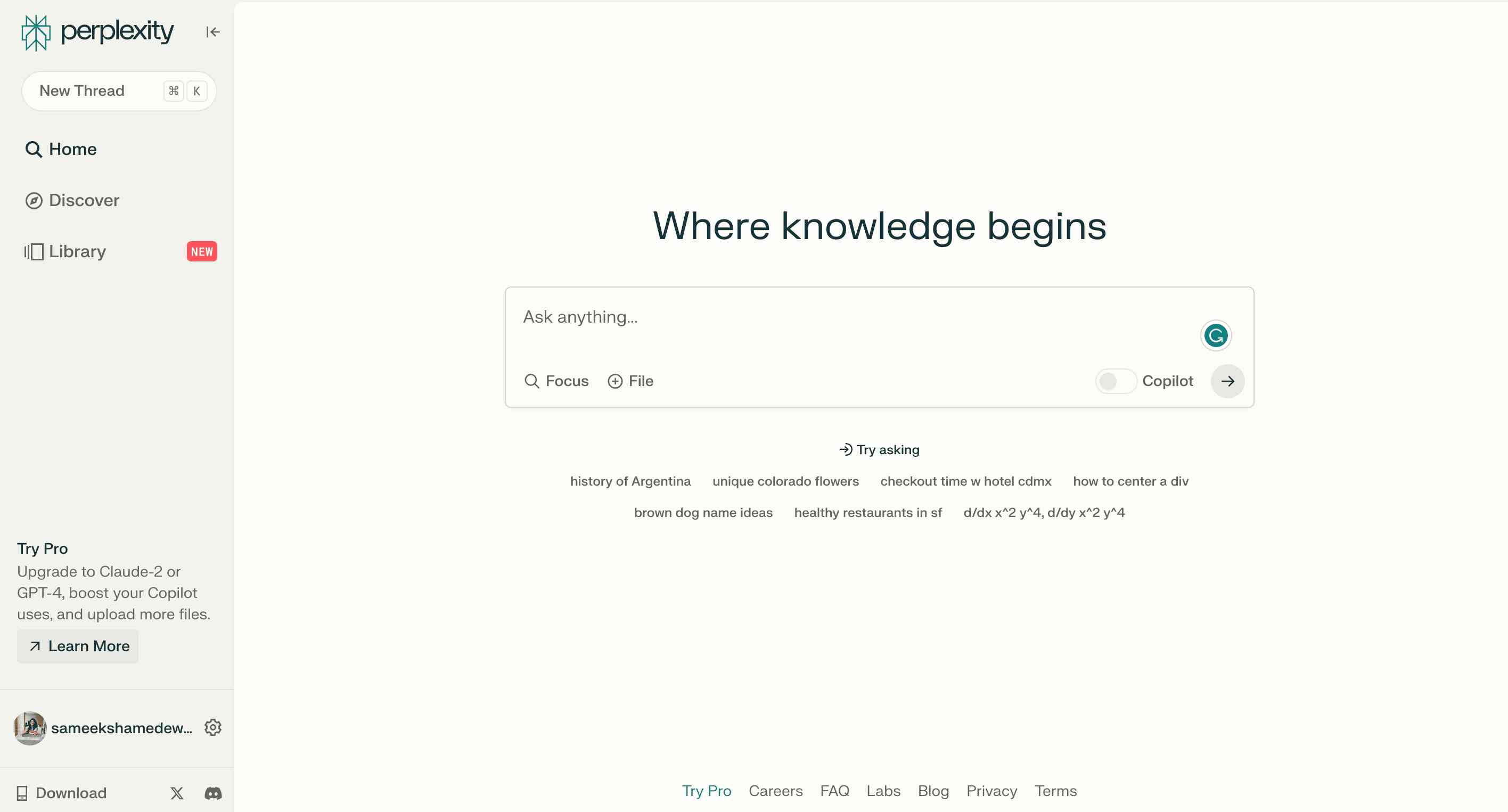 Perplexity.ai is an AI-powered robust search engine that leverages natural language processing and machine learning to provide information relevant and accurate to user queries. When you enter your query, it provides a few top sources, its own answer below, and answers to a few related questions.
Andy Konwinski, Aravind Srinivas, Denis Yarats, and Johnny Ho created Perplexity.ai while working at Google. With its intuitive and clean interface, the tool enables you to browse the Internet in real time, unlike ChatGPT. You can gain access to the latest events, trends, technologies, and anything happening across the world.
Features
Generates real-time answers to any simple and complex queries.
Provides relevant sources, along with answers, helping you verify the generated answers.
The Discover section provides access to answers to popular questions.
Provides the citations of the sources used to generate the answers.
Summarizes text quickly.
Offers personalized answers based on user interaction and search history.
Supports voice search.
Thread history allows you to continue where you left off.
Available as an application for iPhone and Android users.
For every conversation you have with the tool, you can share it with others through a link or share it on WhatsApp, Twitter, and Facebook.
Pricing
Perplexity Free: Free forever:
Perplexity Pro: $20/month or $200/year
Best For
Anyone who wishes to access information in real time.
Image
Have you ever thought of having a tool that generates images simply by entering text? But AI has made it possible. AI-powered text-to-image converter tools generate compelling and attractive images with the help of the text prompt you provide.
I use the following tools to create images for my content, be it an article or social media post.
3. Leap AI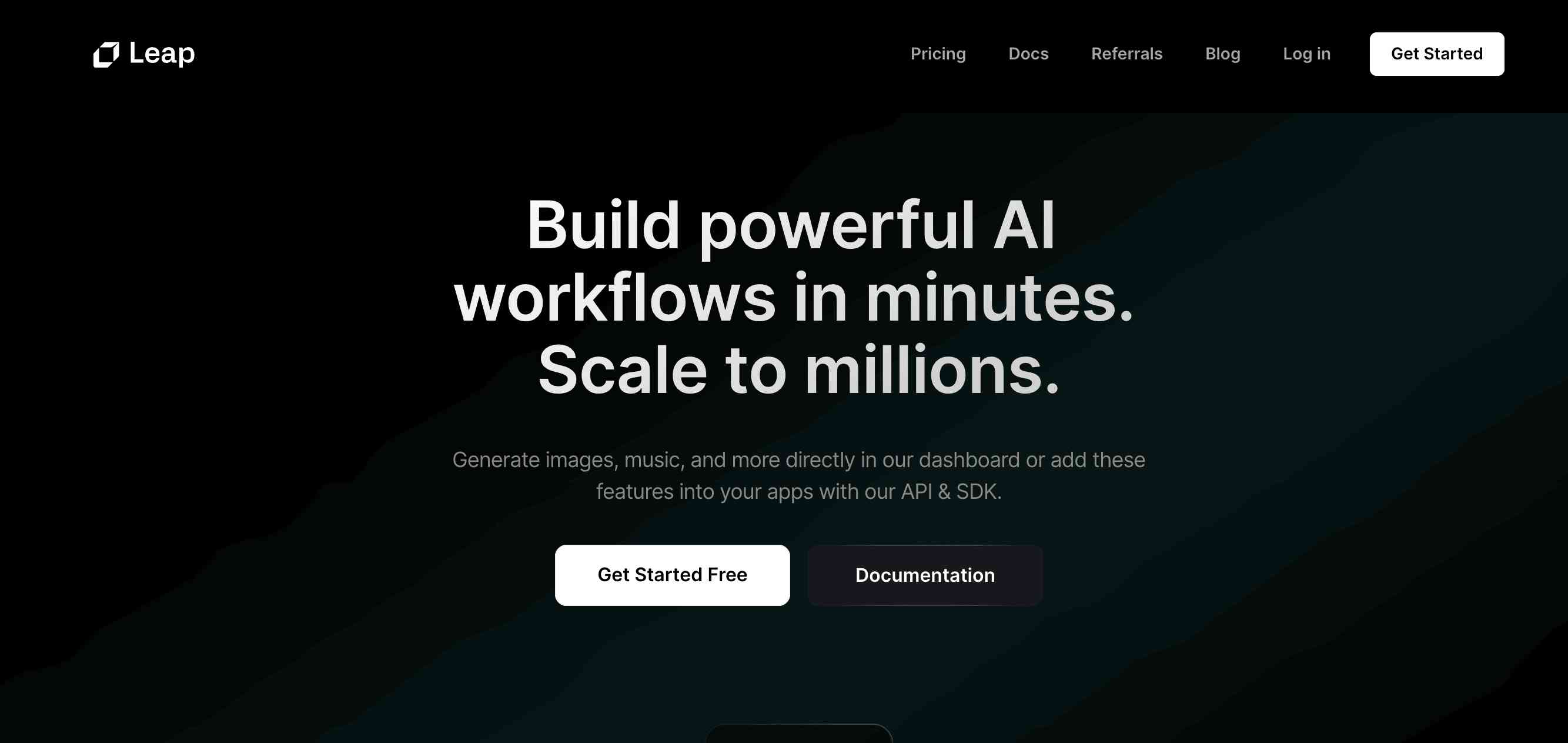 Leap AI is a powerful AI-powered tool that generates images using open-source models, like Openjourney and Stable Diffusion. It leverages natural language processing to interpret text prompts and generate images accordingly. It takes 4 to 20 seconds to create compelling and mind-boggling images.
Whether you want to create AI art, company logos, illustrations, avatars, wallpapers, portraits, blog images, cover images, or social media posts, Leap AI is a go-to tool.
Besides images, Leap AI generates music from the provided text description. The process takes somewhere between 1 to 3 minutes. Also, the tool makes it easy to train your own model by uploading sufficient image samples. The training process requires 20 to 30 minutes.
Features
Fine-tune images, headshots, portraits, icons, avatars, etc., to make them look professional and elevated with precision and quality.
Leap API enables developers to create and fine-tune their own models hassle-free.
Generates podcast music, game music, and film and video music.
Seamlessly integrates with 5000+ apps without the need for coding .
Pricing
Starter (Ideal for Hobbyists): $5/month (250 images/mo and 1 model training/mo)
Creator (Ideal for Creators and Developers): $27/mo
Professional (Ideal for Companies): $220/mo
Free Starter: 100 free image generations and 2 free music tracks
Best For
From hobbyists to growing companies and organizations wishing to create a volume of compelling images and similar models can use Leap AI.
4. Segmind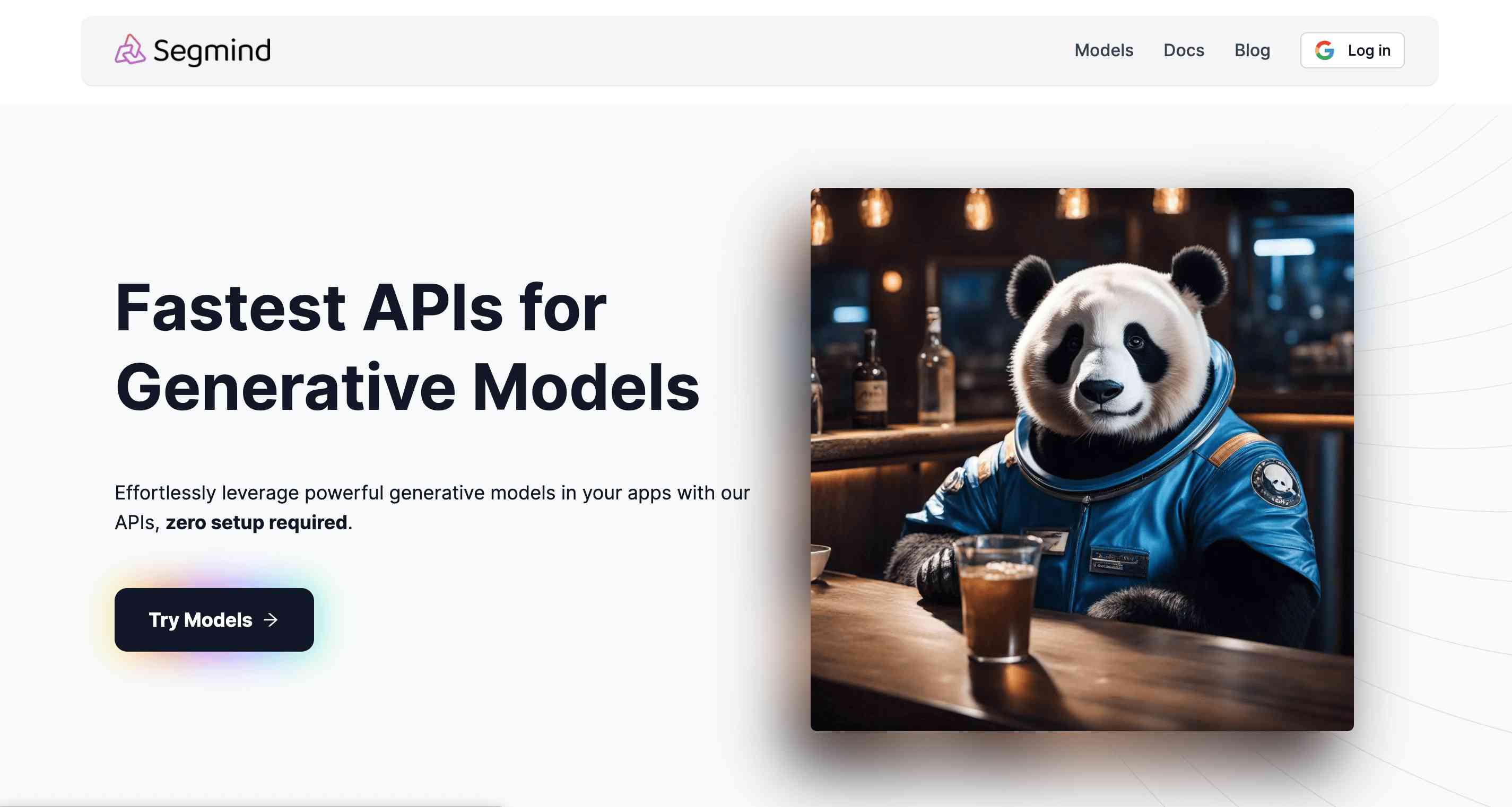 Segmind is a platform providing serverless APIs to hundreds and thousands of generative AI models that you can use in your application to accomplish specific tasks. Currently, it supports text-to-image and image-to-image models.
Some popular models currently available are:
Stable Diffusion XL 1.0
Segmind Tiny-SD
Cyber Realistic
Paragon
Realistic Vision
Colorful
Cartoon
Edge of Realism
Scifi
You can integrate APIs powered by these models into your application to allow it to generate images, text, and other types of content. To generate accurate and desired content, you must take care of the text prompt that serves as an input to an ML model.
Features
Zero setup is required to use models in your application.
Provides the fastest Serverless Stable Diffusion APIs.
One-click seamless API integration.
Scales automatically to handle needs and demands.
Pricing
The cost depends on each API call.
Best For
Anyone wishing to add generative AI models to their applications to accomplish specific tasks.
5. Midjourney AI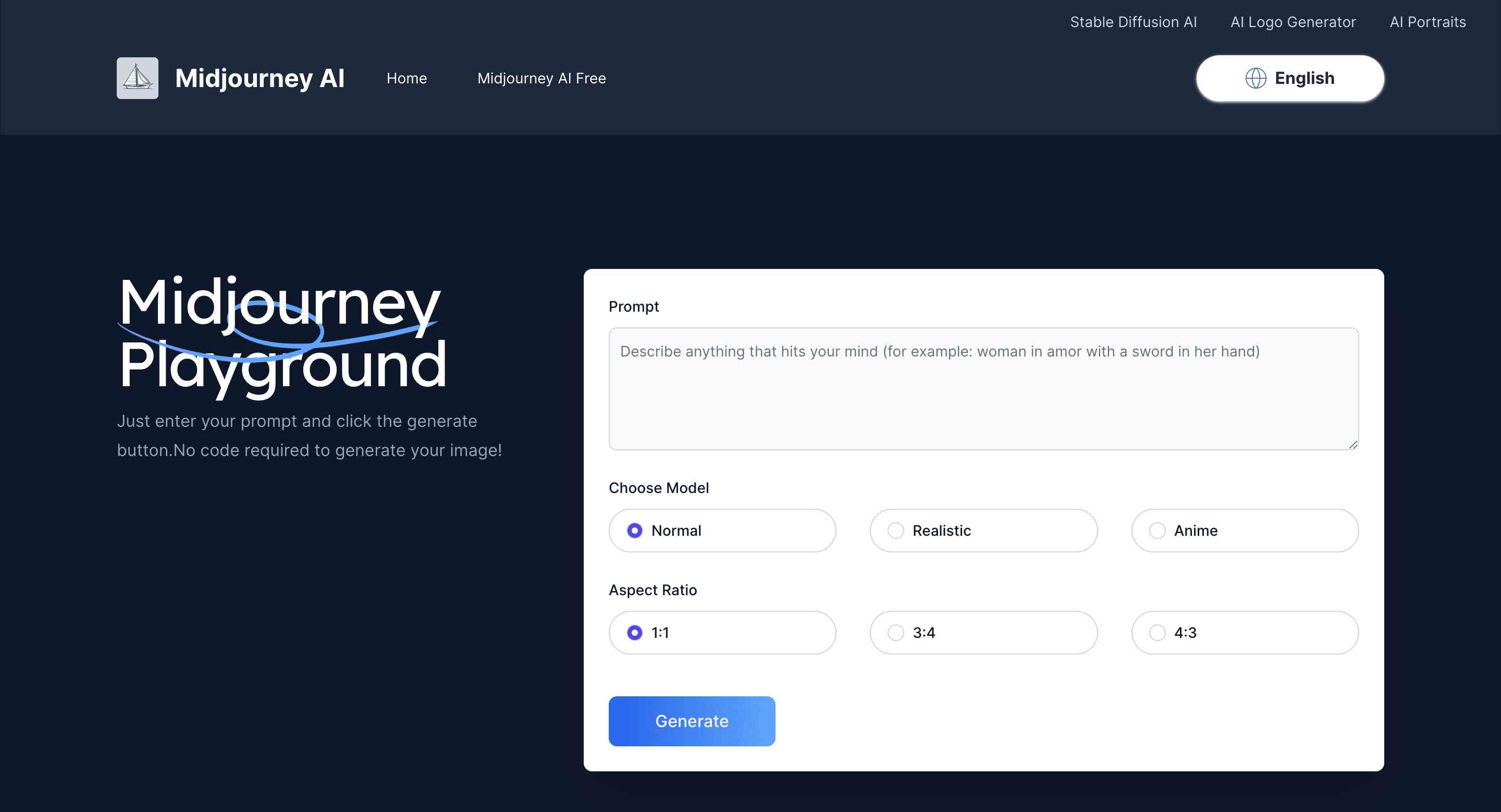 Midjourney AI is a versatile text-to-image tool that generates appealing images from textual descriptions. Whether you want to create logos, architectures, or any other visual artwork, simply provide an accurate description, and the tool will do the rest.
Moreover, you can find a huge set of ready-to-use Midjourney text prompts to help you create stunning artwork quickly. It uses the Stable Diffusion XL model, the latest image generation model, to generate high-quality and stable images.
To start out with Midjourney AI, you will require a Discord account. As the tool functions through Discord, you will need to join its Discord server.
Features
Provides an upscaling option to enhance the resolution of images.
Generates variations of the upscaled images.
Allows you to add images to Favorites for easy access.
Offers different image models, such as detail, light, anime, max, etc.
The Fast Mode creates images quickly but has a specified time limit.
The Relaxed Mode allows you to generate unlimited images.
Pricing
Basic: $8/mo
Standard: $24/mo
Pro: $48/mo
Best For
Anyone who desires to generate compelling images or illustrations from textual descriptions.
Copywriting
If you are into copywriting, you definitely know the time and effort required to create compelling and appealing content. Being a content creator, I would spend a lot of time creating engaging content through which I could drive audiences' attention. However, I started using the following AI-powered copywriting tools that aid me in accomplishing my copywriting goals quickly.
6. Jasper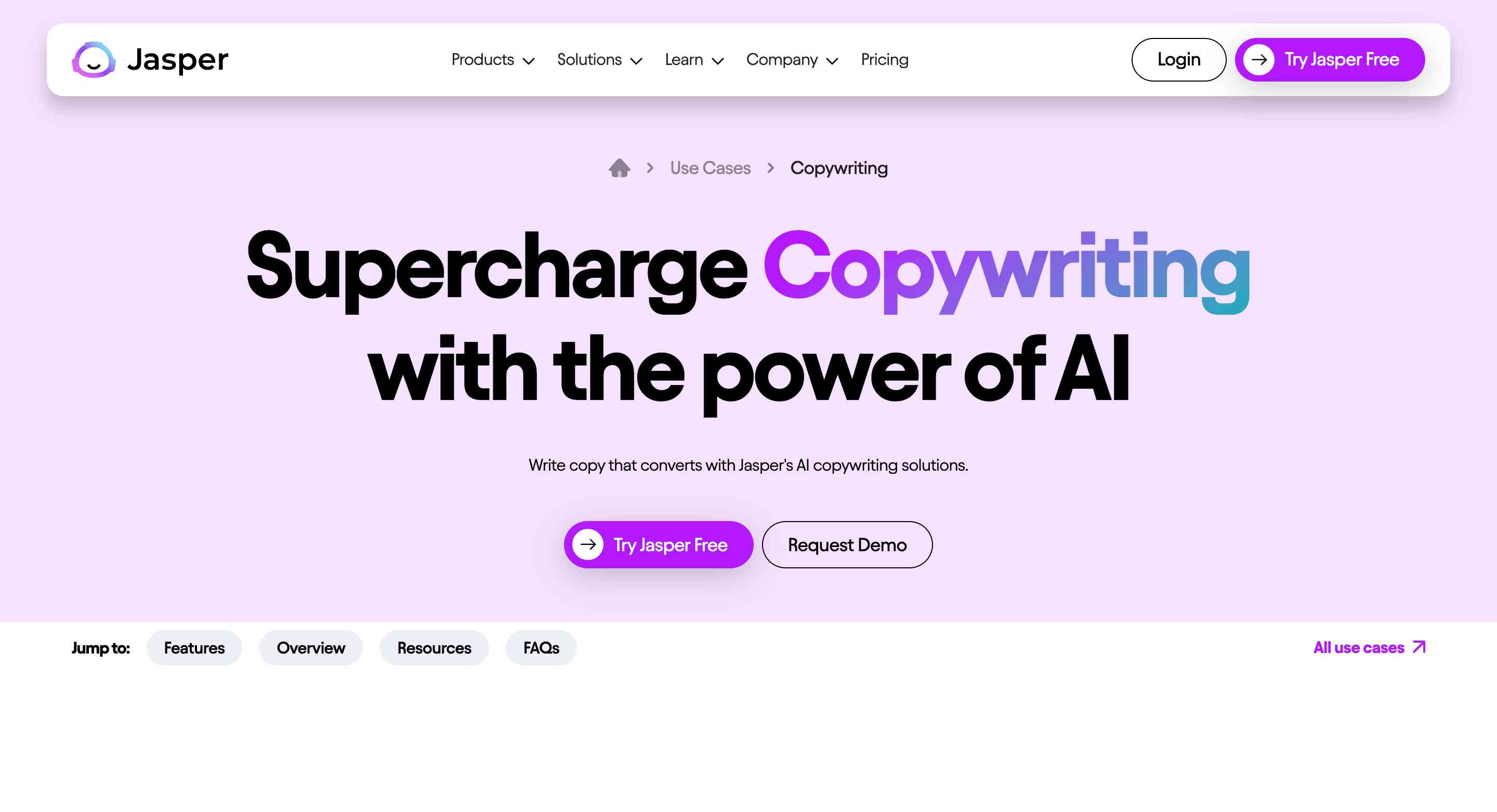 Jasper is a comprehensive AI-powered writing solution. Whether you need to write a blog, social media captions, emails, or sonnets, the tool comes in handy. It is powered by combining some of the best models out there - OpenAI's GPT-4, Anthropic, and Google's models.
The most interesting feature of Jasper is that you can train it to your brand's voice and use it on any platform, from email and social media to your website. You can also integrate it with your browser, WordPress, Hubspot, and many other tools.
When it comes to teams, Jasper makes collaboration quick and hassle-free. Being a multi-player AI platform, the tool lets you manage your team by assigning work and tracking the status.
Features
Below, I have listed the copywriting features of Jasper.
An easy-to-use document editor to write, edit, and format your copy.
Streamlines your content creation process with 50+ ready-to-use templates.
Serves as a brainstorming tool to rephrase and rewrite your marketing copy.
Allows you to set tone and formatting rules to create copies that match your brand's voice.
Collaborate with your team members and stakeholders by sharing documents and applying status labels.
Pricing
Creator: $39/mo
Teams: $99/mo
Business: Contact sales
Best For
Content creators, marketers, ad managers, SEO specialists, email marketers, or social media managers.
7. Copy.ai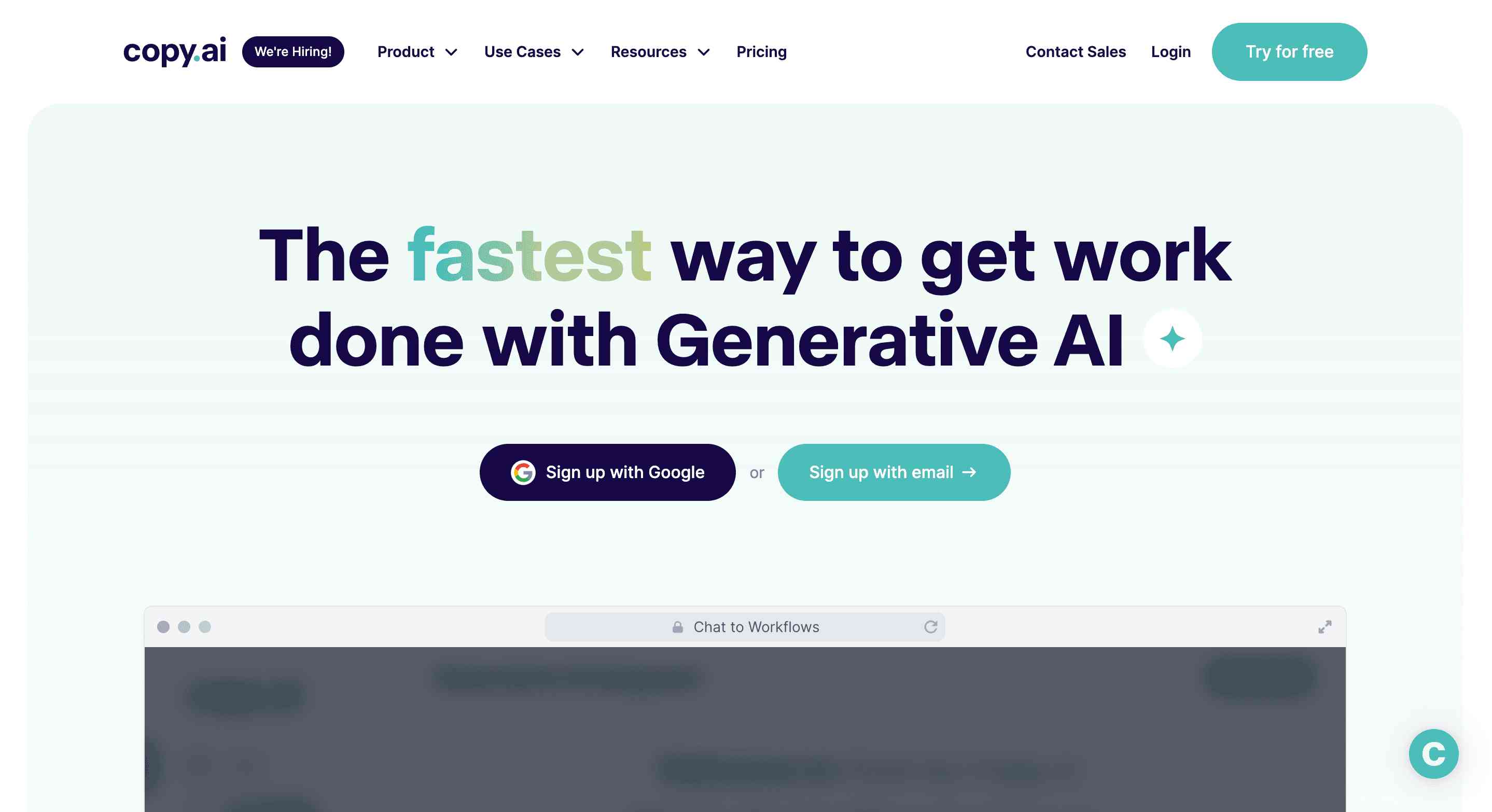 Copy.ai will serve as your brainstorming buddy whether you want to write long-form articles, ad copies, social media posts and captions, product descriptions, or sales copies. It runs on top of OpenAI's GPT-3 large language model (LLM).
Moreover, Copy.ai provides a plethora of tools, such as a marketing mail generator, cold email generator, outline generator, Instagram caption generator, etc. These tools make your tasks a breeze and allow you to focus on important business strategies.
Check out tools offered by Copy.ai here . I use most of these tools to get my tasks done within less time.
Ready-to-use templates get half of my job done. You can browse templates based on the categories – Business, Career, Personal, Marketing, Sales, and Real Estate. Simply choose a category and find a wide range of options to choose from.
Features
Creates an AI-powered workflow for any new team that wishes to achieve success at scale.
Generates AI content that aligns with your brand's voice.
Improves text prompts, resulting in high-quality, relevant AI content.
Provides 90+ copywriting templates.
Has a built-in plagiarism detector.
Pricing
Free: Free forever
Pro: $36/mo
Enterprise: Contact sales
Best For
Content creators, sales executives, marketers, and individuals wishing to quickly generate different content types.
Content Writing
If you own a blog website, you definitely need to spend several hours creating a unique and engaging blog or article. Well, AI-powered content writing tools help you create the desired content within seconds.
The above copywriting and research tools also help you generate long-form content. Usually, I use multiple tools to write my article. I take ideas from the tools and frame the article on my own by adding my personal experiences. Reviewing the AI-generated content is a must.
8. Writesonic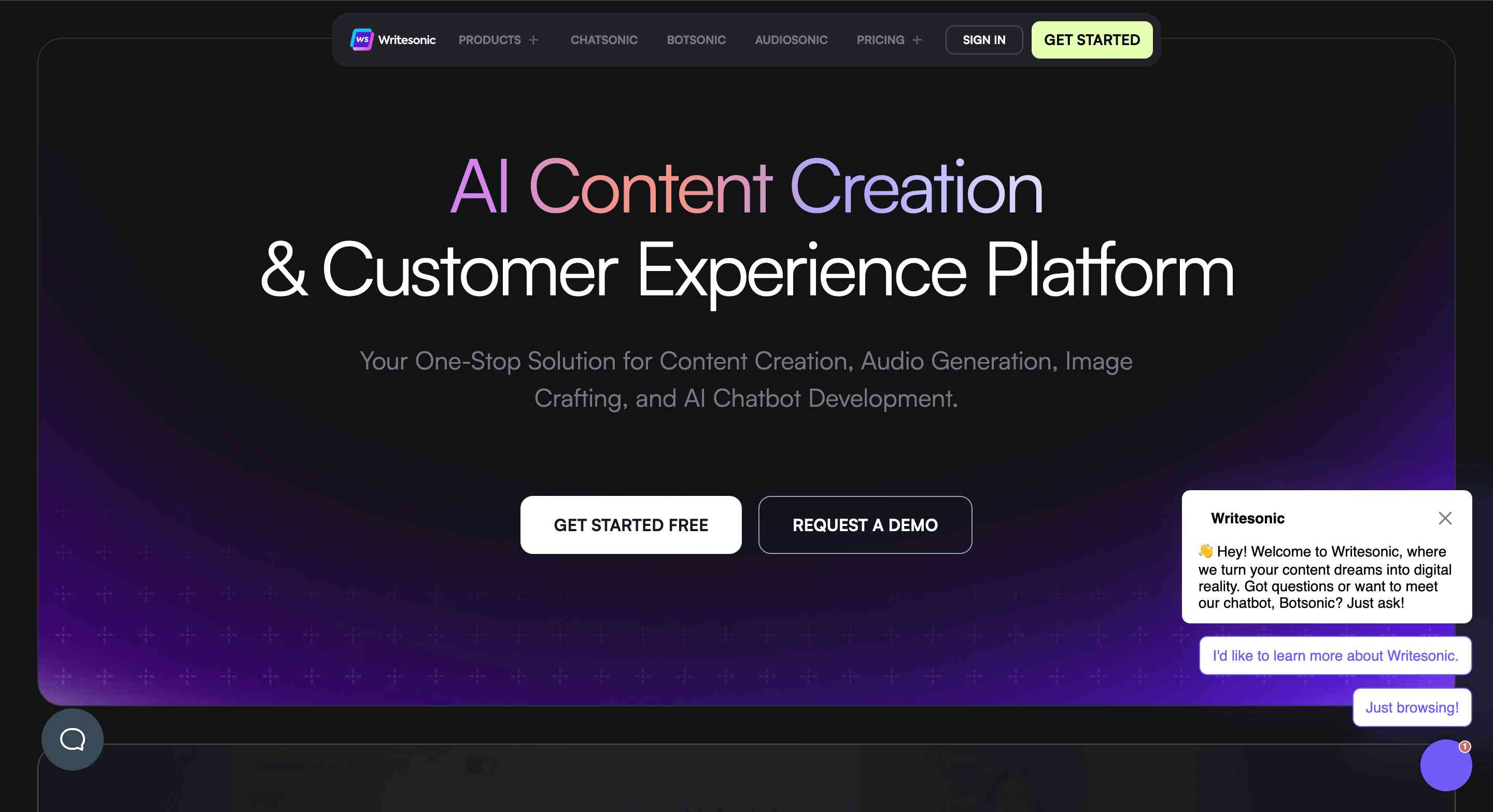 Writesonic is a comprehensive content creation platform. It offers different tools, such as AI article writer, paraphraser, text summarizer, story generator, and text expander, to accomplish your tasks. Besides generating text-based content, you can generate audio and images and develop chatbots.
This tool runs on top of GPT-3.5 and GPT-4 large language models (LLMs). It goes through vast internet data to generate up-to-date, top-tier content. It is a go-to writing assistant whether you want to generate articles, ad copies, marketing materials, landing page content, product descriptions, social media posts, or website content.
Features
Chatsonic is Writesonic's AI assistant that facilitates human-like conversations.
Integrates seamlessly with SurferSEO to make keywords and SERP data available while writing.
Botsonic is a conversational chatbot that resolves queries of customers quickly.
Provides a plethora of tools – ads and marketing tools, a keyword extractor, a product name generator, an analogy maker, and a startup idea generator.
Offers free AI-powered copywriting templates.
Integrates with Zapier.
Pricing
Free: Forever free
Small Team: $39/mo
Enterprise: $500+/mo
Freelancer: $16/mo
Best For
Bloggers, freelancers, social media marketers, content creators, and marketing agencies.
9. Hemingway Editor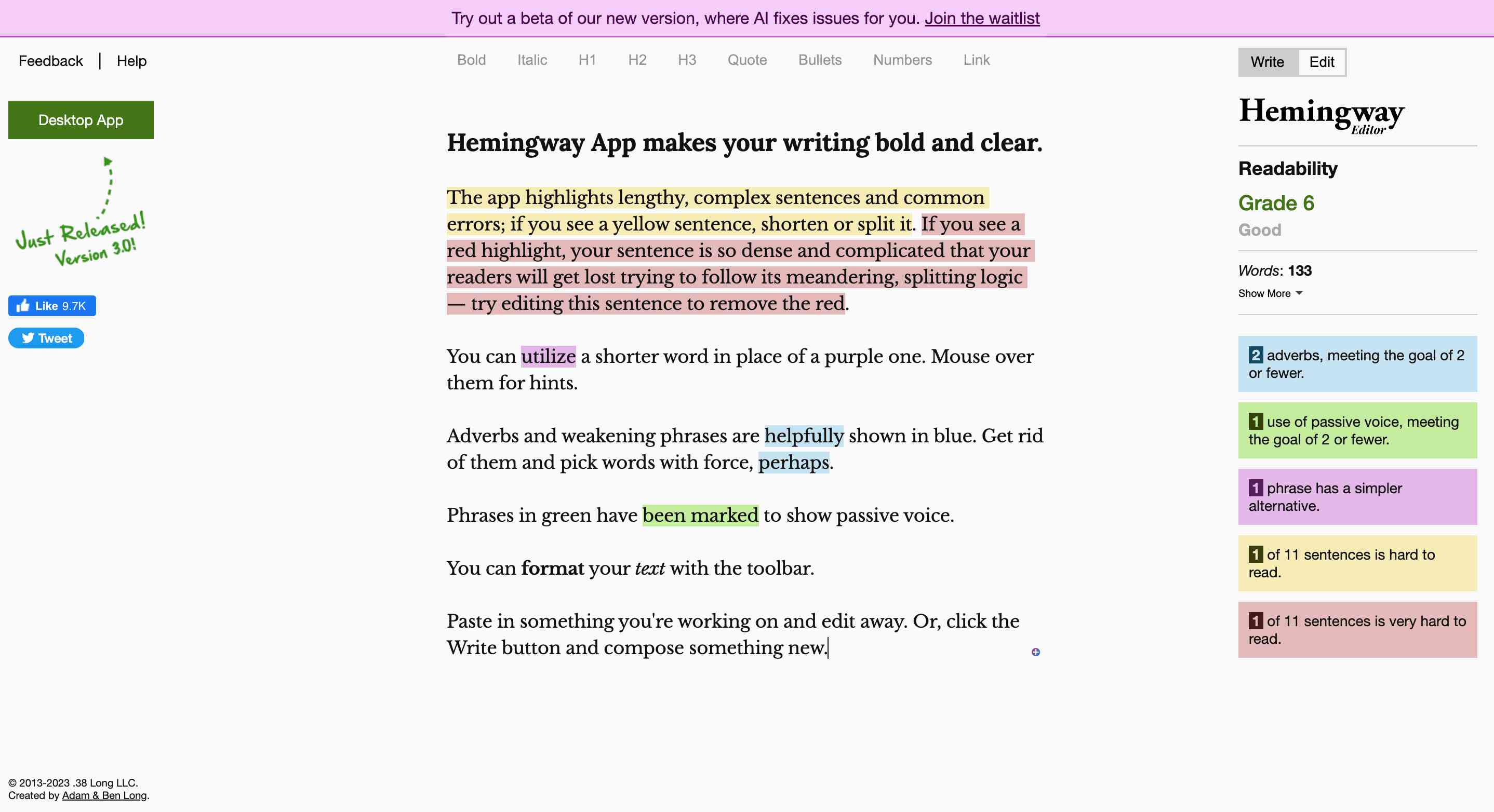 Hemingway Editor is a go-to editing tool to enhance the readability of text. Readability refers to the level of how easy it is to read a specific piece of content. It helps you write clearly and boldly. It improves sentence structure and word choice and displays readability on a scale of 0 to 10.
Additionally, Hemingway Editor pinpoints the instances of passive voice in your text. It provides simpler and easier alternatives to words and phrases. It also highlights lengthy sentences that readers may find difficult or very difficult to read and understand.
Hemingway Editor leverages different colors to highlight different problems. Here are the color codes:
Blue: Adverbs
Green: Passive Voice
Purple: Phrases or words with alternatives
Yellow: Sentences that are hard to read
Red: Sentences that are very hard to read
With this tool, you can improve your content and make it easy for the audience to read and interpret. However, you must note that the tool does not save your editing or writing work. It is better to copy and paste your work into a document.
Features
Provides Write and Edit modes.
Offers basic text formatting tools.
Highlights the readability of the text being written or edited.
Displays the word count.
Gives the count of different issues on the right side of the editor.
Available as a desktop app.
Pricing
Free to use.
Best For
Bloggers and editors.
10. Grammarly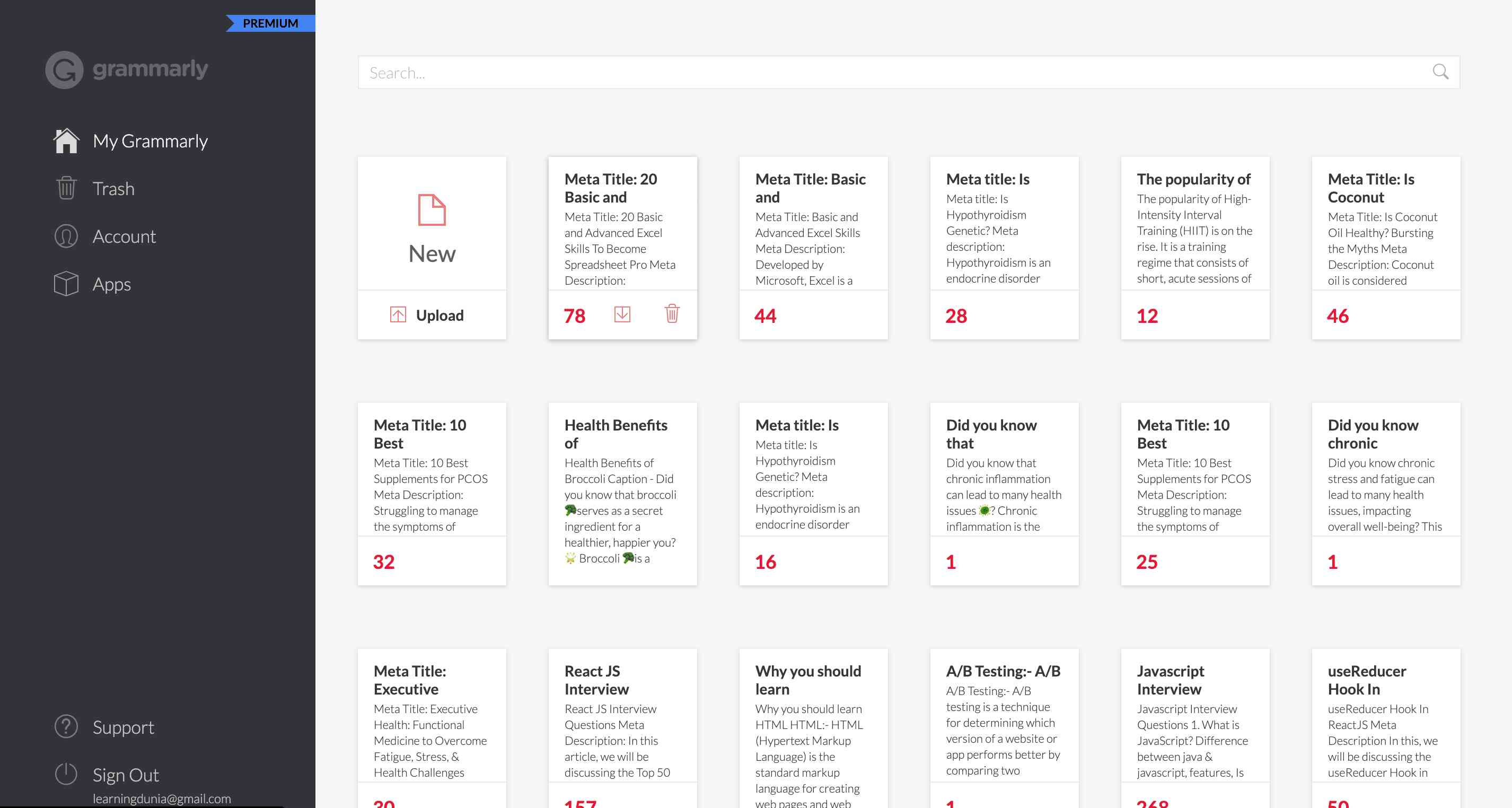 Grammarly is another AI-powered writing assistant that checks grammar, spelling, punctuation, and much more. It helps you write clear, error-free text while allowing you to maintain the tone. It can integrate with your mobile keyboard and help you write error-free text while composing emails or writing social media captions.
Furthermore, the tool provides suggestions, allowing you to easily create a copy that represents your intent to the audience. You can make your content unique with Grammarly's synonym suggestions.
Recently, Grammarly has introduced a new generative text feature, GrammarlyGo, that identifies gaps in your content, suggests ideas for improvement, generates new ideas for a blog post, etc. In short, it serves as a language model like ChatGPT.
Features
Catches typos, missing punctuation, and errors in sentence structure.
Makes your text more concise without changing its meaning.
Clarity suggestions help you make your text more readable.
Choose between American, Canadian, British, and Australian English dialects.
Enables you to add words to your own Grammarly dictionary.
Comes with a built-in plagiarism checker and citation generator.
Pricing
Free: Free forever
Premium: $30/mo
Business: $15/mo
Best For
Students, professionals, or anyone wishing to communicate correctly and effectively.
11. Quetext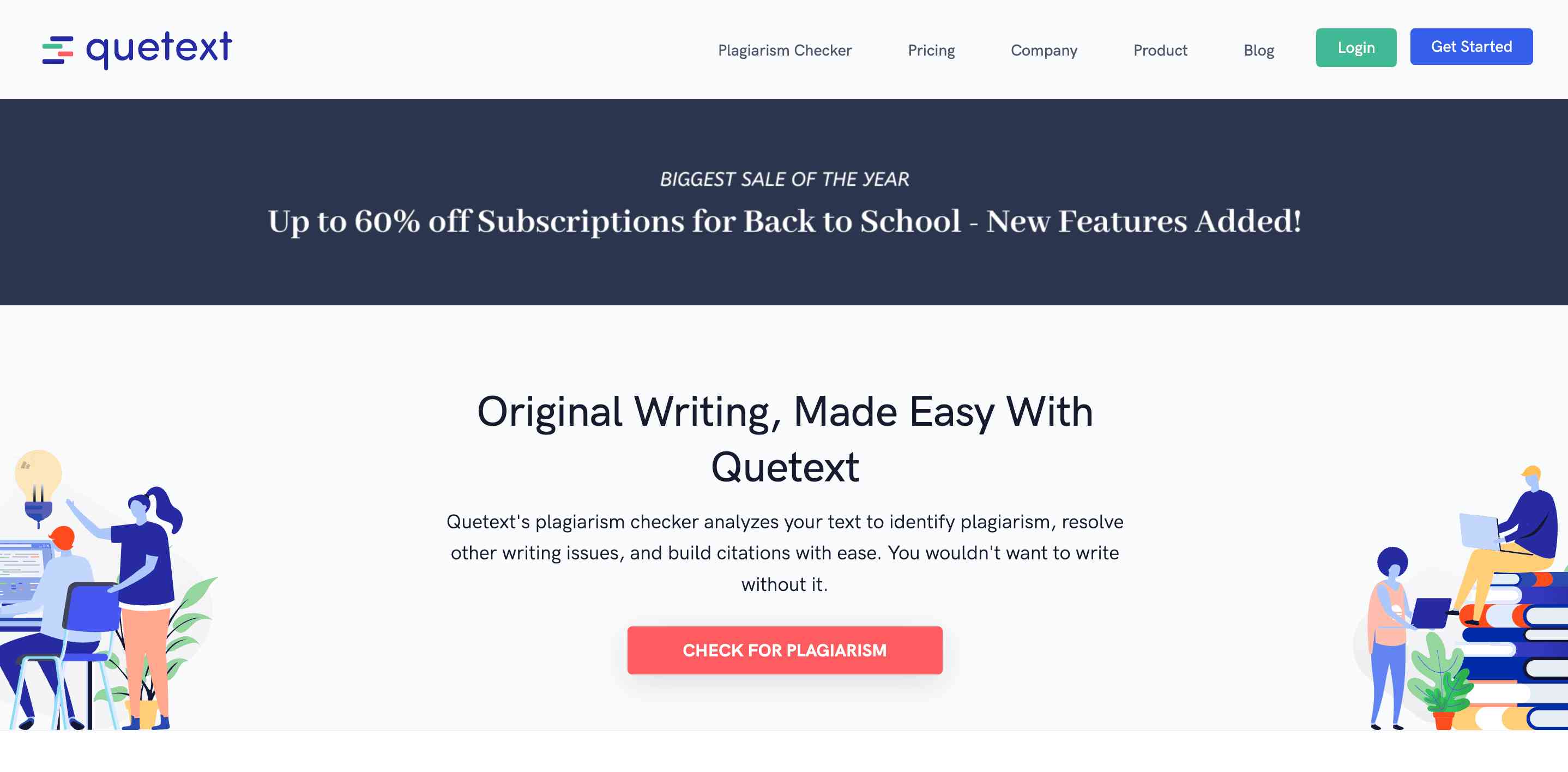 Quetext is a plagiarism detection tool that checks content for its originality, authenticity, and uniqueness. It leverages DeepSearch technology that includes contextual analysis, algorithms, and word placement to analyze your text and identify plagiarism.
Besides uncovering all instances of plagiarism in text, Quetext generates citations wherever necessary. So, even if you forget the sources of information you derived from, Quetext is here to help you stay on top of them.
Simply copy all your content, paste it into the plagiarism checker, and hit the 'Check Plagiarism' button. Quetext will generate results in a short time. It checks your text with millions of other websites on the internet and provides the plagiarism score.
Features
Provides color-coded results to understand easily.
Offers an intuitive and easy-to-navigate interface.
DeepSearch technology evaluates content using contextual analysis, fuzzy matching, and conditional scoring.
Supports downloading the result document in multiple formats – PDF, DOC, DOCX, and TXT.
Generates citations.
Pricing
Free: Free forever
Premium: $8.80/month per user
Enterprise: $8.0/month per user
Best For
Students, educators, teachers, bloggers, content creators, webmasters, publishers, and editors.
12. QuillBot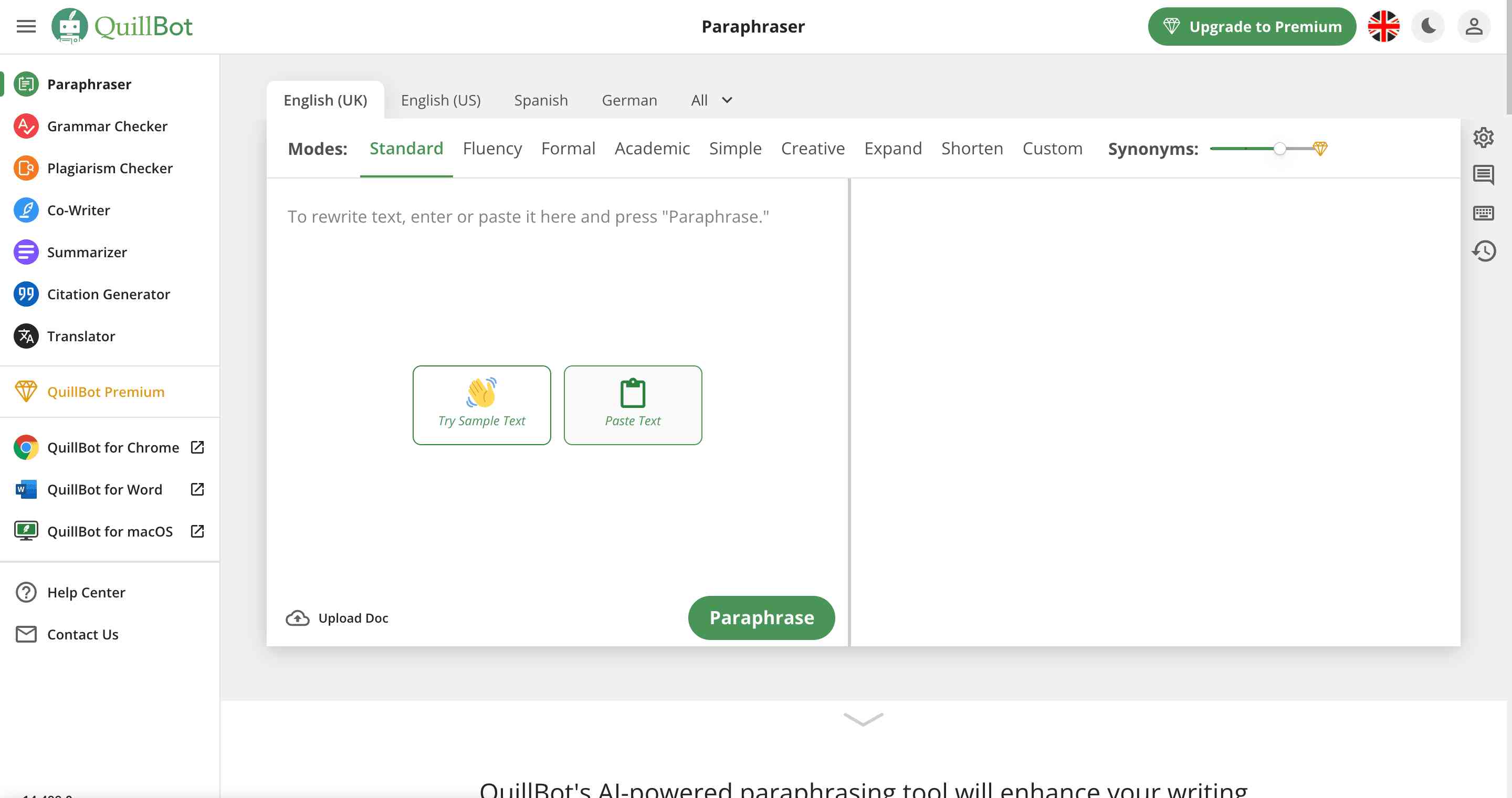 QuillBot is a leading AI-powered paraphrasing tool that helps you paraphrase and edit your text to improve its clarity and readability and make it unique. It is trained with massive amounts of datasets through which it suggests the right ways to write your content.
Besides a paraphrasing tool, Quillbot provides grammar checker, plagiarism checker, summarizer, citation generator, co-writer, and translator. It is a one-stop solution for enhancing and improving the authenticity of your content.
The tool provides different modes to paraphrase your text – Standard, Fluency, Formal, Academic, Simple, Creative, Expand, Shorten, and Custom. Also, it supports multiple languages, including English (UK, Canadian, United Kingdom, and American), Spanish, German, Dutch, Italian, Turkish, and Hindi.
Features
Supports uploading docs from your computer to paraphrase text.
Available for Windows, macOS, and Chrome.
Improves fluency and readability of text with proper word choice and tone.
Keeps track of the word count and characters.
Easy-to-navigate interface.
Pricing
Free: Free forever
Premium: $4.17/mo if billed annually
Best For
Students, educators, teachers, editors, publishers, content creators, writers and authors, web developers, and blog managers.
13. Wordtune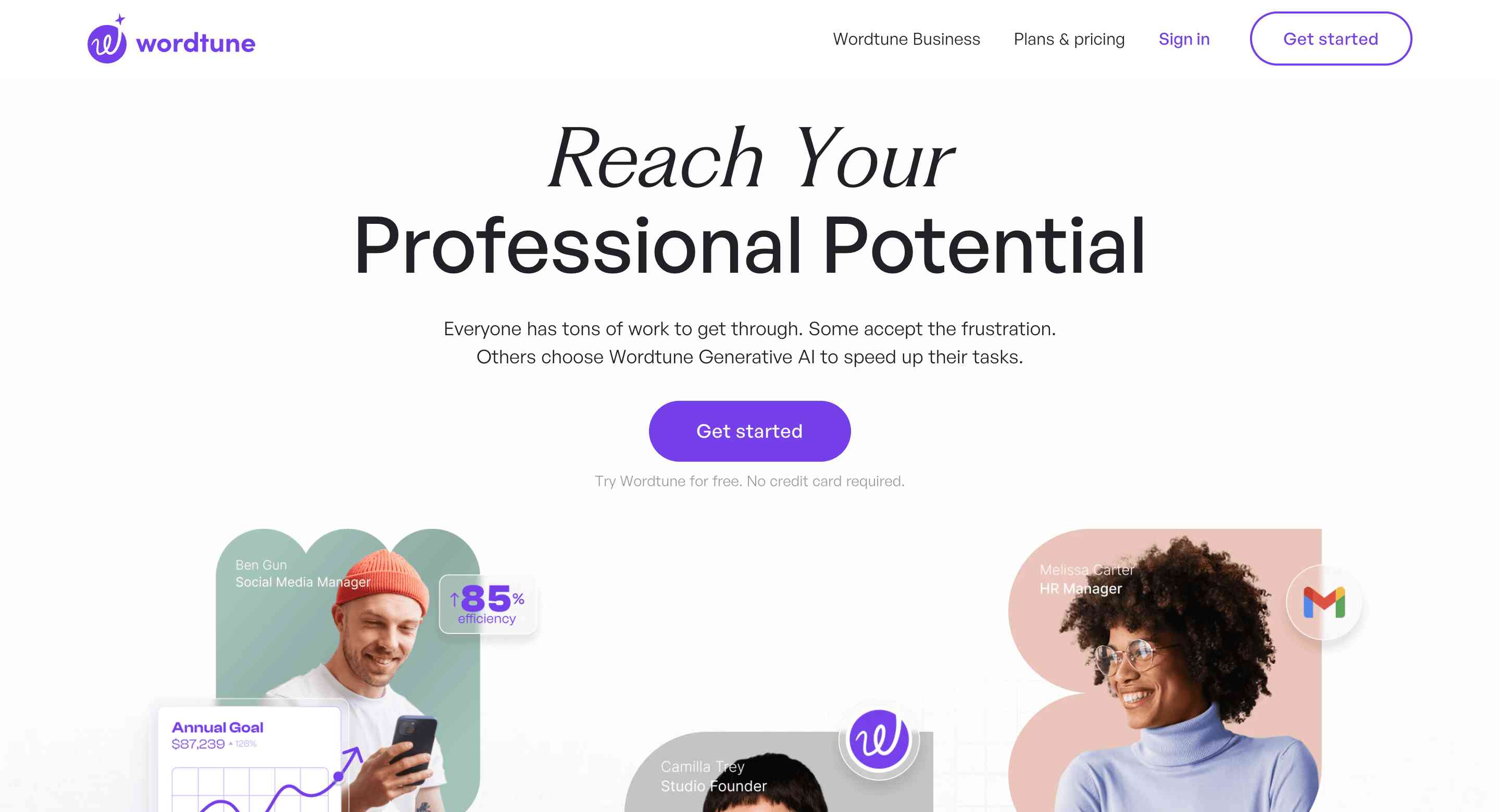 Wordtune is another AI-powered writing assistant that helps you rewrite a single word, paragraph, or entire page. It provides AI recommendations for your text, allowing you to write like a professional. So, do not hold your thoughts or feelings back because of spelling or grammar errors. Wordtune is here to help you express your thoughts like a pro.
Also, the tool helps you create content from scratch. It offers a wide range of templates to help you create the required content within seconds, be it a job description, product description, promotional email, or long article.
Features
Find synonyms of words.
Avoid plagiarism with synonyms.
Summarizes blog articles, YouTube videos, PDFs, and more.
Has a built-in AI content detector.
Available for iOS and an extension for Chrome and Microsoft Edge.
Pricing
Free: Free forever
Plus: $9.99/month
Unlimited: $14.99/month
Business: Contact sales
Best For
Students, educators, teachers, content creators, email marketers, bloggers, writers, authors, editors, and publishers.
SEO
If you own a website or work as an SEO specialist, you might be aware of what SEO is. To describe it briefly, SEO is a process that involves a combination of different practices to improve a website's visibility in search engines. Even writers and bloggers need little knowledge of on-page SEO, as it helps them curate SEO-friendly content.
Here, I am enlisting a few AI-powered tools that my team and I use to improve our website's visibility in search engines.
14. Surfer SEO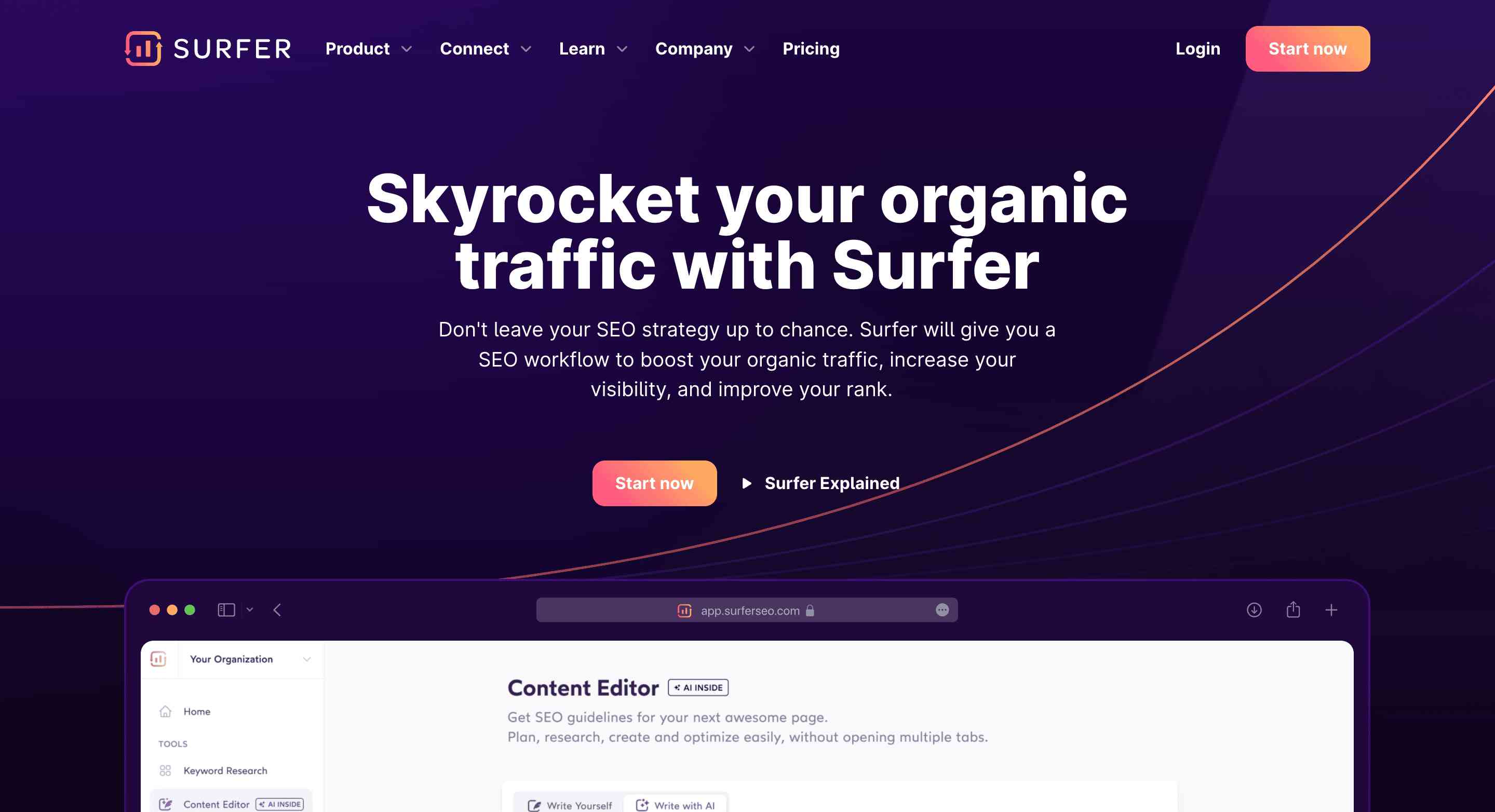 Surfer SEO is a cloud-based, AI-powered, on-page SEO optimization tool. It helps you research, audit, write, optimize, and generate SEO-optimized articles within minutes. It provides an AI-powered SEO workflow to boost your organic traffic, increase your website's visibility, and improve its ranking.
Content Editor and Keyword Research tools are two primary tools offered by Surfer SEO. AI Outline Generator and Keyword Surfer Extension are free tools. Surfer AI and Audit are add-on tools available.
The editor helps you write articles with improved readability that rank higher in search engines. It provides the content score on a range of 0 to 100 and the count of words, headings, paragraphs, and images. On the right side, you can see keywords with their expected frequency and the number of times you have used them.
Surfer's Keyword Research tool helps you discover dozens of keyword clusters based on a primary keyword within seconds.
Overall, Surfer SEO is a go-to tool to curate SEO-friendly articles and blogs.
Features
Has a built-in outline generator that provides potential headings, subheadings, and questions.
Allows you to write and optimize your content simultaneously with the word count, NLP-ready keywords, structure, and images.
Provides a built-in plagiarism checker to ensure the authenticity of your content.
Seamlessly integrates with WordPress, Google Docs, and Jasper.
Pricing
Essential: $69/month
Advanced: $149/month
Max: $249/month
Enterprise: Custom pricing
Best For
SEO specialists, bloggers, content writers, content managers, digital marketers, website owners, and marketing agencies.
15. Semrush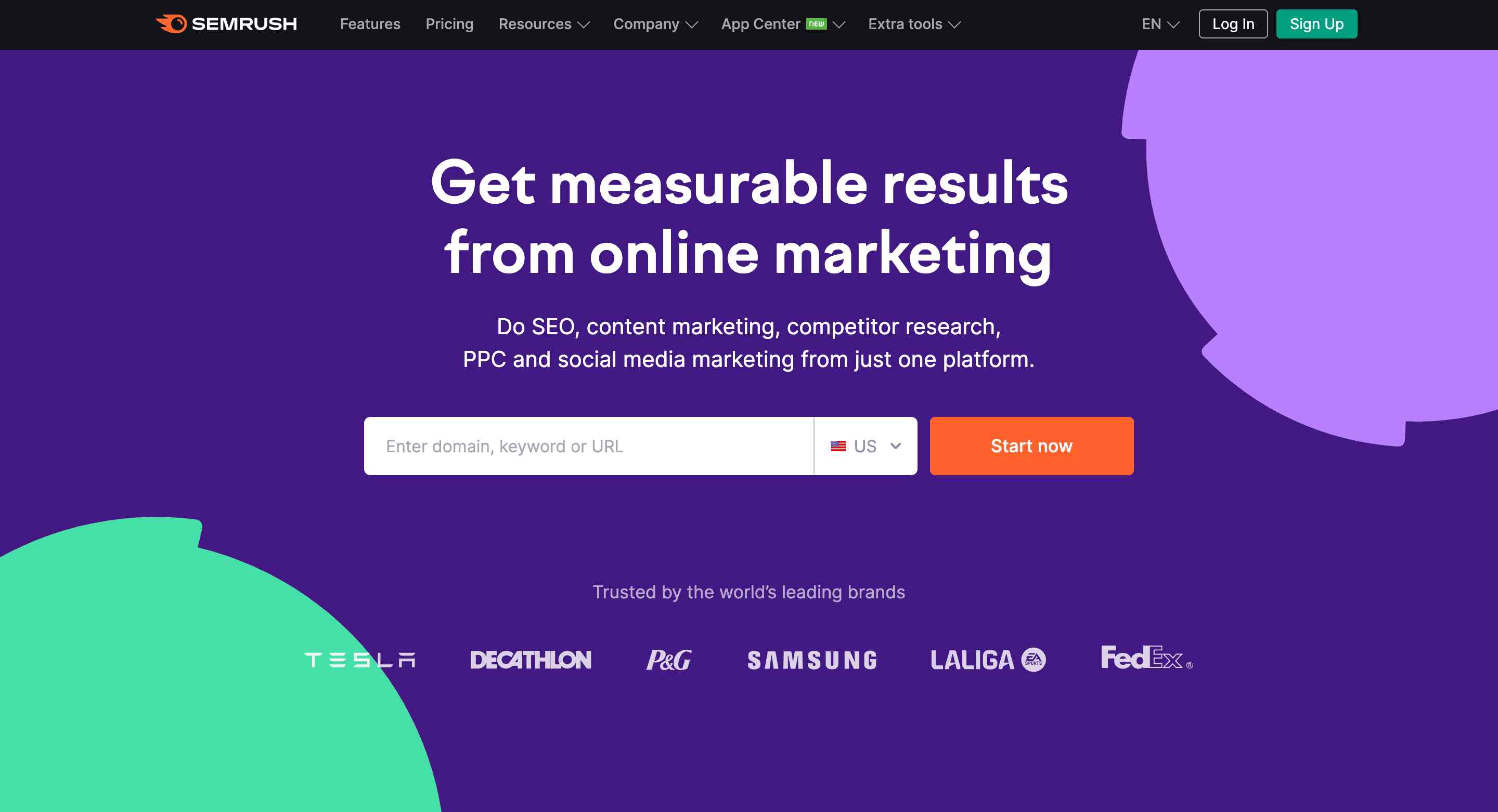 Whether you want to do online marketing, SEO, competitor research, or social media marketing, Semrush is a one-stop solution. It is an online visibility management and content marketing SaaS platform. It helps several companies of small and large sizes optimize their visibility across several channels by creating engaging content.
Semrush is not a single tool; instead, it is a toolkit offering 55+ tools based on categories like SEO, content, market research, advertising, and social media. Hence, it is a one-stop solution for businesses of all sizes to improve their online visibility and marketing efforts.
Features
The SEO toolkit offers tools to help you with keyword research, on-page SEO, local SEO, link building, rank tracking, and competitor SEO analysis.
Use the Content toolkit to improve content marketing, content optimization, and content distribution efforts.
The Market Research toolkit provides tools for competitor analysis, market analysis, paid advertising, and competitor PR monitoring.
Social media management tools help you increase your brand awareness across different platforms and reach out to new audiences.
Pricing
Pro: $129.95/month
Guru: $249.95/month
Business: $499.95/month
Best For
Digital marketers, SEO experts and specialists, website owners, content creators, bloggers, market researchers, social media managers, and advertising professionals.
16. Alli AI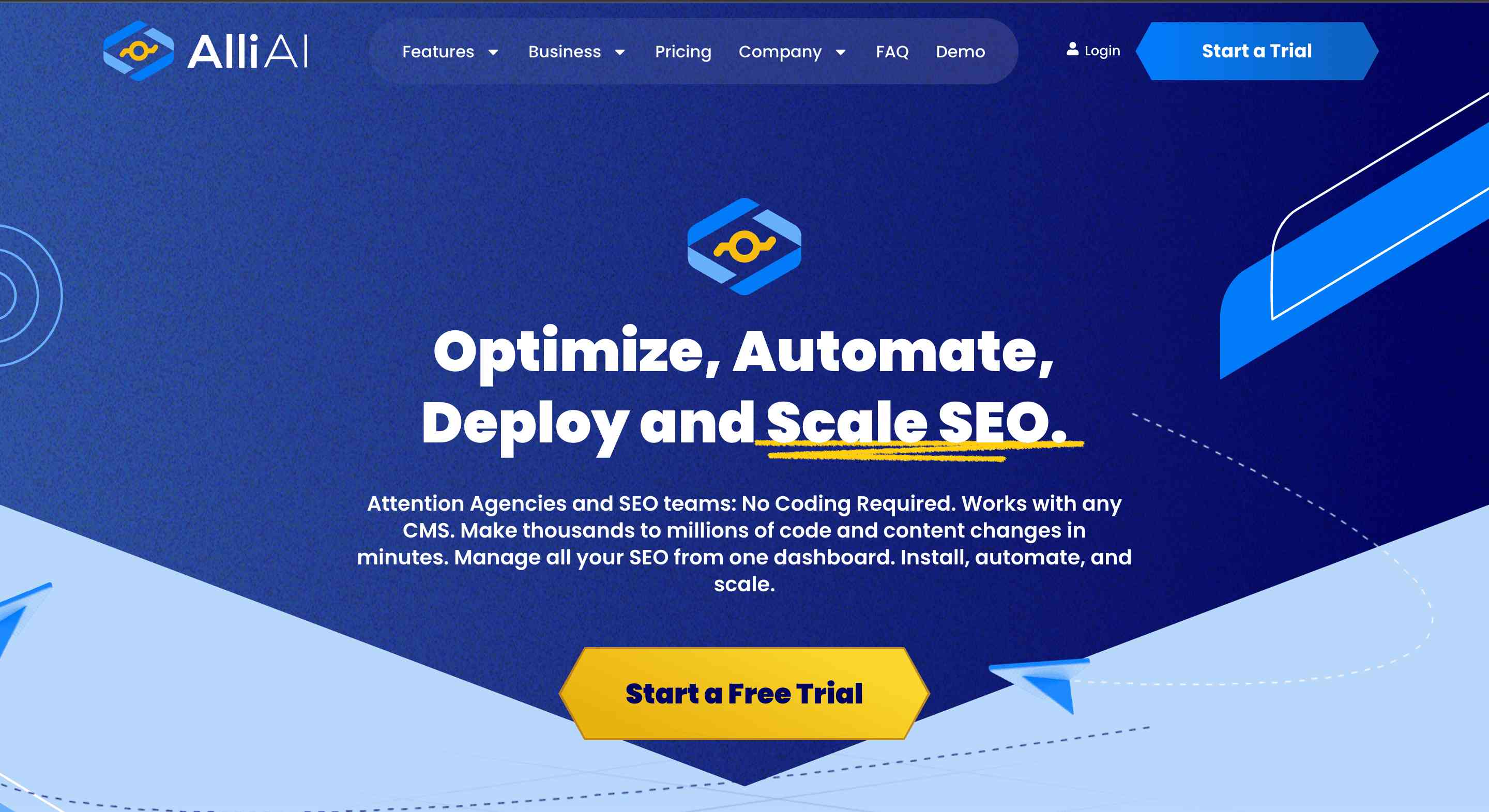 Alli AI is one of the best AI-driven SEO software that helps website owners and businesses do on-page SEO effortlessly. Without the need for coding, the tool aids SEO teams in making thousands to millions of changes to a website's code and content. It provides a single dashboard to manage all SEO efforts.
The tool enables you to create site-wide optimization rules and deploy code changes to each page of your website with a single click. This does not require you to have technical knowledge of the content management system you use for your website. The Live Editor lets you optimize content, text, and code from a browser and deploy the updates instantly.
Features
Works with any content management system (CMS).
Easy installation.
1-10,000,000+ instant code changes
Customize automation anytime
The Highlight Tool helps you see what changes have been deployed on each page.
Automates SEO tasks.
Pricing
Consultant: $350/month
Agency: $620/month
Enterprise: $1,280/month
Best For
SEO specialists, SEO consultants, and SEO agencies.
Check out more SEO tools: Best/Free SEO Tools
Design
Visuals are more attractive to audiences than text-based information. Hence, using visuals like images, infographics, and videos in your blogs and articles and on social media platforms for brand awareness is a must. The following are AI-driven design tools that my team uses to create compelling visuals.
17. Canva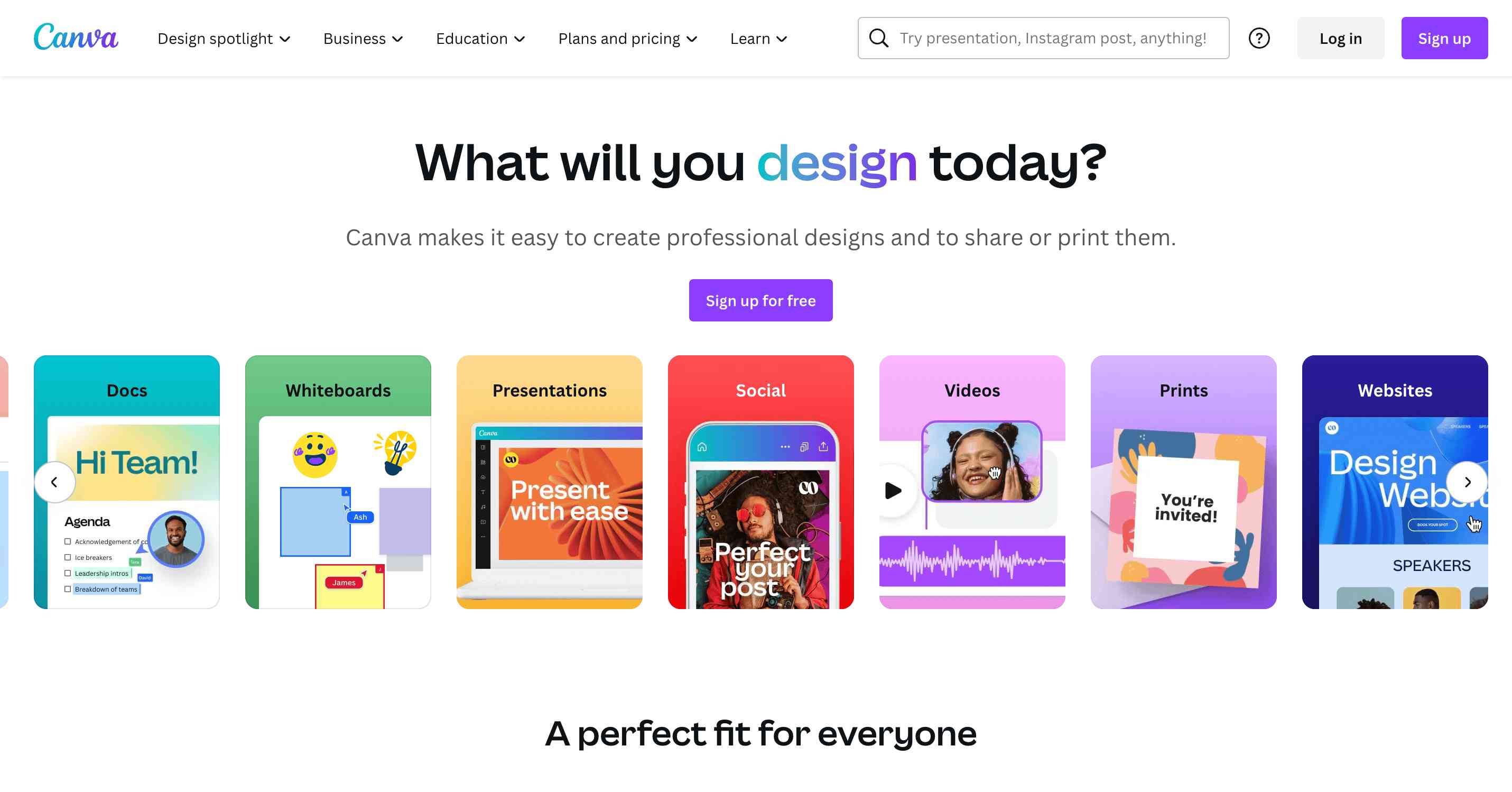 Canva is a visual suite for everyone, be it a noob or a professional. It is an online graphic design tool that allows you to create social media posts, resumes, infographics, presentations, logos, videos, and other visual content.
You can create professional-looking designs effortlessly, as Canva has an intuitive interface with all design tools at hand. Also, it provides an array of templates for different designs to make your task quick and hassle-free.
Canva is equipped with new AI-driven features – Magic Edit and Text to Image. Magic Edit allows you to remove or erase anything from a photo, and Text to Image generates appealing designs from textual descriptions.
Features
Provides a free AI image generator.
A PDF editor helps you edit and convert your PDFs and documents into designs.
Offers a free video to MP4 convertor.
Provides access to free stock video footage.
Use an online screen recorder to record your screen.
Pricing
Free: Free forever
Pro: $12.95 per month per user
Teams: Custom pricing
Best For
Professional designers, freelance designers, or anyone who wants to create stunning designs for different purposes.
18. Designs.ai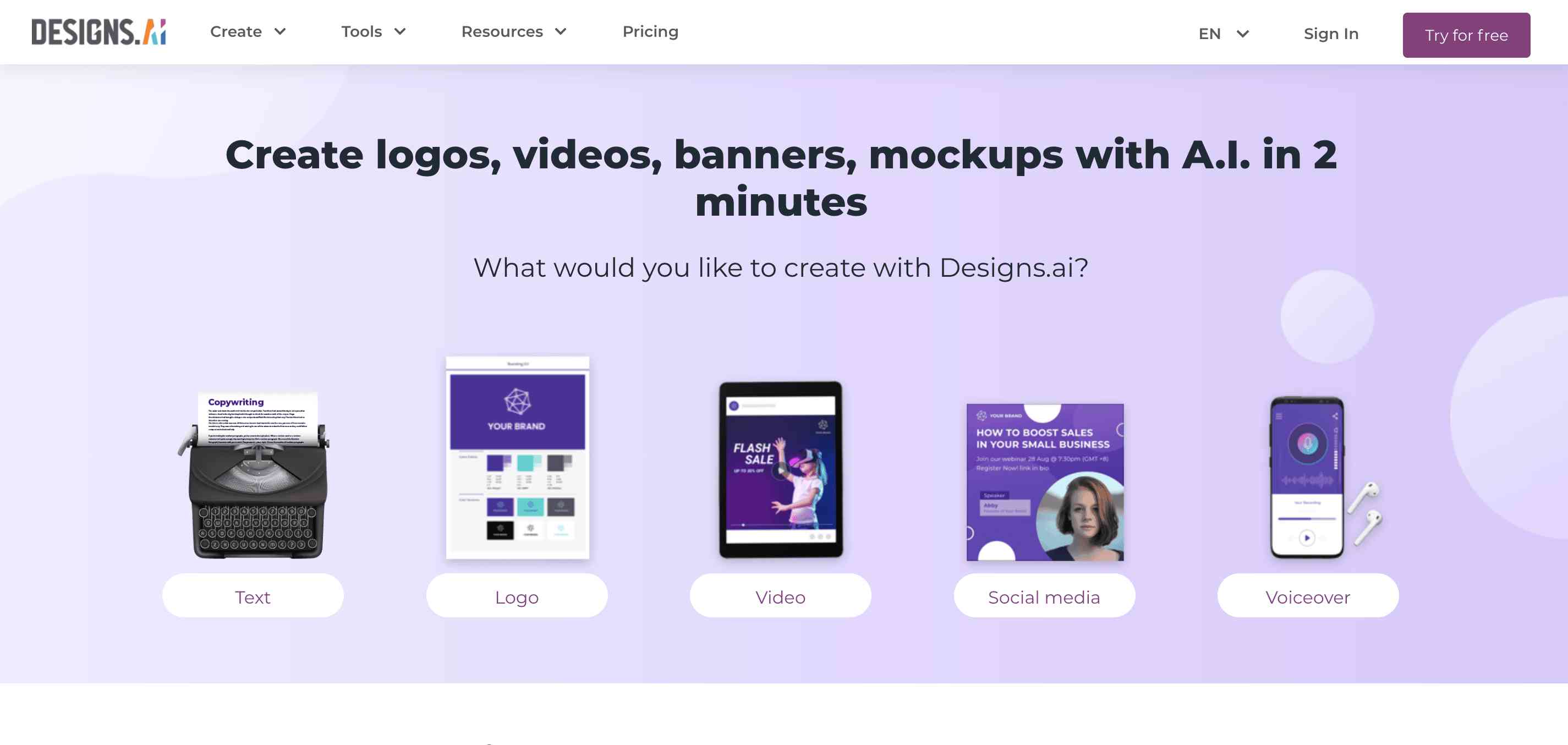 Designs.ai is yet another robust AI-powered design tool that helps you create logos, videos, banners, social media posts, and mockups within 2 minutes. Even non-designers can use the tool and create amazing designs. The core element of this tool is your imagination, and the rest is taken care of by itself.
In fact, it is not a single tool; it provides multiple tools – AI Writer, Logomaker, Videomaker, Speechmaker, and designmaker.
Features
Has a repository of 20,000+ templates to choose from.
Unlimited downloads.
Assistive tools help you find perfect graphics, fonts, and colors.
The collaboration feature enables you to invite your team members to work on your project.
Provides multiple options to export your creations.
Support sharing of designs to different social media platforms.
Autogenerates thousands of project variations.
Reduces manual work by 70 to 80%.
Offers a repository of millions of clips and images.
Provides cloud storage.
Pricing
Basic: $39/month
Pro: $69/month
Enterprise: $169/month
Best For
Influencers, small businesses, educators, startups, enterprises, agencies, non-profit organizations, and government agencies.
Social Media Management
Today, businesses are more active on social media platforms because people are more attracted to them. Hence, it becomes easy to find a wide range of audiences.
I handle all social media platforms for my organization. Earlier, I would spend hours creating compelling captions and hashtags, post and video ideas, etc. However, when I started using these social media management tools, I must say that they were game changers. I can manage all social media platforms within a limited time.
19. Flick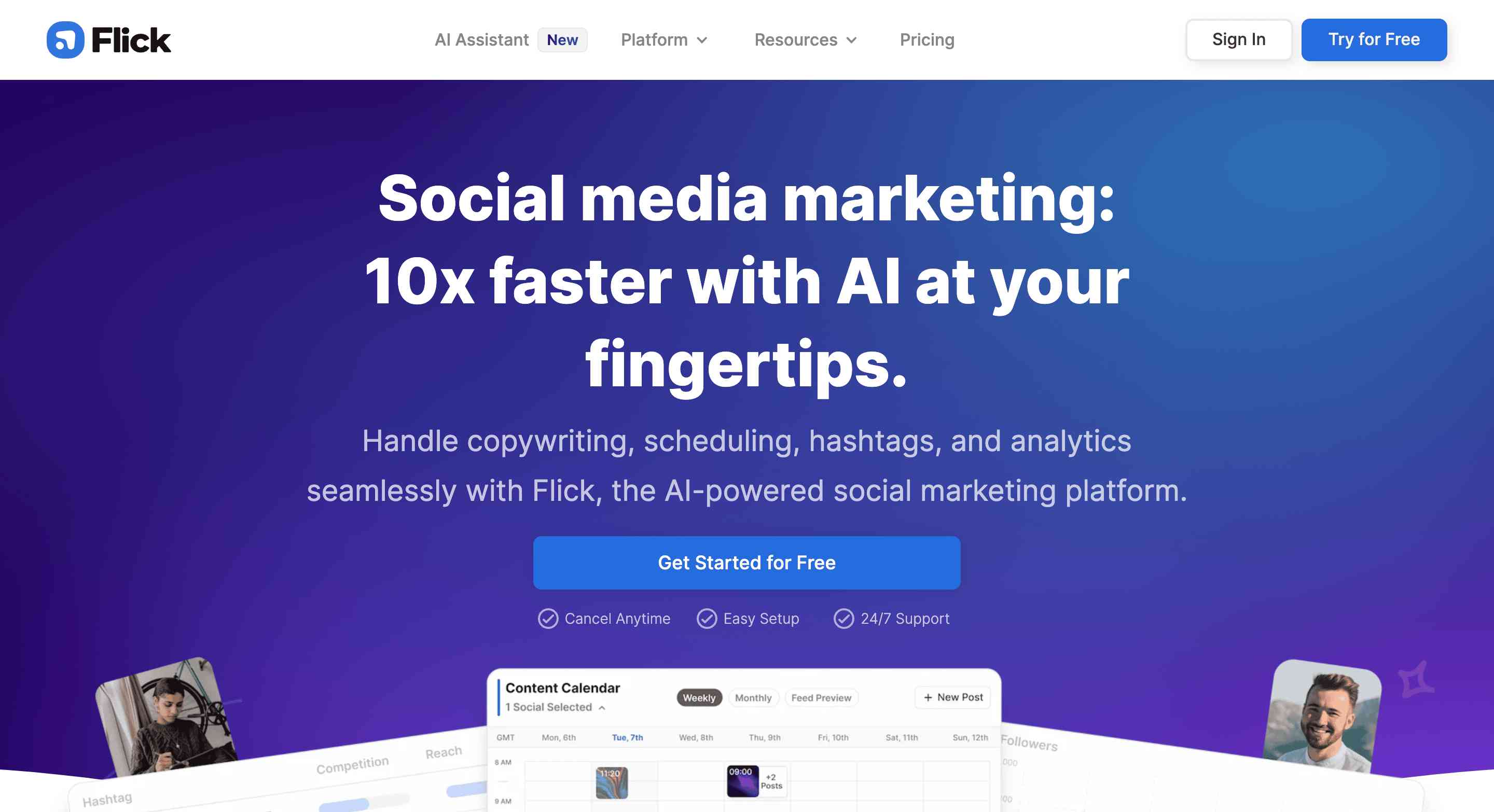 Flick is an all-in-one social media marketing platform. It manages copywriting, scheduling, hashtags, insights, and analytics. With Flick, you can run ahead of your social media calendar, use compelling and relevant hashtags, and achieve your goal of gaining followers, more visitors to your website, or likes and shares.
Managing socials becomes a breeze with Flick, as it helps you be organized, consistent, and productive. It supports Instagram, Facebook, TikTok, and LinkedIn.
Features
AI Social Assistant helps create social content quickly and generate post ideas.
Generate hashtags easily, find unlimited hashtags based on your niche from a vast collection, and analyze which hashtags have driven more reach.
Hashtags help you drive more engagement, profile views, and followers.
A Post Scheduler lets you schedule your posts.
An AI Social Media Assistant generates on-brand captions, brainstorming ideas, and video scripts.
The Analytics tool keeps track of 20+ key metrics to understand the engagement rate of your posts.
Pricing
Check plans here .
Best For
Business owners, marketers, creators, freelancers, and entrepreneurs.
20. ContentStudio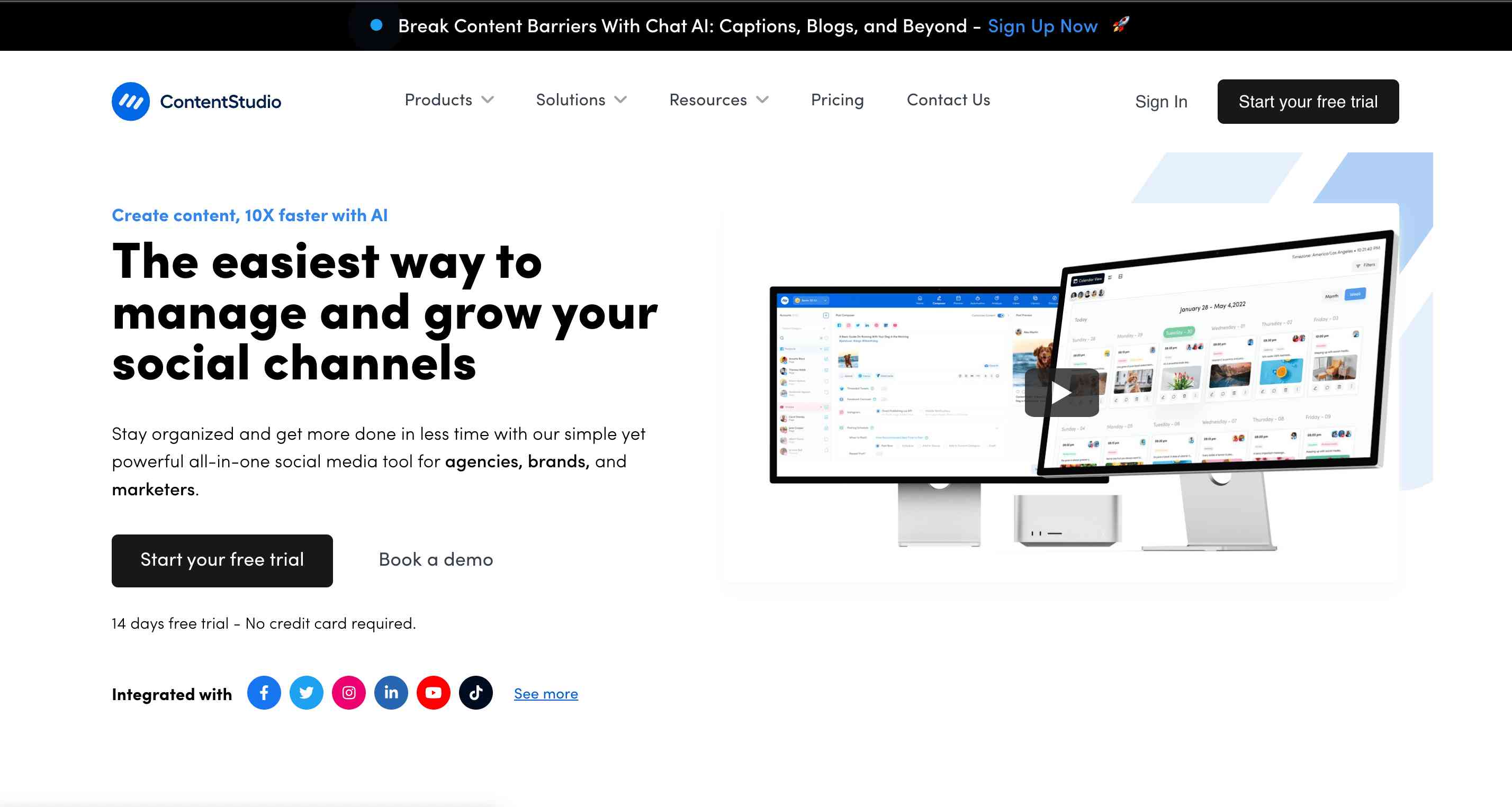 ContentStudio serves as one of the easiest solutions to manage and grow social channels. It helps you do more in less time and stay organized with multiple tools, such as AI writer, scheduler, caption generator, and analytics and reporting.
This tool allows you to manage publishing content on several social channels, including Facebook, Instagram, Twitter, Pinterest, Tumblr, WordPress, and Medium.
Features
Pan, create, and schedule eye-catching posts on multiple channels from a single platform.
Supports scheduling posts with custom queues and preset content strategies.
AI Writer generates compelling captions with emojis, relevant hashtags, and professional-looking images.
Provides statistics on your social channels' performance to understand how each post has driven engagement.
Helps you manage comments and engage with incoming messages efficiently and quickly.
Pricing
Starter: $25/month
Pro: $49/month
Agency: $99/month
Best For
Agencies, brands, and marketers.
Conclusion
This was my compilation of some of the best AI tools that help small and large organizations automate certain tasks and focus more on business strategies.
My team leverages most of the above-mentioned tools. As a content manager and social media manager, I use research, copywriting, content writing, and social media management tools. Believe me, these tools have helped me and my team save a lot of time and effort. Today, we have more time to brainstorm business ideas and implement them.
Get these AI tools in your organization's arsenal and save significant time!
People are also reading: