In today's world, search engines have become our daily need. It is impossible to visualize our lives without using them. Google has eventually become a household name as we reach out to Google for every query. Do you know Google controls 92% of the search engine market share worldwide?
Search engines provide access to any information that the user requests from anywhere. However, there might be circumstances where the user would not like to get his or her queries stored by the search engines. This is where private search engine comes into the picture.
There are several private search engines available that offer a wide range of features and approaches to provide safety to your searches. Here in this article, we've reviewed and compiled a list of the 10 best private search engines that will get you the most secure search results.
Let's start!
Things to Look for While Choosing a Private Search Engine
While surfing the Internet, the first two things that you should look for are data security and privacy.
Business owners and individuals often practice private browsing through incognito modes on their web browsers like Google Chrome, Opera Mini, Mozilla Firefox, etc. These regular browsers don't provide the highest level of privacy that every individual wishes to get. Besides, they invade the privacy and search history of the user. Hence, the chances of your information getting leaked increase.
Here are the five things that you should look at in deciding the best-suited search engine for your use:
Maintains privacy
No data tracking
Accurate search results
Easy-to-use user interface
Customized setting options
Privacy policy
Search engine reputation
10 Best Private Search Engines
Here is a list of the 10 best private search engines with widespread features and the newest updates.
1. DuckDuckGo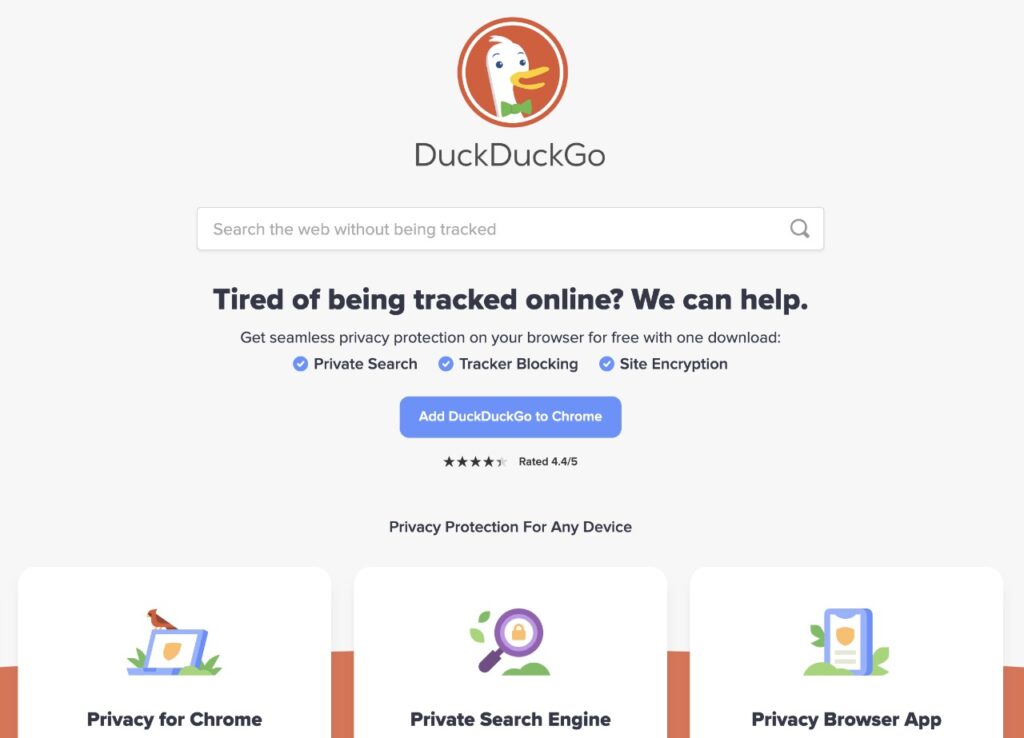 Although most people prefer using Google for web searches, DuckDuckGo is a great substitute for Google as many people would want to preserve their online privacy. The privacy settings of DuckDuckGo are more secure than the InPrivate or incognito mode of regular web browsers. It doesn't use any cookies, nor does it track your steps or collect your IP address .
Key Features
DuckDuckGo allows the user to put a bio to their social media profile.
It provides an option to filter the search results by region.
DuckDuckGo has a feature called Smarter Encryption that protects user information from potential hackers.
It comes with another unique feature named "!Bangs" that allows the user to search on another website from DuckDuckGo by simply adding a prefix to it.
Pros
No use of social engineering techniques
No targeted ads
One-page search and limitless scroll
Ads can be disabled
Accessible for Tor hidden service
Cons
Less personalization
No protection from viruses and malware
Depend on ads to generate returns
Cost: Free
2. Startpage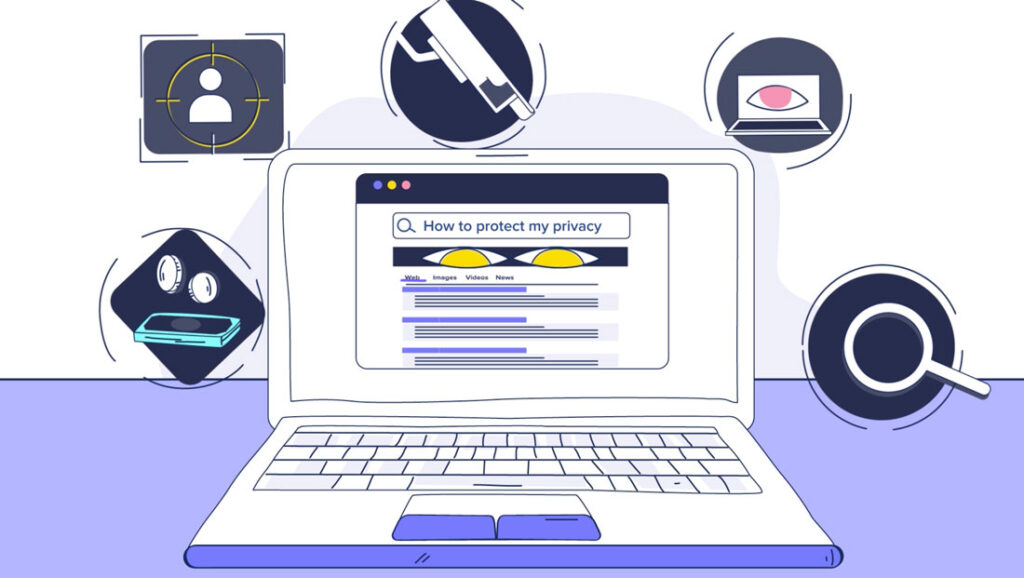 With many similarities with Google, Startpage has now developed as one of the best private search engines. It allows the user to browse anonymously without being tracked by any third-party cookies. The engine has a browser extension that can be used by the users to preserve their privacy on the Internet. Further, the interface of the engine offers several colors and designs.
Key Features
Startpage allows you to browse anonymously and offers an encrypted connection.
It blocks third parties from putting a price tracker on you.
It avoids retargeting advertising.
Startpage is ideal for un-profiled search results.
Pros
Proxy browsing
Has privacy certification
Multiple browser extensions
Own searching and ranking algorithm
Cons
Only provides web, image, and video searches
Available only for EU server
Only access Google network
Cost: Free
3. MetaGer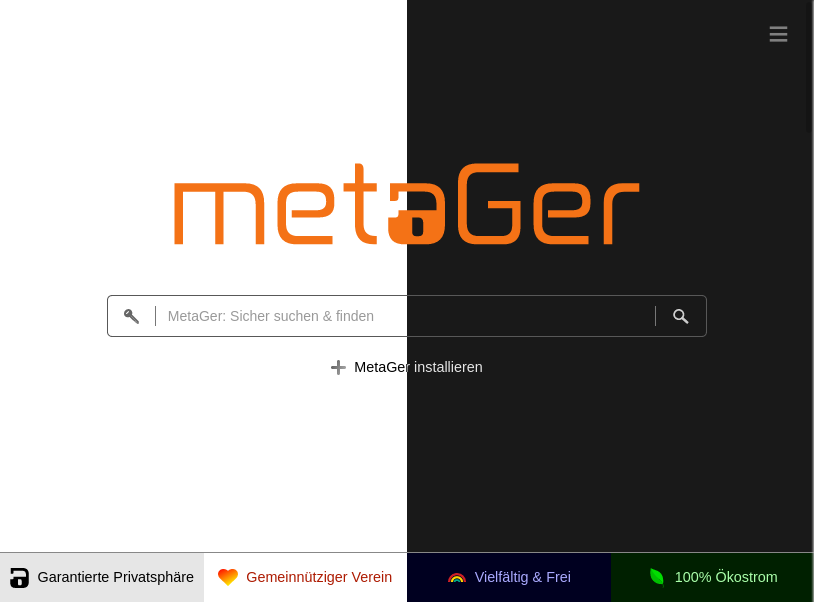 MetaGer is recognized as the best uncensored private search engine. The simple-minded interface and customizable design of MetaGer are extremely satisfying, and it offers unfiltered and fair search results to its users. MetaGer also enables the user to gain access to several maps without tracking their location.
Key Features
MetaGer blocks censorship by relating the search results of various search engines.
Every service at MetaGer is performed by using renewable energy.
The algorithm and source code of MetaGer are both available for free.
Pros
Source code search
Non-profitable organization
Accessible for Tor hidden service
Depends on several search engines
Cons
Several services are only accessible in the German language
Inferior to DuckDuckGo and Startpage
Not user-friendly design
Cost: Free
4. Qwant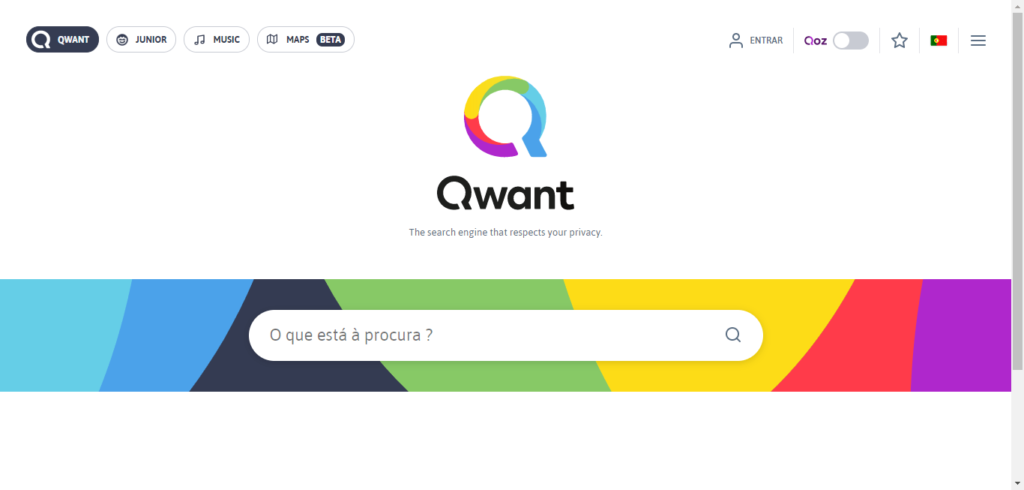 Launched in France, Qwant is a search engine that values online privacy and the personal information of the user. It allows users to filter their search results by three key categories. The categories are news, social, and web. Qwant also offers a dedicated music segment for music lovers.
Key Features
Qwant provides an option to filter the search results by several categories.
The search results disappear as soon as you close the browser.
It maintains its indexing.
Qwant also provides a special junior search engine for children.
Pros
Anonymous search
Emphasis on user privacy
Fast and accurate results
Cons
Complex design
Available only for EU server
Cost: Free
5. Searx

Although not as flexible as the previous engines on the list, Searx is a pretty decent search engine that provides a decentralized viewpoint of the Internet to the user. The interface of the engine is simple and user-friendly. The search engine comes with a giant search bar, and the search results are extremely fast.
Key Features
The settings of Searx are fully customizable.
It is ideal for decentralized internet browsing.
Tor support.
No ads or tracking
Pros
Easy to use
Prioritizes privacy and security
Fast search results
Cons
No protection from viruses and malware
Cost: Free
6. Swisscows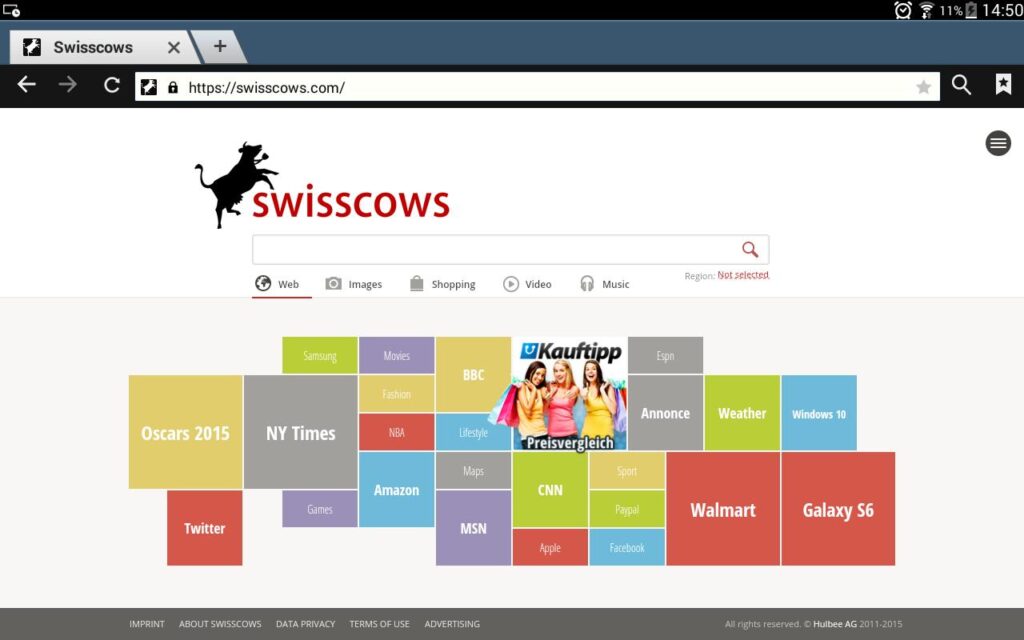 Swisscows is a safe and secure private search engine that was founded in Switzerland. It blocks every adult site and content and delivers only family-friendly content. The interface of the engine may not be among the best, but its ability to provide privacy is very effective.
Key Features
Swisscows provides its own server so that the users don't need to get associated with any third party or cloud.
They have one of the safest data center bunkers in Europe.
Users can filter out their browser results by several regions and languages.
Pros
Only provides family-friendly content
No monitoring and storing of data
Cons
Poor user interface
No protection from malware and ransomware
Cost: Free
7. Mojeek
Like Qwant, Mojeek also allows the user to filter the search results in three key sections: news, social, and web. But what makes Mojeek different from Qwant is its fourth section, which enables the user to search their queries based on five key emotions. The five emotions are laughter, sadness, anger, love, and amazement.
Key Features
Each icon in Mojeek symbolizes different emotions; users can search their queries by simply clicking on those icons.
Users can narrow their search results by filtering them into three categories: news, web, and images.
The settings of Mojeek are highly customizable, and users can set their preferences as well.
Pros
Own searching and ranking algorithm
Nice and simple user interface
Clean interface and open-source
Cons
Small search index
Produces sparse results
Not well optimized
Cost: Free
8. Ecosia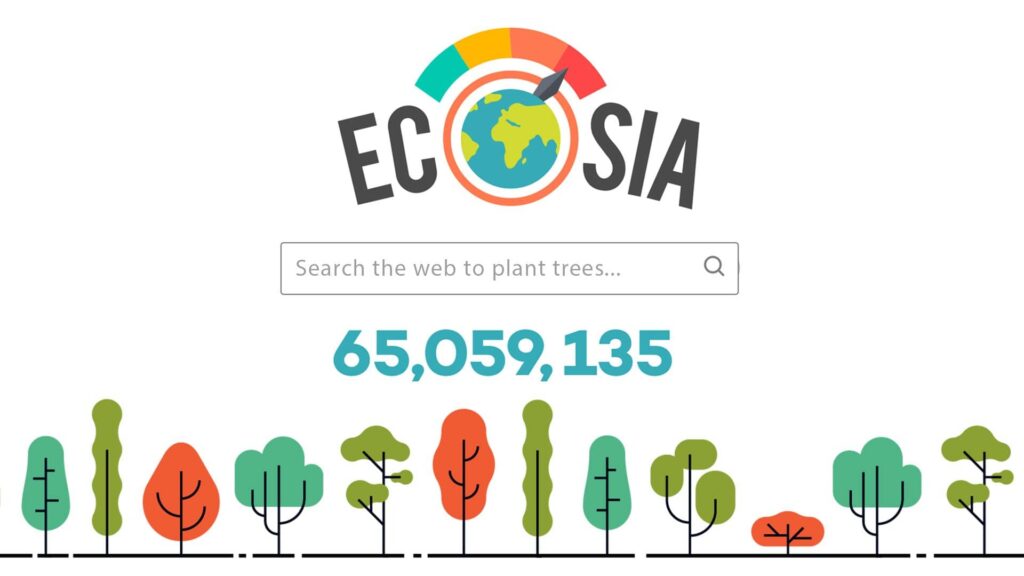 Ecosia attracts every environmental activist and individual with its unique motto. This eco-friendly search engine uses the majority of its turnover to plant trees. Besides all these, it doesn't share or track any user data, nor does it monitor the profile of the user.
Key Features
Ecosia runs on renewable energy and plant trees only; hence, they are CO2 neutral.
The search engine is available both as an extension to the web browser as well as a mobile application.
Ecosia uses more than 80% of its turnover in tree planting.
With its annual turnover, it also shields rare animal habitats in Uganda.
Pros
Plant a tree after every 25 searches
Fast and relevant search results
Supports non-profit conservation organizations
Easy to integrate
Cons
Limited image search results
Forces you to download various extensions
Cost: Free
9. WolframAlpha
Another unique search engine that makes it to our list is WolframAlpha. This private search engine mainly prioritizes academic-related search queries, thus making it ideal for students, teachers, and learners. The search result of WolframAlpha is classified into four categories, viz. Mathematics, Science and Automation, Society and Civilization, and Lifestyle. It also provides the option of image search results.
Key Features
WolframAlpha is ideal for academic search results and is very useful for students, educators, and scholars.
It allows the user to personalize their settings and preferences.
It is available both as a browser extension and as a mobile application.
Pros
Provides simple, organized, and comprehensive search results
Provides direct answers
Mobile-optimized version available
Covers numerous topics
Useful for generating statistical data
Cons
Services available only in the English language
Queries are required to be precise to get an accurate result
The free version of this tool only allows a limited number and time of calculations
No anonymity
Cost
10. Disconnect Search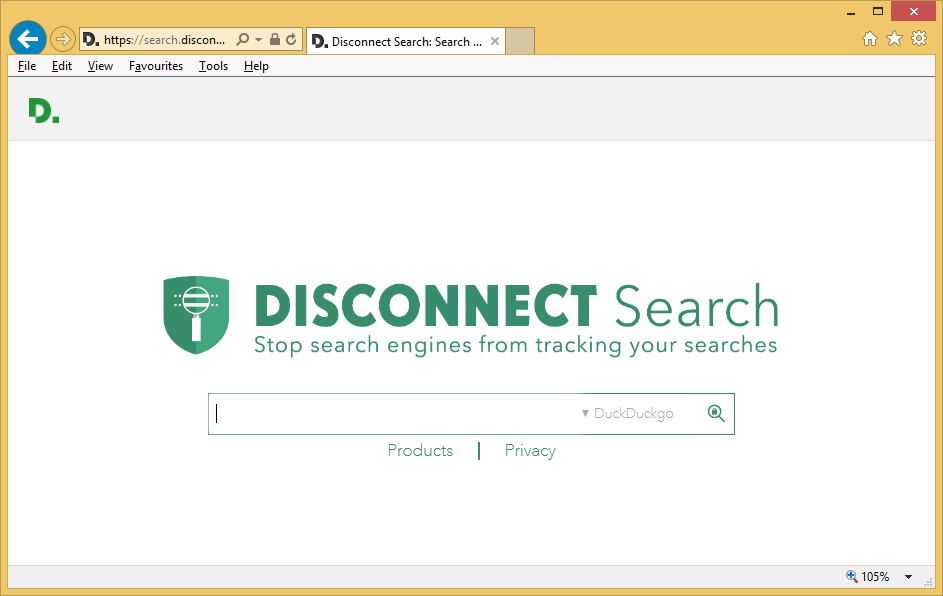 Disconnect Search is a very basic search engine that shortens the gap between users and other search engines like DuckDuckGo, Yahoo, and Bing. It doesn't track the data and information of the user with any third-party sites. Further, it has a browser extension that helps the user avoid tracking sites and load the web pages quickly.
Key Features
Browsing in Disconnect Search is done under the added cloak of privacy.
It provides a faster loading speed.
Disconnect Search prevents other websites from tracking your search results.
Pros
Doesn't have any complex setting options or unnecessary filters
Works as a VPN
Easy to use
Cons
Restricts local Wi-Fi services
Supports only a few search engines, including Google, Bing, Yahoo, Blekko, and DuckDuckGo.
Cost: Free
Conclusion
As security is paramount for every individual, it becomes essential to secure all your online activities and browsing history. However, popular search engines, like Google, Yahoo!, etc., at times fail to provide the utmost security to their users.
All the aforementioned private search engines value users' privacy while providing accurate search results, as other popular search engines do. Use any browser from the above list, and enjoy the privacy.
If you use any other private search engine, let us know in the comments, and I'll add it to the above list.
Happy browsing!
People are also reading: