Today, possessing UX design abilities can help you grow and earn well. As a matter of fact, attending a UX design course is an excellent approach to gaining the skills required to start working professionally. Fortunately, there are a plethora of online UX design courses that can help you learn various aspects of user experience design However, it's critical to examine your goals while picking a designing course to put your time, money, and efforts in.
Are you merely interested in dipping your toes into the world of UX design? Or would you like to improve your current set of skills? Or are you planning to make a whole career switch? It's important to tackle such questions before getting started with a UX design course. This blog compiles a list of the top 10 online UX design courses.
Also, we have mentioned a quick overview of each course along with the key highlights to help you figure out which one(s) are best according to your career objectives. So, let's get started!
Best UX Design Courses
Platform: Coursera
Level: Beginner
Duration: 4 months (5 hours/week)
Instructor: Micheal Worthingotn and Roman Jaster
Certificate: Yes
This course focuses on user interface and user experience (UI and UX) from a design standpoint. Instead of focusing solely on programming, the classes include practical, skill-based instructions focused on a visual communication approach. You will be exposed to the outline and various aspects of the UI/UX development, ranging from user research to establishing a project's strategy, scope, and interface design to generating sitemaps and wireframes.
Features
Teaches you how to make a user experience design more ordered and structured.
Learn best UX design practices and standards to build an effective and attractive experience for websites and applications.
To get the course completion certificate, you must finish all of the graded projects.
This is a beginner's course; therefore, all of the principles of UX design are taught from the ground up.
You can get this course here .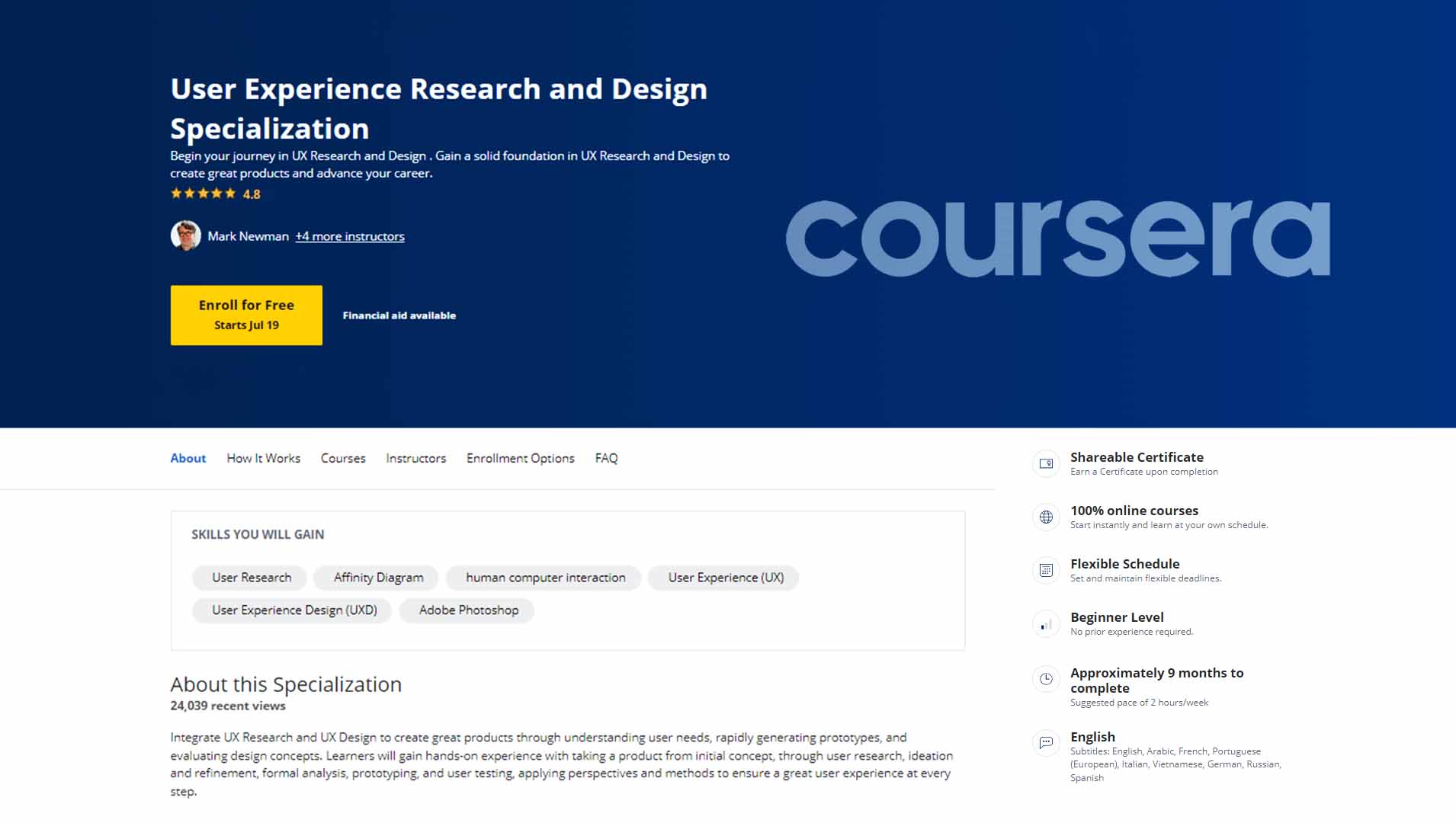 Platform: Coursera
Level: Beginner
Duration: 9 months (2 hours/week)
Instructor: Mark Newman, Kentaro Toyama, Clifford Lampe, Predrag Klasnja, and Lija Hogan
Certificate: Yes
This UX design course is worth considering if you want to create amazing UX that meets or exceeds the expectations of users. You will learn how to create outstanding products by understanding the user needs first and then quickly prototyping and evaluating design solutions.
You'll also have the opportunity to get your hands dirty and start from fundamental concepts to advanced concepts, ideation and refinement, formal analysis, and user testing. Moreover, the course focuses on applying views and methodologies to ensure a positive user experience.
Features
The specialization is well-structured and consists of six courses.
Covers all fundamental aspects required for creating outstanding UX.
Includes practical tasks to help you put your learning into practice.
After completing all the assignments, quizzes, and exams, you will receive certification.
You have the freedom to learn at your own pace because of the flexible deadlines.
Get started with the course here .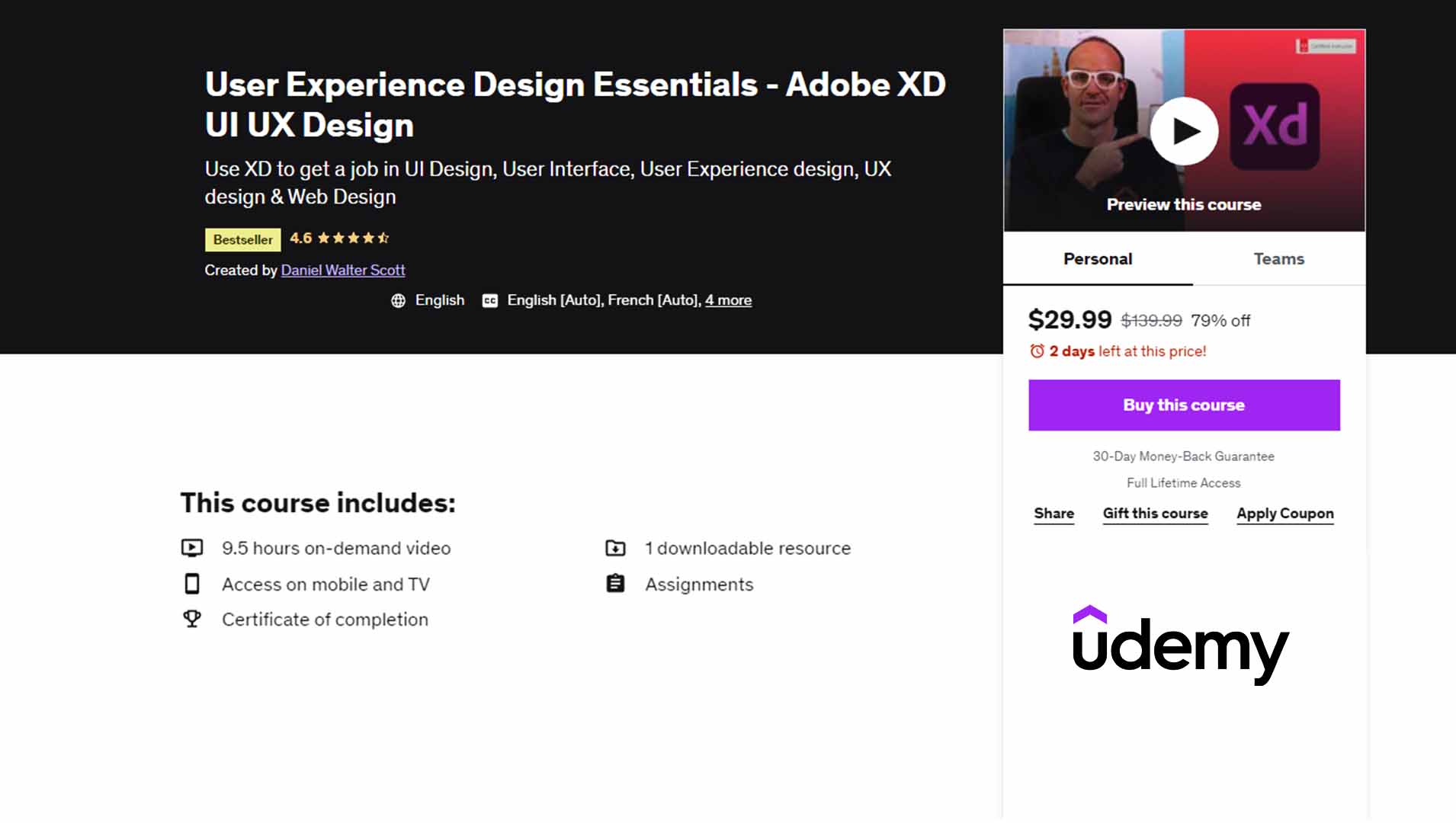 Platform: Udemy
Level: Beginner
Duration: 9.5 hours
Instructor: Daniel Walter Scott
Certificate: Yes
This is the best UX design course for beginners that will assist you in learning Adobe XD quickly and thoroughly. During the lectures, you will work on real-life projects under the instructor's direction.
If you've been considering taking your initial steps in UX design, then this is the ideal course to start with because it addresses all the essential UX concepts. Also, you will become familiar with the tools for developing good prototypes, learn how to use a new prototyping app, and more.
Features
This course does not require any prior design or Adobe XD experience.
Create and test a complete UX design, including fonts and colors.
Make a realistic prototype of your designs with interactions.
Learn how experts work, including shortcuts, strategies, and workflow hacks.
Offers 93 video lectures and 69 additional learning resources to download along with assignments.
You will get lifetime access to the course after making a one-time payment.
You can sign up for the course here .
Platform: Coursera (Offered by Google)
Level: Beginner
Duration: 6 months (10 hours/week)
Certificate: Yes
This basic UX design course is a fantastic choice if you want to start your career as a UX Designer. Its curriculum will help you grasp the stages of the design, pinpoint pain spots, and come up with solutions, test them, and iterate on designs.
You'll also learn how to create a great UX portfolio, which will include three end-to-end projects, including a mobile app, a responsive website, and a cross-platform interface. In addition, you will also work with a case study at the end of the course to get an idea of the real-world usage of UX design.
Features
Employs an appropriate syllabus to make it easier for you to learn the fundamentals of UX design.
Comes with seven courses that teach you how to start from zero and complete the design process while covering fundamental ideas like developing wireframes, testing designs, and more.
Learn how to develop user-centered architecture and equity-focused UX design.
You will work on projects to put your skills to the test and apply what you've learned.
Get your course by signing up here .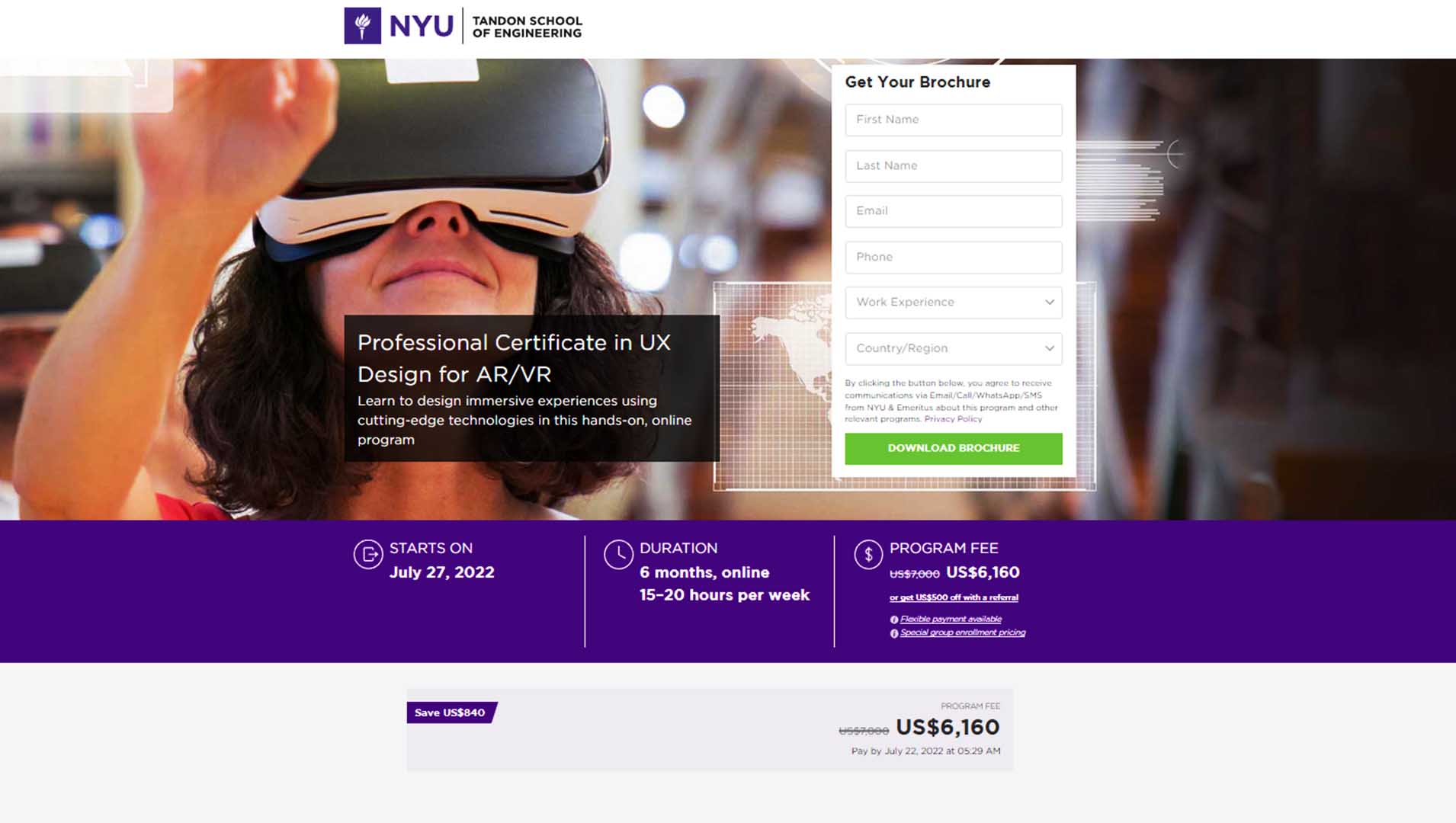 Platform: The NYU Tandon School of Engineering
Level: Intermediate
Duration: 6 months (6 to 8 hours/week)
Instructor: Nien Lam, Sebastian Buys, and Regin Gilbert
Certificate: Yes
This UX design course is tailored specifically for individuals with prior UX design experience. By attending this course, you will learn how to make the transition from designing traditional user experiences to creating new and emerging interaction patterns and opportunities. It consists of numerous learning modules that offer live sessions and recorded video sessions to facilitate quick and effective learning.
You will get to know the historical background of UX as well as the current and emerging technologies throughout the video sessions. Also, the course provides you the opportunity to work with industry samples, graded quizzes, assignments, quizzes, and rich-learning content.
Features
Learn how to use XR and non-XR environments' best practices and UX design principles for UX creation.
Understand the role of feedback and haptics, as well as how to leverage haptics to create realistic experiences in virtual reality environments.
Learn about important aspects of sound design along with composition fundamentals, Adobe XD, audio user modeling, and audio moment mapping.
Learn how to document, display, and distribute your product as well as promote it to a larger audience.
Sign up here to get this course.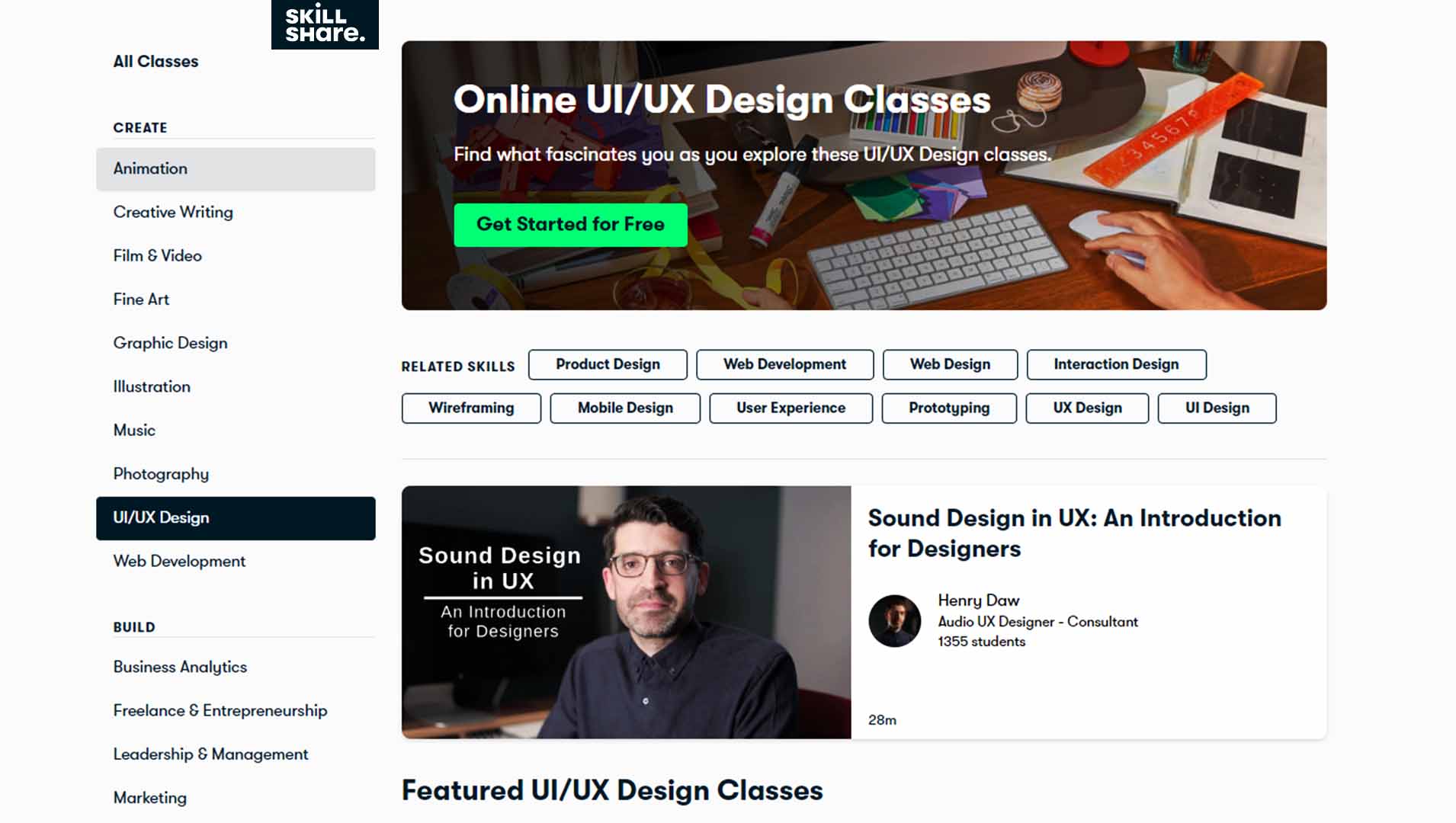 Platform: Skillshare
Certificate: No
Skillshare is a fantastic platform for anyone who wants to sign up for multiple courses on the same subject with a single membership. It is known as the Netflix of e-learning, wherein individuals have to pay a monthly price and get unlimited access to all the courses. This flexibility enables learners to get loads of knowledge pertaining to UX design, know its dynamics, and learn several topics without having to worry about paying per course.
The platform offers the best UX design courses for beginner, intermediate, or advanced learners. Through these courses, you will learn how to design websites for businesses, create amazing color schemes for web and UI projects, and use UI ideas and practices. After you've finished the lectures, you'll be able to apply what you've learned by working on different projects.
Features
Enrollment for the UX courses requires little or no prior experience.
A wide range of examples and demonstrations helps to develop a better understanding of the topics.
You can learn the topics at your own pace.
You can keep up with the newest developments as the courses are updated regularly.
You get a two-month free trial when you sign up.
To get started with Skillshare, click here .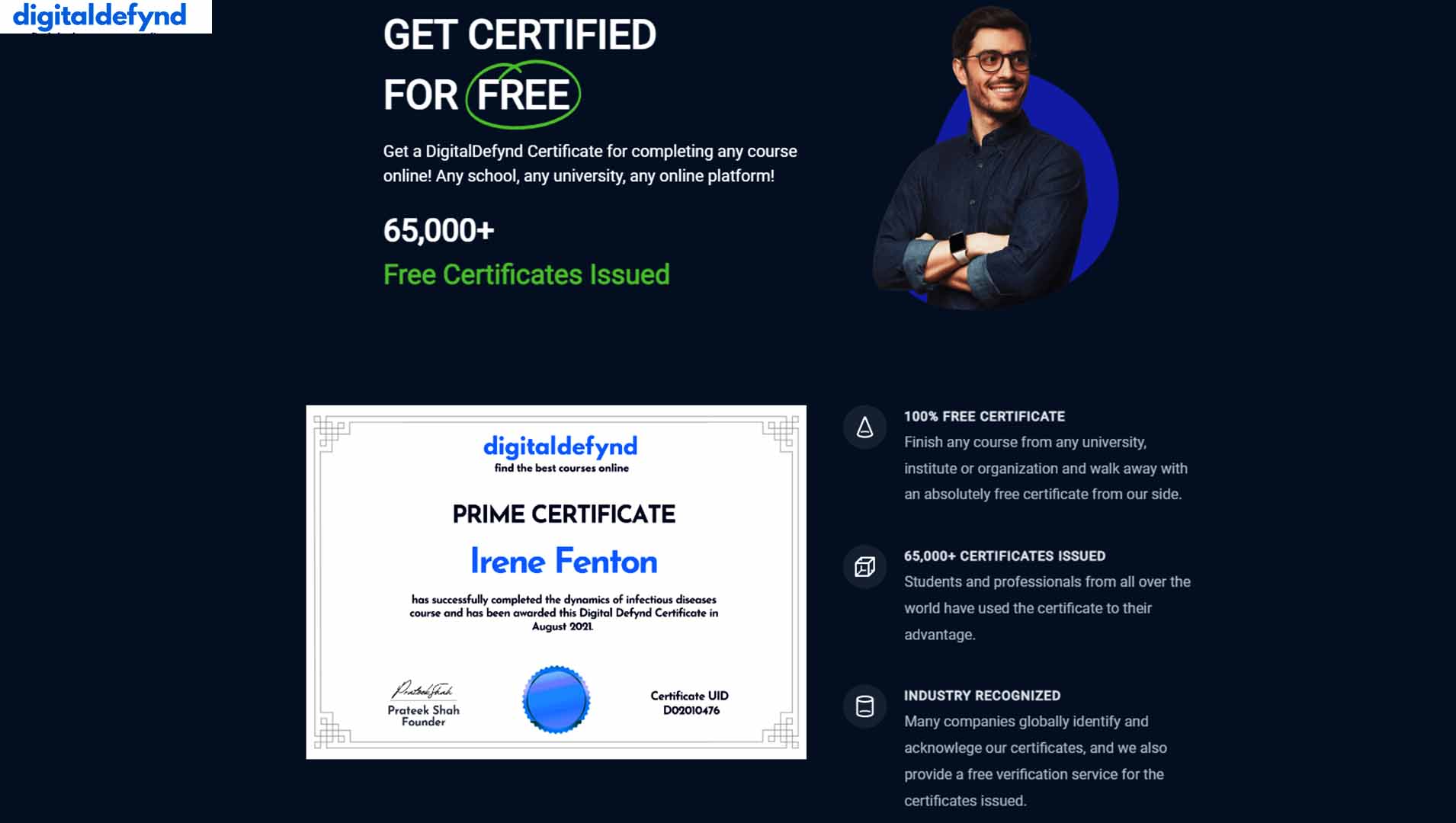 Platform: Digital Deynd
Individuals who complete an online course at Digital Defynd receive a free badge of completion with no hidden costs or fees. Any user, including beginners, intermediates, and professionals, can achieve certifications in UX design.
Prime, Silver, Golden, Diamond, and Platinum are the five categories of accreditation offered by the platform. Each of these categories necessitates the completion of hands-on exercises. After finishing this free course, you must submit the assignments to receive the free certificate within 2-3 business days.
Features
This course is one of the greatest ways to receive a free professional certificate for showing your expertise in UX design.
To obtain a certificate, you have to provide proof of course completion.
They have an Instagram page where you can engage with other students and individuals.
You can enroll in the course here .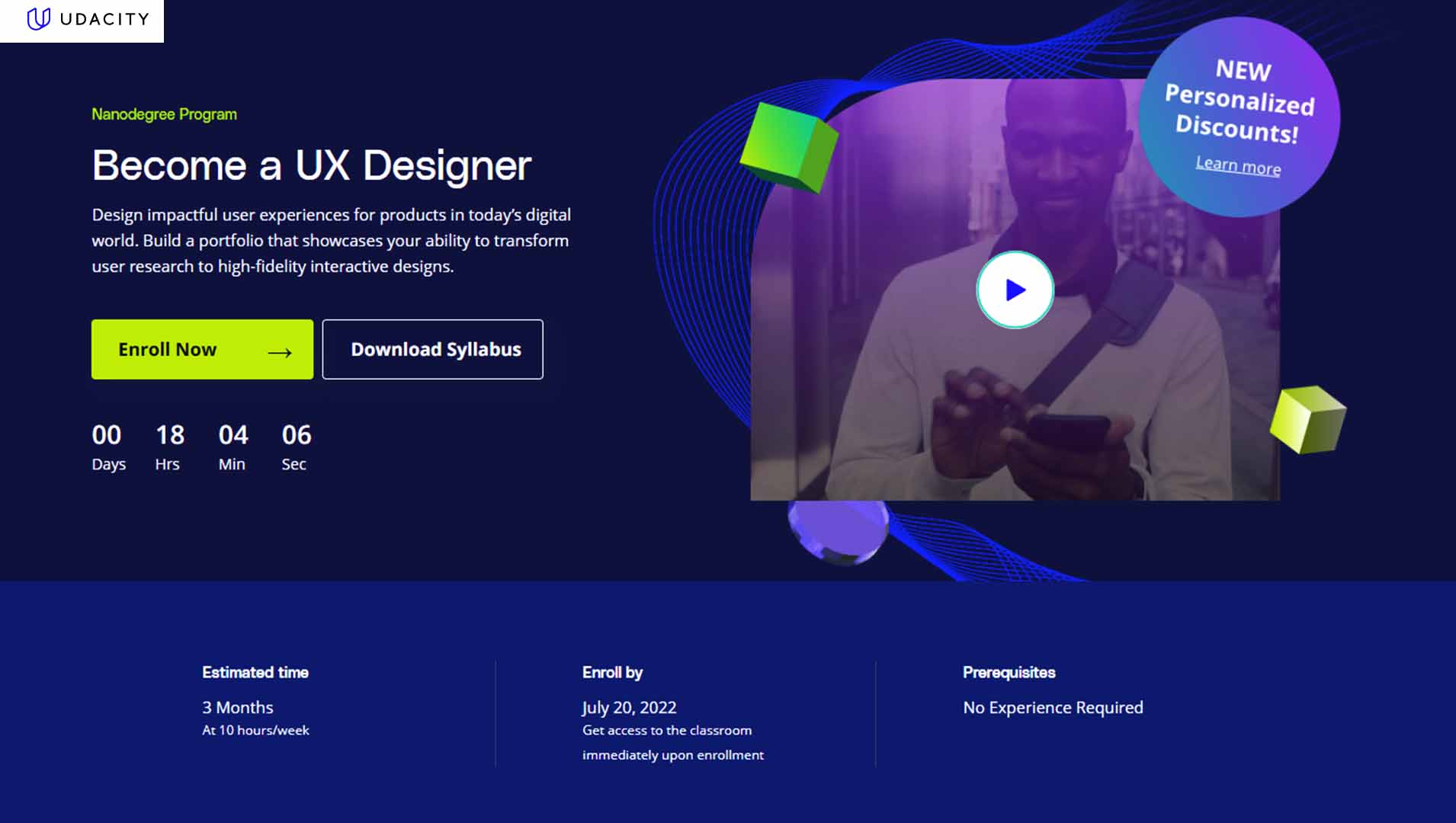 Platform: Udacity
Level: Beginner
Duration: 3 months (10 hours/week)
Instructor: Shuang Liu, Gabriel Ruttner, Micheal Dedrick, and Melissa Hui
Certificate: Yes
Do you want to become an expert UX designer who can create remarkable user experience designs? You can enroll in this best UX design course to learn the principles of UX design and develop a successful career in this field.
You will learn the fundamental concepts of UX design and become familiar with the process of creating prototypes to demonstrate the product to clients before working on the final product. After completing the course, you will have hands-on expertise in UX design and a professional portfolio to showcase your skills.
Features
Through in-depth study, learn about the process of comprehending UX design requirements.
Develop prototypes in order to receive input for iterations and the final product.
Create your professional portfolio and learn about the current buzz on branding through storytelling.
Get started with your course here .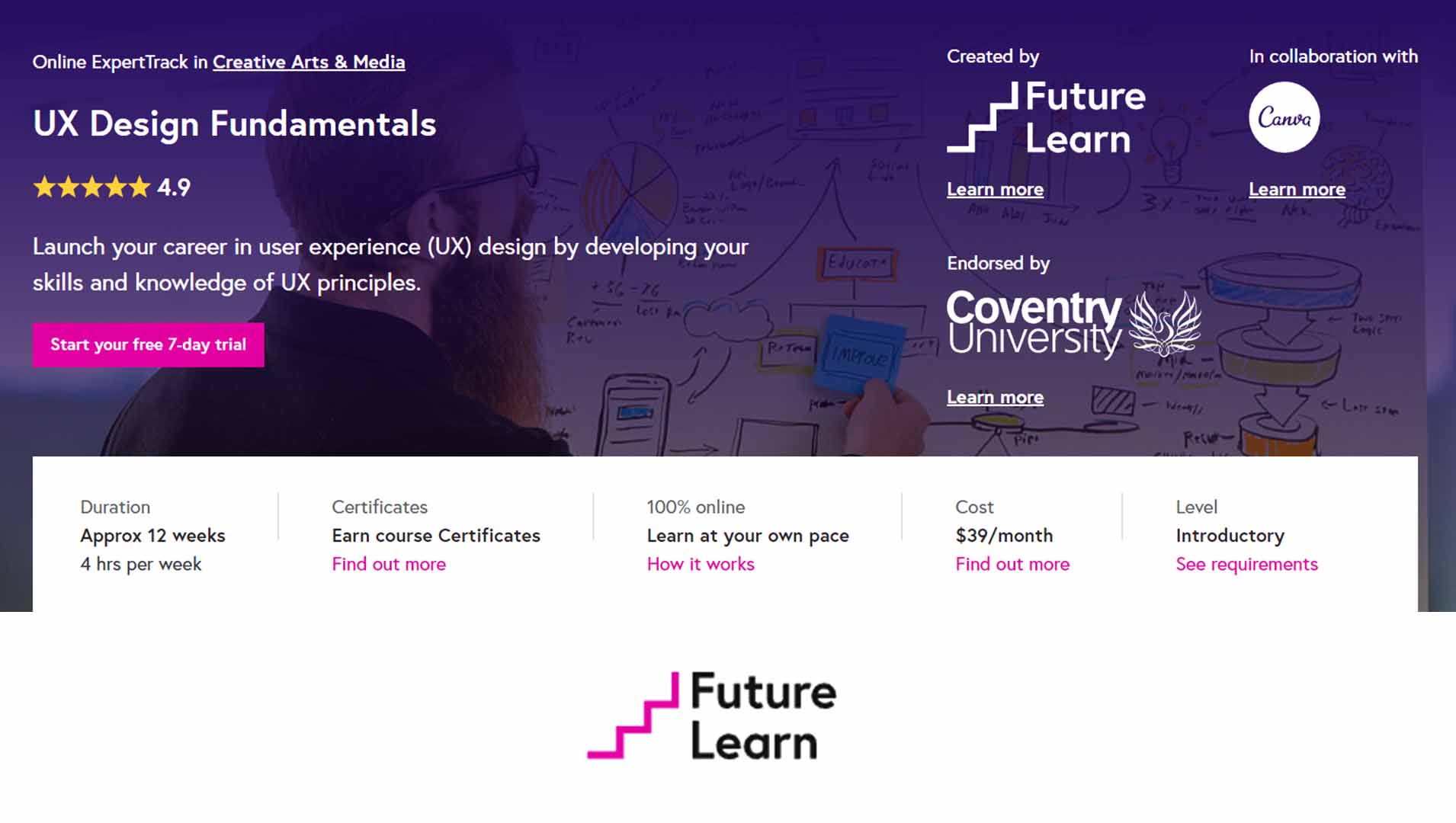 Platform: Future Learn
Level: Beginner
Duration: 12 weeks (4 hours/week)
Instructor: Nuno Sobringo
Certificate: Yes
It is among the best UX design courses that will help you to develop theoretical and practical competence in UX design. Also, it provides you with the underlying knowledge required to implement various UX design techniques. User experience design, user interface design, prototyping, wireframing, business model prototype, customer profile mapping, customer value mapping, and user personas are among the advanced skills and abilities you'll learn through this course. The curriculum comprises three courses that will teach you how to put yourself at the core of new product development as well as improve existing products.
Features
A hands-on curriculum is created in cooperation with Canva and Coventry University to give you the most up-to-date UX design expertise.
The course empowers you to look at the entire end-to-end user experience of websites, apps, or other digital products.
Understand how to combine visual and interaction design; how UI design ties to the larger subject of UX design.
Learn about the Hasso-Plattner Institute of Design's five-stage thinking paradigm and the non-linear character of UX design.
You can register for the course here .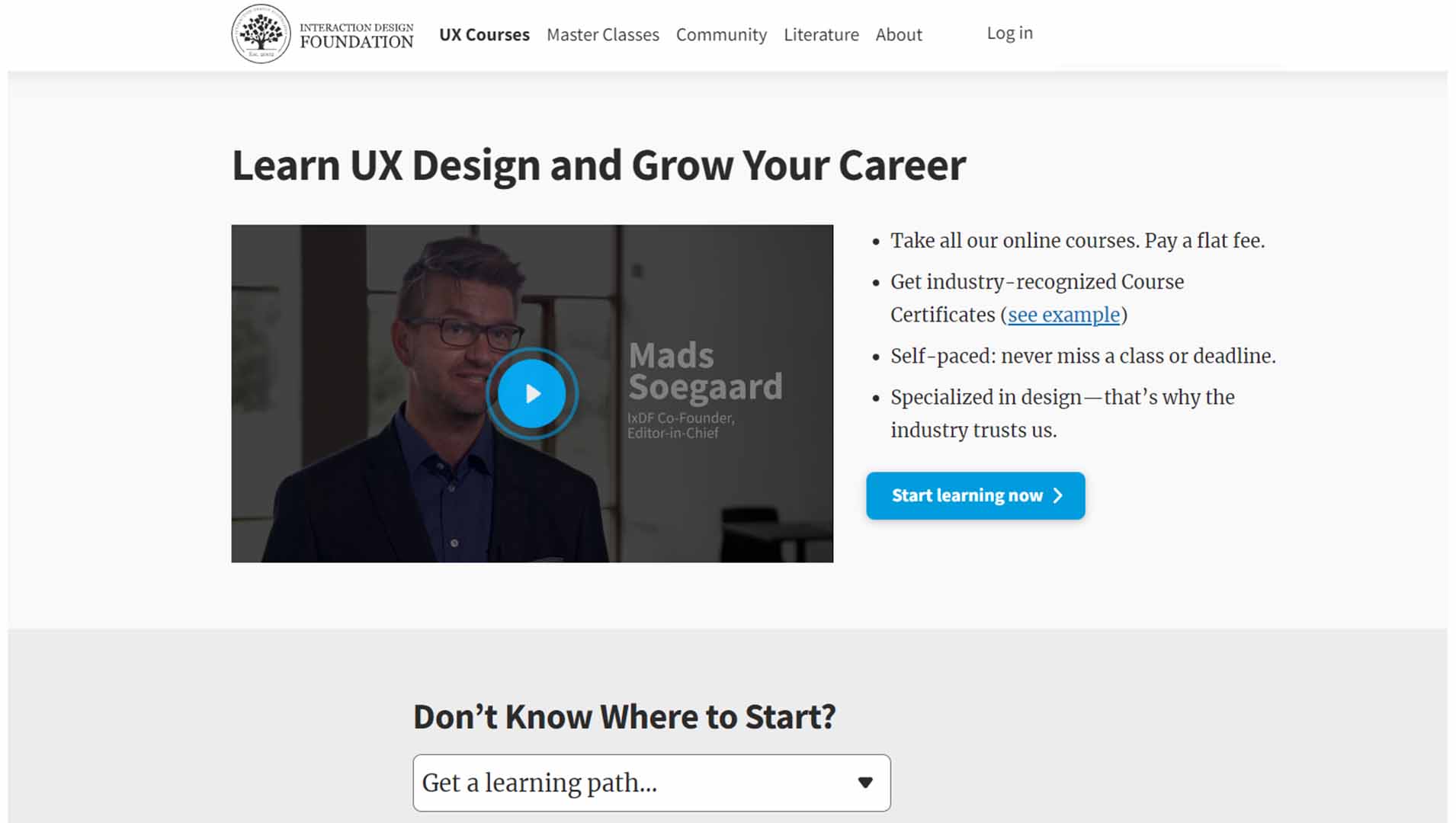 Platform: Interaction Design Foundation
IDF is a well-known online platform that offers a variety of courses and programs in UX design. These UX design courses are aimed toward novices as well as those looking to advance their skills.
The number of courses available on this platform is endless, but some of the most popular design courses include UI Design Patterns for Successful Software, UX Management: Strategy and Tactics, and Gestalt Psychology and Web Design. These courses can assist you in developing all the skills necessary to start a career in the field of UI/UX design.
Features
Take advantage of a comprehensive range of UI and UX design courses created by industry experts and experienced educators.
The courses cover various fundamental UX design topics like information visualization, e-commerce psychology, interaction design for usability, and more.
Learn intermediate and advanced UX design principles such as mobile UI design, adoption and appropriation, and interaction design psychology.
All courses are available for a fixed charge, and each course comes with an industry-recognized certificate of completion.
You can get started here .
Conclusion
That concludes our list of the best UX/UI design courses for 2022. These online courses can be quite useful if you want to learn and master UI/UX design. As previously said, UI/UX and web design expertise are in high demand, and this demand will only grow as more and more businesses are going online. It's the ideal time to pick up these in-demand skills and tap into the growing demand for UI/UX experts.
Thank you for taking the time to read this blog. If you found this list of the best UX design courses beneficial, then take some time to share it with your friends and colleagues. Also, you can comment down below your suggestions and queries.
People are also reading: