Data analysis is a well-respected job role. Working as a data analyst will not only help you grow your technical skills and make good money, but it will also give you a chance to work in different domains; you can work as a data analyst in various fields, including finance, education, telecom, and sports.
Even if your ultimate goal is to be a data scientist, it is good to start your career as a data analyst and then move up the ladder. In this article, we will talk about the average data analyst salary in the industry. However, let us first understand the role of a data analyst bit more.
A quick overview for those eager to know about data analyst salary - the average salary of data analysts in India can range from Rs. 8,00,000 to about Rs. 20,00,000 per annum. Also, the demand for data analysts in the market can grow by 28% or more in the coming years.
So, it would be a good idea to pursue a career in the field of data science.
Career Paths for a Data Analyst
There are several individual roles that come under the data analyst profile, with each role having a different set of responsibilities.
Below is a snapshot from PayScale that indicates the possible career paths for a data analyst: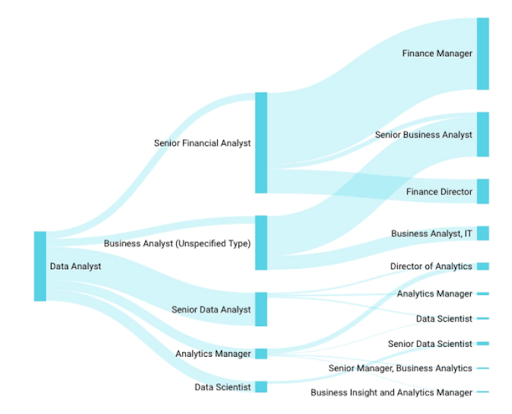 Source - Payscale
Why is Big Data Important?
Almost everyone today has access to the internet and uses different online platforms like YouTube, Gmail, LinkedIn, WhatsApp, Facebook, Netflix, Instagram, etc. From a user perspective, all these platforms are free to use. However, from a business point of view, these platforms provide a great source of income through one single thing, and that is DATA (user data, to be precise).
Even some companies pay you for submitting surveys that have simple questions you wouldn't mind answering. Have you ever thought that how come YouTube knows what kind of videos a user would like? How does Google show you ads related to the conversations you have had on emails communicated via Gmail?
All media platforms continuously mine user data and get useful insights from it that help them find new business use cases and do better marketing of their products and services. The data collected and evaluated by major tech giants, like Google and Facebook, on a daily basis is overwhelming.
Think of a million users of Facebook, the average time of browsing each user might do, the number of links visited, pages liked and viewed, etc. Tracking and processing the activity of users can reveal a lot about their interests and preferences. Usually, such data helps companies to promote their products and services to a target (a certain group of) audience.
If you are interested in travel and food, you will see more suggestions (posts and pages) related to that. If you are interested in higher education, you will get suggestions to like pages or join groups that you might find useful to pursue the same. This huge amount of user data that needs to be processed so as to extract useful information is called big data. Also, big data can be unstructured or structured.
How Much Data is Generated Every Day?
According to Forbes, 2.5 quintillion bytes of data are generated each day. Also, the numbers are increasing with the increase in the popularity of IoT. Google alone processes more than 40000 search requests per second, and that is quite huge!
Same way, Instagram gets close to 70000 million posts every minute. It is not only humans that are creating and sharing data. The devices we use also generate hefty amounts of data. Smartwatches and sensors, smart TVs, etc., are some devices that generate data.
What are the Responsibilities of a Data Analyst?
Typically, data analysts process big data and interpret the results so that companies can use them to solve business problems. Here are the main responsibilities of a data analyst:
Gather the necessary data and filter out the relevant information required to solve specific business problems.
Perform statistical analysis using different tools, surveys, and software programs on different datasets.
Process and interpret data to form insights in the form of easy-to-understand charts and graphs, reports, or presentations.
Present the interpretations and key information to the stakeholders and suggest various solutions to a business problem.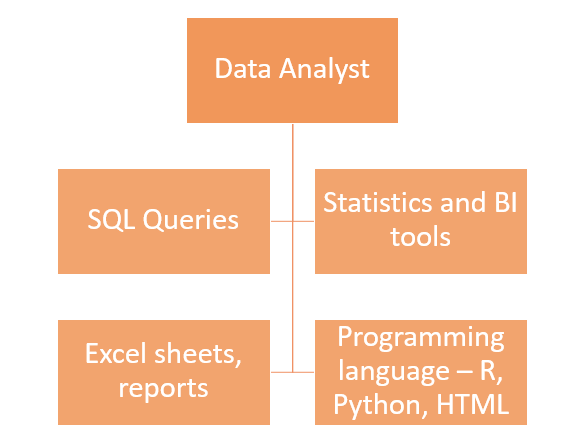 Moreover, the following are some key characteristics of professional data analysts:
Ability to deal with a lot of statistics and math to analyze data and present it in the form of trends and patterns.
Have good know-how of programming languages like Python and R to write scripts that can help to perform repetitive tasks easily.
Knowledge of how to write database queries to filter data from huge data sets easily and efficiently.
Familiarity with the usage of Excel spreadsheets to generate reports.
Potential to work with data management and manipulation.
Have good creative, problem-solving, and analytical skills.
You could be an architect, engineer, operations manager, or administrator and still switch your career to become a data analyst. Even if you are not from a math background or have any programming experience, you can build a career in the field of data science. There are plenty of free and paid courses available on the internet to learn statistics, linear regression, programming, and SQL. You simply need to choose one domain and focus on sharpening your skills specific to that domain.
Why Become a Data Analyst?
Well, the following are some good reasons for you to become a data analyst:
The job is challenging, and every day new complex business problems arise. Thus, you will have loads of learning as you solve different types of problems.
You will never be out of a job. As for companies, data is the most essential entity to improve their products and/or services.
Most importantly, it is currently amongst the highest paying jobs.
Data Analyst Salary
The salary awarded to a data analyst varies based on different factors. Along with the base salary, a bonus component and profit-sharing are also awarded to data analysts. Here are some of the factors that determine the salary of data analysts:
Level of experience
Type of industry
Roles and responsibilities – data mining, analytics, programming, data cleaning, etc.
Location of work
For example, a fresher with professional training or certification might be getting lesser than a senior engineer with hands-on experience. The average salary of an entry-level data analyst is about Rs. 7 lakhs in India. Now, let's discuss each factor that affects the salary of a data analyst one by one below.
Level of experience
Most of the data analyst jobs are for candidates who have about 1-4 years of experience. This is followed by those having no or less than 1 year of experience and then those who have about 5-9 years of experience. About 61% of the total data analyst jobs are for junior and medium-level analysts who can work both on technological aspects as well as statistics.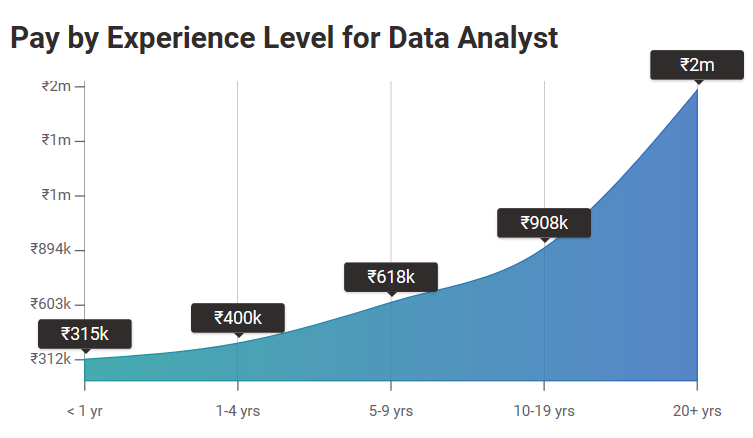 Source - PayScale
Here is a quick table to show the pay scale based on the level of experience:
| | | |
| --- | --- | --- |
| Title | Role | Salary (in India and US) |
| Entry-level Data Analyst | Complete simple earning-based assignments, help senior data analysts to gather data and perform certain administrative tasks | Rs. 4lakhs-9.36lakhs per annum or $34,466 per annum |
| Junior data analyst | Use tools to gather and mine data, transform numbers to plain English text, interpret data, clean data, and implement strategies to improve efficiency | Up to 16 lakhs per year or $70,000 per year |
| Senior data analyst (business data analyst) | Train team members, handle a huge amount of data for high-profile or confidential projects, interpret and analyze data, follow best practices and help in business process improvements | More than 20 lakhs per annum or $106,600 per annum |
| Data analytics manager | Supervise a team of data analysts responsible for dealing with the company leaders, stakeholders, and customers, provide business process recommendations, expedite the reporting process, and ensure accuracy and efficiency of analyzing the data collected | More than 20 lakhs per annum or $106,880 per annum |
Type of Industry
TCS, Accenture, MuSigma, and Amazon are companies that keep hiring more data analysts, and the pay scale offered by them is quite good – about 5 lakhs per annum for an entry-level data analyst. Myntra, an online shopping portal, pays about 8 lakhs per annum. Microsoft, Google, Apple, Facebook, Paypal, Twitter, and Airbnb are some of the big players who pay a fat package.
Here is a graph indicating the type of industry and average salaries of data analysts in each industry: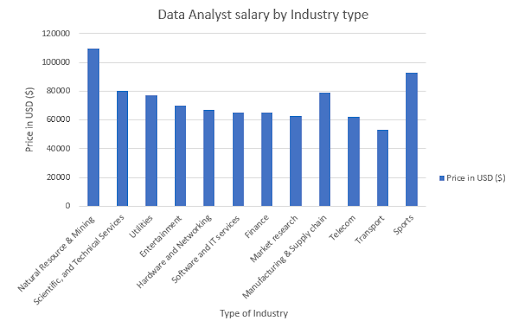 Business analysts are those who convert data-driven insights and key information into business suggestions. They usually use Excel, SQL, and Tableau. At the entry-level, business analysts are paid anywhere between $55,000 and $70,000.
Financial analysts create financial models by analyzing micro and macroeconomic trends and predictions about the company's performance based on financial data.
Healthcare data analysts use data for customer information, manage customer records, and streamline administrative tasks and overall operations.
Market research analysts use sales, customer surveys, and competitor research data to plan marketing strategies and optimize targeting and positioning efforts. They have to be creative in formulating new strategies and coming up with new ideas. They mostly work with R/Python, SPSS (Statistical Package for the Social Sciences), SAS, and Excel.
Transport data analyst determines gaps in the inefficiencies and budget variances and gives recommendations on improving the entire process of timeliness, types of goods, cost, and other factors.
Amazon is currently the top employer of transportation analysts. They work with Excel, SQL, and logistics management.
Takeaway
It is important for you to note that the data analyst's salary range depends on the tools and amount of work involved. At entry-level, you may just have to gather the data from one source. However, as you move up the ladder, you may have to collect data from various sources within the industry, such as competitors, surveys, research, past data, and so on. Some industries pay more depending upon the amount of research and data interpretation involved.
Location
The US is currently the top payer for data analysts with an average salary of $59,000, which again varies based on the city within the US and other factors. In India, data analysts earn an average of Rs. 9,78,432, which does not include bonuses and other perks. In India, the city that pays the highest packages to data analysts is Gurugram, followed by Bengaluru and Pune.
If you have plans to relocate, the US, UK, and Australia are 3 other good options to choose from where base pays are in the range of USD 92,164, GBP 55,550, and AUD 119,000, respectively.
Important Tips for You
Based on your experience, you might be given tasks. For example, as an entry-level data analyst, you will be given the task of collecting and filtering data or cleaning the data. As you acquire more experience, you might be able to do more complex tasks, like deriving business interpretations from the data and seeing the bigger picture.
A data analyst's salary also depends on the kind of roles he/she is performing. However, you can increase your chances of getting a good package by expanding your existing skillset. This will help you take up more challenging work in less time. There are a lot of certifications and courses available on the internet.
Other than the basic requirements for a data analyst, here are some tools that you can learn:
Spark/Hadoop
Scala
D3
AWS/Azure
MapReduce
Apache Hive
PIG
Machine Learning
ETL
You can also take up freelancing projects from Freelancer.com, Upwork, Fiverr, etc., to enhance your portfolio and gain more experience. This will help you get on board in a company faster and with a better salary package.
Summary
Now that you know much about the data analyst role and its career prospects start working on your skills by taking up courses and certifications. Whether it is your first or second career, the data analyst is going to stay for decades, and you will have to update yourself with the industry's needs constantly.
If you are a student, start learning how to perform statistical analysis on your choice of domain. For example, the sports or entertainment industry could give you loads of data to work on. View your surroundings with a curious and creative mind and think about how you can work with numbers and interpret practical results.
We hope that this article has provided you with the necessary information regarding data analyst salary. You can leave your thoughts in the comment section below.
People are also reading: