As important as it is to assure the quality of software, it is equally important to manage the testing process. Test management tools help to manage and plan software tests. Testing management tools can help in designing test cases (hence, they are also sometimes referred to as test case tools), itineraries, execution flows, reports, and metrics. Test case management tools help check the process of software testing so that no loopholes escape. There are tools available with different feature sets to execute efficient tests to ensure superior quality of the final product.
Why Use a Test Management Tool?
Maintains the test cycle activities and assists in developing test requirements, test cases, and so on.
Increases efficiency and test coverage.
For complete assistance to test execution support, testing management tools are configured and integrated by professional testers.
Helps in the complete inside analysis of test reports, metrics, et cetera.
Elevates the quality of the bug tracking process.
Best Test Management Tools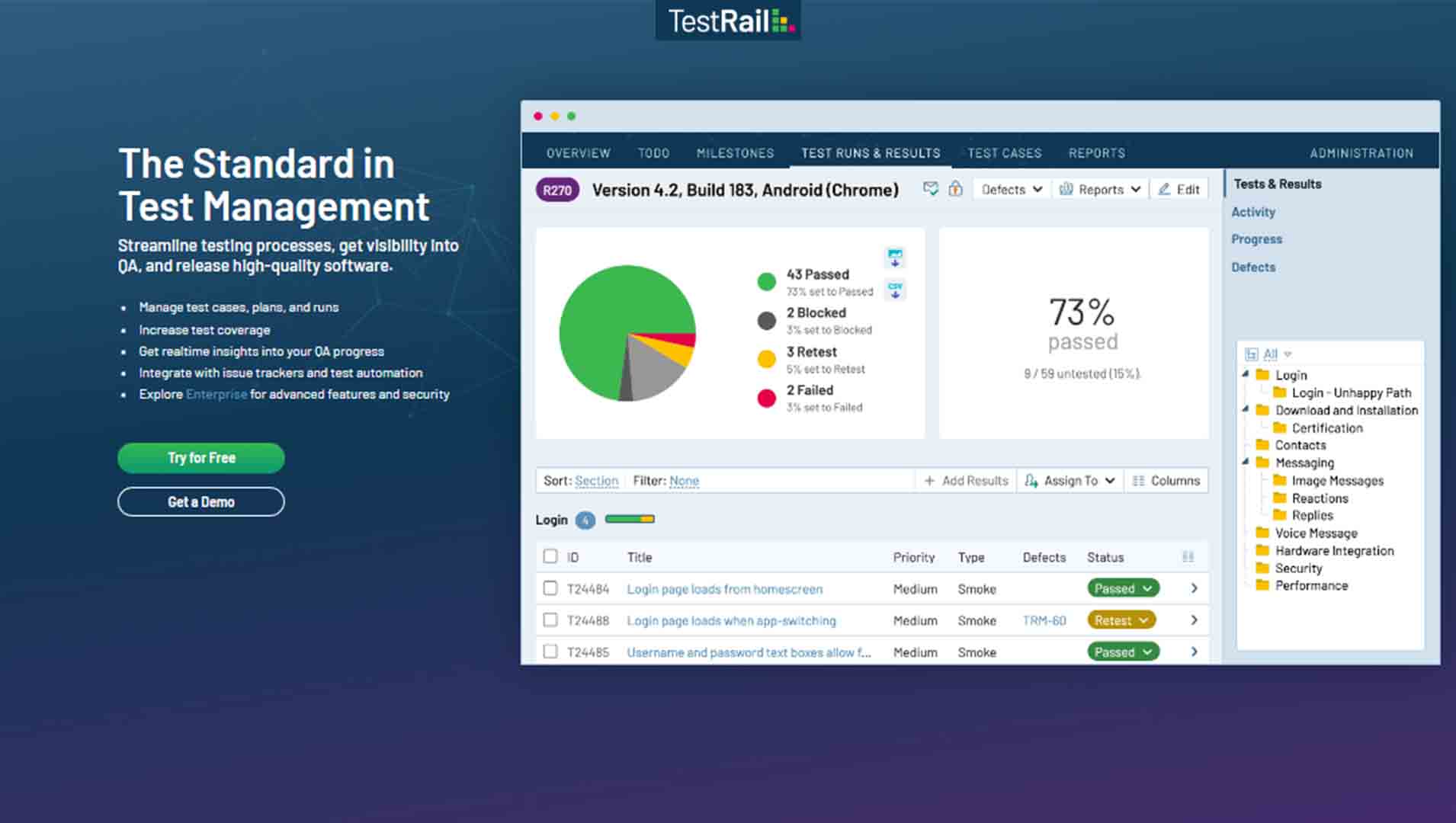 With real-time insights, TestRail increases the quality of test management by optimizing the testing efforts. Its robust design and framework enable rapid results and metric analysis. Moreover, the centralized test case management enables comprehensive insights into critical data points. TestRail has comprehensive and scalable test management with customizable test environments. It allows easy and hassle-free management of test cases, plans, and itineraries. Its real-time test metrics make it easy to implement changes in the native code of software thereby, saving a lot of effort. Using TestRail's issue tracker, one can further elevate the test efficiency with robust coverage. It can measure test progress and efficiency at any step and allows easy and quick configuration. Get the free trial or leverage the TestRail enterprise plan if you have larger teams. The test management software allows interactive team collaborations.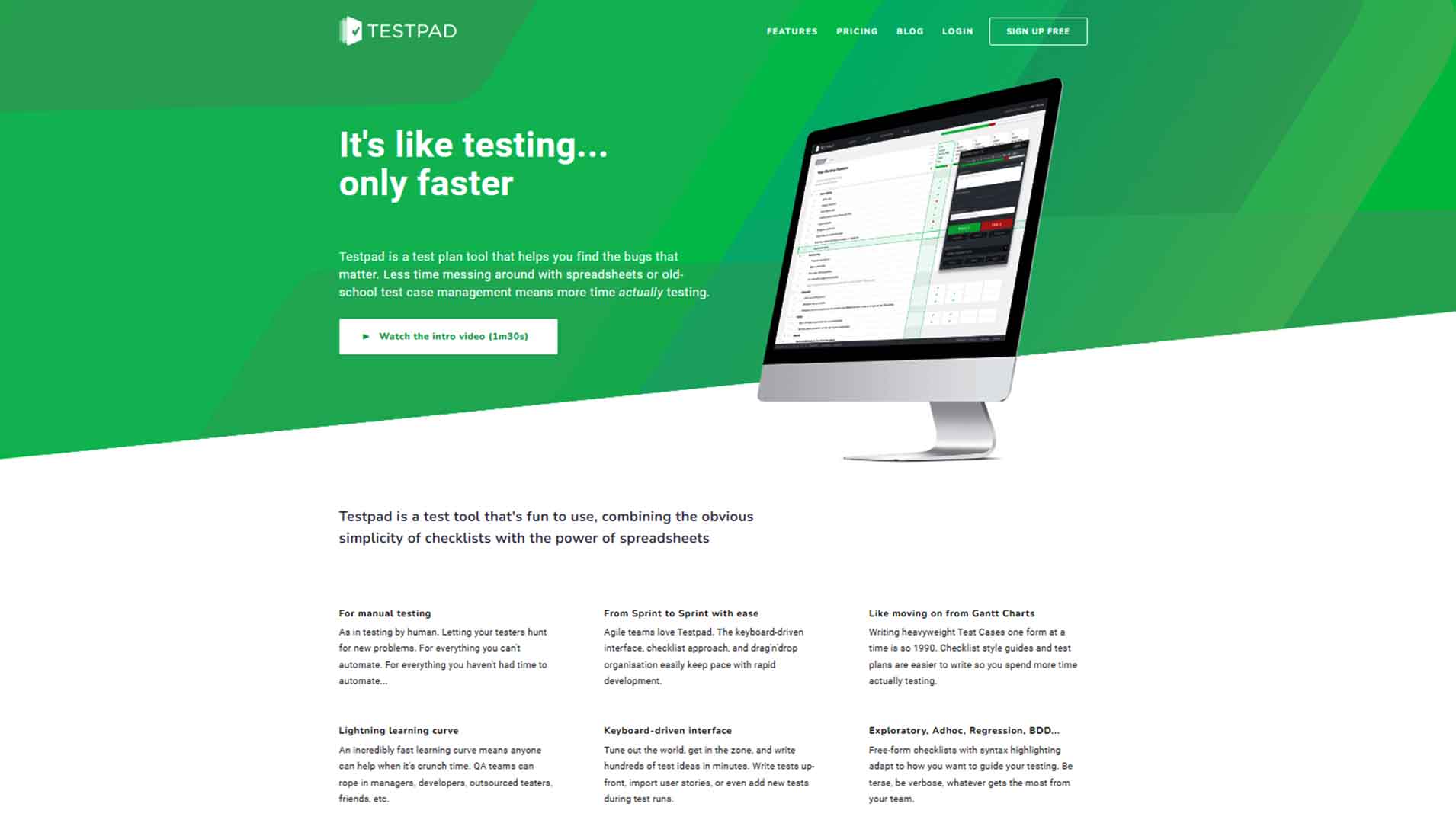 A lightweight test management tool, Testpad works like a spreadsheet and is easily adaptable by both novice and experienced software testers. The testing management tool can work optimally for exploratory testing as well as for fully-scripted test case management.
Features:
It creates a free-form structured checklist.
Easy collaboration and onboarding of guest testers.
It can be edited by easy keyboard hacks and minimal JavaScript-driven UI.
Can readily adapt to TCM, BDD, and so on.
Supports drag-and-drop functionality.
Its ability to provide consistent results has brought it into the limelight. Testpad comes with a 30-day free trial period to allow users to understand and check out its wide range of features and benefits.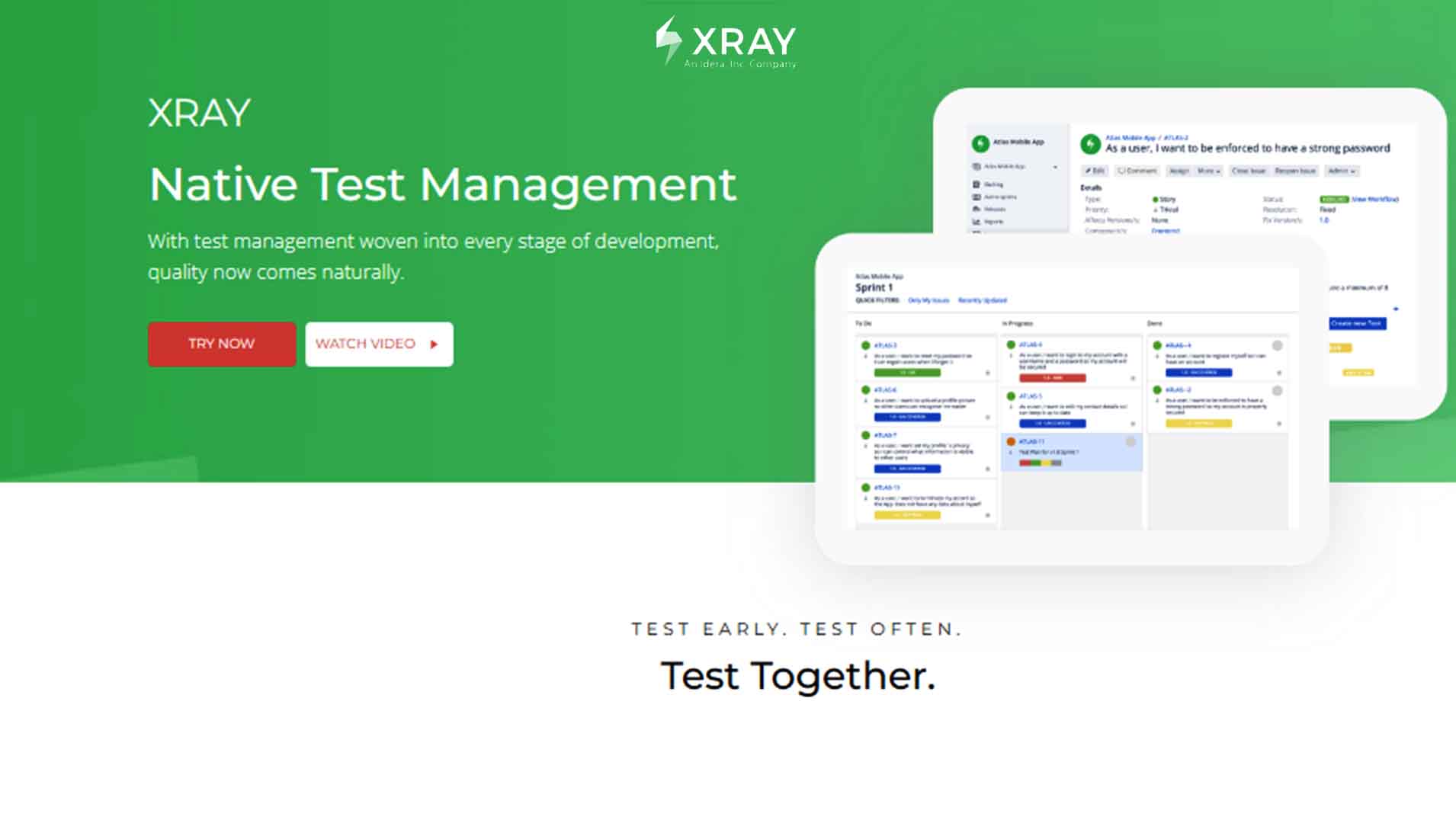 It is among the best testing management tools for ensuring optimum quality of QA tests on software products. Its unique set of features and responsive design makes it the go-to tool for software testers. Xray Test Management can single-handedly execute, manage and run efficient tests on software products.
Features:
Easy and error-free tracking of bugs, execution steps, and more.
Rapid configuration and integration with test automation frameworks.
Has a built-in REST API.
Quick CI integrations.
Comprehensive and interactive reporting systems.
It works fine with JIRA, Cucumber, and BDD. Xray elevates the optimacy of test specifications, organizations, execution, and reporting. Need 360-degree test management? Plug into Xray.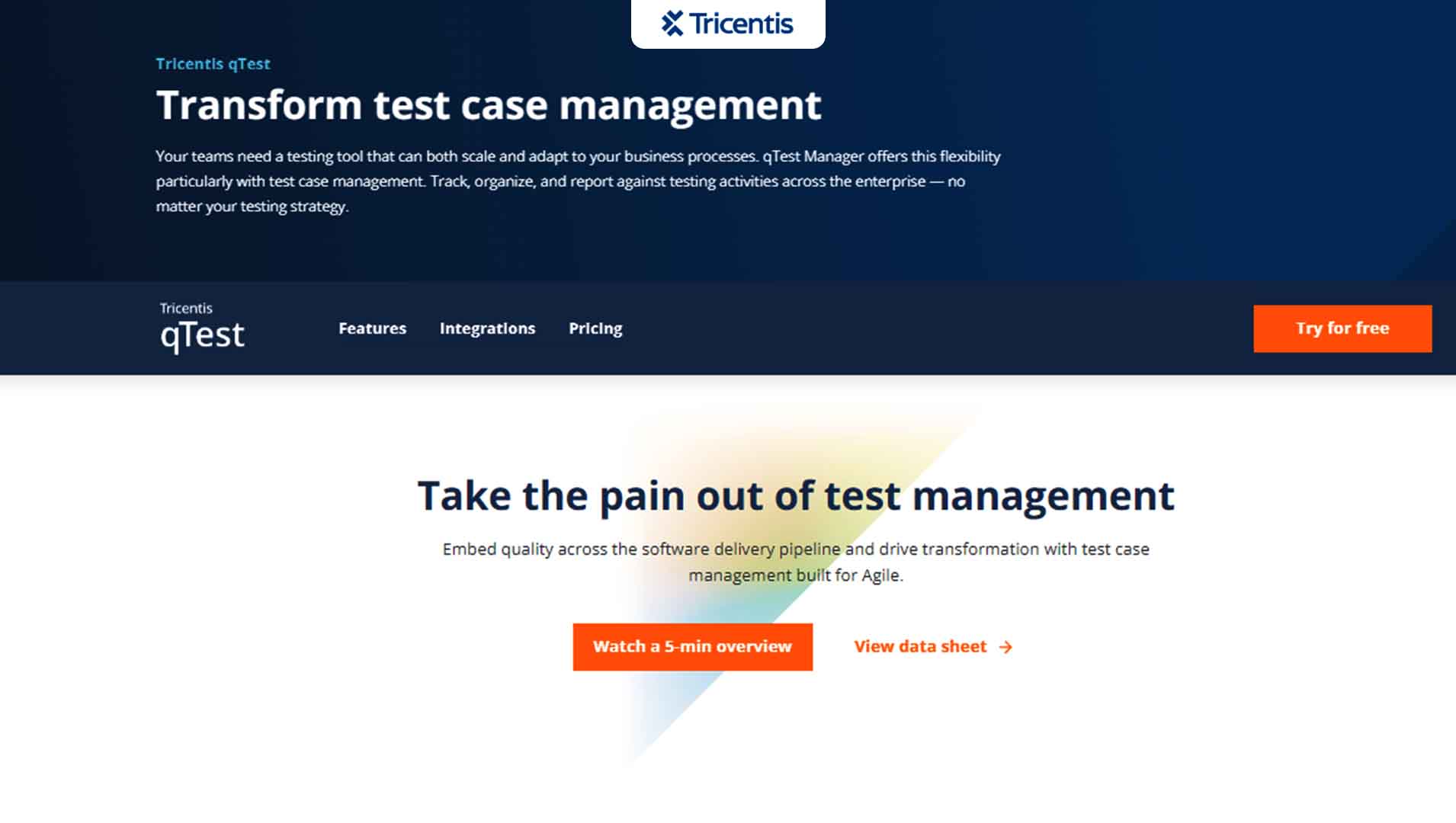 qTest is a simple and rapidly adaptable test management tool. It automates and quickens the process of managing, creating, and managing testing tasks. It increases the overall coverage and scalability of testing solutions. Its unique feature set and reliable performance advocate for its sudden popularity in the market. At present, it is one of the fastest-growing test management tools. It can easily and efficiently integrate with JIRA and is a cloud-based application, thereby eliminating the risks associated with data losses. Its simple and interactive dashboard with attractive and useful report formats makes its comprehension and bug tracking easy. Support for drag and drop operations is also available. The test management software also provides easy integration with third-party defect management tools. It comes with a 30-day free trial period.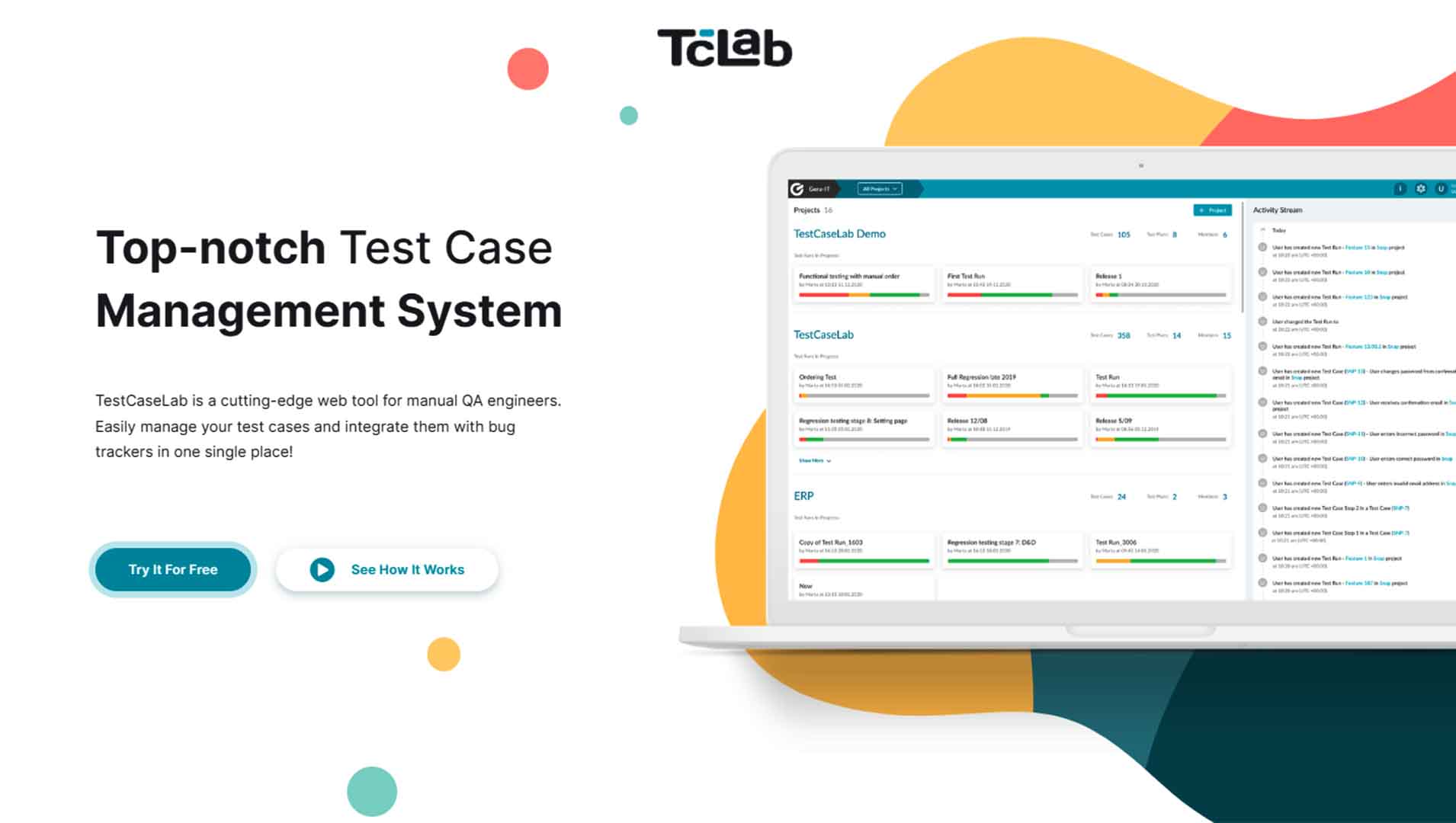 It is a test case management tool that assists in creating, managing, and organizing test cases. TestCaseLab can also efficiently group test cases and execute simple to complicated test runs in no time. Its speed without compromising accuracy is worth considering. Therefore, TestCaseLab can successfully elevate the QA engineer's productivity multifold.
Features:
Rectifies the process of creation, grouping, managing, and running the test cases.
Easy and smart search feature for searching desired test cases.
Real-time synchronization among team members.
Select, edit and delete multiple cases.
Supports drag and drop operations.
Rapid integration with the issue or bug tracking tools, such as JIRA and Pivotal.
Email notifications to keep track of ongoing testing projects and progress.
Allows unlimited users and projects.
Seamless export/import.
TestCaseLab has 30 days of free trial to allow users to test and comprehend its interactive design and distinctive feature set. However, the basic plan starts from $48/month for 500 test cases.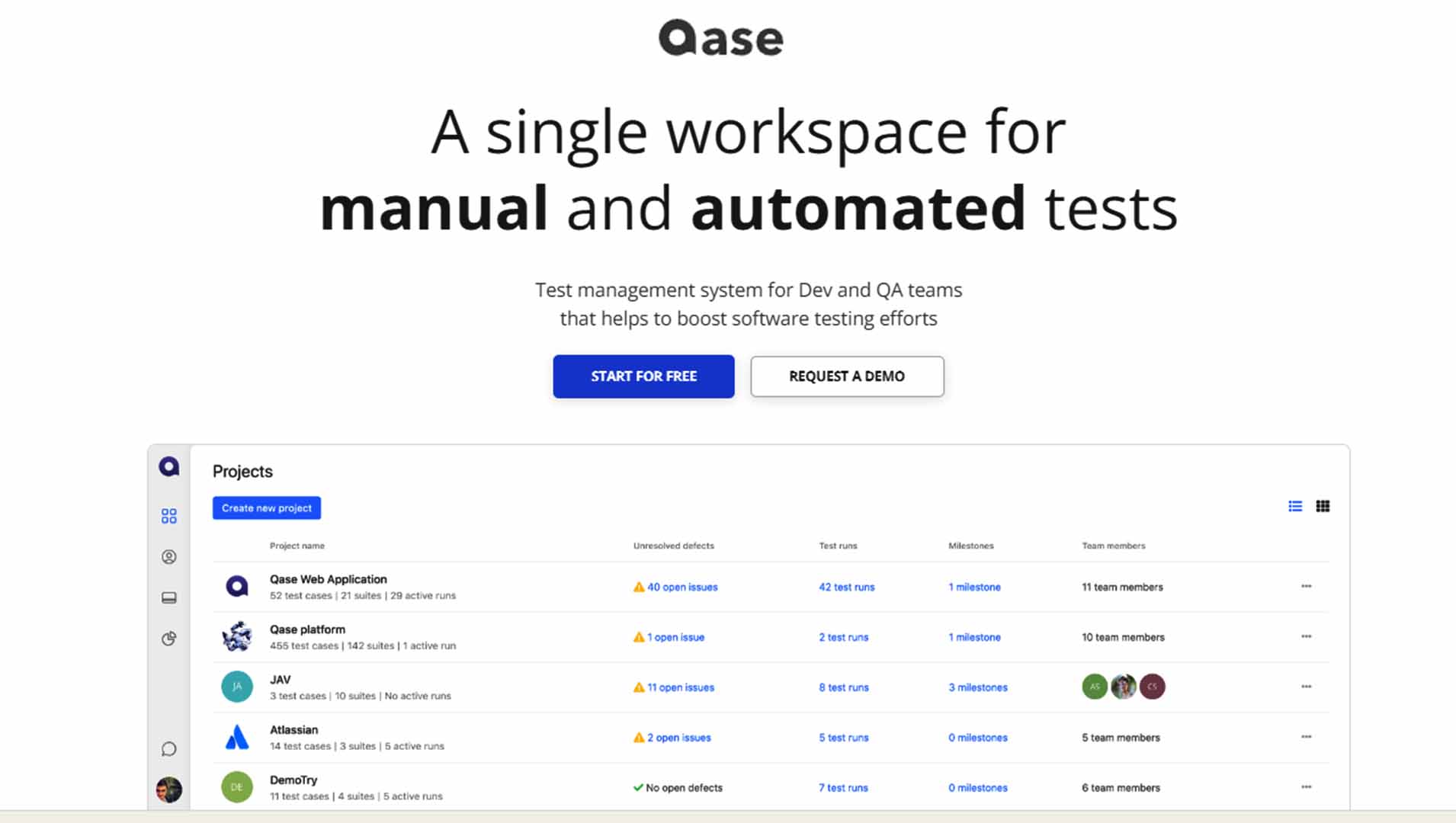 A cloud-based test management tool, Qase composes, manages, and performs test runs efficiently and most reliably thereby, enhancing productivity. Qase is said to be an all-in-one test management tool due to its wide capability of test case management, bug management, planning, increasing coverage, and whatnot! It propounds no limitations and follows and functions for both automated and manual testing.
Features:
Allows integrations with Jira, Redmine, Trello, and more.
Stores and manages all test cases in a hierarchical tree in one place.
Interactive and productive team discussions.
Have themes for UI.
Customizable fields for test cases, defects, and test runs.
Rest API is available.
It has a free version suitable for a team of three members. Nonetheless, it offers affordable plans starting from $10/month for each member if you have a bigger team.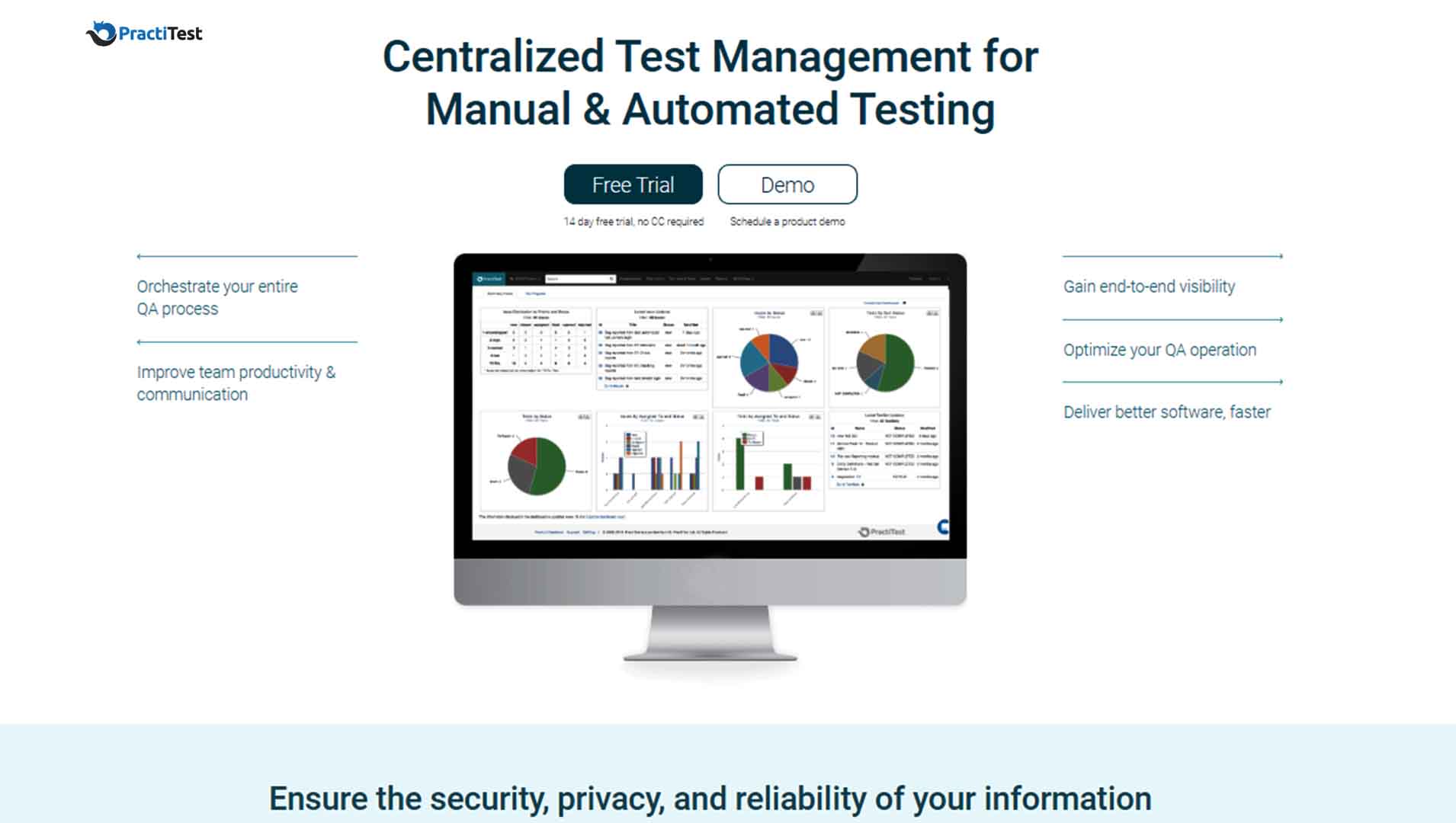 A SaaS-based test management tool, PractiTest has always delivered what it promised. A top player in the market, it elevates the critical point values of test cases and ensures quality testing. It delivers some interesting and smart features to make sure there is no loophole left in system testing. PractiTest has an advanced dashboard with robust menu options that are readily adaptable among team members. The interactive reports increase the test result's readability and coverage. It can also:
Create and run tests based on test cycles,
Report critical issues directly via email, and
Provide metrics of some inside points of testing processes.
PractiTest can seamlessly integrate with CI and bug tracking tools to facilitate the configuration and implementation of simple to complex test runs. You can leverage its 30-day free trial for developing a deeper understanding of its feature set and compatibility points before making a purchase.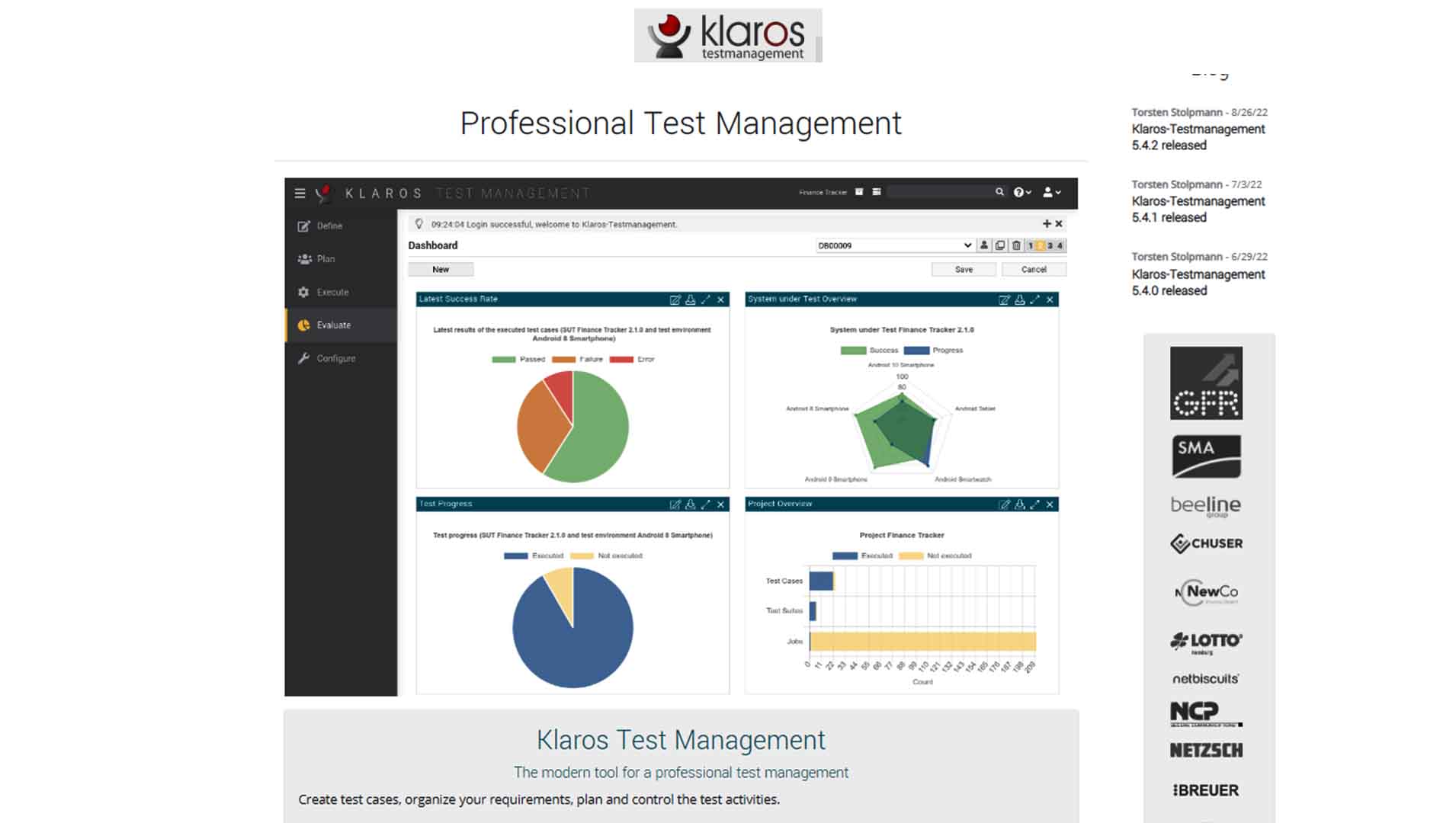 A maven for professional test management, Klaros Test Management is an efficient tool with smart solutions for test case management, execution, planning, and administration. It has an easy and adaptable dashboard with in-built components for the evaluation of test cases. Not only this, but its reporting system is also imbibed with intuitive metrics and valuable data points. When it comes to the framework of klaros-test management, it never lingers.
Features:
It supports simple to complex development processes such as V-model and Scrum.
Features a predefined and integrated reporting system.
Compatible with JIRA, Qunit, GitLab, and many more.
Inbuilt interfaces for easy and rapid tracking of issues and bugs.
LDAP, active directory, and CAS.
Supports import and export of data in various formats, including PDF and CSV.
Klaros Test Management provides demo and feature tours to its users for detailed comprehension.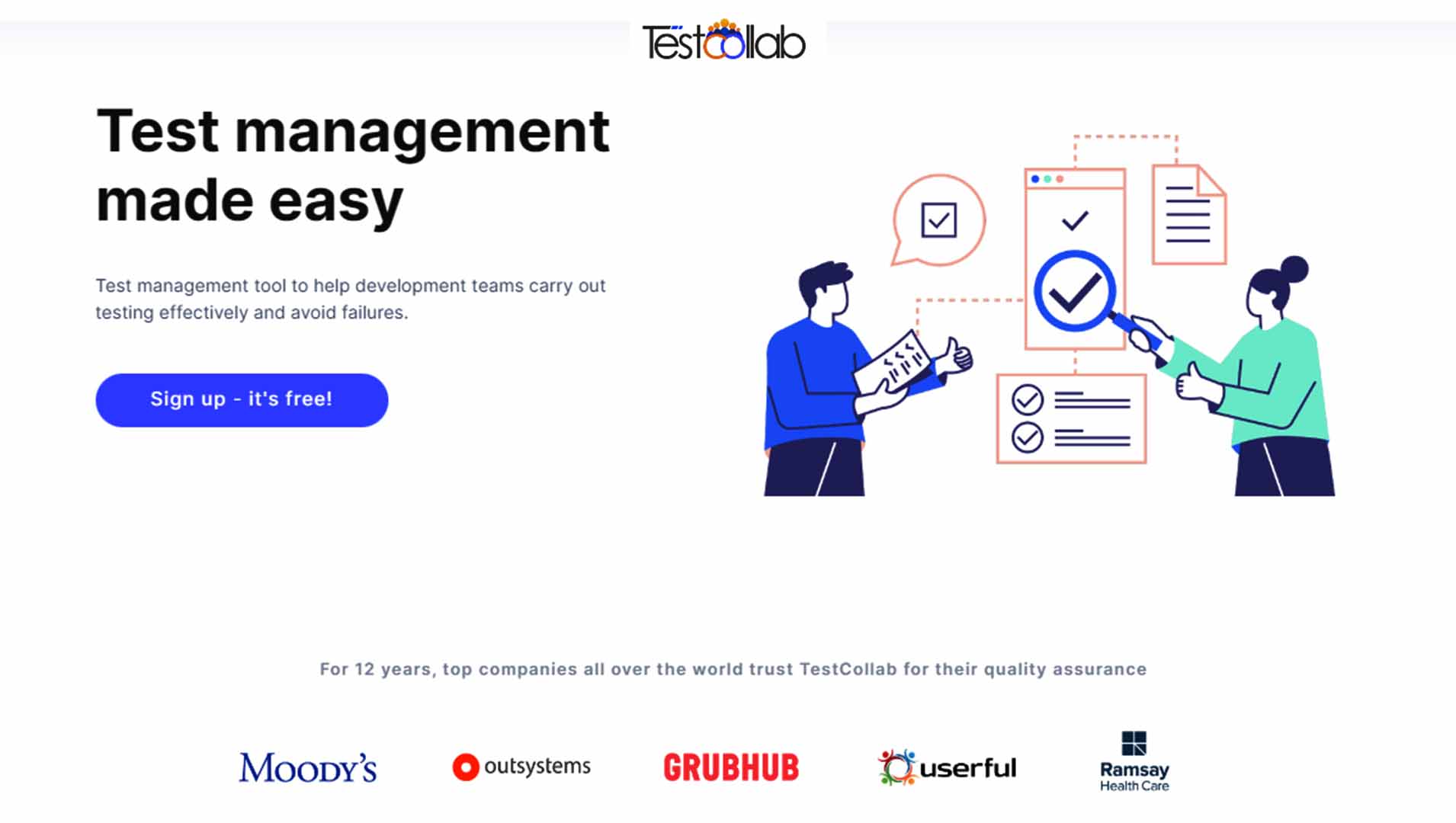 A user-centered solution for test management, Test Collab has gained popularity throughout its tenure of 10 years in the industry. It helps monitor the exact phase of test runs and also in optimizing test conditions, scalability and coverage.
Features:
Provides solutions for agile and waterfall SDLC methodologies .
Can assist in importing and exporting data for hassle-free migration between different platforms.
Quick integration with bug trackers and other vital tools.
Increased and robust data security.
Can reuse test case steps and test suites.
Micro-level management of user rights; user-centered solution.
Test Collab is used by both startups as well as by large enterprises. For organizations, it supports custom fields to cater to specific needs and requirements. It is one of those rare test management tools that provide a free tier. Not only this, but it also provides a 14-day free trial for experiencing business plans.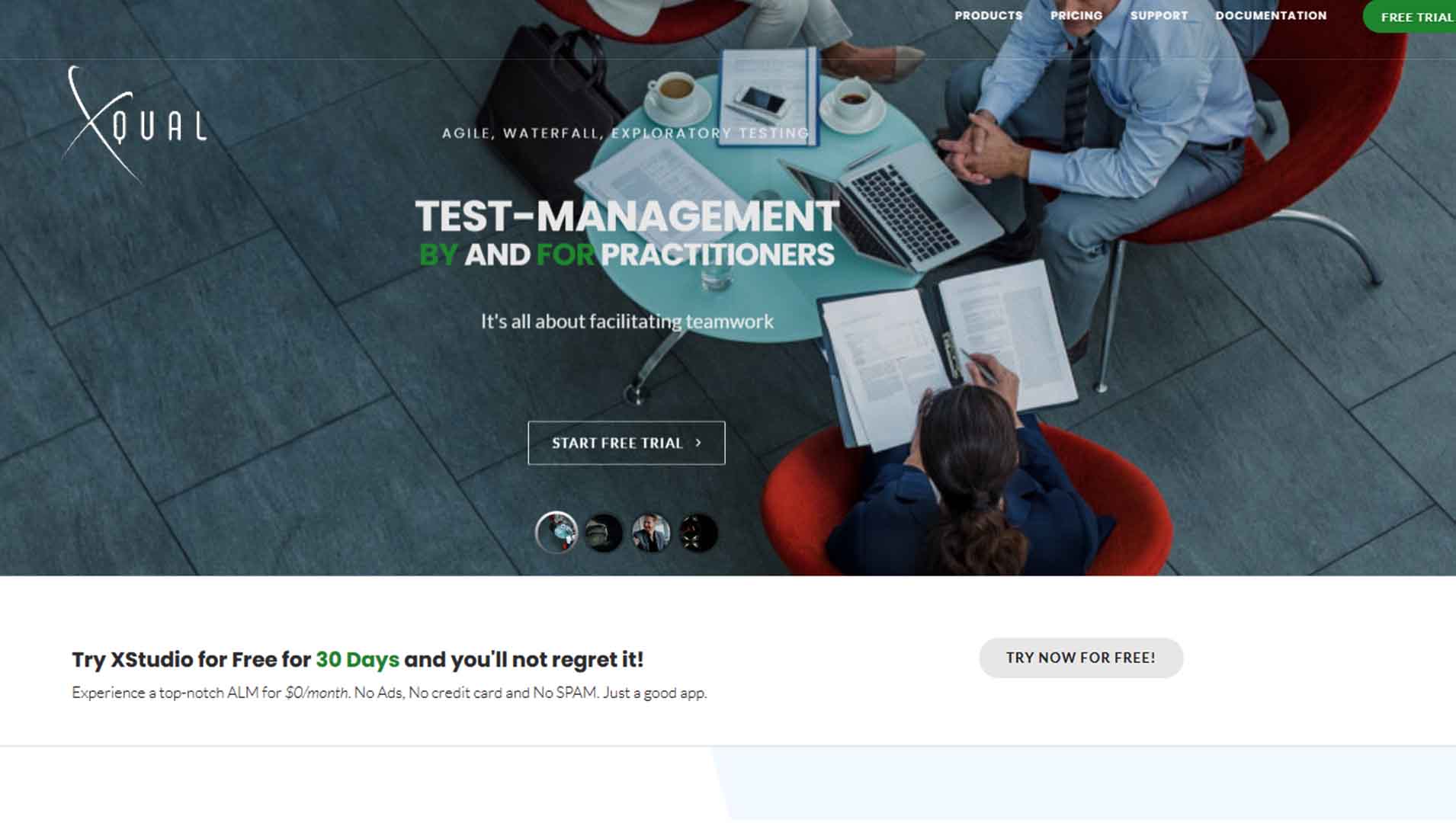 It is a reliable solution for regression testing management and application lifecycle management. XQual mitigates the risks and faults that occur during bug tracking, slippage due to inefficiencies, and poor management. As it is a cloud-based solution, XQual poses no risk to data security. It is available in professional, business, and enterprise editions and provides the following benefits:
Easy adoption with the in-use SDLC models.
Offers exploratory testing.
Real-time connections with bug tracking tools and third-party requirement management.
Automatically converts exploratory testing to scripted notes.
Has almost 90 different launchers to execute the automated software testing tests.
Can efficiently control automated script's version-controlled files.
Allows sharing and reusing test cases.
Can show results from different campaigns in a consolidated and merged form for better understanding.
Along with all these valuable benefits, XQual also provides a free trial and free e-learning programs.
Conclusion
Finding a perfectly compatible test management solution is not easy and demands careful consideration and a detailed analysis of all your options. One can also compare and contrast these tools to get the best value for money. Considerations like ratings, integrations, compatibility and language support will help you choose the right testing management software.
People are also reading: