Creating a website or email marketing campaign is the primary step in digital marketing. What comes after creating a website or email marketing campaign is to gain more visitors and convert them into customers. In other terms, businesses need to focus on increasing the conversion rate. But what exactly is the conversion rate?
The conversion rate is the ratio of the number of people visiting a website and performing the desired action to the total number of visitors multiplied by 100. For example, if your website has 500 visitors in a month and 250 visitors got converted into customers, the conversion rate would be 50%, i.e., (250/500)*100. To have a better conversion rate, it is essential to have your website fully optimized, and this is where A/B testing comes into play. A/B testing helps you to know which version or variation of your website can drive more conversions.
To carry out A/B testing, you will find dozens of tools available out there. But choosing the right one is important. Well, this article will make you familiar with the top 10 A/B testing tools, along with their key features. However, before moving to that, we will give you a brief overview of A/B testing.
What is A/B Testing? [Definition]
A/B testing also called split testing or bucket testing is an experimentation process where two different versions of a single variable, i.e., a web page, website, page elements, or mobile application, are exposed to two different groups of users or website visitors to determine the version that is more impactful and appeals to the audience. In the context of A/B testing, A implies 'control', i.e., the original testing variable, while B refers to 'variation,' i.e., the variation or a new version of the original testing variable.
The original testing variable and its new version are made available to different sets of users. A/B testing uses statistical analysis to determine which variation performs better for a given conversion goal. Here, a conversion can be the percentage of people who clicked on a particular link, made a purchase, or completed a form.
Now consider that you have created two different landing pages, and you want to decide which one is better. To do so, A/B testing will help you out in finalizing the best landing page. You can provide two different landing page designs to two different sets of users. Later, observe how these landing pages work in terms of clicks, conversions, and traffic. Finally, you need to choose the one that performs better.
10 Best A/B Testing Tools You Should Know
A plethora of tools for A/B testing is available out there, thus it becomes difficult to pick the right one among them. The following is the curated list of some popular A/B testing tools, along with their features and pricing that can help you find the right A/B testing tool: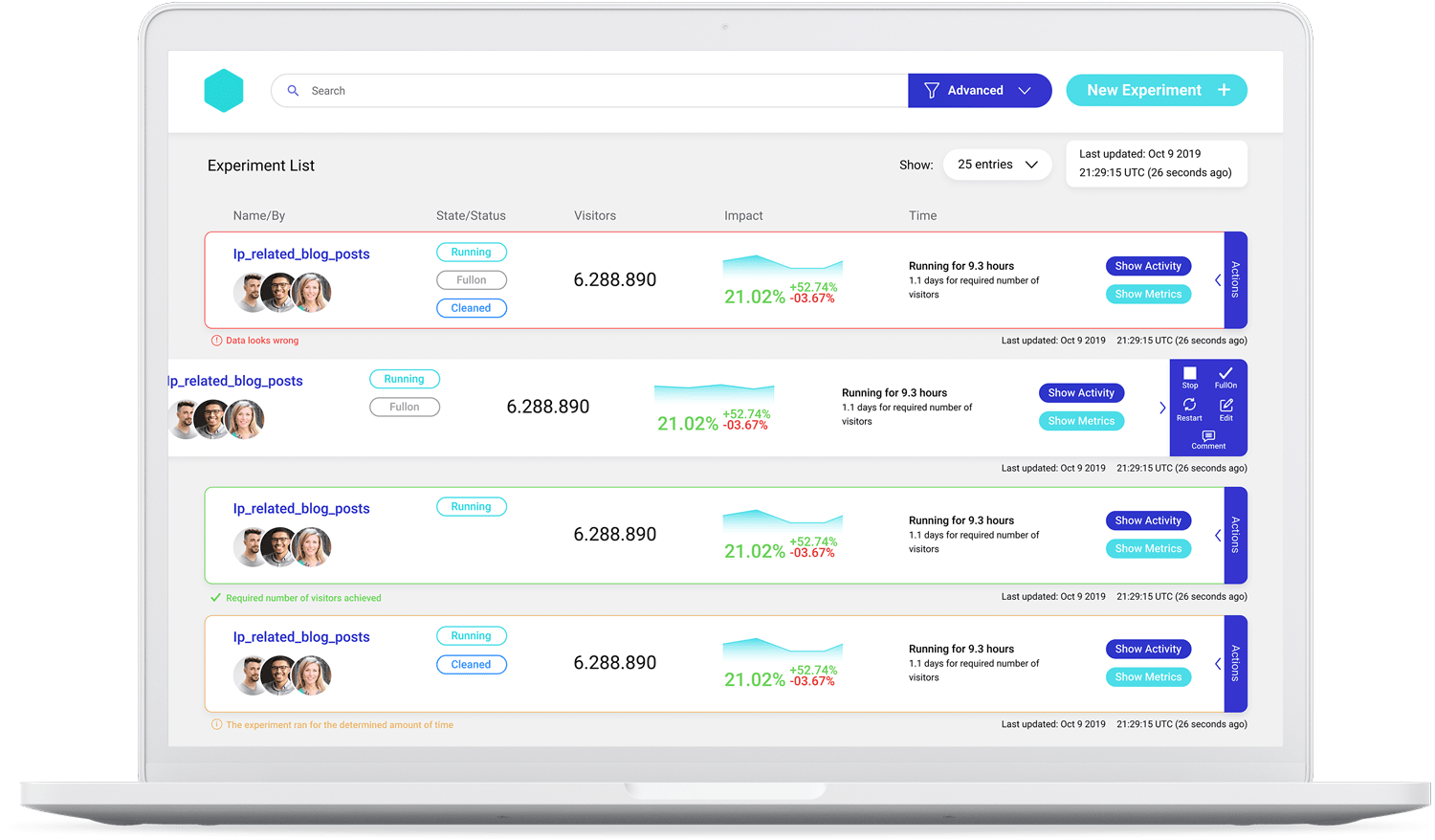 A/B Smartly is a popular and widely used A/B testing tool. It is a knowledge-based and engineering-centric experimentation platform that democratizes experimentation across your organization. You can run A/B tests across frontend, backend, iOS and Android apps, emails, and many more with real-time statistics and reports. It empowers the product teams to carry out A/B tests for every change in the testing variable on their own. Multiple teams can carry out experimentation by providing entire transparency to stakeholders.
Features:
A/B Smartly supports multiple data sinks, such as Hadoop , BigQuery, ClickHouse, Redshift, Snowflake, Apache Druid, and many others.
It automatically warns you about sample ratio mismatches, trigger day effects, novelty effects, and spikes caused by robots.
You can get real-time reports of your experimentation quickly within minutes.
It enables you to carry out hundreds and thousands of A/B tests with reliable results.
It automatically detects interactions taking place while carrying out A/B tests, making it easier for you.
A/B Smartly can run locally, which eliminates expensive user experience issues.
With A/B Smartly, you run SEO experiments and find out the impact of A/B tests on your website's organic traffic.
A/B Smartly enables you to collaborate with your team. Moreover, it can seamlessly integrate with slack and email.
Pricing: You need to contact the vendor for pricing since it depends on whether you require custom integrations or advanced support.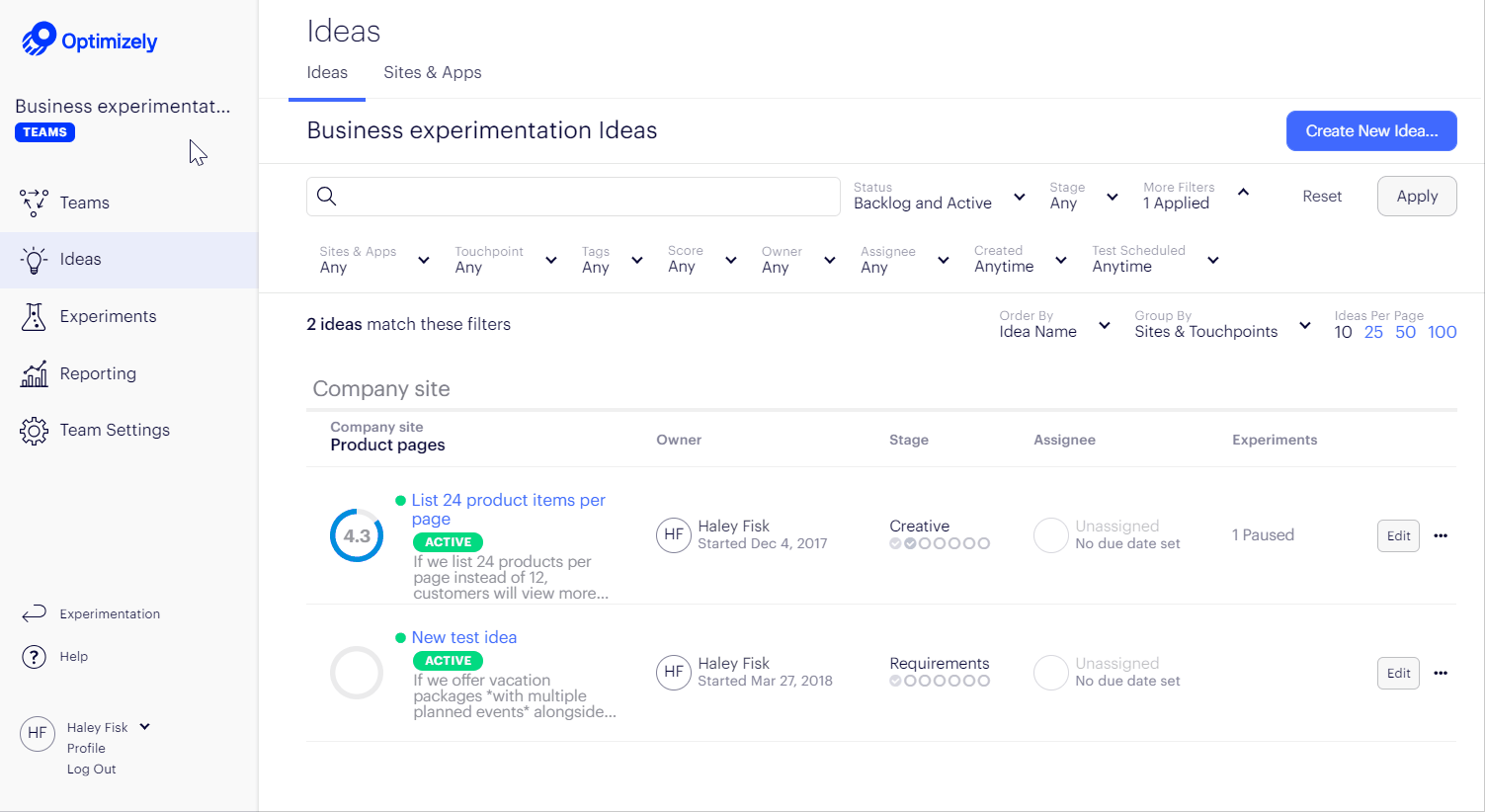 Optimizely is another popular experimentation platform that enables you to create and run A/B tests for your websites. Using its basic features, you can use this tool to run various experiments for your websites. This tool comes with Optimizely X: Web Experimentation, which allows you to set up A/B tests or split tests with multivariate tests. Such integration of A/B tests with multivariate tests enables you to manage your experiments, track visitors' events, use it with single-page applications, etc.
Features:
Optimizely has an easy-to-use visual editor that follows the WYSIWYG ("what you see is what you get") approach. This editor helps product teams to carry out A/B testing and multivariate testing effortlessly.
It can generate a snippet that you can integrate into your website's code to start A/B tests simply.
This tool comes with an API, Optimizely API, that enables you to start, pause and stop experiments at any time.
It can seamlessly integrate with Hotjar.
It provides great deployment of server-side experiments, which enables smooth page redesigns.
Pricing: You need to contact sales to get detailed pricing information.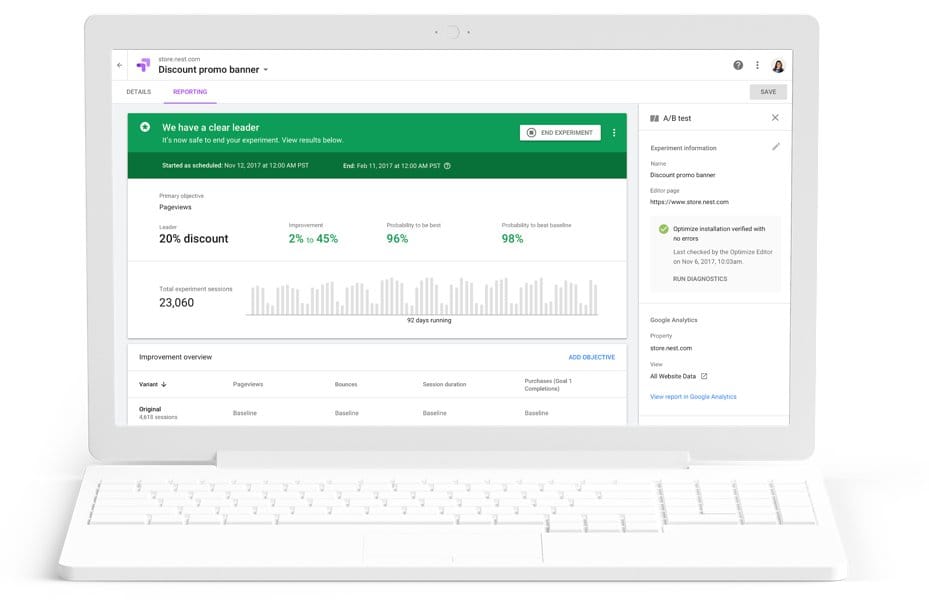 Google optimize is a website optimization tool that helps web admins and online marketers to increase their visitor conversion rates. Also, this tool helps them to improve overall visitor satisfaction by testing different combinations of website content.
Features:
With Google Optimize, you can test any element of your page that exists as an HTML code. These elements can be fonts, call to action, product copy, product reviews, product images, point of action assurance, and forms.
It enables you to test different versions of your entire page or website, i.e., A/B testing.
You can also test multiple combinations of page elements, such as images, body copy, or heading, i.e., multivariate testing.
It also supports server-side experiments, split-URL testing, and redirect tests.
Google Optimize comes with a visual editor that enables you to create the variant of your testing variable without requiring you to recode your site each time.
It leverages Bayesian statistical methods to provide the real-world performance of your experiments and deliver accurate results.
You can easily manage all your experiments with Google Optimize's built-in management features.
Pricing: Google Optimize provides two different pricing plans, namely Free and Custom. You can use the Free plan without spending a single penny. To know the price of the Custom plan, you need to contact sales.
https://www.youtube.com/watch?v=N9jTakyUjCs
Visual Website Optimizer is a widely used experimentation platform used for carrying out A/B testing on websites, applications, and other products. This tool enables you to create and run tests without the need for coding. More than thousands of web admins and CRO experts use VWO to create and run experiments.
Features:
With VWO, you can A/B test anything and measure its impact everywhere. It enables you to integrate all metrics and measure how they get impacted by your experiments.
VWO keeps track of guardrail metrics to avoid and stop bad experiments.
It tracks both leading and lagging indicators for your experiment's impact.
VWO comes with a point-and-click visual editor that does not require you to have coding skills for writing tests or tweak your pages for testing. You get various ready-to-use widgets to deploy and test on your website.
Multivariate testing with VWO enables you to experiment with hundreds of changes on your landing page, all at the same time. Once you make changes to an element, VWO creates all the possible combinations of your changes, which makes it easy for you to determine the most optimal combination.
With VWO's split URL testing, you can split your website's traffic between two different URLs of your landing page. You can check which URL converts more visitors and then choose accordingly.
VWO enables you to download the test reports in the .csv format so that you can analyze them offline.
Pricing: Visual Website Optimizer is available in three different editions, namely Growth, Pro, and Enterprise. To get the pricing details of all three editions, you need to contact the vendor.
https://www.youtube.com/watch?v=6i1iuUzgjhs
AB Tasty is yet another popular optimization tool that enables you to optimize your websites, products, apps, and software. It helps marketing, engineering, and product teams work together seamlessly to increase conversions, forms filled, revenue, and CTR. With AB Tasty, you can test your website, features, apps, and many more to ensure that you are driving the highest possible ROI from your digital touchpoints.
Features:
With AB Tasty's AI capabilities and data lake integration, you can create granular user segments for your experiments.
It comes with a drag-and-drop editor that lets you change everything on your website, from blocks to buttons to pop-ups to create different variations for testing.
AB Tasty offers a broad range of KPI settings, from action or page tracking to browser-based behaviors or transaction tracking, to track the progress or status of your experiments.
You can perform split testing by splitting your website's traffic into two different URLs and checking which one performs better.
It can easily integrate with your data analytics stack. You can send the experiment's performance data to the desired data analytics tools .
The ROI dashboard of AB Tasty makes it easier to identify the business impact on your experiments.
Pricing: You need to contact sales to get your custom quote.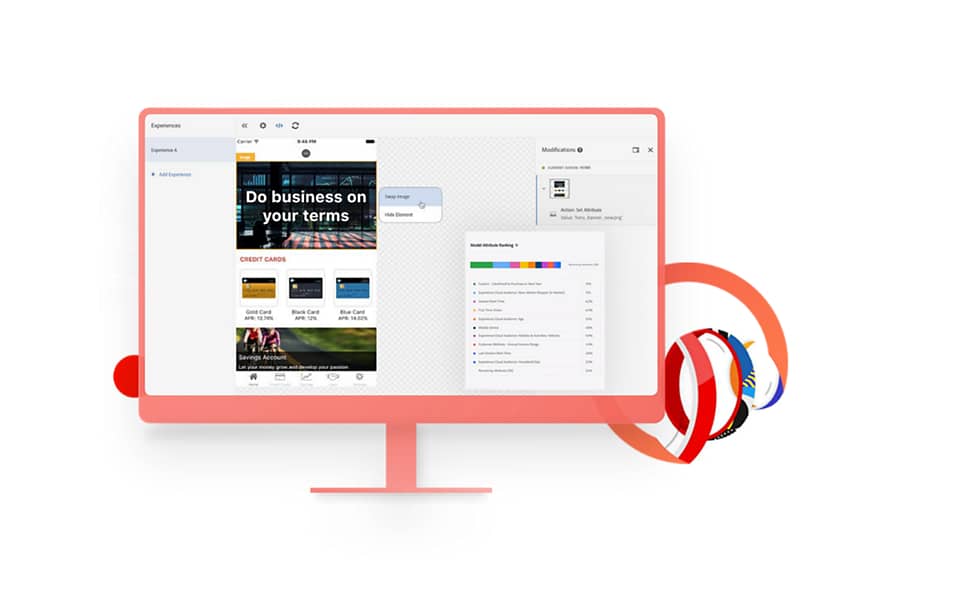 Adobe Target is a rule-based testing and targeting tool. It provides you with a complete optimization engine for AI-powered testing, personalization, and automation at scale.
Features:
With Adobe Target, you can perform A/B testing on your images, UI, page elements, and many more to determine the best and winning variation. This tool follows a rigorous testing approach to test multiple variations across web apps, mobile apps, etc.
Adobe Target enables you to perform multi-armed bandit testing. In this testing, Adobe Target automatically allocates traffic to the most successful variation for increased conversion and revenue.
It also supports multivariate testing. To identify the most effective combination, you can test multiple elements of your page simultaneously, such as images, layout, color, background, and many others.
Through Adobe Target, you can find the best-performing offer for your visitors. To do so, Adobe Target leverages machine learning methods to automate large-scale testing and experimentation and find the best offers to each visitor.
It uses AI-driven algorithms to recommend products to your visitors based on their previous purchases, visit patterns, product interests, searches, and campaign responses.
Adobe Target enables you to optimize your website, mobile application, single-page applications, and emails.
Pricing: You need to contact sales to get pricing details.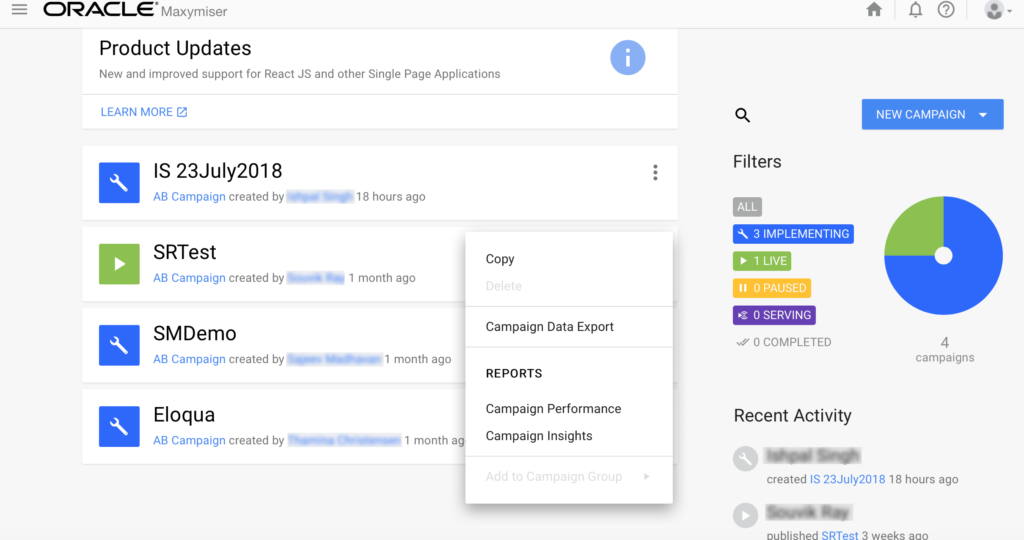 Oracle Maxymiser is a testing and optimization tool that offers website testing, real-time behavioral targeting, product recommendations, and in-session personalization. By offering all these services, Oracle Maxymiser aims to help B2B and B2C marketing campaigns to boost their speeds and improve customer experiences.
Features:
Oracle Maxymiser comes with a visual editor that makes performing A/B testing or complex funnel testing easier. You can write and run tests with this visual editor that works across mobile devices and websites.
You can easily integrate data with Maxymiser's session data for testing from various marketing platforms or third-party business sources.
This tool lets you carry out A/B testing, multivariate testing, and segment testing to determine the best variation and the combination of elements in your website or web page for more conversion rates.
It has a built-in easy-to-use import tool that enables marketers to use data from any external source and build customer profiles for targeting, recommendation, and personalization.
It comes with customizable and easy-to-use dashboards powered with machine learning algorithms that do not require an IT involvement to inject, configure, and deploy product recommendations to customers.
Pricing: You can request the pricing from the vendor by filling in the required details.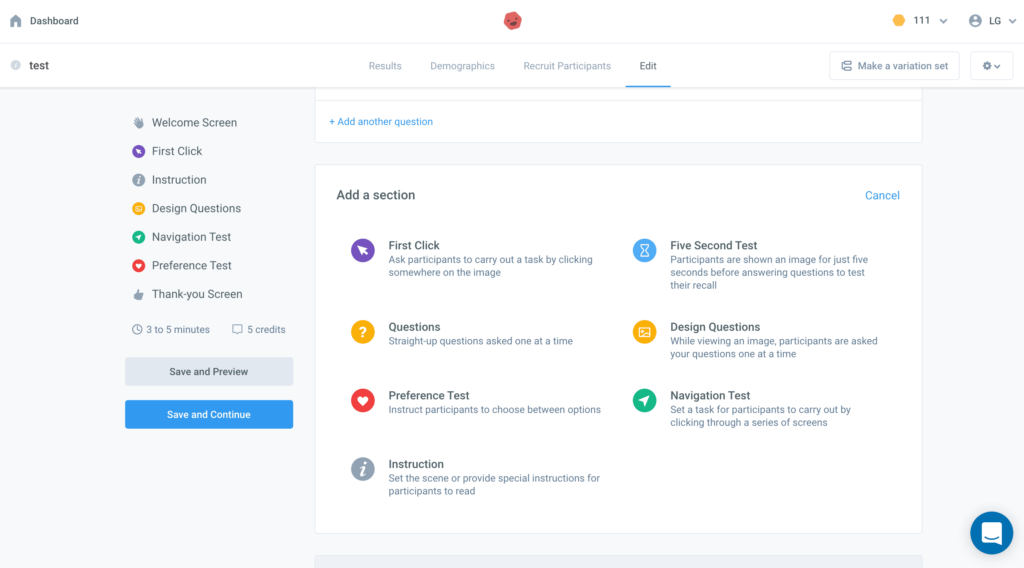 Usability Hub is a remote user research platform that helps you make better design decisions. It provides you with a suite of testing tools that assist you in uncovering design issues at early stages. This tool enables design professionals to effortlessly validate test interfaces, interaction flows, etc. to create delightful experiences for users.
Features:
A/B Testing: Usability Hub makes it easy for you to create and run A/B tests. Moreover, you can perform A/B testing on your web page, elements of a web page, etc. to find out the best variation for a better conversion rate.
Prototype Testing: Through this testing, you can determine how users navigate your interactive prototypes and identify what you can improve. Moreover, advanced results of this testing let you find out which users clicked when, which pages they visited in what order, etc.
Preference Testing: As its name suggests, preference testing allows participants to choose from multiple design options. Therefore, you can identify which design works well and accomplish your objective.
Five Seconds Test: Through this test, you can gauge people's first impressions of your website.
You can export test results in the .csv file and import them into any of the desired data analysis tools.
It comes with a test-taking interface that supports around 30 different languages.
Pricing: Usability Hub is available in four different editions, namely Free, Basic, Pro, and Enterprise. The Free edition is available at no cost. For the basic edition, which is a single-user edition, you need to pay $79 per month. The Pro edition is for multiple users and charges $199 per month per user. For the pricing of the Enterprise edition, you need to contact sales.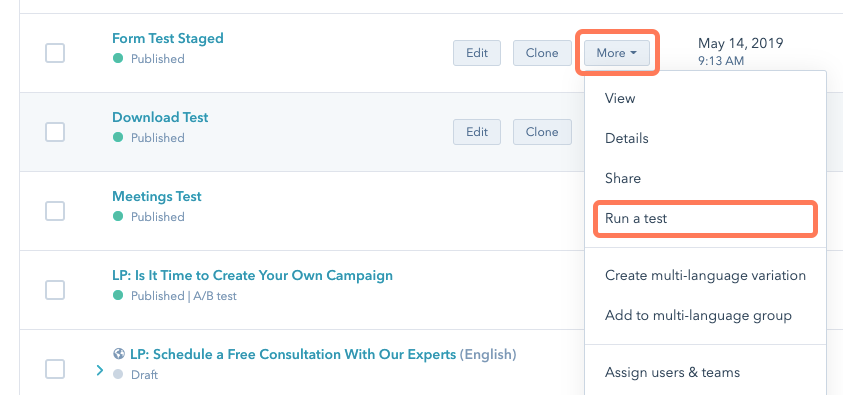 HubSpot is a one-stop solution for all your marketing requirements. It is an easy-to-use and robust tool that helps you create delightful experiences for your users. It comes with all the tools and integrations required for content management, marketing, sales, and customer support. This tool has five different hubs that satisfy all your marketing needs. These hubs are namely Marketing, Sales, Service, CMS, and Operations. The Marketing Hub provides the feature of A/B testing. Besides A/B testing, it also provides many other features. So, let us discuss the features of the Marketing Hub.
Features:
Landing Page Builder: You can create attractive and beautiful landing pages for your website without the involvement of developers. Also, you can choose from a wide range of mobile-optimized templates.
Form Builder: You can easily create forms with a drag-and-drop editor. You can also add forms to your website to convert more visitors into customers.
Email Marketing: You can create mobile-optimized email campaigns. Also, you can optimize your email campaigns with A/B tests and analytics. Run A/B tests to determine which subject lines drive more engagement and sales.
Marketing Analytics: Marketing Hub comes with built-in analytics and custom reporting tools that help you make smart and data-backed decisions.
Pricing: Since there are a plethora of tools intended for various marketing requirements, the pricing varies according to your needs. As we are focusing on A/B testing, the Marketing Hub edition provides the A/B testing facility. There are three different editions of Marketing Hub, namely Starter, Professional, and Enterprise. The Starter edition charges $45 per month, Starter charges $800 per month, and Professional charges $3,200 per month if billed annually.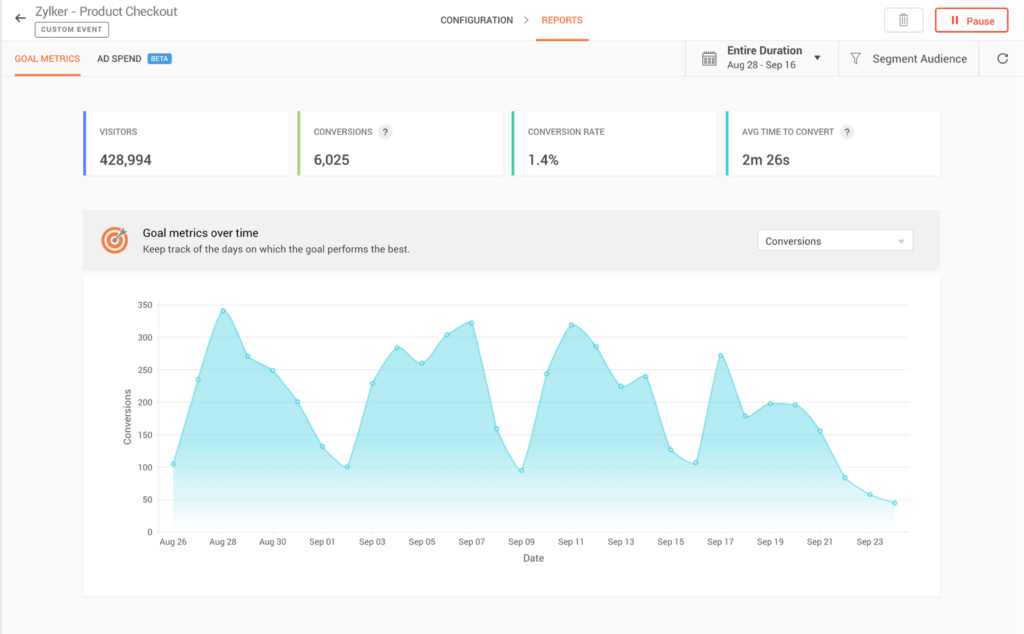 Like HubSpot, Zoho PageSense is also an all-in-one solution for all your marketing needs. It provides everything, from analytics, A/B testing, and session recording to personalization and tracking. With Zoho PageSense, you can run A/B tests effortlessly to compare page variations and choose the one that performs better.
Features:
Zoho PageSense comes with an intuitive visual editor that enables you to edit mobile, tablet, and desktop versions of your web page. You can easily create variations of your page with this drag-and-drop editor.
It allows you to gauge your website's important stats. Along with tracking clicks, page views, and engagement, you can track your website's revenue. You just need to set a revenue goal and compare each variation of your web page.
You can experiment with the desired size of the audience, whether small or large.
The split testing feature enables you to divide your website's traffic into two different URLs to determine which works better.
With Zoho PageSense's reporting feature, you get detailed reports of your website's performance. Moreover, it offers the filter option, where you can view the behavior of a specific set of users.
The heatmap feature within each A/B test lets you determine how the visitors are interacting with each variation of your website.
Pricing: Zoho PageSense offers three different pricing plans, namely Analyze, Engage, and Optimize. The Analyze edition charges $12.85 per month, Engage charges $13.87 per month, and Optimize charges $31.31 per month if billed annually.
Conclusion
In this article, we have discussed some of the most popular A/B testing tools. All the tools mentioned above are subscription-based. Also, only Google Optimize and Usability Hubs offer a free edition.
Along with A/B testing, these tools offer many other features. Therefore, we recommend you choose an A/B testing tool as per your requirements and budget. We hope that this article has helped you find the A/B testing tool that fits your requirements. Feel free to share your favorite A/B testing tool in the comments section below.
People are also reading: