Windows 10 works fast on modern hardware. However, with time, the operating system starts to slow down because of viruses, bugs, compatibility issues, hardware problems, etc. So, what to do? Worry not, as there are a few things you can do to speed up your Windows 10.
This article will detail some quick hardware and software tweaks that will help you speed up Windows 10, no matter what the configuration is.
Main Focus Areas to Make Windows 10 Faster
So, how to speed up Windows 10? Well, there are 3 umbrella categories for optimizing the performance of Windows 10:
Operating system tweaks.
Software enhancements.
App replacement or removal.
While upgrading your hardware will work like buying more RAM or investing in SSD storage, these might cost you money. Here are the 13 tweaks you can make to boost your Windows 10 in a few simple steps.
13 Best Windows 10 Performance Tweaks
1. Turn On Game Mode
The latest version of Windows 10, the Creators Update, adds a new feature to the system known as the Game mode. You can activate the Game Mode by using the key combination Windows key + G . To enable the Game Mode.
You need to go to Open Settings > Gaming > Choose Game Mode. Tap the toggle switch available below the Game Mode, as shown in the following image:

Game Mode is to be used only when you are playing games. However, you can activate it whenever you need a little more speed than normal.
Did you know that Game Mode is helpful if you have many background applications dragging down a resource-intensive program?
Game Mode is not the only answer to boosting Windows 10 performance! It only improves your Windows performance to some extent only. Some might experience a greater performance boost compared to others. Theoretically, Game Mode will function within any application that makes use of GPU acceleration.
Tip: Reducing the number of background applications will help to improve your Windows performance when no other trick helps. Moreover, you can try this trick to optimize Windows 10 for gaming.
2. Turn Off Visual Effects
You can give a boost to the system's performance by disabling visual effects. Windows 10 allows you to shut down the visual effects easily. Follow the steps given below to do so:
Go to Settings > Advanced system settings.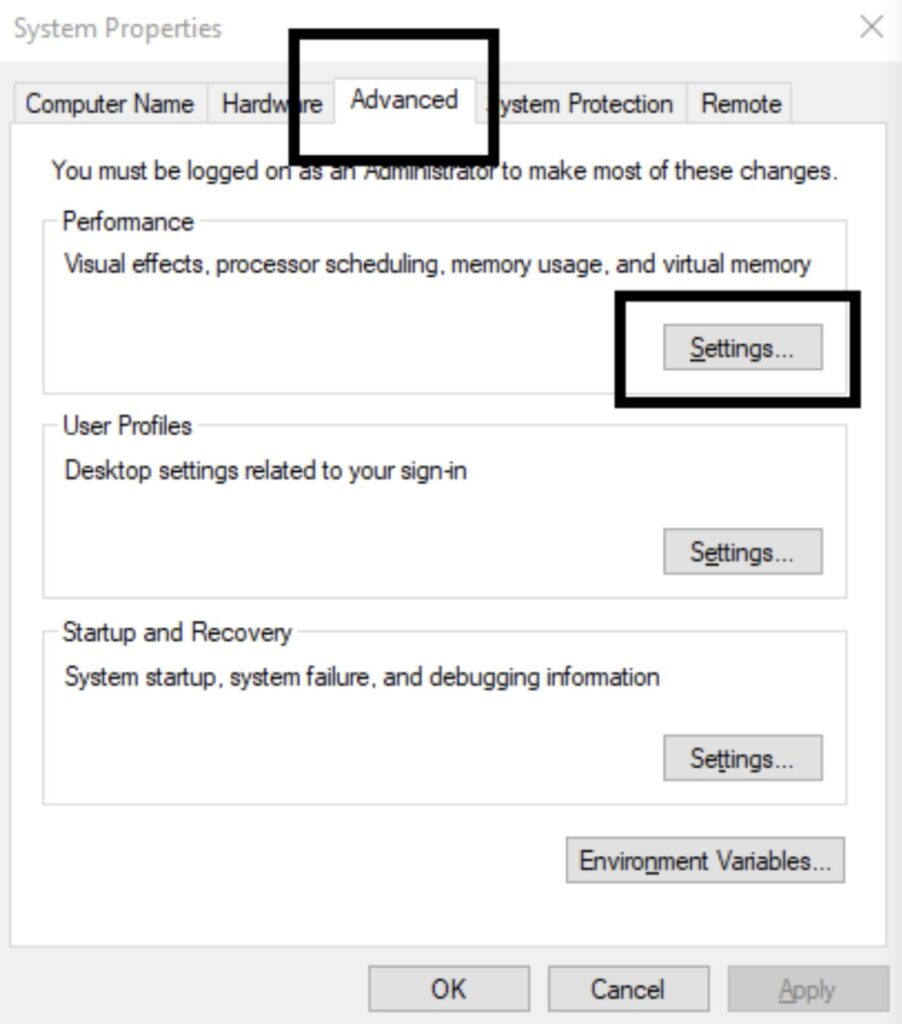 Go to Performance > Settings...
Left-click on the radio button and choose to Adjust for best performance to shut down all the visual effects as shown below: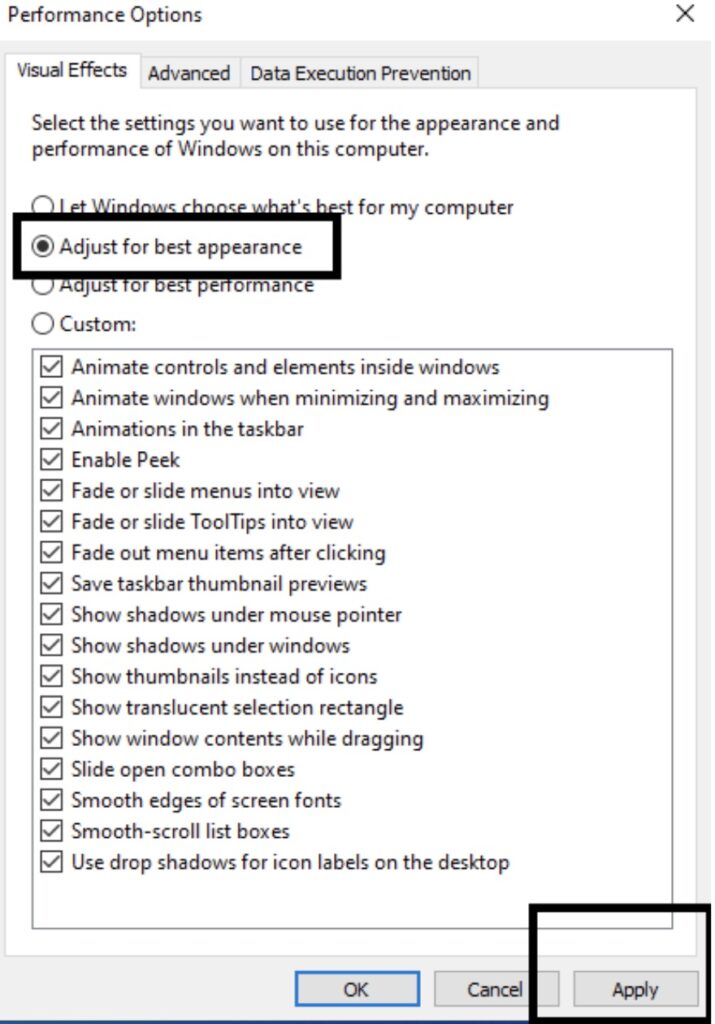 Turning off the visual effects can improve your PC's performance in many ways, but your screen won't look so good.
Tip: You can enable the Smooth edges of screen fonts when you are reading text.
3. Speed Up Your Processor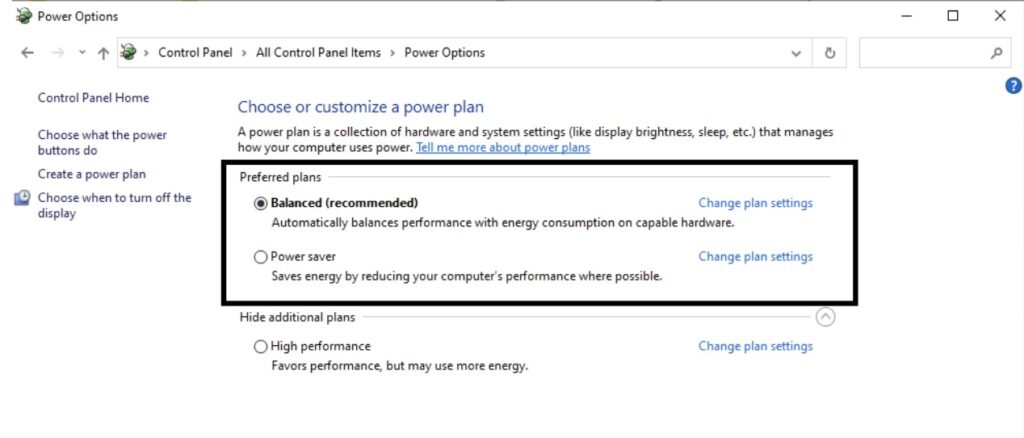 Windows has 3 or more predefined settings that allow you to choose how your processor ramps up its frequency. The 3 default settings are Balanced, High Performance, and Power saver, as shown in the above screenshot.
Some manufacturers also offer custom plans. It is recommended to use Balanced or Power saver settings to boost your system performance. Using High performance makes your Windows faster by compromising on the battery life for more power.
Since the High-Performance feature consumes more power, it is useful for desktops rather than laptops. You can make the changes by going to Power Options available in the Control Panel.
4. Turn Off Auto-Starting Programs
Most programs you install run silently in the background by default. That is fine if you have only a few programs, but the impact on the performance of Windows grows as the number of these programs increases. If your computer has many programs set to run initially, the entire system will get bogged down. Hence, it is recommended to delete unimportant startup software for better performance. Luckily Windows makes it easy to remove many auto-start applications and programs.
Here are the steps to shut off auto-starting programs:
Click on Ctrl + Alt + Delete.
Choose Task Manager from the options.
Go to the Startup tab on the Task Manager.
From this tab, you can eliminate almost all the auto-starting applications. Most applications do not need to run in the background unless they were preinstalled on your computer.
5. Check Your Internet Connection
Did you know that one of the main causes of slow internet is not your provider? Is it your Wi-Fi connection, then? Due to channel congestion and overlapping Wi-Fi connections, it has become difficult to get a stable internet connection in your apartment. Luckily, most Wi-Fi routers have the following 2 features that can improve the speed of your connection and stabilize the same:
A direct wire connection
Changing your router's channel
Are you wondering how to configure a wired connection? It is straightforward. You need an Ethernet cable. On the other hand, changing the router's channel needs a more in-depth explanation. You first need a Wi-Fi analyzer tool that will help you determine which channel works the best for your computer and go to the router's settings to change the channel.
6. Turn Off Windows 10's Search Indexing Feature
When you search for a file on your computer, Windows does not scan every directory available on your computer if you have enabled indexing. It creates a text manifest of items stored on your computer. It improves the file search speed. Turning off Windows 10's indexing feature will slow down searches of your storage drive for very few performance gains on newer computers.
Unlike the new computers, turning off Windows search indexing on your old computer will improve your system's performance. To turn off Windows 10's Search Index tool, you need to:
Type Index into the Windows Search Tool and click on Indexing Options.
Then click on the Modify option available at the bottom of the menu and uncheck the boxes for all the options mentioned on the list.
7. Storage Analyzer and Disk Cleaning Helps to Speed Up Windows
SSDs and HDDs slow down when overloaded with data. Both technologies work fine with around 50% capacity for performance. However, around 25% free capacity works fine. One of the best apps used for cleaning up overloaded disks is WinDirStat . It is an open-source application available in both installed and portable versions of Windows 10.
8. Manage Windows Update for Performance
Windows Update consumes all the resources when it runs in the background. You can configure it to run only during specific times, such as when the device is not in operation, which means no more restarts will happen when you are in between an important task. To configure Windows Update to run only at specific hours:
Go to Windows Update Setting and run the configuration utility.
In the update settings, choose Change Active Hours .
You can change the active hours in this menu by clicking on Change Active Hours. It is recommended to change the time to when the computer is not in use.
Many performance issues come from malicious programs that run in the background. Some of the free malware scanners are Malwarebytes, SuperAntiSpyware, and ClamWin .
10. Registry Cleaner
The Windows registry has all the settings for Windows and other programs. Installing any software changes the registry. Sometimes when a program is uninstalled, it does not remove these changes. Since there are thousands and thousands of registry modifications, they slow down the system's performance.
A registry cleaner removes these changes and leftover files from the uninstalled programs. However, sometimes registry cleaners can cause more problems than they solve. Although you will see a little improvement in the Windows performance, at the same time, you will also see glitchy OS behavior after using the registry cleaner.
One of the best programs for cleaning your registry is CCleaner . However, Piriform, the maker of CCleaner, came across some security breaches that allowed the hackers to slip malicious code into two versions of CCleaner.
11. Replacing Applications
Most of us install some horrible software, thinking we might need it. Most of the time, it is the Potentially Unwanted Program (PUP) that slows down your computer. Some bad applications include PDF readers, music, video players, browsers, and BitTorrent software. There are many alternatives available, and the process is simple. You first need to uninstall the software and install a better program. Here are some of the best ones to consider:
Sumatra PDF Reader
VLC Video Player
Google Chrome or Mozilla Firefox
qBittorrent
PDF Reader Replacement: Sumatra PDF Reader
Adobe Acrobat PDF Reader is the only program that allows you to read PDF files. This is a myth. Since Adobe Acrobat spreads malware, you need to find an alternative. Sumatra PDF Reader is the best alternative for Adobe. It is recommended for everyone because it is an open-source PDF reader and allows you to read comic books, block malicious files, and run on older systems. All the modern browsers can read PDF files, and you do not need a dedicated PDF reader.
Music and Video Players: VLC Player
VLC Player is one of the three best media players ever made. Although there are many better music players available in the market for video, VLC tops the list. Additionally, it is open-source, supports keyboard shortcuts, plays almost all the video files, and is free of cost.
Browser Replacement: Chrome Browser
Chrome is the fastest and the best alternative to Microsoft Edge and Internet Explorer browsers. It comes in both standard 32-bit and 64-bit variations. Google also has an open-source version of Chrome, known as Chromium. Google Chrome offers everything that Edge does not: extensibility, security, and speed. Additionally, Chrome is also ranked among the first applications you need to install. However, Firefox also offers extensibility and is 100% open-source.
BitTorrent Replacement: qBittorrent
If you are using a malicious BitTorrent client, then you can try the open-source qBittorrent that comes with regular updates. qBittorrent is feature-rich and offers some extra add-ons better than its competitors.
12. Remove Bloatware from Windows 10
The latest version of Windows comes with many pre-installed applications, and not all of them are useful. You need to remove them. In many cases, removing the software might not be helpful. Most of the applications are placeholders that install when Windows is activated.
If you are not concerned about Microsoft Bloatware, you might want to consider an in-place repair. In-place repair is useful when you want your computer to a like-new condition, without reinstalling all the applications. The in-place repair refreshes Windows core OS files.
To do an in-place repair, here are the steps you need to follow:
Download the Windows 10 Media Creation Tool and run it.
Then click on Upgrade this PC now and then click on Next.
The computer will then download a copy of Windows 10, which can take several hours. After it finishes, the Media Creation Tool reinstalls Windows 10 by itself. If your system has malware or other kinds of damage done to the OS files, in-place repair can patch Windows 10, restoring it to a fresher state.
13. Remove Windows 10's Default Applications
Unfortunately, an in-place upgrade replaces or restores all the Windows baked-in bloatware. However, a few applications make debloating Windows easier. One of the best tools you can use is Windows 10 Default App Remover 1.2 . This tool can uninstall the default Windows 10 applications. Additionally, it offers the source code for the application.
Takeaways
To clean your computer, you need to click on the application you want to remove. For instance, if you're going to remove Solitaire, click on it in the user interface, and you will receive a prompt asking if you want to remove the application. Confirming this action will remove the application. Did you know that you can reinstall the removed software with the 10AppManager in Windows 10 Default App Remover 1.2? You should give it a try.
People are also reading: