A data analyst's job is among the most convincing jobs in the market right now – it's challenging and rewarding! While the salary package of a data analyst is lucrative, the job role comes with varied responsibilities too. As companies collect huge amounts of data on a daily basis, data analysts play the most important role in analyzing the data and come up with the best solutions for a business problem. I used to wonder during school days – what is the use of so many formulae in statistics? Mean, median, standard deviation – why do we even need these? Statistics involved working with numbers extensively, without knowing much about the practical applications of the concepts. However, that's not true anymore. As a data analyst, it's possible to see the real-world applications of statistics concepts taught in school. Starting your journey as a data analyst is fruitful, even if your ultimate goal is to become a data scientist. Because of its wide scope, it would be great to start your career as a data analyst to gain both technical expertise and domain experience. Wait…. what's the difference? The designations data analyst, data scientist, and business analyst…. all are related but different!
Who is a Data Analyst?
The roles and responsibilities of a data analyst revolve around analyzing huge sets of data by compiling, filtering, and interpreting them to arrive at useful business insights. These insights come in handy for making better business decisions. It requires sound technical knowledge and analytical skills to become a proficient data analyst.
Who is a Data Scientist?
The visualizations created by data analysts are used by data scientists to identify trends and patterns along with weak points of business. Data scientists then need to formulate strategies to overcome different business challenges and facilitate overall business growth. Along with technical know-how and understanding of human behavior, you should have the ability to perceive things differently and make the best predictions in order to become a data scientist.
Who is a Business Analyst?
A business analyst is a professional who uses the information presented by a data analyst to identify business problems and propose feasible solutions. They are adept in finance, business administration, and economics.
Why Become a Data Analyst?
If you are from a programming background, you can easily become a data analyst. Also, if you have little to no knowledge of programming, you can still enter the field of data analysis by doing some additional courses and certifications. A data analyst has to be adept in both technical and analytical skills, have excellent communication skills, and have a business mindset. This means that even after you do certifications and learn all the technical skills, like data modeling, statistics, mining and segmentation techniques, and writing database queries, you will still be challenging yourself. You need to constantly develop and hone various other skills, be it your attention to detail, accuracy, or the way you gather and organize the huge datasets. Do you know why all of the above is worth it? That's because you will always move up the career ladder through vivid experiences that you get while finding practical solutions to business problems. Also, seeing your analysis bringing a positive impact on the whole business will give immense job satisfaction and a sense of achievement. And yes, you get a fat salary package! Want to know how much a data analyst can earn? Click here .
Analysis or Analytics?
Many times, we use the terms analysis and analytics interchangeably, though there is a subtle difference. Data analysis has a wider scope; it is a practice that uses data analytics tools and techniques to achieve different business objectives. You can consider data analytics to be a part of data analysis.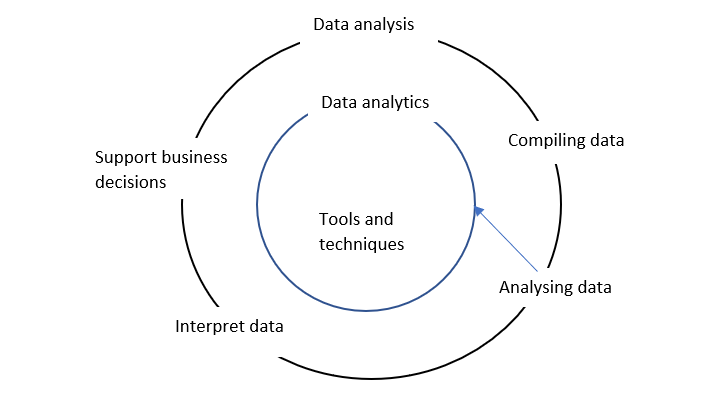 Data Analysis Process
The data available with many organizations is so huge that often they do not know what data is useful and what is not. Finding out the right set of data for a particular business problem, drawing accurate inferences, and making the right business decisions is are some of the key responsibilities of a data analyst. Through the data analysis lifecycle, you will be able to understand the various roles and responsibilities of a data analyst. The lifecycle includes six main steps or phases that you can see in the picture below: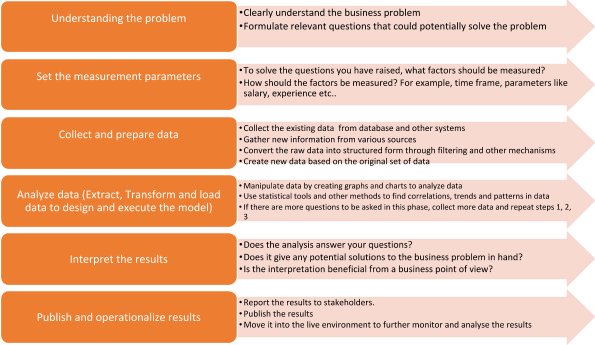 Each stage requires a different type of knowledge and skills, and a data analyst has to adapt to different roles accordingly. For example, understanding the problem and setting the measurement parameters needs a whole lot of segmentation, organization, and reasoning skills. On the other hand, collection, preparation, and analysis require data mining skills, analytical skills, and technical knowledge of various tools and techniques. Similarly, interpreting results from processed data requires good business thinking skills, whereas publishing and monitoring require good reporting and analytical skills.
Types of Data Analysis
It is one thing to collect, clean, and organize data and totally another to use advanced tools and techniques to analyze the dataset. There are different ways to analyze data depending on business needs. Also, each type of data analysis has its own benefits. Following are the major types of data analysis:
1. Descriptive Analysis
Known as the simplest type of data analysis,  descriptive analysis tells you about "what happened" regarding a particular situation by summing up the past data, usually in the form of dashboards. It is mostly used for tracking key performance indicators (or KPI's) to know about a business's performance based on multiple benchmarks. It can be a monthly revenue report, employee performance, KPI dashboards, monthly sales reports, etc. Descriptive analysis shows detailed data in numerical form, like mean, median, mode, average, standard deviation, percentage, and frequency, or in graphical form like histograms, scatter plots, sociograms, and geographic information systems. Statistical tools, both numerical and graphical are extremely useful for descriptive analysis. Thus, you should have knowledge of some popular tools like Microsoft Excel, SQL, SPSS, R/Python, SAS, MATLAB, and Minitab.
2. Diagnostic Analysis
If the descriptive analysis failed to produce desired results, then it is important to know "why it happened" from a business perspective. This type of detailed 'diagnosis' is important to analyze the main causes of the problem and make the necessary changes. This type of data analysis connects all important points and finds patterns and behavior. Some instances that require diagnostic analysis are as follows:
A logistics company trying to figure out why there are delays in a particular shipment route.
A product company investigating why the sales of their product reduced in a particular quarter.
A digital marketing company getting details of why their website is no longer listed in the top 3 search engine results for a particular keyword.
The diagnostic analysis makes use of machine learning models for finding patterns, identifying unusual events, and detecting anomalies. Some popular machine learning algorithms are Linear regression, logistic regression, K means clustering algorithms, Decision trees, and Naïve Bayes classifier algorithm. Although ML algorithms are useful in finding weak points of a business, the analysis still has to be governed by data analysts to make relevant decisions based on the output of the machine learning model and through their own domain expertise.
3. Predictive Analysis
After figuring why a particular event happened, the next step is to predict "what" is going to happen. The objective is to forecast the events that are most likely to happen in the future. The predictive analysis makes use of past and present data to predict the future. Think of it as the weather forecast. This analysis requires skilled manpower as well as technology as it relies on statistical modeling and a lot of parameters and conditions are involved. The more detailed the data is, the more accurate the predictions will be. Common tools for predictive analysis are business intelligence tools. Some of the most popular BI tools include TIBCO Spotfire, Minitab, SAS Advanced Analytics, Microsoft R , Sisense, and RapidMiner. By using these tools, predictions can be made about sales, risk assessment, company performance, product conversion rates, etc.
4. Prescriptive Analysis
The prescriptive analysis is where the real power of data analysis and data science lies. It combines all the three analysis types to give insights into data. Consequently, the insights assist in making important business decisions to solve a business problem. AI (Artificial Intelligence) systems use prescriptive analysis to train their models based on all the past data. These models learn by experience just like the human brain. Netflix, Amazon, and Facebook are some popular companies that use prescriptive analysis. Popular tools and techniques used by data analysts for prescriptive analysis include NLP (Natural Language Processing), image processing, applied statistics, optimization models, and heuristics. Here is a nice diagram from Gartner to show how the role of a data analyst evolves with each type of analysis: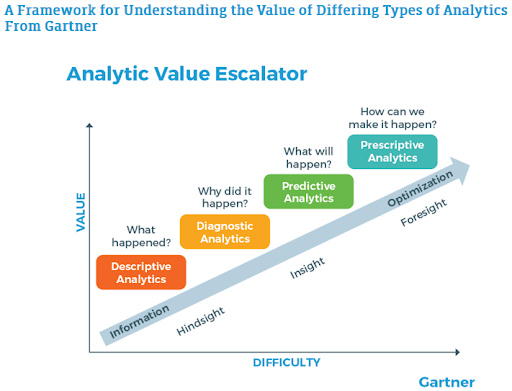 Tools and Techniques for Various Types of Data Analysis
The diagram shown below summarizes different tools and techniques used in each type of data analysis. It will help you develop a fair understanding of what to expect at different levels of being a data analyst.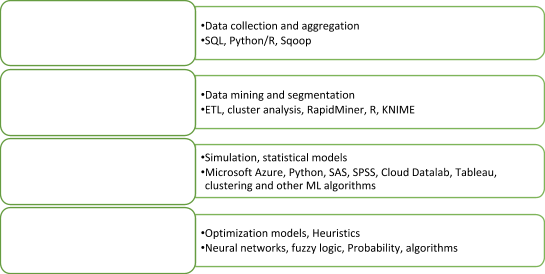 Most Valuable Skills for a Data Analyst
A data analyst must possess the following skills:
Computer science
Mathematics
Statistics
Business knowledge (Economics)
The job of a data analyst involves taking up technical, business, and leadership roles. On the technical front, knowledge of SQL, R/ Python , Microsoft Excel/Google spreadsheet, Tableau/Qlik, statistics, and mathematics is a must. From a business point of view, analytical skills, problem-solving skills, keen observation and precision, good domain knowledge, and strategic thinking are the key characteristics of a data analyst. From a leadership point of view, it depends on whether you are an entry-level or a senior data analyst. If you have a few years of experience, you will be able to correctly correlate the job of a data analyst and a project manager. Other than the technical and business skills, you need to have good communication skills (both verbal and written) and the ability to lead a team. Also,  if you want to take it to the next level, you should know how to diagnose potential problems early in the data analysis process lifecycle.
Data Analyst Roles and Responsibilities
By now, you must be having a fair idea of what is expected from a data analyst. In general, the day-to-day tasks of a data analyst are common to any industry, except that the domain knowledge will be different. To summarise, the key roles and responsibilities of a data analyst are as follows:
Design and maintain databases and other data systems; ensuring the data systems are always up to date and free of errors, including removal of old, duplicate, or corrupt records.
Mine structured or unstructured data from internal and external sources, like surveys, interviews, etc.
Interpret data sets using different statistical tools and studying patterns, behaviors, and trends that can help with diagnostic and predictive analysis.
Work on the bigger picture – how can the analyzed data help solve complex business problems across the organization.
An experienced data analyst will have the following additional responsibilities:
Prepare relevant reports with numbers and graphical illustrations on the trends, patterns, and interpretations using the data.
Collaborate with different teams, developers, system engineers, top leaders, and stakeholders.
Leverage data insights to identify process improvement opportunities, business use cases, and better policies for governing data.
Use logical and methodical approaches to solve problems, meet deadlines, and communicate any gaps to the stakeholders.
Conclusion
Data analysts are in high demand across several industries. Banking, telecommunication, IT, pharmaceutical, logistics, and manufacturing are some of the key industries that employ data analysts. Data analysis is generating a lot of jobs and is a promising career path to follow today. If you are interested in becoming a data analyst, it is important to know all the associated roles and responsibilities. This will help you get a clear picture of the tasks that you need to perform as a data analyst. We hope that this article helped you learn the roles and responsibilities of a data analyst effectively. If you have any thoughts or suggestions, feel free to share them with us through the comments below. People are also reading: